Hickstead, England—Aug. 1
Beezie Madden proclaimed she's back in action and ready for the Alltech FEI World Equestrian Gamesin a big way.
In her first big outing since breaking her collarbone in May, Madden jumped two key clear rounds on Cortes 'C' to help the U.S. team claim victory in the Furusiyya FEI Nations Cup™ at Hickstead in Great Britain.
"I've been back riding four or five weeks now," Madden said. "First I did two smaller competitions with Simon and Cortes 'C' and a five-star [show] with two other horses. I tried to time it to come back in time to peak for the WEG which is my goal," she explained.
"I was out of action for six weeks—I had surgery to put [the collarbone] back together. I had a fall competing on a young horse, he left a stride out at the water and I was lucky that the event is held close to New York City where there are so many specialist surgeons," she said.
She believes her two top rides, Simon and Cortes 'C', "are both ready for the WEG" but she added that "after today I suppose I'd favor Cortes but I have two great horses and I hope I have a difficult decision to make!"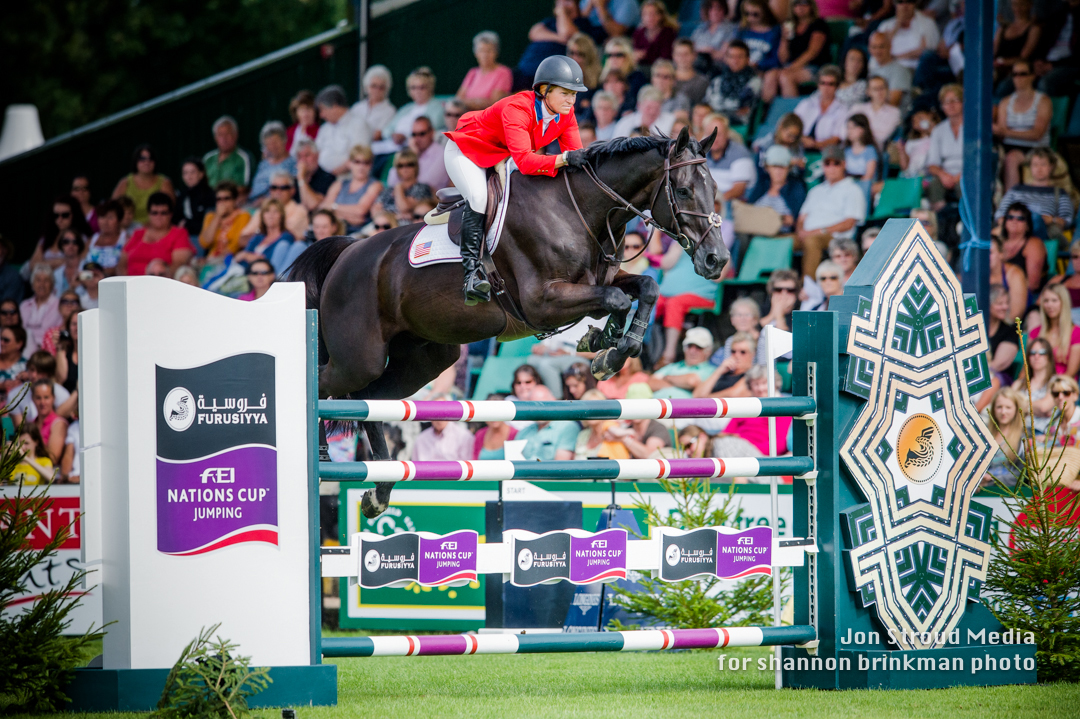 Beezie Madden on Cortes 'C' on their way to one of their crucial clear rounds.
Photo by Jon Stroud Media for Shannon Brinkman
Madden was joined in her double-clear performance by McLain Ward, who led off the team in both rounds with clear trips on Rothchild. "This was his first show in Europe," said U.S. chef d'equipe Robert Ridland of Ward. "He came straight from Calgary, where he showed super form, and Rothchild has been jumping fantastic. Beezie, in addition, has bounced back from her injury.
"This result was very significant, just as it was two weeks ago [when the U.S. placed second in the Nations Cup] at Aachen [Germany]," Ridland continued. "We planned our CSIO tour that began in Rotterdam [the Netherlands] after already qualifying for the Furusiyya Final at Spruce Meadows in June. The tour schedule was Rotterdam, Aachen, here at Hickstead and then Dublin and I always emphasized that this was more about preparation [for the Alltech FEI World Equestrian Games™ in Normandy] than selection."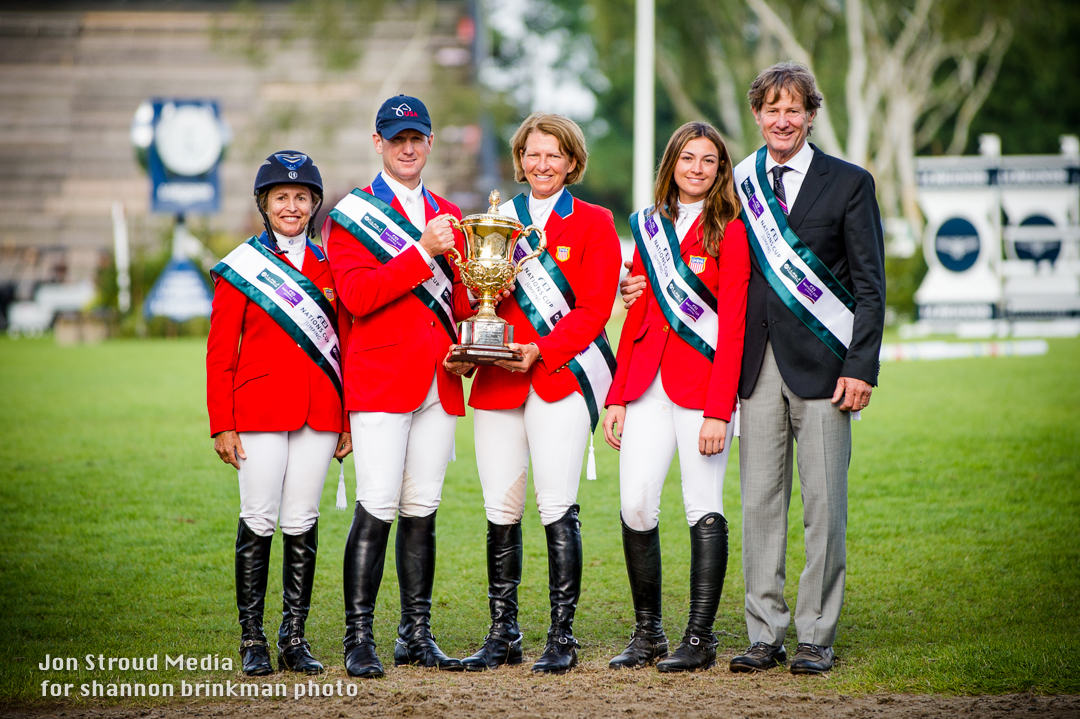 The U.S. team (from left) Margie Engle, McLain Ward, Beezie Madden, Reed Kessler and chef d'equipe Robert Ridland.
Photo by Jon Stroud for Shannon Brinkman
All four riders on the team at Hickstead are on the 10-rider short list for the World Games. Margie Engle, showing Royce in her first Nations Cup of the year, turned in a clean go in Round 1 and then just one rail in Round 2. Reed Kessler, who also contributed to the U.S. effort in Aachen, had 8 faults in Round 1 and 4 in Round 2 with Cylana.
Already qualified for the Furusiyya 2014 Final through participation in the North America, Central America and Caribbean League, the Americans have been campaigning the European circuit in recent weeks in preparation for the forthcoming Alltech FEI World Equestrian Games™ 2014 in Normandy. And they showed once again that they are a serious force to be reckoned with as they cruised into the lead in the early stages, and held on with conviction to claim the coveted Edward Prince of Wales Cup.
There were eight teams in the line-up and a lot riding on today's result as five nations were battling for the last remaining qualifying points for the Furusiyya Nations Cup Final. With just one further leg left to run, at Dublin next Friday, it is right down to the wire as only seven of the 10 countries competing in Europe Division 1 will make the cut. The Irish and Belgians challenged strongly at the halfway stage, but it was the Dutch and Germans who shared runner-up spot at the end of the day when finishing just a fence off the winning team total on a final tally of eight faults.
And it was a disappointing day for the British hosts who struggled to finish joint-sixth with France while Sweden lined up last on a big score of 38 faults.
As the action gets underway in Dublin next week, the Irish will be under severe pressure along with the British and Ukrainians, because these three countries now fill the final three spots on the Europe Division 1 leaderboard.
Easy Clears
British course designer, Kelvin Bywater, initially appeared to have been a little lenient with his track as the competition began with easy clears from Sweden's Niklas Arvidsson with Click And Cash and America's Ward with Rothchild. But the Hickstead track is notoriously difficult with it's undulating ground and impressive fence material, and it wasn't long before it began to take it's toll.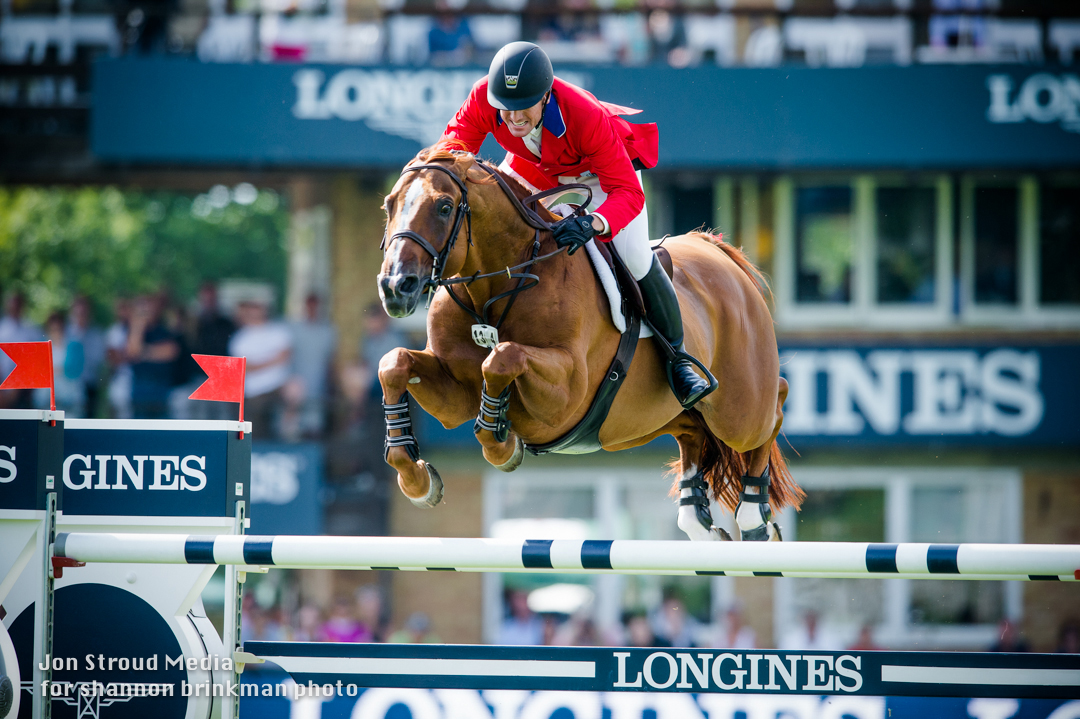 McLain Ward and Rothchild's intensity resulted in two clean rounds.
Photo by Jon Stroud for Shannon Brinkman
Despite Arvidsson's foot-perfect pathfinding performance the Swedes were already in big trouble after collecting 18 first-round faults. Anchorman, Niklas Jonsson had already collected 4 faults at the first element of the double at six before his 11-year-old gelding, Caral, slammed on the brakes at the open water. A full 4 meters wide and colored deep blue, it is always intimidating to first-timers into the Hickstead arena and Arvidsson did well to persuade the horse to cross it at his second attempt. But although his 17 faults could be discarded, the 14 from Royne Zettermann and Echo de Laubry had to be added to 4 from Angelie Von Essen and Jordan 11, and Swedish chances never recovered from the big first-round total.
Sharp End
At the sharp end however, the Americans went into Round 2 on a 0 score when Kessler and Cylana were the only ones to fault first time out. They were followed by the Belgians and Irish on just 4 faults apiece and the Germans and Dutch on 8. The French carried 12, but the British were already looking very vulnerable with 16, and 12 more left them completely out of contention.
It all came down to Madden's last round on Cortes 'C'; a clear round would clinch the win. A rail would put the U.S. team into a tie with the Germans and the Dutch on 8 faults and force a jump-off. But Madden and her 12-year-old gelding breezed in with another fabulous tour of the track.
Result:
1. USA 4 faults: Rothchild (McLain Ward) 0/0, Cylano (Reed Kessler) 8/4, Royce (Margie Goldstein-Engle) 0/4, Cortes C (Beezie Madden) 0/0.
2. Netherlands 8 faults: Capetown (Wout-Jan van der Schans) 4/8, Lord Sandro (Bart Bles) 4/0, Winchester (Frank Schuttert) 4/0, VDL Bubalu (Jur Vrieling) 0/0.
2. Germany 8 faults: Liberty Son (Marco Kutscher) 4/0, Contanga (Andre Thieme) 0/8, Embassy ll (Hans-Dieter Dreher) 4/0, Plot Blue (Marcus Ehning) 8/0.
4. Ireland 12 faults: Imotherp (Darragh Kenny) 0/0, Golden Hawk (Shane Breen) 4/8, Molly Malone (Bertram) 0/8, Antello Z (Cameron Hanley) 4/0.
4. Belgium 12 faults: Dream of India Greenfield (Pieter Devos) 0/0, Challenge vd Begijnakker (Nicola Philippaerts) 12/4, Domino (Jos Verlooy) 4/8, Conrad de Hus (Gregory Wathelet) 0/4.
6. Great Britain 28 faults: Zaire (Guy Williams) 8/4, Catwalk lV (Robert Whitaker) 12/12, Touchable (Jessie Drea) 4/4, Wings Sublieme (Ben Maher) 4/4.
6. France 28 faults: Number One D'Iso Un Prince (Nicolas Delmotte) 4/8, U2 (Mathieu Billot) 4/4, Myself de Breve (Marie Hecart) 4/4, Qarat de la Loge (Julien Epaillard) 8/16.
8. Sweden 38 faults: Click and Cash (Niklas Arvidsson) 0/8, Echo de Laubry (Royne Zettermann) 14/21, Jordan ll (Angelie von Essen) 4/9, Caral (Niklas Jonsson) 17/4.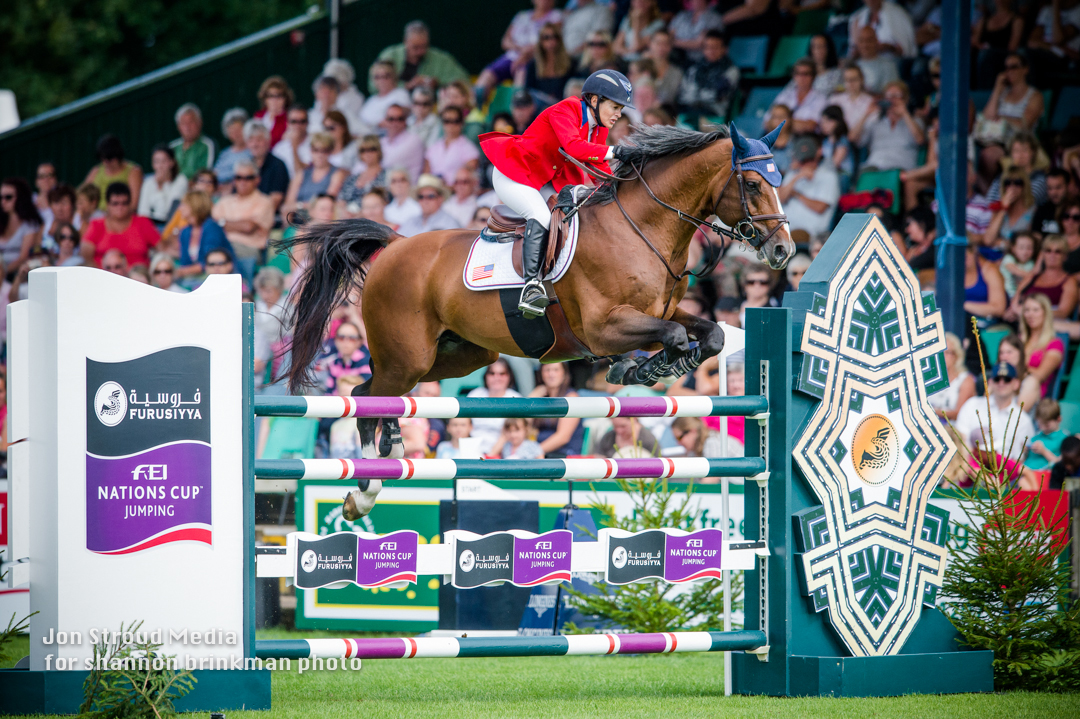 Margie Engle and Royce made just one mistake over the two rounds.
Photo by Jon Stroud for Shannon Brinkman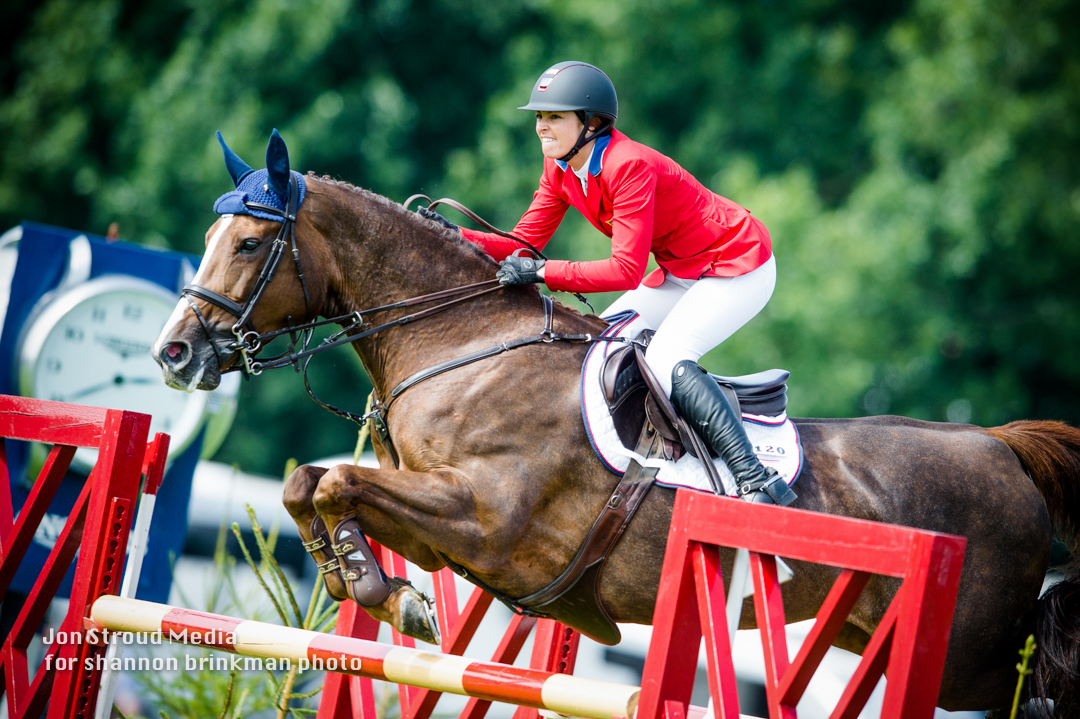 Cylana and Reed Kessler turned in rounds of 8 and 4 faults at Hickstead.
Photo by Jon Stroud for Shannon Brinkman