I am a firm believer that everything happens for a reason. It's been a huge driving factor in my life from early on and it just seems to continue to follow me wherever I go.
I've learned to take things as they come. I might get mad, frustrated or upset, but I still can't change fate. No one can. Life is full of challenges and what may be a challenge to me might not be to someone else and vice versa.
I've said before that I don't always get to ride Finn, but I make every effort to at least get something as little as a quick hello and a much needed five minutes to remember why I push myself so hard. The same goes with my family. I received a text from my oldest the other day, "I love you and I'm proud of you for standing up for yourself and showing me how to be a strong woman," and that makes the toughest and most impossible day completely worth it.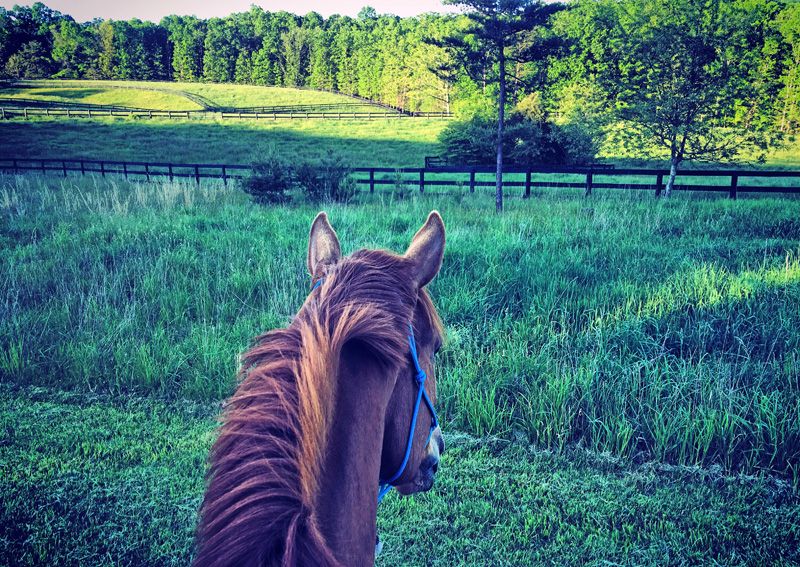 With all of this being said…. I drummed up the courage to resign from Warren County Fire Rescue in mid-May. This decision did not come lightly and there were various reasons for that decision, but it was ultimately what was best for me in the end.
I've worked hard to be where I am today with my career. I've spent countless hours studying, working out in the gym and away from my family and my horse. I spent most of March, April and May trying to better my career as a firefighter/medic. I sacrificed many days away to prepare for what I hoped would be a chance at a better career path for my chosen profession.
I was actually in the middle of a ride when I got the "conference call" saying I got the new job. It was such a relief knowing that all my hard work had paid off. I broke down and cried my eyes out for a few minutes, Finn kept looking back at me. I reached down and gave him a hug, I just knew this was the next page in my story. We picked up the canter and grabbed a fence before heading out for a long walk at the farm.
Before I started at my new job, I needed to find me again. It was hard to balance life with the various changes, meeting both personal and professional goals. I kept going, trying to find that happy place. I reflected back on my college summer months. And that happy place was found after a week at the barn and at home with family. Following this little "reset," I got a few wild hairs—and the opportunity to knock a thing or two off that bucket list of mine.
I'm very much a well thought-out and planned individual, but I've got a spontaneous side. I will decide at the end of the day that we're going on an adventure with the family or decide to go horse show. My schedule has been all over the place with the changes, the end of the school year with the kids and working part-time.
When I finally got word of my start date, I knew I had to enter the Upperville Colt & Horse Show. I debated for a solid week finishing my entry online or to just not finishing it. I thought to myself, "Why not?!" I got some support from a few close friends and finished the entry, selecting the WVBC Back from the Track Hack Class and the Thoroughbred Hunter Development Class.
We've been all over the place the last month or so. I started experimenting with Finn by hacking and jumping in a rope halter. We also focused on some light groundwork to "connect" with one another. He went so well the first day after having a few days off, I just kept with it!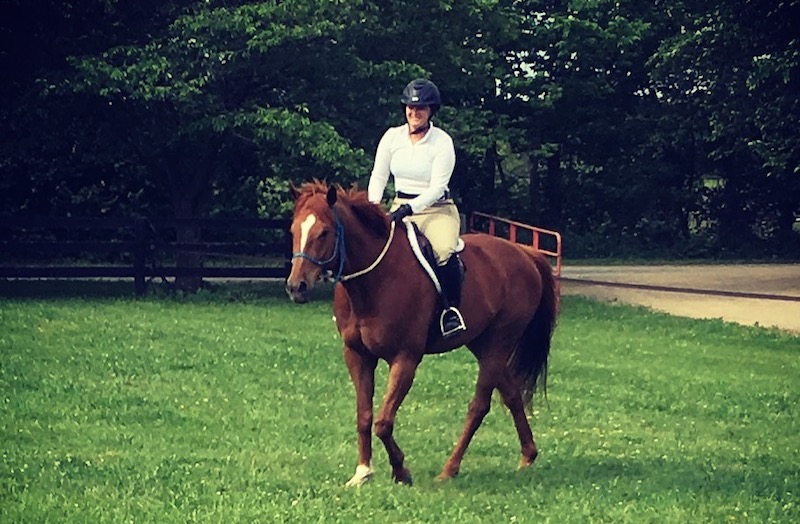 We went to a local show and even did our warm-up in the schooling ring in it. I will admit, we got some very strange looks! I'm one to think outside the box and couldn't care less what other people think. I already get looks being at the in-gate sans trainer, what's one more thing?!
Our new routine paid off because we ended up champion after our first time out in five weeks. This show put us about three weeks out from Upperville. I knew I had to find a couple others to help me prepare.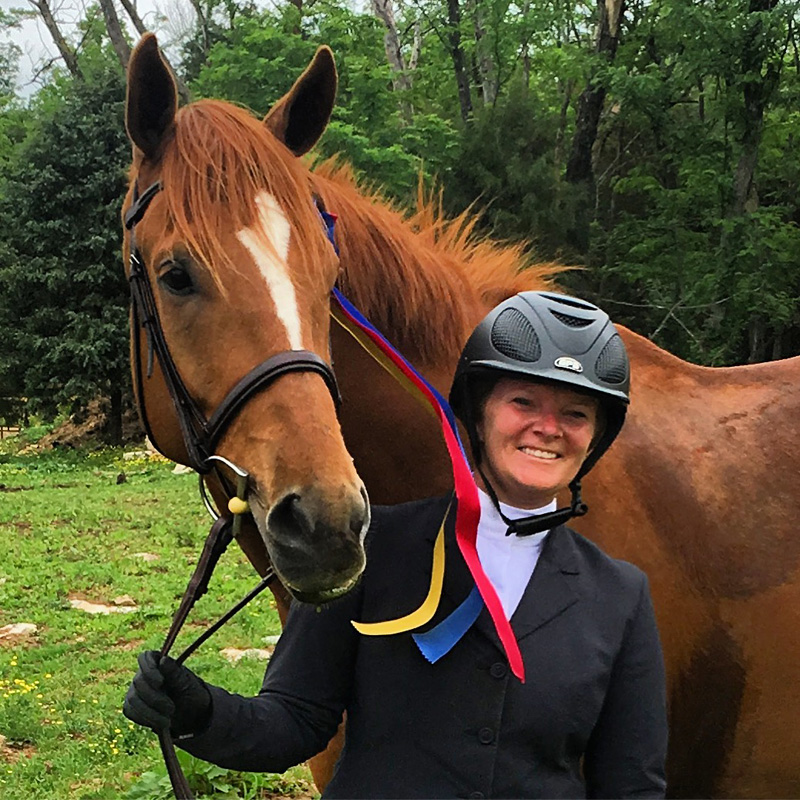 So, I found a local jumper show, Sandstone Farm in Millwood, Va., but was a little hesitant at first. A quick poll of my friends and college trainer, I decided at 10 p.m. the night before that I was going to go. I was looking for a change of pace and a challenge!
The show was on a Thursday, so I hurried up and got our youngest, Logan ready and we headed to the barn to get Finn. Logan thought it was the "coolest thing ever" to have his "bigger, but younger brother" take him to the bus stop. I had thrown Finn on the trailer—mud and all—to make it to the stop in time. We had a little grooming pit-stop while waiting for the bus.
I made it with time to spare and checked in while Finn patiently overlooked from the trailer. I was all alone for this one, but luckily found someone to videotape us. It was our first time doing the jumpers together and my first time since 2009 and I was also throwing in a few fences at 2'9″.
I cantered to our third fence and kept thinking, "please don't look, please don't look, GOOD BOY!" as I landed on the backside of a liverpool.
Finn's never seen one before and then came the combination—"sit up and kick!" Yeah, totally not fazed either. We ended up winning our first class, which was a power and speed. The second class had a jump-off and I chose to test some skills and making some thrifty approaches. It paid off and we won that class to finish reserve champion.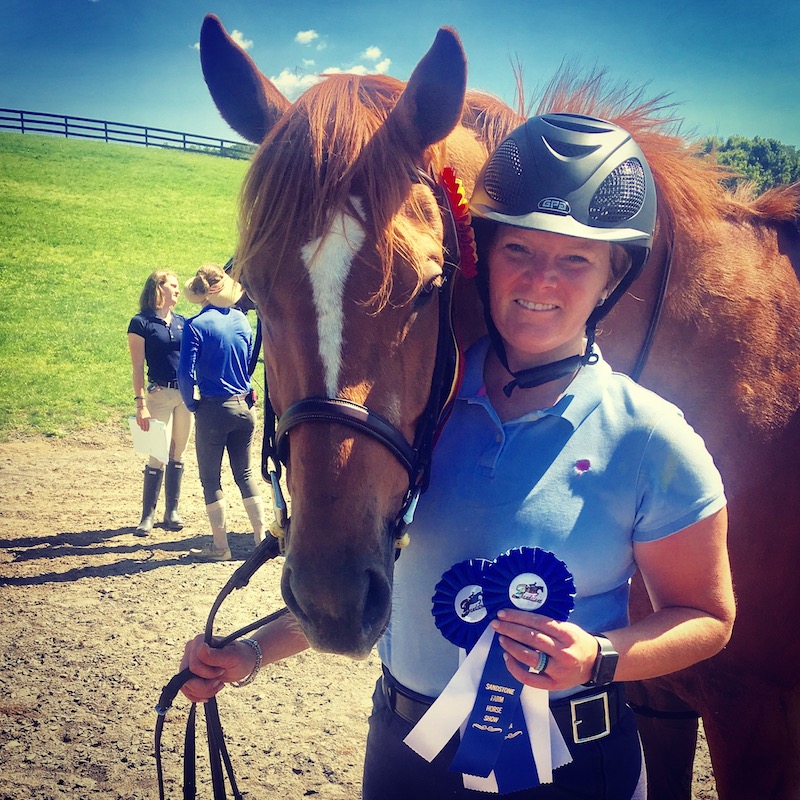 I was still worried about Upperville, so we ventured that Saturday to Fox Chase Farms in Middleburg, Va. I started with doing the 2'9″ division and for some reason I was terrified. We schooled great. Finn has never been to the outdoor and we walked in and just picked up the canter and made it past the first fence and the other seven!
Finn knocked a rail down in each course, but he couldn't care less. I thought it was my errors, but my husband, Sean said he looked bored. I debated on doing the 3′ and Sean looked at me and told me to, "get in the ring and just do it!"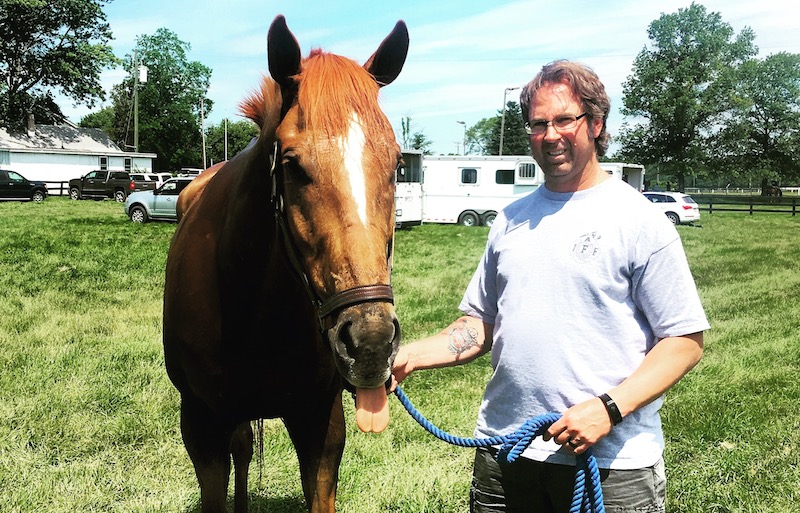 I turned for the ring, determined and scared. It had been 11 years since I had jumped a 3′ course… no pressure! He was perfect! We missed a change and forgot about a huge puddle and had a slight "Oh my God, MOM, it's a sloppy puddle" moment! We finished up with two fourths and a sixth in a division with seasoned horses and riders.
I watched the videos that Sean was able to record and I just knew—Finn finally wasn't being challenged and he had zero issues with the step or height. I got my validation on moving up to 3′.
All of the hard work over the past few months has paid off. It might not have been sitting in the tack, but it sure has made it full circle. It's been a journey to make it all work, but I know if it had been easy, it would not have been for me.
I'm looking forward to this big step in my career and the direction my riding is going. It's difficult to take that leap, especially at 32. So trust yourself, you owe it to yourself, your family and your horse. I am sure it will be a challenge to adjust to a different schedule, but I am looking forward to every step of it! I look forward to sharing the adventure of Upperville in an upcoming blog and learning that I am not alone in my "amateur adventure!" We all experience fear, doubt, challenges and personal victories.
Elizabeth Grubbs fits riding her off-the-track Thoroughbred hunter, Finn, around her full-time job as a firefighter/paramedic and two part-time jobs. She also juggles that with her life as a wife and stepmother to three children. You can read more about her in the Amateurs Like Us profile "Elizabeth Grubbs' Bumpy Road Led To The Right Place."
Read all of Elizabeth's blogs.