When you grow up riding all of your life, there are a few things you learn.
You learn the best way to clean tack, set a course, braid and all sorts of useful stuff. You also learn the phrases you should never ever say—no matter what! Like, "I haven't fallen off in forever!"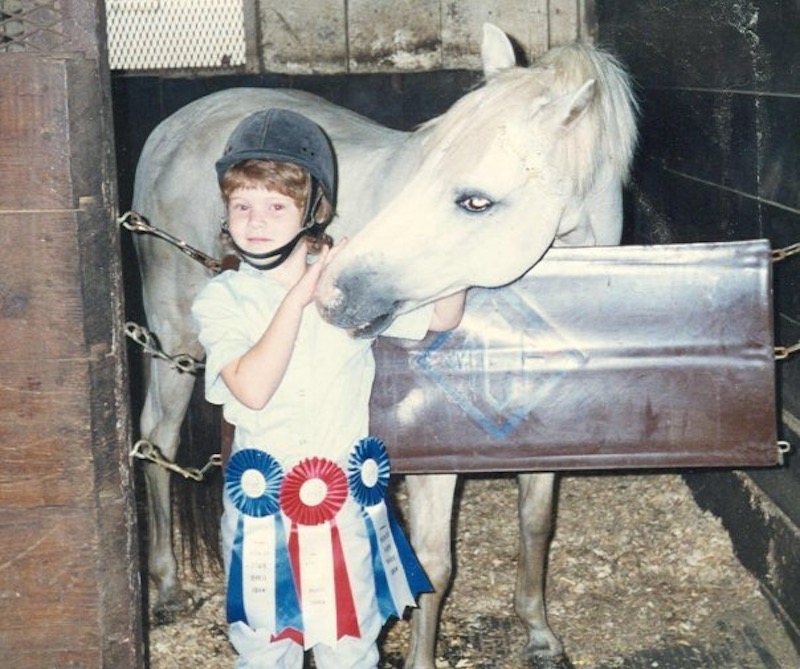 The wonderful art of falling off had eluded me for several years and I mean close to a decade. I was due for a practice flight! I was a little overdue for a new helmet (OK a lot overdue, about five years!). Little did I know I would purchase two helmets in about a 30-day span. We never thought 20 or 30 years ago about replacing a helmet after a fall. We just dusted them off, fastened our leather chinstrap, if you had one, and went your way!
So a brief hold on the falling off part—we will explore that adventure later!
I took a very last minute trip down to Dillywyn, Va., to Winter Hill Farm to stay the night with my old trainer from college, KC Meadows, for a clinic with Bruno Greber early Saturday morning. It was a much needed "vacation" as I worked a lot that week and finished my full-time work cycle with a night shift at my part-time job. I'd only had about an hour of sleep.
I planned on leaving with Finn and my dog Mikey after taking the kids to school. I was supposed to take a quick and glorious nap, but that turned into five hours of prime sleeping…oops! Luckily I loaded almost everything up Thursday and only needed Finn's food and him. We hit the road just in time to hit massive downpours that followed us the majority of the way. Mikey rode shotgun with me, just like he did as a puppy. I actually got him from KC, so it was like going "home" for him.
We got close to the farm as the rain stopped. We quickly unloaded, tacked up and the rain returned as I was walking out of the barn. I didn't care; I rode anyway. Finn was wild until he figured out I was serious about riding in the rain. A quick canter around followed by a trot and we were done. KC watched over us in the pouring rain from the center of the ring. We finished the night with a fun night in with KC's husband, daughter and Mikey!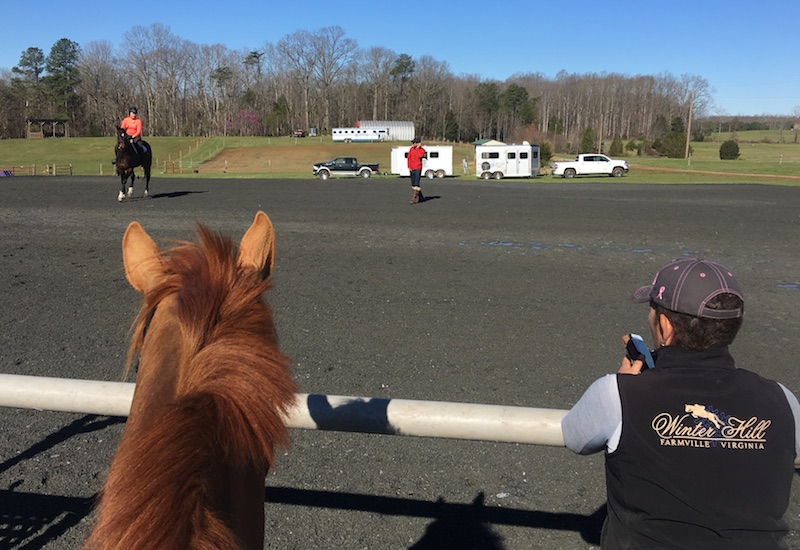 So, I forgot to mention that Finn was only worked twice at home after his little "March missing shoes" vacation mentioned in my last blog post. So I got on a little early and warmed up. Bruno Greber arrived and we had a quick little catch-up since our last clinic a year ago. It was a nice reward for me to hear that he was coming along well and was using himself a lot better than a year ago and he's really seeing improvements.
We worked on tracking up under with the hind end at all three gaits and flexibility through the barrel and ribcage. Bruno used the example of sitting on a blue 55 gallon drum in the water and to imagine trying to sit without falling in the water. I thought for a moment. He followed up with explaining that if you squeeze from the inner thighs you will fall in because your balance is off from tipping forward. So try lifting though your calf muscle and engaging his belly to step and reach forward with purpose he said. AH HA!
There it was as I sat up straight and sat through my seat! Something so simple, but so effective made a drastic change in Finn's stride. We finished up with canter figure-eights and a more purposeful trot and canter. Our last-minute trip was a success.
I cooled out Finn and untacked. I removed my helmet and it came apart! I was shocked. I said, "good thing I didn't fall off!" Little did I know, that would be my fate a week later.
So fast-forward a week to Saturday. I had a long day of driving to Charlottesville for my good friend's bridal shower. Sean was supposed to work that night and I had to get home to stay with the kids. Sean's work schedule had a last-minute change, so he met me at the barn with my new helmet that arrived from SmartPak and a six-pack of Sam Adams. He enjoyed a little tack room sitting while I played horses. He had a long day of training and was a little beat up, but we won't tell him that!
I enjoyed a decent hack around on Finn and few jumps over a giant cross rail. We hadn't jumped since our last show in early March. I decided that evening, I wanted to horse show. If you have noticed by now, I do things on a whim! We cleaned up for the show, packed everything and hooked the truck and trailer up.
It was now Sunday morning. We overslept later than I wanted, Sean headed to class, the truck needed gas and we didn't have time for breakfast. So, my stepdaughter Natalee and I rallied and were able to make it in time and probably on gas fumes. That was alright, it was all downhill off a mountain, we were golden!
We tacked Finn up and I hopped on with about seven minutes until the ring closed for schooling. I turned the corner to walk up the ring and I checked my watch, 8:54 a.m.
Next thing I know… OH &#%@! Yep, that was happening. Yep! That did in fact happen!
Natalee was behind me and watched everything go down. I held my rein as I came off the left side as Finn spun to right like a seasoned cutting horse. Through the air I went; I let go of the reins, landing square on my backside and smacking the snot out of my new helmet on some decent sized gravel. A quick coil into the fetal position, one I quickly remembered how to do, and I waited for Finn to figure his footing out before a quick pop up to my feet like the eighth grade cheerleader I used to be! A quick capture of Finn and we were ready.
Natalee stood there like a deer in the headlights—she had never seen me fall off. I hand walked him back over to where I fell to see that the issue was. A black culvert coming from the depths. It must have been a cow, right?! It had to be! Well at least that's what I'm going with. My perfect pony is in fact terrified of cows, but we won't mention that he has a whole herd of them in the fields next to us at the farm.
We conquered our fears and I was able to hop back on without issue. A quick canter around and a few jumps later we were good. I forgot how comfortable rocks and dirt were in a pair of breeches. I highly recommend it—it's a very humbling experience for every adult amateur.
I removed the debris from my breeches, checked in and got some food for Natalee. Finn got to experience the "punishment" (a word used very lightly) of throwing mom off—we added the pleasure division and just used that as a flat warm-up. We showed in the greens, Thoroughbred hunters and an equitation over-fences class. Between one of the divisions, the judge pulled me aside and asked some questions about Finn, but also made mention of how much better he was using himself and how well he was jumping. We had shown under her a few times last year and she has been able to watch his progress from just showing on the flat to starting over fences.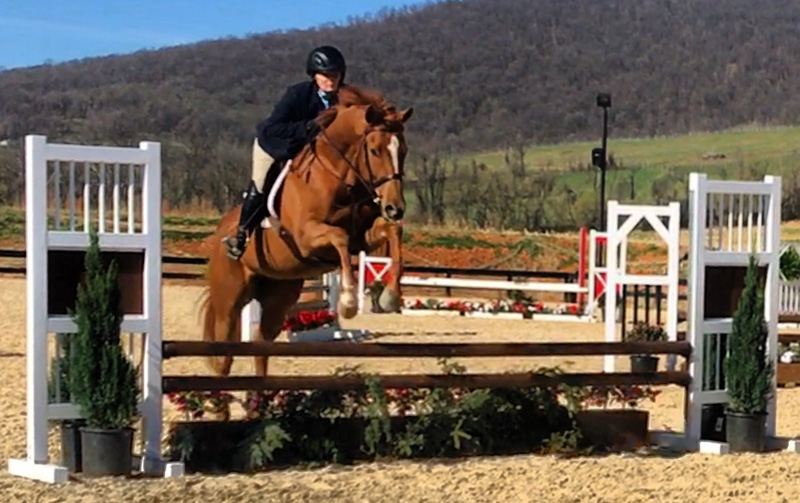 It's awesome to hear such positive things when you're doing everything on your own. It makes you proud and gives you that validation, especially after falling off! I was super handy and on it for my equitation trip; it was a chance to test my homework we had been working so hard on. We were awesome! We did a couple of rollbacks and ended the outside line with a halt.
I patted Finn for a job well done, then I hear: "You've got one more fence." So I jumped the last, we came back to the trot, and I said to Natalee, "I should have never gotten out of bed today and I still have to go to work later today—I'm a mess!" Everyone laughed, even the judge! We finished up with the hack for the greens and called it a day. We ended up with a champion and some other ribbons, but left as a more humble horse and rider.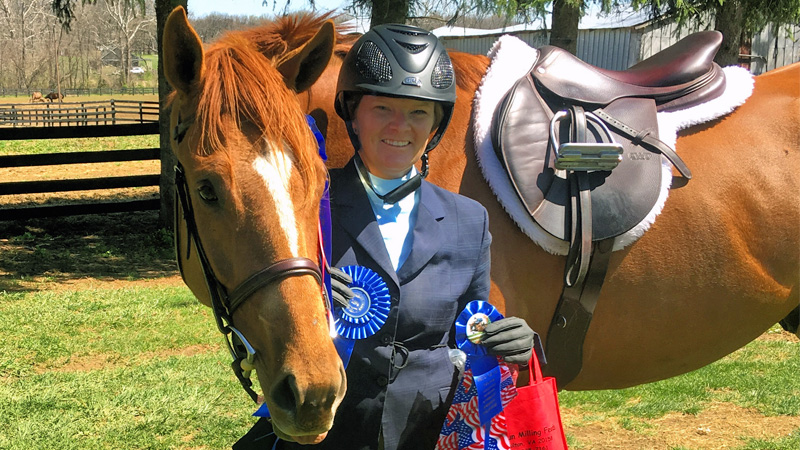 We coasted to the closest gas station just in time—phew. It finally sank in. I fell off. My perfect pony got me out of the tack!
In a strange way I was proud, but in a way I was shocked that he was able to get me off. I had learned to really stick like glue after 7 1/2 years of owning Ollie. I tried to recall the last time I fell.
Ahh, how could I forget. It was a rainy day in June 2009. I was hell bent on riding Ollie since we had a big show that week. I'm also pretty sure there was mention of, "I'm riding in the rain even if I fall off doing it!" Yep, another reminder of gritty footing and sand in the breeches and never mentioning those words!
So moral of the story—don't ever talk about falling off, EVER! You don't bounce like you do when you're 5, 15 or even 25!
I had a quick call to SmartPak on the way home and we enjoyed a good laugh while we started the helmet replacement process. We finished up and I was able to enjoy a little down time before heading to my part-time job for the evening.
Elizabeth Grubbs fits riding her off-the-track Thoroughbred hunter, Finn, around her full-time job as a firefighter/paramedic and two part-time jobs. She also juggles that with her life as a wife and stepmother to three girls. You can read more about her in the Amateurs Like Us profile "Elizabeth Grubbs' Bumpy Road Led To The Right Place."
Read all of Elizabeth's blogs.