Washington, D.C.— Oct. 28
Alexandra Pielet wasn't in love with her super mare Helene VE when they first met because she was worried about the mare's ability to jump big, testing tracks.
But Helene proved she was up for anything thrown her way and won the high junior/amateur-owner jumper championship at the Washington International Horse Show in great style. The pair topped two of the high junior/amateur-owner jumper classes earlier in the week and placing third in the $15,000 Show Jumping Hall of Fame junior/amateur-owner jumper classic on Saturday.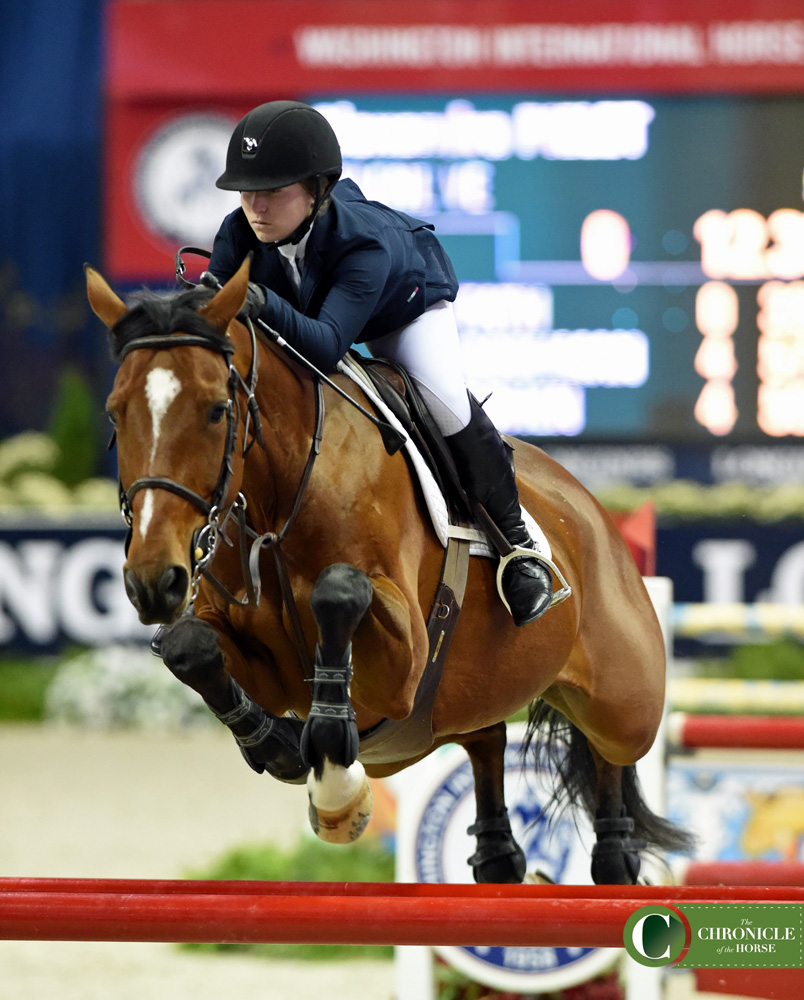 Pielet got the 10-year-old Helene VE (Diamant de Semilly—Tiffany) 2 1/2 years ago, and met when Pielet was riding with Molly Ashe and Chris Cawley.
"[Helene VE] is an amazing mare and she's so much fun," Pielet said of the Belgian Warmblood. "She has a big character, and she's sassy, but she has the biggest heart. I didn't fall in love with her right away, but Chris believed in her and the more she went the better she got. He's an amazing horseman, so when he vouched for her I trusted him."
Pielet's been busy this week, she competed in the junior hunters as well as the Lindsay Maxwell Charitable Fund WIHS Equitation Final.
Pielet said that juggling the hunter, jumper, and equitation rings was challenging, but rewarding this week. She's running on little sleep, but turned her focus to the equitation finals as soon as the jumper class finished.
"I'm excited for the equitation," she said. "Everyone's really close, and I think it's unique that everyone kind of has a fair shot right now. My jumper training helps with your eyes and thinking on your feet in the equitation classes, but no matter what happens it's really cool to be top 40 and just getting here."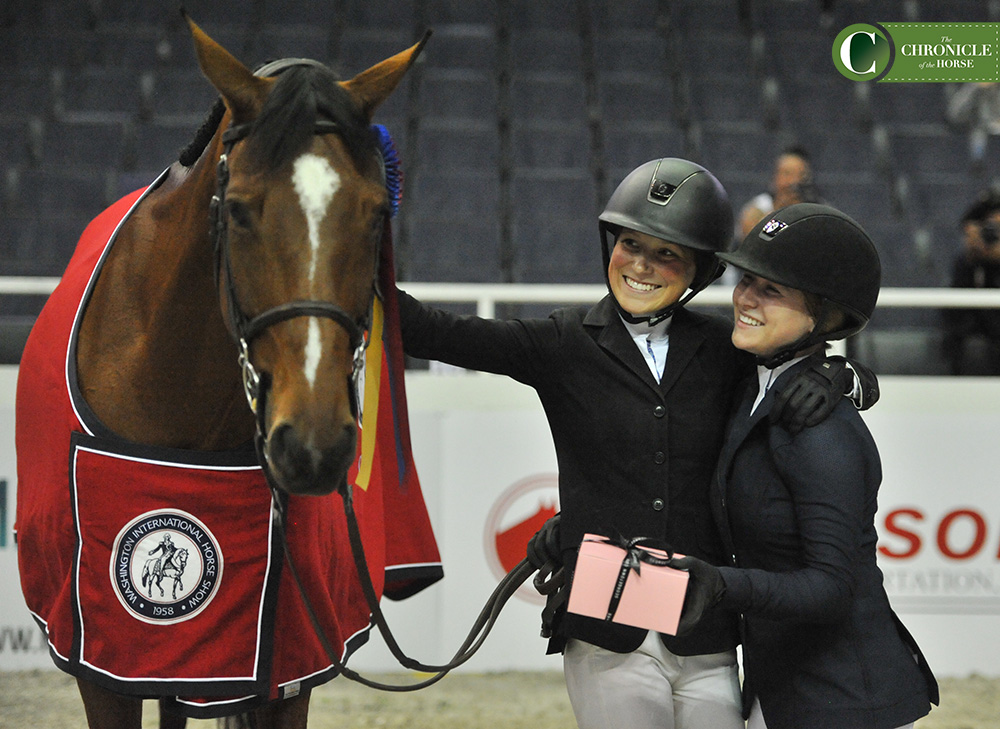 Pielet hails from Chicago, but travels every weekend to show and spends the summers in New York with trainer Val Renihan. 
WIHS First-Timer Welles Wins Championship On YJC Grad
Alexandra Welles used her first trip to the Capital One Arena to leave a lasting impression. Out of a field of 21, Welles and her own X M were the only pair to go double clear in the $7,500 Low Junior/Amateur-Owner Jumper Classic, which also secured them the low junior/ amateur-owner  championship.
Welles was the slowest clear round to qualify for the jump-off. Sophie Gochman and Shelly Zimmerli both had one rail down in the second round and Caroline Donnally had a fall off of Reve Du Razzy. Welles cleared the course in 33.69 seconds—well below the allowed time of 40 seconds.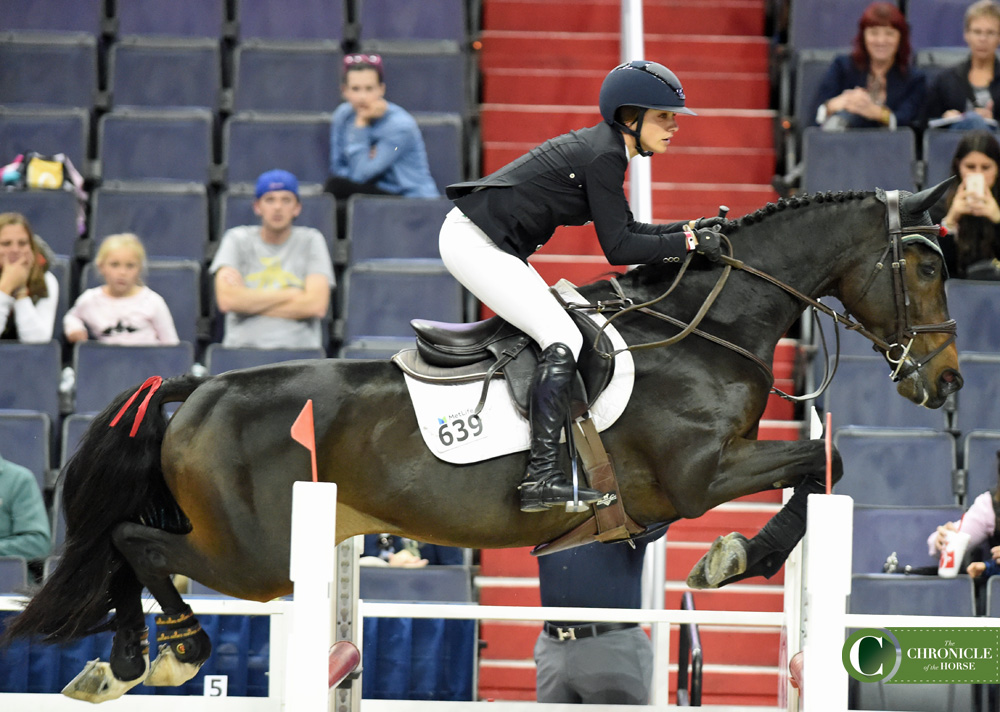 "In the first round [X M] was really good to me, but I didn't ride my best," Welles said of the 15-year-old Dutch Warmblood gelding. "In the jump-off everyone else had one down, so I had to go fast enough that if I did have one down it would still be in contention for the win but also careful trying to go clear. To be able to do that was kind of a fairy-tale ending."
Alexandra's husband, Andrew Welles, bought X M (Heartbreaker—Oceane Du Chene) as a 7-year-old from McLain Ward, who won the $30,000 7- & 8-Year-Old Young Jumper Championships Eastern League Final with him in 2009. Andrew competed him in grand prix classes but X M struggled with soft tissue injuries and stepped down to the low amateur-owner division four years ago.
In addition to their championship win, Andrew received the $5,000 SHF Enterprises Inc. Young Jumper Championship Incentive bonus as the trainer of X M. The award was founded in 2013 and is given to rated jumper division champions who also placed in the top 15 in any YJC in the past 10 years.
"It feels amazing to win," Alexandra said. "We kind of decided to send an entry in right before the deadline, and I'm really glad we did. The horse is really special to me because he's so brave and so careful. He has so much heart and he gives you everything every time. The venue is amazing. It's fun; the atmosphere is wonderful; the city is beautiful, and I'm really hoping to come back next year."
IMPORTANT LINKS:  All the COTH Washington International  coverage  |  What You Need To Know  |  live results/order of go  |  live streaming  |  show website