We left Maizey Manor Wednesday morning and shipped the short distance to Badminton. The event is held on the incredible estate owned by the Duke of Beaufort.
We checked in and walked to our in-barn inspection, where event officials compare a horse's passport to the actual horse presented. Once the officials were satisfied, we got Henry settled in to his stabling and gave him some down time to acclimate to his stall. The horses are staying in the Duke of Beaufort's private stabling and the stalls are big and comfortable.
Back in the States this winter we had a stowaway chicken in our trailer at several events where Henny did very well, so since we did not have a chicken here in the United Kingdom, our son Owen sent Henny a nice little stuffed chicken—Henny's Hen.
This lucky chicken and Henny's good luck charm from the 2010 Alltech FEI World Equestrian Games, a stuffed Tazmanian Devil, are now both hanging on his stall.
After Henny had a chance to relax we took him for a graze and to the arena familiarization in the stadium where he'll do his dressage test. It's a big stadium with lots of red and white tenting and red bleachers and there were a lot of horses and people buzzing around.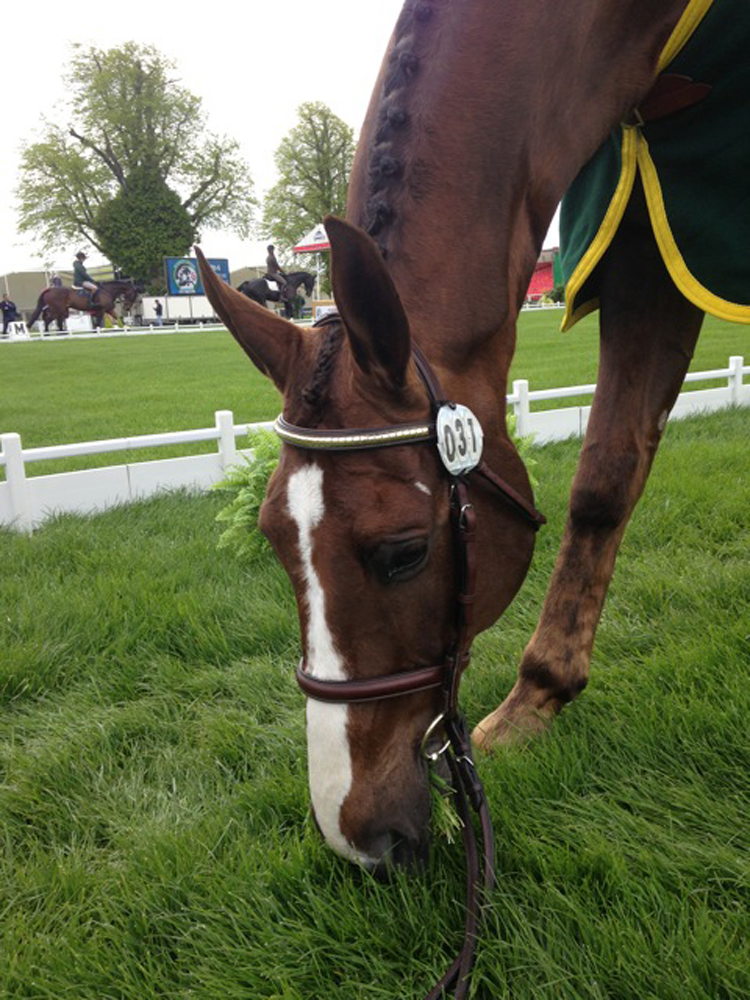 Henry enjoyed the lush grass in the main
arena at Badminton!
Henry was alert, but very relaxed—he sniffed the flowers, walked around quietly and grazed. The atmosphere is charged with excitement here, but Henry seems to be taking it all in stride. It's a long walk from the stabling to the main arena and there was a lot for Henry to look at—as usual, he was particularly interested in the cross-country course!
Later in the afternoon, Henry was prepared for the trot-up. Amanda and my wife Amy, his two grooms, curried him all over, gave him a nice bath and scrubbed his white parts 'til they were quite shiny. He got clipped and his mane and tail were braided while I got dressed, and then I was off to present him. He jogged great and was accepted to the Mitsubishi Motors Badminton CCI****! Competing here has been a lifelong goal for me so I am thrilled to be here!
After the trot-up we went for a dressage school with Australian team dressage coach Gareth Hughes. He reinforced the principles that we've been working on with Annabel Scrimgeour while in the U.K., including slowing down our tempo but adding power, and basically just spent some time fine-tuning our movements for Thursday's dressage. We took a long and low hack back to the stabling, removed his braids, gave him another quick rinse, fed him lots of carrots and then his dinner and a cozy rug.
I feel well prepared for our dressage tomorrow—we go at 11:58 a.m. Wish us luck! We'll check in after we're done.
U.S.-based Australian rider Peter Atkins is contending the Mitsubishi Motors Badminton CCI**** with his popular partner, the Argentinean-bred Selle Francais Henry Jota Hampton, a.k.a. Henny. The duo are well-known for their exciting cross-country helmet cams seen between Henny's intelligent ears. Their fans rally around the familiar chant, "Run Henny Run!"
Read all of Peter Atkins' blogs.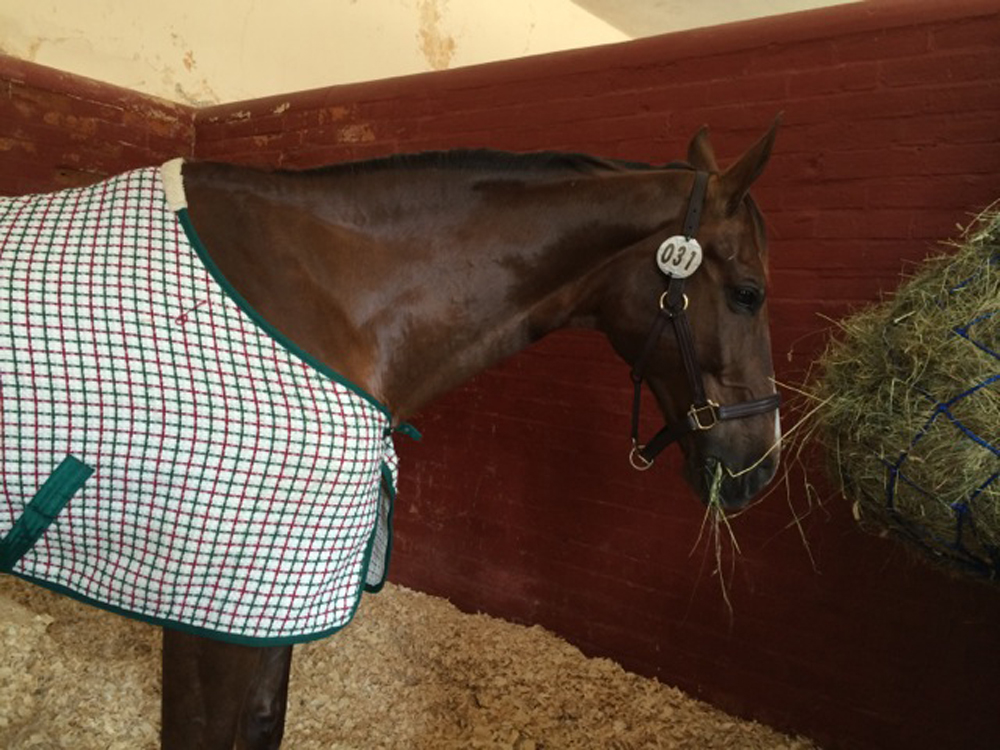 Henny relaxing in his Badminton housing.
Unloading Henny at Badminton.
Henny getting his chrome polished!
Henny's good luck charms—the chicken
and the Tazmanian Devil!
Getting some last-minute dressage advice.