Peter Atkins and his Henry Jota Hampton, popular for their "Run Henny Run" helmet cam videos, are in England this week for the Mitsubishi Motors Badminton CCI**** and Atkins is taking Chronicle readers along on their adventures.
I know that many of our fans were disappointed that they did not see us at the Rolex Kentucky CCI****, this year, but Henry and I have done Rolex twice (2010 and 2013) and competed at the 2010 Alltech FEI World Equestrian Games in Kentucky, so I felt it was time to tackle the biggest course in the world!
I decided that if we could pull together the support to make a run for it then the Mitsubishi Motors Badminton Horse Trials was the obvious goal for us this spring.
Well, today Badminton officially starts, and I am very excited! We have been staying in England at Maizey Manor, which is a beautiful 200-acre farm owned and run by fellow Aussie Catherine Burrell. It is known as the "Amazing Manor," because of its beautiful facility and an incredible gallop. Clark Montgomery ships here once a week to gallop. The Canadian team will be based here before the World Games as they did before the Olympics.
On Monday Henry did his last gallop in the morning then we headed to the Australian pre-Badminton dressage test run-through, by invitation of the Aussie team dressage coach Gareth Hughes. Henry felt great, and Gareth was quite pleased with Henry's test.
Today, Amy, my wife, and Amanda, Henry's groom, arrived just in time to see my dressage lesson with Annabel Scrimgeour. Annabel worked really well with Henry. She is a very quiet, calm and tactful teacher.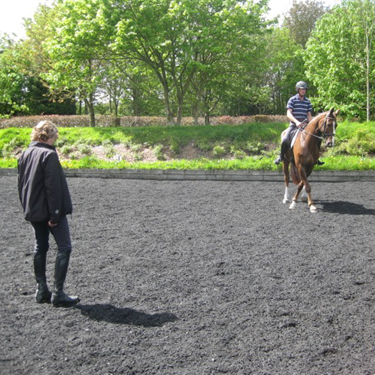 Working on our walk pirouettes.
She helped me slow down our tempo but add power. Henry is very difficult in dressage because he holds a lot of tension. With this tension he gets behind my leg. My first response is to get him in front of my leg, but its hard to do that without adding more tension.
Annabel had me slow down all my movements to get the relaxation then add power carefully as to not upset Henry. We ended on a great note! She also helped me with my walk pirouettes.
After our lesson, Henry had a bath and went on the walker for half an hour. Surprisingly, Hen really loves the walker. After he walked, Mel Gurdon gave him a physio treatment. He loves Mel and gets very into his massage and physiotherapy, as it feels so good.
While Mel worked on Henry, Amy and I packed the lorry and prepared for the weekend. We got up early to bathe Henry and head over to Badminton. The jog is this afternoon and immediately after the jog, I will be having another training session with Gareth Hughes. Stay tuned for news from the jog and photos from Hen's adventures at Badminton!
U.S.-based Australian rider Peter Atkins is contending the Mitsubishi Motors Badminton CCI**** with his popular partner, the Argentinean-bred Selle Francais Henry Jota Hampton, a.k.a. Henny. The duo are well-known for their exciting cross-country helmet cams seen between Henny's intelligent ears. Their fans rally around the familiar chant, "Run Henny Run!"