July 2022
(Subscribers can read the full magazine online.)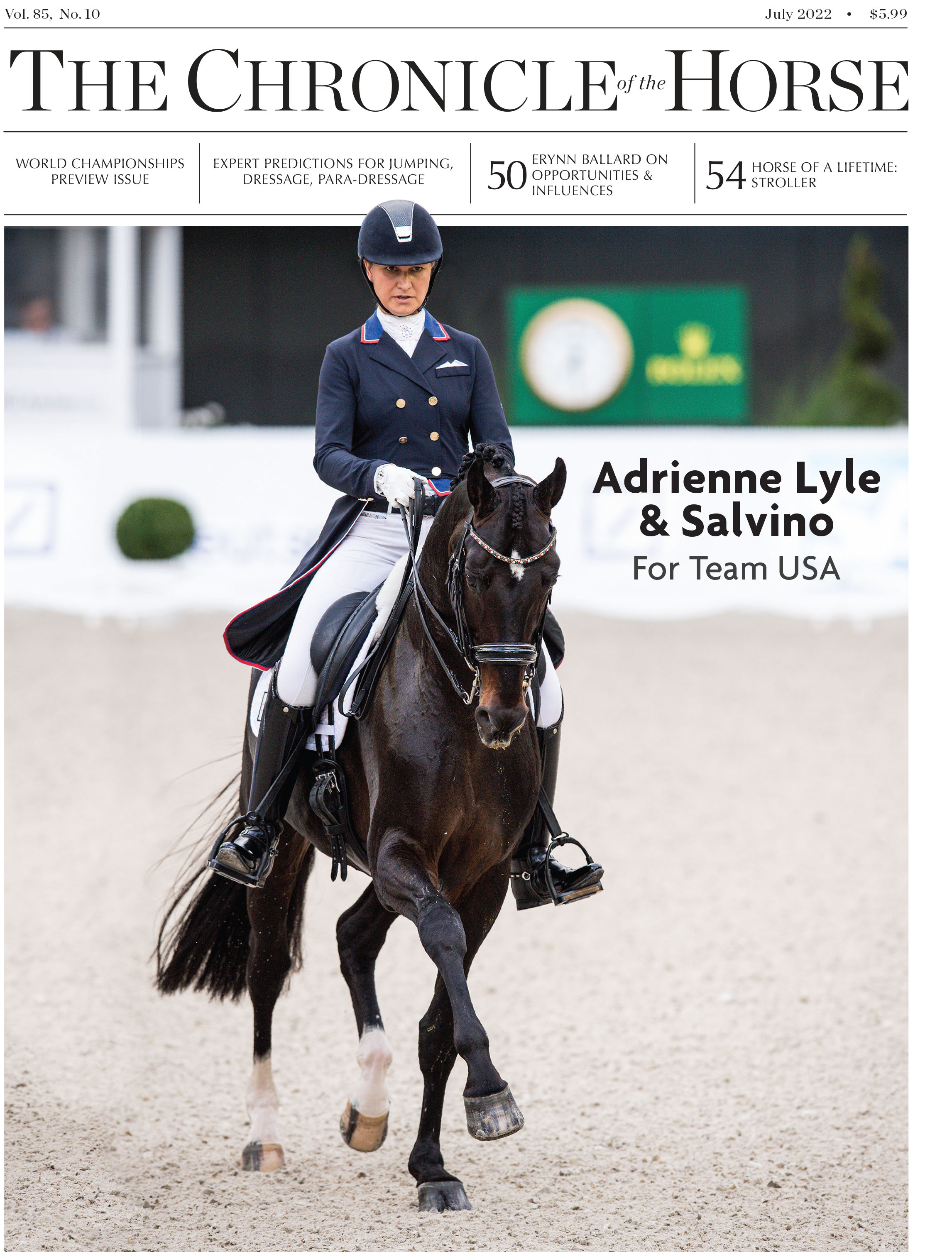 WORLD CHAMPIONSHIPS PREVIEW ISSUE
Denmark Looks A Lock For Dressage Gold, But The Individual Medals Will Be Exciting
Nick Wagman believes the sport is building momentum, with newcomers to be excited about and judges rewarding the best work.
United States Dressage Short List
Can The U.S. Para Riders Do It Again?
Stinna Tange looks at the chances of another podium finish for the U.S. para-dressage team.
United States Para-Dressage Short List
Look For Sweden On Top Of The Show Jumping Podium
Rodrigo Pessoa thinks the reigning Olympic champions will continue to dominate at the Agria FEI Jumping World Championship.
United States Show Jumping Short List
Free Rein With: Erynn Ballard
Since moving to Wellington, Florida, to work for Ilan Feder five years ago, Ballard has appeared on two championship teams—at the 2018 FEI World Equestrian Games and the 2019 Pan American Games—and she will represent Canada in the Agria FEI Jumping World Championship.
Horse Of A Lifetime: Stroller
A childhood pony grows into a World Championship winner.
Kristi Wysocki Is All About The Why
As the only five-star para-dressage judge in the United States, she's become a sought-after official.
HORSE SHOWS
Rinaldi Gets A Career-Boosting Victory At Spruce Meadows
The 23-year-old earns her first five-star win while finding her place in the senior ranks.
5 Questions With: Augusta Iwasaki
Ever since she was a pony rider, Iwasaki has been synonymous with excellence in the hunter ring. While the 18-year-old has expanded her talents to the equitation and jumper rings, she's still found plenty of opportunities to demonstrate her hunter prowess. On June 24, she collected another major victory in the $100,000 WCHR Central Hunter Spectacular with Attendu De Lannois Z.
YOUNG ENTRY
Adequan/USEF Junior Hunter National Championships—East Photo Gallery
EVENTING
5 Questions With: Felix Vogg
When Vogg led the victory gallop with Colero at the Luhmühlen CCI5*-L, it was the first time a Swiss rider had earned a five-star title since 1951.
DRESSAGE
Sixth Sense Shines At Tryon CPEDI3*
Beatrice de Lavalette earns an international personal best aboard her new partner.
Summer 2022 Untacked
(Subscribers can read the full magazine online.)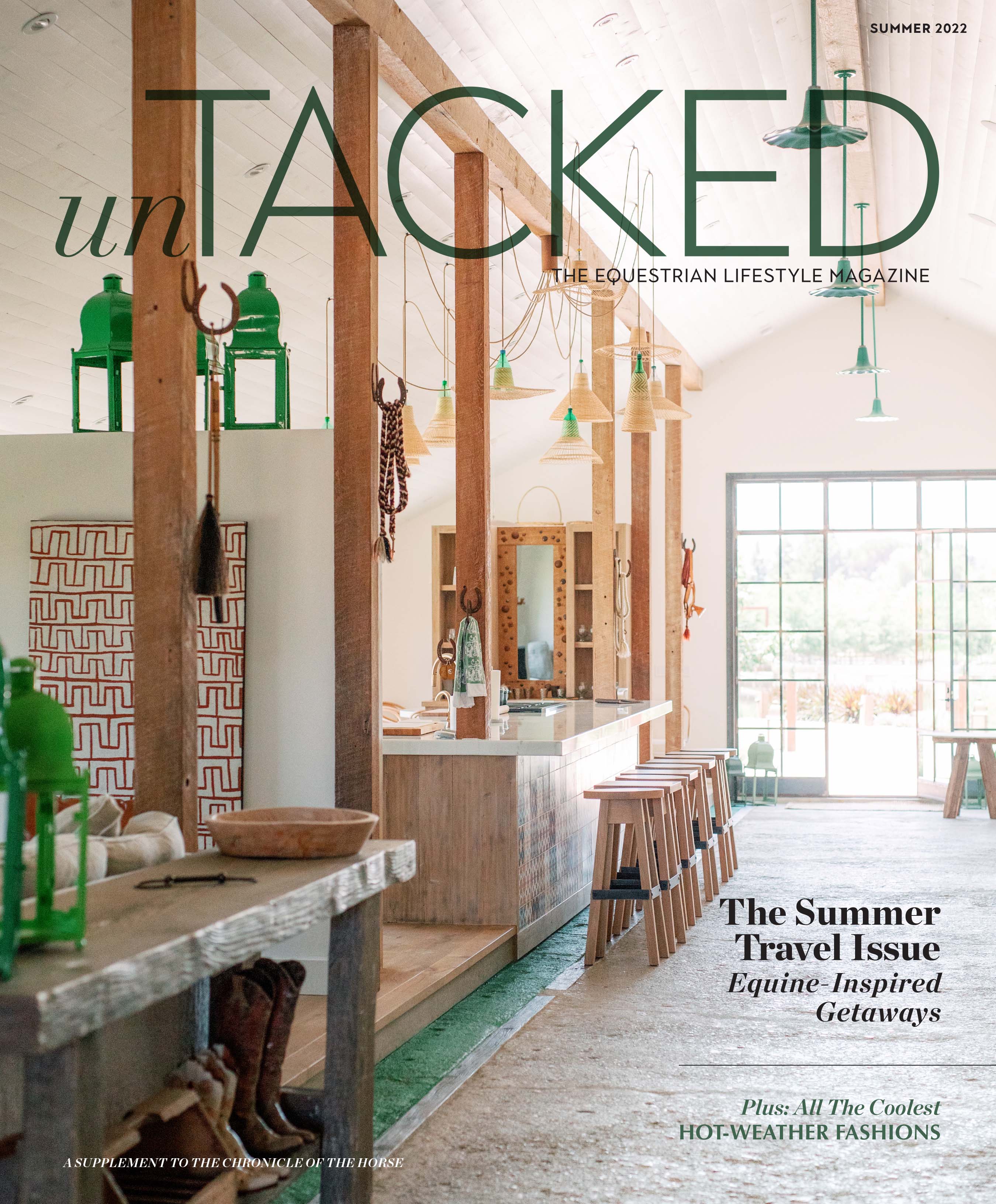 INSIDE:
7 Stylish Stays For Your Next Getaway
From historic farm cottages to luxury stable rehabs, these Airbnb accommodations across the United States are worth planning your next competition or vacation around.
Julie Byerly: Ranger On Horseback
As part of the National Parks Service, she spends her days overseeing Point Reyes National Seashore in California.
Behind "Horse" With Geraldine Brooks
The Pulitzer Prize-winning writer discusses why she turned her focus to equines—including one in particular—for her latest novel, which debuts June 14.
Rihards Snikus Stays Smiling
The 2021 Tokyo Paralympic Games two-time silver medalist for Latvia—and part-time DJ—is looking toward a golden future.
The Clothes Horse: Stay Cool When Temperatures Rise
Whether your destination is the barn down the street or a holiday halfway across the world, it's all about ventilation, breathability and sun protection when riding in the summer.
Plus: Editor's Letter, 5 Questions With, Around The Arena, In The Frame, Charity Spotlight, Book Reviews and Parting Ways! There's even more inside the Summer Issue of Untacked, at the intersection of equestrian life and style.