October 4 & 11
(Subscribers can read the full magazine online.)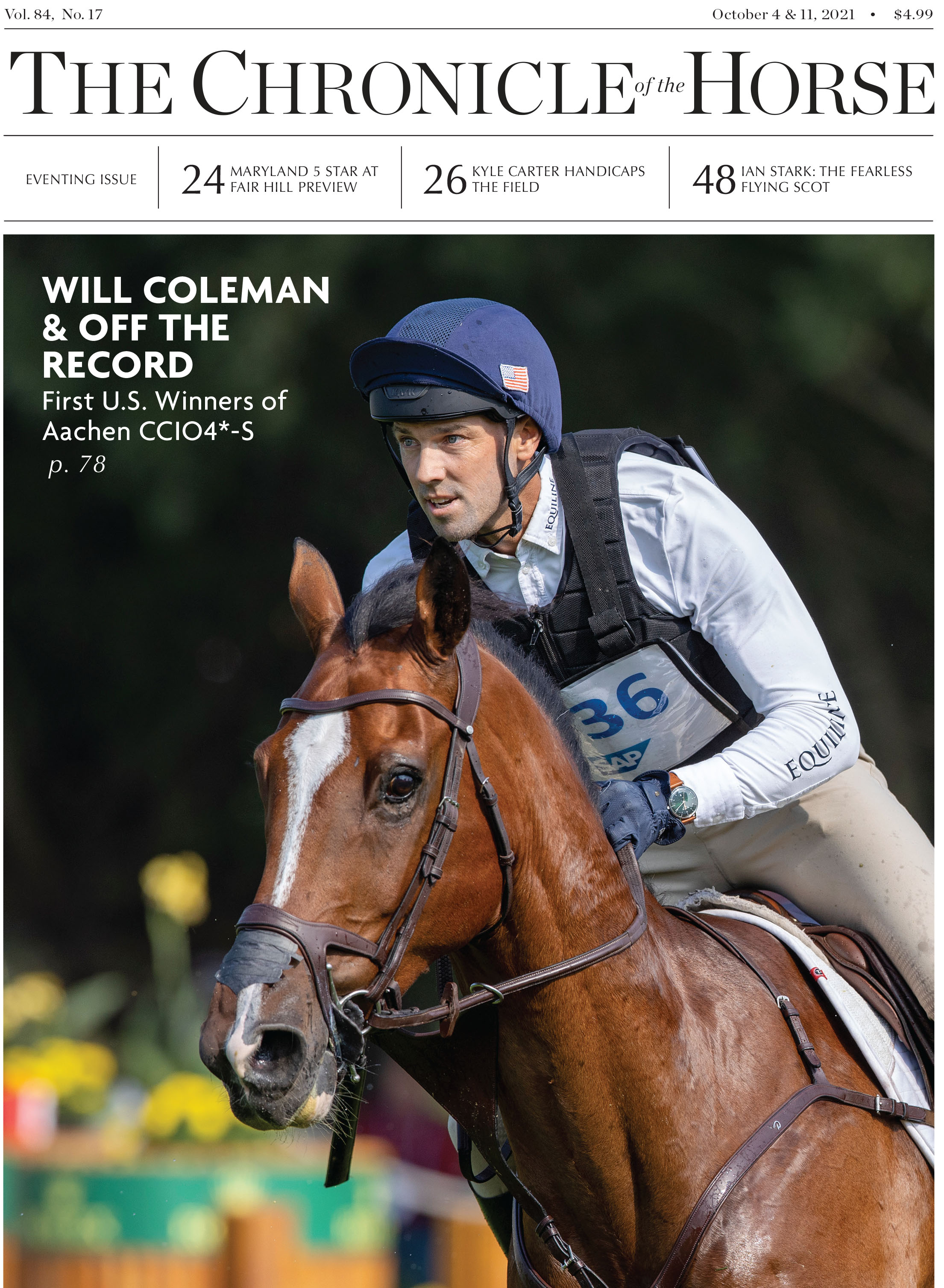 EVENTING ISSUE
The Maryland 5 Star Will Raise The Bar In The United States
Our handicapper Kyle Carter reflects on what it means to have a fall event at the highest level and takes a look at the entries, with his predictions.
Ian Stark Goes From Five-Star Winner To Five-Star Designer
The eventing legend will make his top-level course-designing debut at the Maryland 5 Star At Fair Hill.
Fair Hill: A Horseman's Oasis
William du Pont Jr. altered the trajectory of the more than 5,600 acres of land in the corner of Maryland that now hosts this country's second five-star.
Ask 3: How Can You Help Your Horse Show Jump His Best After Cross-Country?
We talked to Hawley Bennett-Awad, Sinead Maynard and Sara Kozumplik Murphy.
The Study Shows: A Painful Surprise Hides Inside Many Equine Mouths
A post-cross-country examination revealed bit lesions in more than half of the horses.)
EVENTING
Coleman Makes History In Aachen
He became the first U.S. rider to win the prestigious German event and lead Team USA to second.
Dutton Dominates A Plantation Field Event That Is Back From The Brink Of Cancellation
Phillip Dutton's been making headlines this year with his top horses Z and Fernhill Singapore, but Quasi Cool has been steadily moving up the levels since Dutton bought him as a two-star horse from Germany's Dirk Schrade in late 2019.
HORSE SHOWS
McDermott Overcomes Self-Doubt To Win At HITS Saugerties
After some initial nervousness, she pulled together to win her first five-star grand prix.
Spruce Meadows 'Masters' CSIO5* Photo Gallery
Henrietta Headlines The USHJA Young Jumper Championships
She dominated the 6-year-old division with German rider Soehnke Theymann.
DRESSAGE
A Turning Point In Training Brings Anderson GAIG/USDF Region 5 Championship Victories
Taryn Anderson has been racking up good scores and good ribbons on the Colorado dressage circuit for the past few years with her small tour horse Addison and fourth level horse Romulus. Nonetheless, when she got the chance to spend almost two months in Wellington, Florida, last winter, it opened her eyes to a whole new world.
Fall 2021 Untacked
(Subscribers can read the full magazine online.)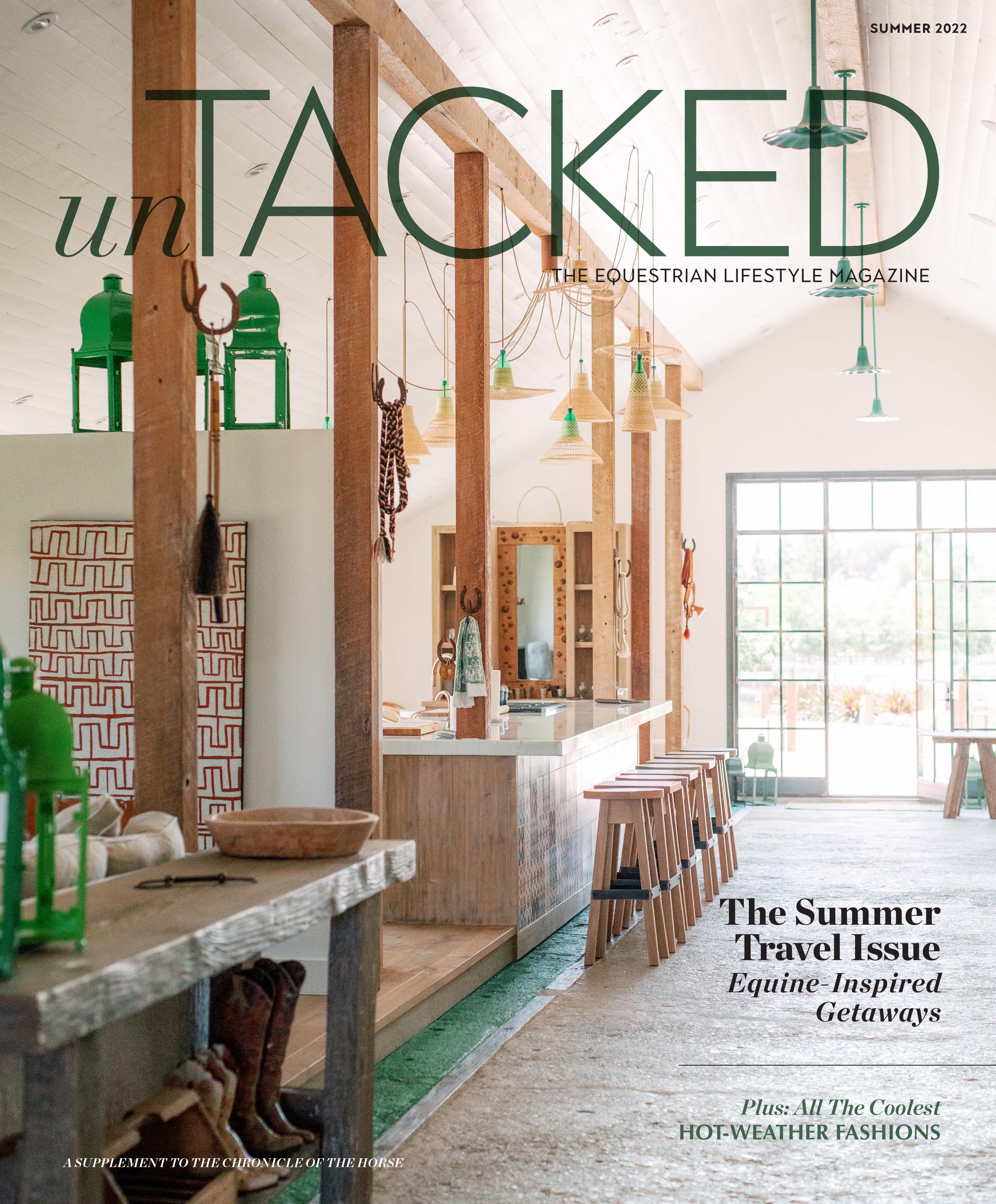 INSIDE:
A Tour Of St. Bride's Farm
This unique Upperville, Virginia, facility is part top sport horse breeding facility, part sculpture showcase.
Fashionable And Functional For Fall
Dress to impress with barn-to-street style that works wherever you go.
Promoting Sustainability One Horse Show At A Time
Green Is The New Blue is helping solve some of the equestrian world's environmental impact issues.
Cara Van Leuven Followed The Signs Back To Horses And Art
She lost everything in the 2008 recession only to gain so much more after changing career paths.
City Guide: Lexington, Virginia
For 37 years, the Virginia Horse Center has welcomed equestrians from all backgrounds. But beyond the blue roofs of the 600-acre property is a foodie's delight and an outdoor playground nestled in the Blue Ridge Mountains.
Plus: Editor's Letter, Around The Arena, In The Frame, Book Reviews, Editors' Picks and Parting Ways! There's even more inside the Fall Issue of Untacked, at the intersection of equestrian life and style.