May 23 – June 6, 2022
(Subscribers can read the full magazine online.)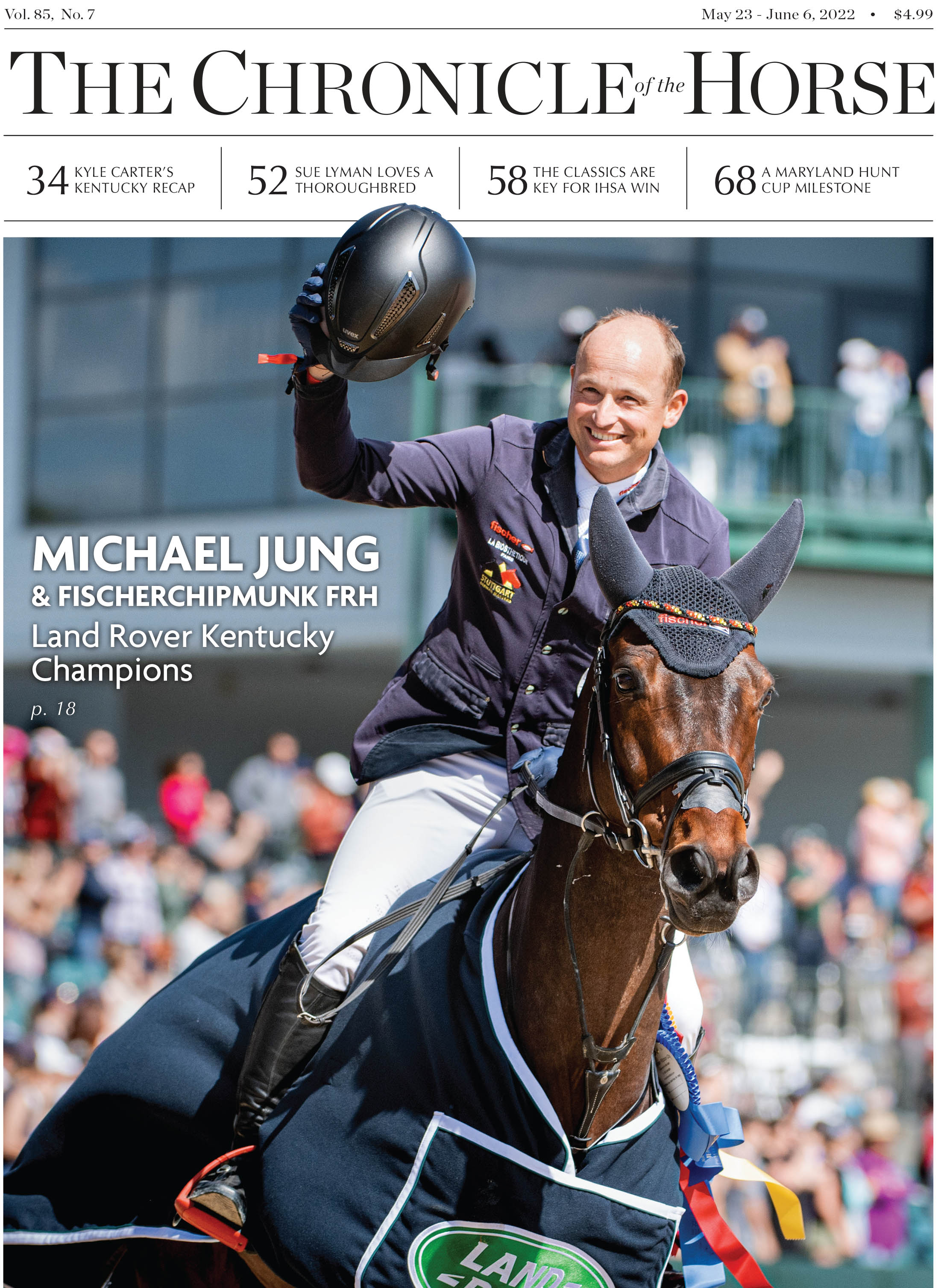 KENTUCKY RESULTS ISSUE
There's Jung—And Then Everyone Else—At The Land Rover Kentucky CCI5*-L
With a fourth win, a record-low dressage score, and a winning margin of more than 11 points, the German rider is in a league of his own.
Cooley Quicksilver Gets His Moment To Shine At Lexington CCI4*-S
Liz Halliday-Sharp's "unique" five-star partner earns the win on the way to Luhmühlen.
Land Rover Kentucky Three-Day Event Photo Gallery
Michael Jung Is #Goals At Land Rover Kentucky
Kyle Carter says Jung may be way out ahead, but there were plenty of other inspiring performances and displays of horsemanship over the weekend as well.
Ask 5: What Do You Remember About Your First Trip To Kentucky?
These Kentucky veterans recall their first experience at the nation's biggest event.
EVENTING
Collett Headlines British Badminton Sweep
Tamie Smith and Ariel Grald lead an inspired U.S. contingent.
HORSE CARE
Quasi Cool Rebounds From Eye-Socket Injury To Lexington CCI4*-S Podium Finish
After the potentially career-ending incident early this year, he returns to form in Kentucky.
HORSE SHOWS
Between Rounds With Sue Lyman: Take A Chance On A Thoroughbred
Our columnist reflects on the breed's versatility and heart.
Spring 2022 Untacked
(Subscribers can read the full magazine online.)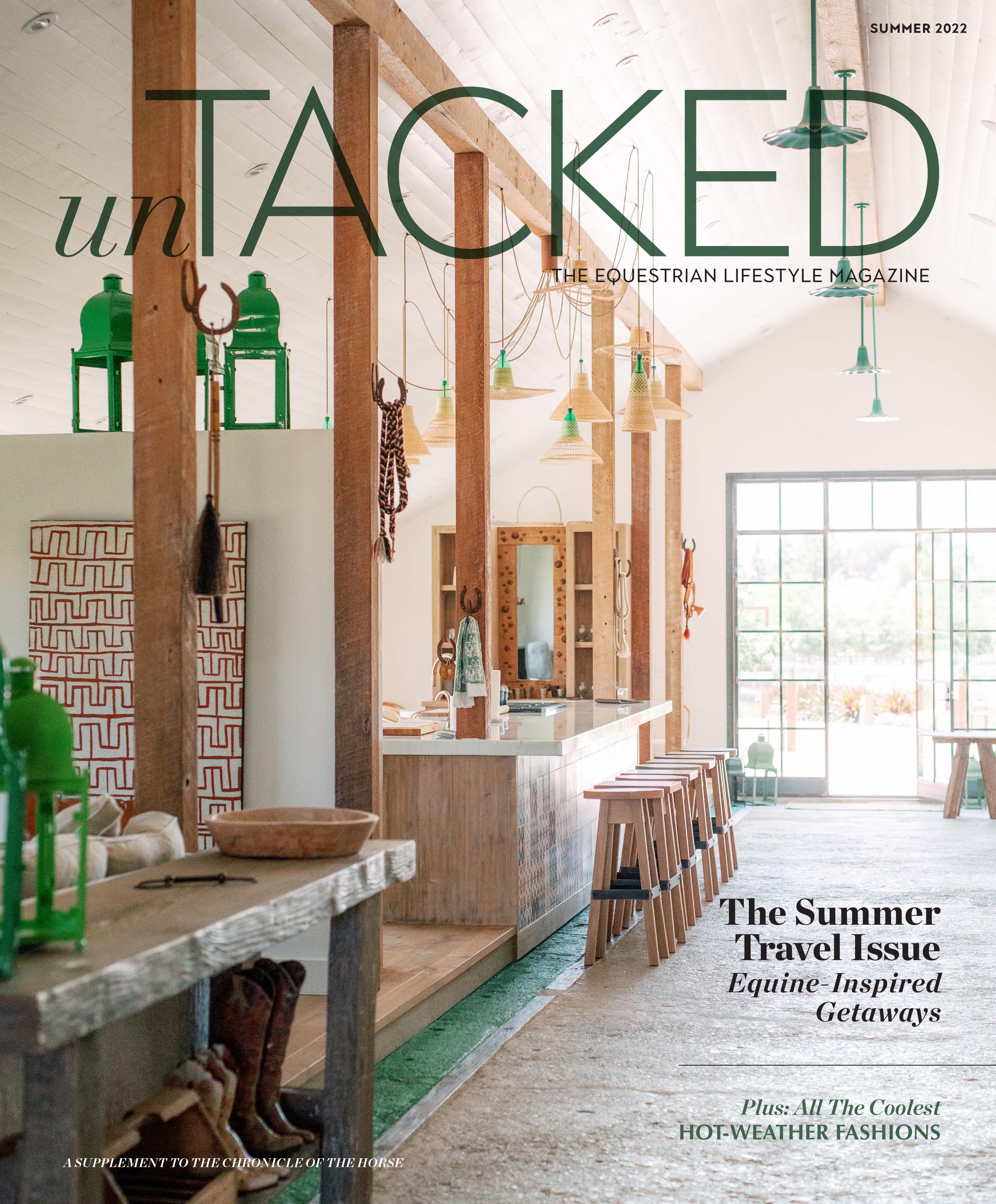 INSIDE:
A Different View Of The World From Horseback
Susan Wirth, founder of travel company Imagine Riding, helps give participants experiences they might not find on other rides.
The Clothes Horse: Pastels, Prints And Patterns
Check out your new wardrobe for spring riding and beyond.
At Home With: Kyle Carter
The Canadian Olympian and Chronicle handicapper trains out of his unpretentious and practical—but perfectly suited—Five Ring Stables in Citra, Florida.
Brenda Herzog Drives A Passion For Horses
The 2021 recipient of the Joe Kelly Unsung Hero Award spends her days spreading the magic of riding to Baltimore kids.
Travel: Stepping Back In Time At Alisal Guest Ranch
Despite a nearby wildfire, the author still enjoys the California scenery and an old-fashioned vibe at one of the country's most renowned resorts.
Plus: Editor's Letter, 5 Questions With, Around The Arena, In The Frame, Tech Spotlight, Charity Spotlight and Parting Ways! There's even more inside the Spring Issue of Untacked, at the intersection of equestrian life and style.