The past year has been kind of tough, with the tragic loss of my sister at the hands of her cruel, sadistic husband, the loss of our donkey and our pony who lost a valiant fight with Metabolic Disease and Laminitis and most recently our 14 year old dog. It's a lot of loss in a short time, and it had taken the wind out of my sails.
So, along with reining in our finances this year in case of difficulities in the future, mustering up the Christmas spirit has been a struggle. I had told Mr. Chai that I didn't want any gifts this year, and we would focus on the kids and make sure we were able to take care of our horses. That was enough for me.
This morning, I was supposed to go shopping with my younger sister and my Mom, who is elderly and needs help carrying bags. I was looking forward to spending the morning with them, but we are dealing with crazy weather here, going from unseasonal rainy warmth to freezing rain to a hard freeze tonight. I wanted to get the horses out for as long as they could safely stay out today but when my sister told me that they wouldn't be back until late in the day, I decided not to go because the horses would be out in a driving, freezing rain by the time we got home.
I was upset about not being able to go, but my intuition told me that I shouldn't take that chance. If the horses were left out in that kind of weather, my old guys would be in danger, but if I left them in, it would mean they would be in for 48 straight hours if it's as icy as they predict tomorrow, and that doesn't work for my old gang, either.
So I stayed home and sulked my way through my barn chores, irritated at my inner voice that always makes me do the 'right thing' and wishing that for once, I would just say, 'They'll be fine' and leave them out in the rain, hoping it wouldn't be too bad. But when it really started coming down and the temperature started dropping, I was glad I stayed. I figured I had a half hour window, just enough to finish barn chorses before it was too raw, cold and wet to leave them out.
I walked out back to throw some hay in the garden, and I was met with a horrifying sight. My 34 year old gelding was down, flat on his side in the sand ring and he wasn't moving. This horse hasn't laid down in the field in thirteen years, and I flew out there, certain that he was dead.
Then I saw steam rising, and realized he was alive. He tried to raise his head but it just dropped back down and there were deep gouges in the sand in a circle around him where it looked like he was struggling. I have seen a horse have a heart attack and not die right away, and I was sure that's what happened, because when I fed him at 5:15 this morning, he popped right up from lying down and hoovered down his breakfast, so I couldn't imagine any other explanation for his inability to move or get up. He would raise his head, but kept falling back when he tried to lie upright. I loosened the front of his rain sheet in case it was restricting him from getting his legs in front of him, but he just kept lying back down every time he tried to raise his head.
I ran back to the barn, calling the vet on the way, and grabbed a wool cooler and a saddle pad. I covered him with the rug and put the saddle pad under his head while I waited for the vet. I sat with him in the pouring, freezing rain, talking to him and telling him how much I loved him, how brave he was and how lucky we were to have him in our family for the past thirteen years. He was on his way to slaughter when we took him in and his navicular was so bad, we had a low neurectomy done on him, figuring it would at least buy him a year or two of comfort until he passed from old age. But he just kept on going, like the energizer bunny, and every year with him was a gift. He is the horse that put his head over my shoulder and pulled me close to his chest when I was crying by his stall after my sister died. He is a great horse.
Cinnamon and I lay there in the freezing rain for over a half hour while our wonderful vet hurried to my farm. Cinnamon tried to get up a few times, but gave up and just lay on his side while I stroked his face and tried to keep him from panicking. I kept thinking, 'If you're going to go, please go soon so you won't suffer too much."
The vet is my hero. He detected a skip in Cinnamon's heartbeat, but told me he would try to get him on his feet before determining how bad it was. I put Cinnamon's halter on and between the vet and his assistant, they pulled and pushed and got him to his feet...mostly on his own! He shook himself off and took a few tentative steps and the assistant walked him around and he was ok! It looked to me like he had come back from the brink of death...truly a miracle.
The vet said that old horses can get into a panic when they have trouble getting up, and because Cinnamon had the cumbersome rain sheet on and was in the deep sand in the ring, he probably wore himself out. If I had gone shopping with my sister and my mother, who knows how long he would have struggled, perhaps even dying from exhaustion or a heart attack!
I wanted to hug the daylights out of my vet and his assistant but I was so proud of myself: no tears, no panic, just told myself to keep cool...I've seen enough death in the past year to even think of it as an unwanted but persistant companion, something we will all have to deal with sooner or later and my time has just arrived early and in a huge, awful wave. If it was Cinnamon's time, I was ready to hold myself together to be there for him, like he was there for me, and not show fear that would upset him.
But miracle of miracles, his heart rate returned to normal, he temperature is good, his gut sounds are great and he is now in the barn with his friends, munching on hay. It is the best Christmas present anyone could give me, and I thought I'd share such a positive story with my COTH friends.
Here's my dear old boy: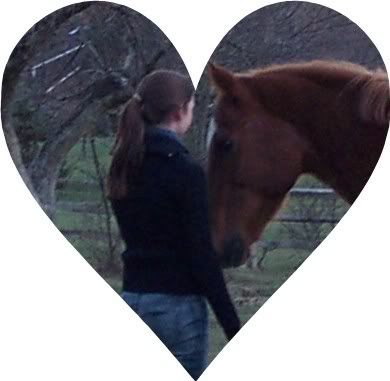 May you all have a Christmas miracle this year, whether it's a big one like winning Mega Millions, or a small one like keeping a friend who you thought you'd lost.