Some of you know that a couple weeks or so ago I went to a Reining Clinic with Poco in tow and proceeded to be "That person on That horse" It was one of the most scary experiences I have ever had and I would have done it again in a heart beat, even the part where I lost my stirrup on Poco at the canter and thought I was going to turn into an Arena Dart at high speed. At the end of that 5 hour day I nearly cried from a combo of nerves and relief that I finally found someone who UNDERSTOOD what I was working with and who told me and showed me in the clinic that he could and would help me as much as I needed. He wasn't going to be wishy washy but he wasn't going to be Sgt. Hard Ass either.
Today was my first lesson since the Clinic. Between the clinic and this lesson I had "riding homework" that homework consisted of round pen riding, warming up then cantering around and practicing on stopping. I worked on it a couple times then work caused me to not ride for a week but I did practice again Friday and it went well.
Loaded up the horses and got the saddle and bridle loaded in and off we went. The saddle I took is a no name saddle that I am borrowing from one of my aunts, It doesn't fit perfect but it fit better than the other saddle I have is is waaay too wide. The bridle had the Rocking S Snaffle Bit that I tried then liked enough to keep instead of reselling and buying the same bit I lost. I also "stole" (That's in quotes now, it was done with permission) my BO's 5' western reins. Yes I said 5'. Way too short for him to use but a good length for Poco, you all know that short little neck.
We get to his place (Right around the corner!) Unload and start tacking up. He comes out. Looks at me and Poco, looks at my saddle and said "Hold up, I got a saddle for you." He brought out this dark oiled saddle with a pale creamish smooth seat. We put it on and I am no real judge of saddle fit really but I could tell and reaffirmed it that it was better than the one I was going to use, not to mention nicer anyway I wasn't going to object riding in it! I get to tightening the girth and do the knot I've always done, I don't ever use those holes, never have. He comes by and says "Ok, we aren't in the old times any more, now a days we got these things called holes and buckles, lets use them." That cracked me up, and he went and showed me how to use said holes and buckles. Got my stirrups shorter, headed to the round pen and got started.
It started how I expected it to, Poco almost immediately shot off and he asked me what she was doing, I said her head was up and pointing out, he said correct and we were going to work on it, then he got after me for clinging on and called me "Clingon" I heard a lot of "Stop stop stop" in that round pen. He got me to loosen my reins up, and then he started me on practicing a stop via roll back towards the panels. So we get moving, every time I heard him go "stop and switch" I was to cue her to stop with my outside rein, seat, and vocal then roll her back into the other direction.
The one thing I learned was my English riding habits needed to go out for the time being. Little things like the word "Ho." I told Poco "Ho." and next thing I hear is "Ho?! We don't have any Hos here I got ride of them a LONG time ago, It is Whoa not Ho. Whats in Whoa? W. Use it" After a bit of the stops we started on shutting her down and making her think instead of reacting so much to the cue to speed up. We get going and I hear "Stop stop stop" And when I finally did I was told this "You should have stopped 40 strides ago." It took me a few more times before I really got what he meant. That the time when I thought she was starting to act up wasn't when she was starting but when she had been in it already for at least a few strides. Once that clicked I was able to catch on to it a lot quicker. And towards the end of the round pen session she was doing decently. Next he wanted to move outside, because I wasn't the only one doing a lesson my two BO's were there as well and during my round pen session they were warming up. Before we went out he looked at me and said "Can you handle her in the open or do you need to stay in here. I want to make sure you can I don't want there to be any accidents." I told him I could. That's one thing I learned with Poco was how to hang on, before I moved her my riding area was one open area. I could stop her, it might not be pretty but I could stop her if i had to. Once we confirmed that out we went.
His arena is the strangest arena I've seen.. It one giant circle.
I watched my BO's take their respective turns as Poco and I sat there watching. Then it was my turn. We get started and Poco is once again hyped up and wired. "Stop stop stop." Got her stopped, then started again, got reminded to ease up on the reins, I needed to take and release contact as needed, That I wanted her to back off the bit contact and pick her self up, keeping constant contact and "clinging on" like I was was going to do nothing other than give her something she could push against and before we knew it we would be zipping around like a bat out of hell. He then worked on my position, that I was leaning way to far back in the saddle and when I asked for the stop nothing is changing in my position, she isn't getting any real feel of it. Then was a combo of starting the give and release of the outside rein to get her attention on me to cue her to come back in and slow. We trot around a bit and he has me stop her I do and I shift around in the saddle, this happens a couple times and he goes "Your like a Spider Money, wiggling and crawling all over the horse" I go another round stop and I start to shift and he yells, I cant remember if he yelled "SIT" or "STILL" but either way I froze. He got after me of course that when she stops *I* need to stop, if a horse stops and wiggles they get backed, if a rider wiggles you cant back the rider and the horse doesn't get that feel of a stop and still. He had me stop her and stand. He looked at my BO and said.
"Last time you were here you asked about slowing a horse's lope down, and I told you that To lope fast and keep at it until they are tired, then lope them some more and then ask for a slower lope, soon enough they will get to thinking 'lopin slow isn't so bad!' and they get better at it. You can do that with this horse, that horse, his horse, and your horse, but you CANNOT do that with Her horse. Her horse has been trained to react the way she does, not by her but it doesn't change that she was trained to be that way. You tell that horse to haul ass and she will and she will keep doing it even if she is dogged tired, this type of horse requires a different approach."
He looked back at me then said "ok give her a break Walk around the circle."
And so I walked. At first it wasnt so much a walk as it was her gait that she does before hitting the trot. I worked on doing what he had instructed, a give and take of the outside rein and committing to my stop and after a bit she was reacting more positively. In a much quicker time that I would have bet on she was walking calmly around the circle. I would stop her then turn her and walk the other direction, at first I did full circles, then I started doing stints of walking a few strides stopping her pausing then turning walking a few steps, stopping, then turning, or stopping then continuing. Poco got a lot more focused on my cue to stop and was doing it more and more based off of seat, I made sure to practice was he had stated earlier about giving and releasing with the outside rein to bring her attention back in to me and to chill out. After a bit of her doing well I went and stood out while he took over the rest of the circle with one of my BO's. Before I knew it, it was my turn again.
I get Poco out and we start again. He wants me to trot in a small circle, specifically to allow Poco to trot. Problem is Poco was in the walking groove and unfortunately when cued to trot even lightly made her "act like a needle got jabbed in her" But luckily enough that only happened a couple times. We get going and he starts going "out side rein, take, release, take, release, there ya go look at that trot see how she came back down? Keep going, stop, turn slowly, stop stop stop, S. L. O. W. L. E. Y, there ya go" and on we went at the end she was giving me a nice little jog. We stopped and worked on her back a little bit and Poco was done for the day.
I head back out of the circle and look at Trainer Dude and said "Now you need to ride her!" and he said not today but he would. And another person who showed up mid lesson (Also a trainer but in english) said "I will!" He looked at her then said "Not outside of a pen you wont." She said "C'mon you know me" and he said "and I know that horse, I want my fences to stay intact." We got a chuckle out of it but what he said was right, Poco isn't exactly the horse to hop on and go if you have never ridden her before, it is always best to start in a pen and get a feel first.
We go and unsaddle and I'm returning him his saddle and I told him that I really liked it. He looked at me and said "If you like it, I cant sell it, but you are welcome to borrow it as long as you need it." I of course am ecstatic. I then showed him the bit Ive been riding Poco in for a bit because he wanted to really see it as it "looked like some kind of contraption" he looked at it, got a feel for it then went "Ah I get how it is supposed to work, keep riding her in it."
Me and him are going to get together about getting in a few lessons on his horses then told me that if I cant make it out to his place he will come to me as he knew work was very busy right now.
All in all I am very happy with my decision to get lessons from him, he really reaffirmed the decision I made at the Clinic and he is really helping me with Poco by changing how I am reacting to her consciously or unconsciously.
Anyway pictures of "my" new saddle!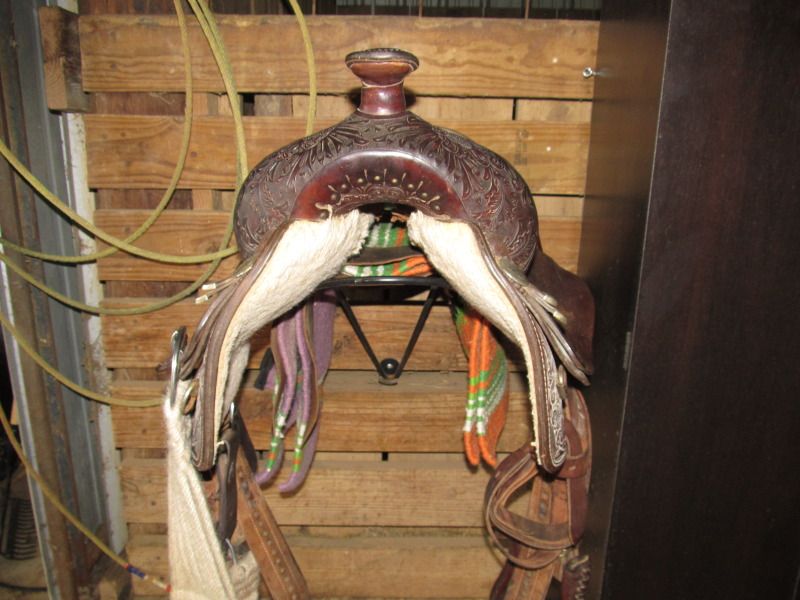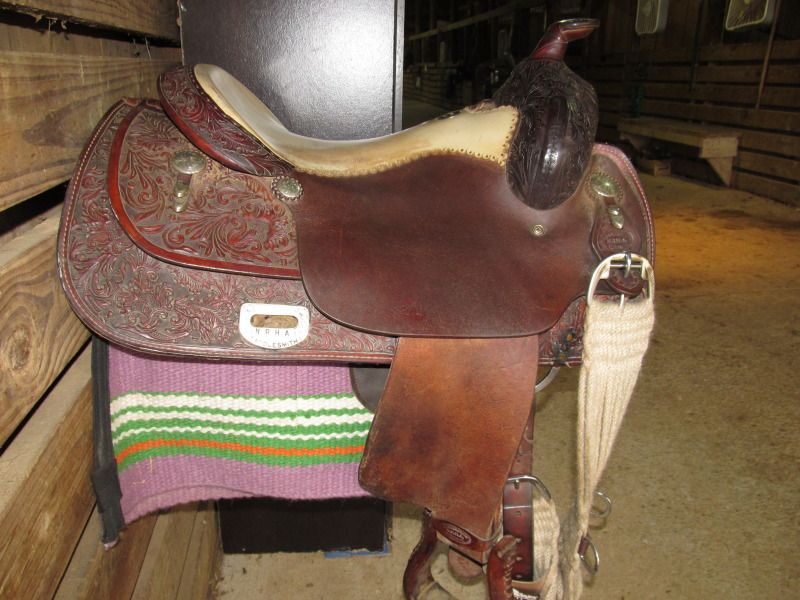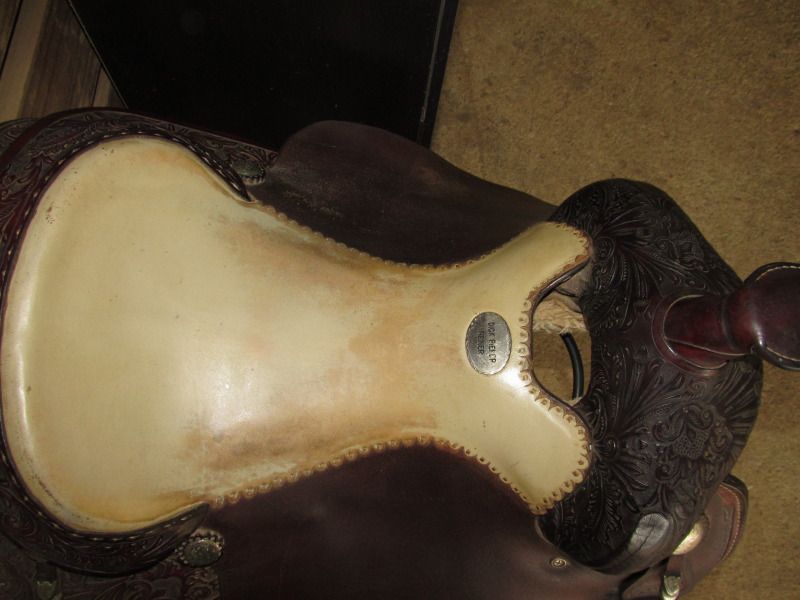 The tag on the seat says "Dick Pieper Reiner" and it is a NRHA Saddle Smith Saddle
And an unflattering picture of me watching him.