Background info:
17 year old ottb mare. Was in good weight but in mid to late January she lost a significant amount of weight in a two week period due to an injury (she didn't want to eat, became depressed). She bounced back to her normal self after those two weeks. However her weight has not bounced back. She is the type that is easy to maintain once she is in good weight but is very difficult to gain weight.
I have tried a few different things and was hoping for some advice or suggestions. She is still a bit ribby, although she has gained some weight, I can feel it over the ribs, but they are still visible. Also she is back in full work so that may be contributing to the slowness of the process. I honestly expected more weight gain by now.
Past feed program:
2 flakes grass AM and PM (4 total)
4 lbs bar ale dry equine senior/beet pulp pellet mix (soaked). Grain fed 5 times a week. I like to do it myself instead of the barn staff.
I switched to the current program in the end of March because I hadn't seen much weight gain from this one.
Current feed program:
3 flakes grass AM and PM (6 total)
4 lbs bar ale dry equine senior. 2 scoops Gleam and Gain supreme 60. Whole grain mix is sprinkled with water to make supplements stick to the grain. Grain fed 5 times a weeks as above.
She hasn't been on this program for too long but she is now getting more hay and the higher recommended dose of the weight gain supplement and I'm still seeing little improvement. Can I add some rice bran pellets to this, or is that too much. Do you have other suggestions or thoughts. Or is this a slower process than I think it is and she is progressing normally.
She is UTD on vaccinations, worming and just had her teeth done about a month ago.
I am attaching a photo which was taked right before she lost weight, I will take a current pic of her when I go to the barn on Thursday.
1-3-13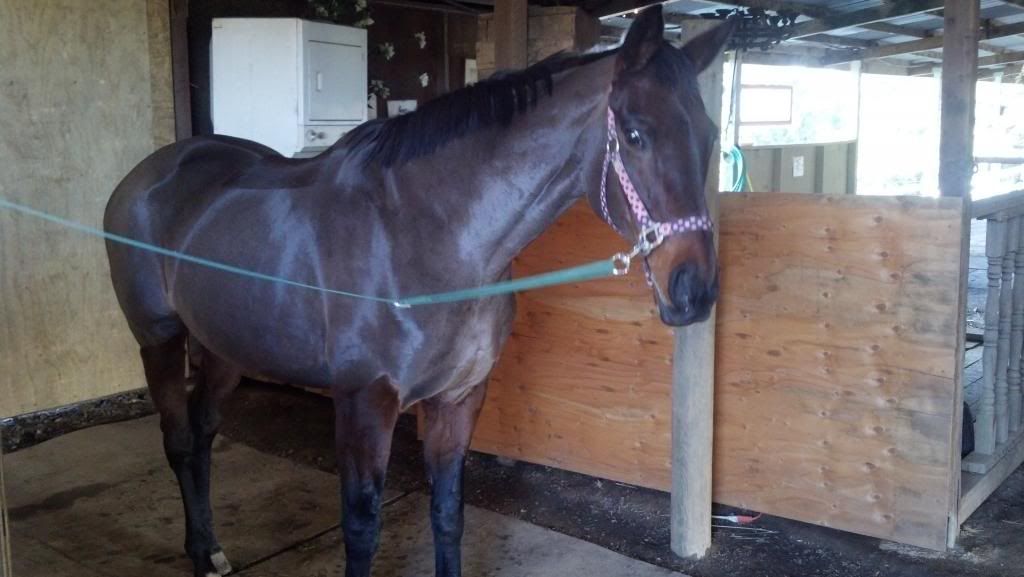 New pics 5-15