I desperately need some health advice on a situation that has popped up rather suddenly with our Draft mare.
This Is Epona: she is a 9 yr. old Belgian. We've owned her for about three years. Could you look at these pics to get a general idea of her weight/physical condition....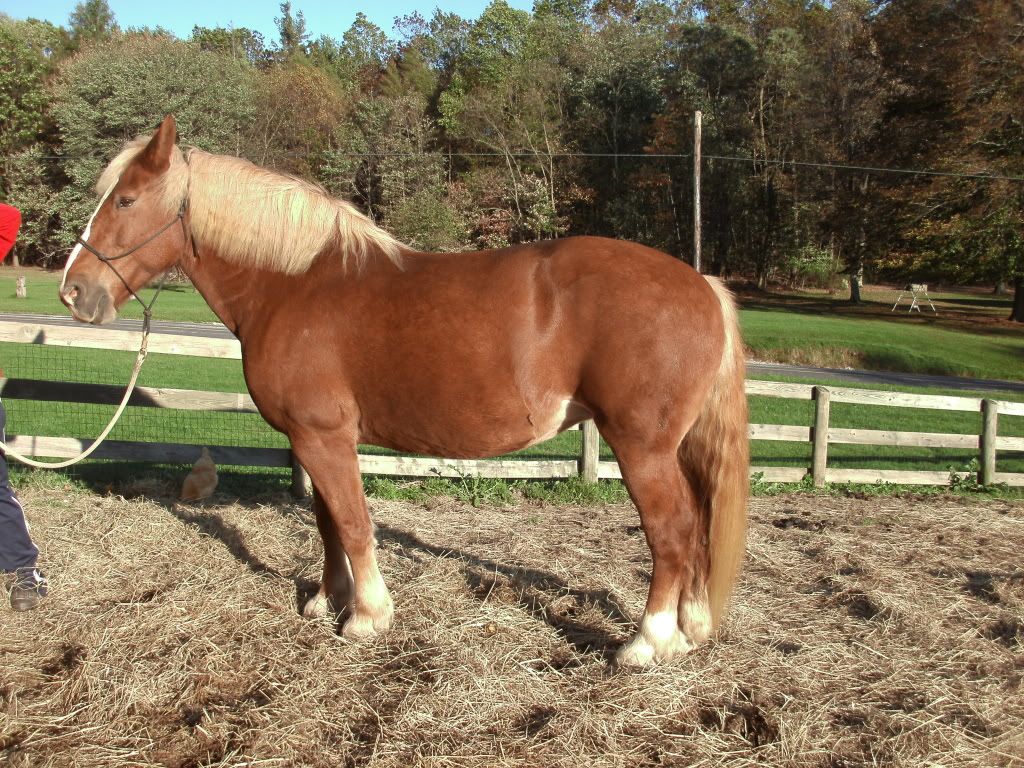 Lately, a situation has developed that we are worried about.
The horses are provided with a himalayan salt lick in their stall, and a salt/mineral block in the paddock....
Epona is fed, free choice timothy hay, an Easy Keeper Grass vitamin supplement from SmartPak, Platform hoof supplement( one scoop) daily.... no grain, of course, since she is a cresty necked draft with weight issues.
She has ALWAYS licked at her salt lick and salt/mineral block alot more than our OTTB....all during the summer she would lick at the salt lick/mineral block fairly often. But NOW she is doing it twice as much as she did during the summer. This increase in salt block licking has seemed to come on rather suddenly. Or at least, we've just recently noticed it.
Should we be concerned? Could it have anything to do with the cold weather/seasons?
The only thing that is different between now and the summer is the temperatures and the fact that we have just gotten a new hay dealer.
We are still buying timothy, but from a different dealer than what we used to as our past dealer has run out of timothy....he only has grass hay, as in field/orchard grass, and NEITHER horse will touch it. Even though it is fine looking, high quality grass hay....they don't DO grass hay.
They MUST have timothy. So we found a new hay dealer....
this increase in the need for salt/minerals SEEMS to coincide with the hay switch,
but i cannot be positive
. We just may have not noticed it till now and she had been doing this for a long time.....so we cannot say for sure when this increased licking started....
IF this increased need for salt/minerals would happen to be caused by the different hay, what is wrong with the hay that could cause her to need more salt/minerals???
Could the colder temps be causing this? If so, why?