We are experiencing some toe-dragging since our chiropractor readjusted us on Wednesday (and by readjusted, I mean put sacrum back in correct balance and unlocked the entirety of the lumbar spine from being tight to hold the sacrum from shifting too much...). From the knees up, my horse looks absolutely fabulous while moving. He is swinging, feels good underneath me... Except yesterday Trainer said "He's dragging that toe."
Last fall when we started amping up our work schedule, it became evident how weak his stifles were - in particular the left one. We did Adequan and a slew of ground pole exercises and the problem sorted itself out.
In March we moved to a new barn, new horses, new terrain (read: hills) and now we are about 2 months there and the left hind is dragging slightly. Yesterday it was much worse, almost looking like he was just too sore to lift the leg and fully swing. Today it was just a few steps here and there where the toe hit the top of the indoor footing.
Upon closer inspection (again, his movement is looking NICE except the toe thing), I did notice that the hind left hoof looks different. The three other hooves look normal, round, a bit healthier at the top due to the increase in grass [yay!] but nothing bad.
The hind left looks like this: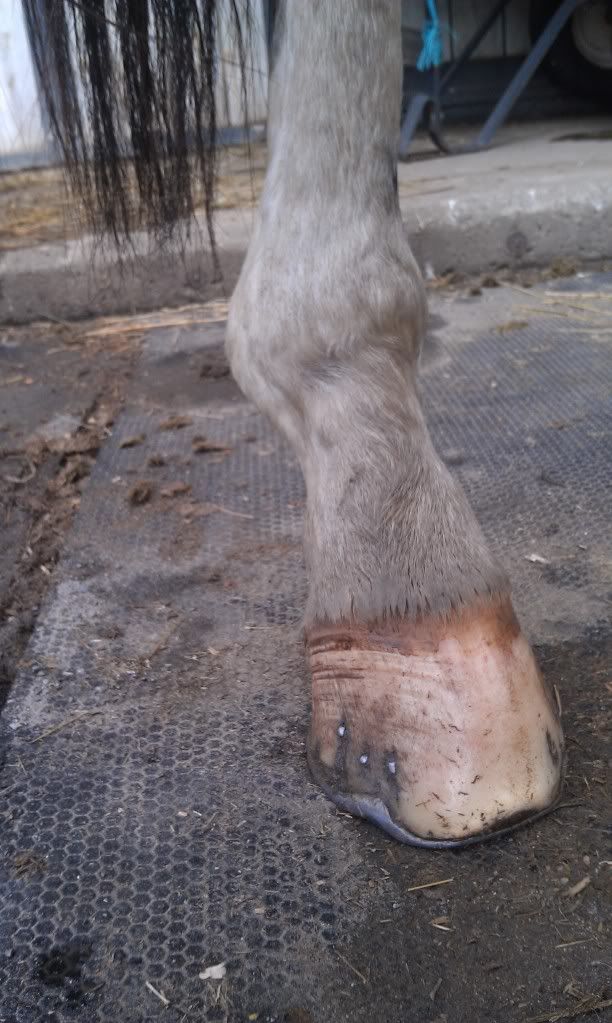 It is definitely longer on the inside than the outside, and I am going by previous experiences that the adjustment will leave him landing far more balanced on that hind foot - however, the rings that only show on the inside? Any ideas? Anyone seen anything like this?