The question of what vehicle to buy when you start driving is a big one and often asked.
30 years ago, someone wanting to purchase a carriage found they had limited choice and most often you bought an old one and renovated it.
Now though with the upsurge in driving for recreation and competitive sport, a corresponding number of folks build vehicles to service the demand and the market.
And so a novice is too often faced with a bewildering choice.
And it really is the novice we're talking about here. More experienced drivers will have a greater idea of exactly what they want and require, both for the horse and the type of driving in which they're involved.
As ever a novice needs to think carefully and seek advice and consider carefully the level of knowledge and experience of the drivers giving them advice, before laying out hard earned money and joining the ranks of carriage owners.
So first consideration:
What type of driving do you ultimately intend to do? If your sights are set on private driving and a little showing, hen you need the type of vehicle that will serve both needs and attract the eye of a judge.
If driving trials, then this will determine your need.
No matter what your ultimate ambition, as a novice, I recommend you climb the ladder slowly; by this I mean involve yourself in all sorts of different types of driving initially – club rallies, pleasure drives, perhaps competing at local small shows or one day driving events.
Its imperative that the novice gets experience and miles and new situations under their belt: whether they intend to be the next world champion or just want to have fun safe drives on tracks and lanes.
There are numbers of all-purpose vehicles readily available on the market that will allow you as the owner of just one carriage, to take part in all these activities.
My first advice for a first vehicle is to buy modern – and to go to one of the reputable modern carriage builders and buy new if you can afford it. Alternativively buy one of those sort of vehicles 2nd hand – but always seek knowledgeable advice doing it.
All experienced drivers will have their own preferences but take objective criteria as your guidelines with any vehicle you consider buying.
Next and this is actually the most important consideration for a vehicle is safety. Every time you drive a horse, particularly on today's roads, to some extent you are taking your life in your hands, so you want to take all possible safety precautions for you, your passengers and your horse.
Obviously a soundly made carriage is of paramount importance. A well established carriage builder will have a reputation to preserve as the vehicle must also give a smooth ride and be comfortable. Comfort of the driver is a major contribution to safety.
For a beginner it is a help if the vehicle is versatile and built along traditional lines, but offers facility for a backstep for use in likes of driving trials or showing. A winding handle or some other adjustment which enables you to shift the body of the vehicle so you can balance it for the size of horse and according to the weight the driver and passengers is a big advantage and will mean the vehicle can last you a lifetime even if you change horses etc.
Cab fronted is ideal for rallies and club events and particularly suitable for novices because you can get in and out quickly. Metal shafts and wheels – either steel or adluminium means its virtually maintenance free and will be of strong construction and will stand decades of inclement weather should you have to leave it outside.
The taper bearings on the wheels are very tough and require good water repellent greasing once a year and nothing more. In future if you fancy showing you can fit it with a nice pair of lamps, a brass rein rail and have it coach painted to make it look smarter.
Quality modern vehicles hold their value well. If the price seems steep then remember two things:
You get what you pay for in terms of basic quality and engineering
There is a good second hand market in vehicles which you may well find useful after 5 years or so when you upgrade to a larger horse or even a pair and you'll virtually get back what you paid as prices tend to move
Next consideration – can you try before you buy. NEVER purchase a vehicle you've not tried first. Take into consideration the comfort of the driving position and how you can adjust it and things like ease of getting in and out. Check it rides smoothly and its not a jerky bumpy ride that is not only tiring but also unsafe.
Then fit to the horse is extremely important and again get experienced and knowledgeable help. You need to be able to see where you're going so not too low and also not way up too high. Remember how important it is to keep the line of reins from your hand to the horse's mouth.
Next check the balance when the driver (and passenger/s) are in the vehicle. Vehicle must not be tilted up or down and you must be able to adjust the seat back or forward to balance it perfectly – otherwise your horse will be reluctant and unable to work at optimum performance.
When you get into the driving seat of a strange car, the first thing you do is adjust the seat so its comfortable and your feet reach what they should do. A carriage should be the same. The driver's position – sitting upright, legs such that your feet are flat on the floor so that your weight can fall through onto the vehicle. If you aren't buying a custom built vehicle, then ensure it does actually fit you or make it. If you need a wedge cushion then get one and if you need to alter the foot board, then do it.
Then 2 or 4 wheels? I'd say for a novice driver ALWAYS 2 wheels and even if your eventual intention is horse driving trials you can compete 2 wheels until you're at national level. And 4 wheels produce greater drag and are thus heavier to pull. So with a small single pony or an adult driver, 2 wheels for definite – even if you are experienced.
Likewise traditional wheels produce less drag and are purpose built to withstand the rigours of carriage driving – so NOT bike wheels and NOT motorbike wheels. They are extremely dangerous. In terms of tyre, then traditional carriage cab tyre will prepare you for whatever you want to do in the future and for all terrains. However if you do a lot of road driving and your intention is to stick to that then there are some good general purpose vehicles on pneumatic tyre to traditional wheels.
For those who are on a limited budget, then these photos show a very very basic easy entry vehicle which is perfectly adequate and safe for driver and horse.
I built both of these myself and they're only used for putting horses to harness and have been in regular (VERY often hard!) use for 15 and 25 years now.
Now personally I don't sell these sorts of vehicles - as I only custom build higher quality and higher value ones, but just to show low price ones that are absolutely totally adequate and fit for purpose.
I wanted to show them purely so folks can see that you don't HAVE to have something VERY smart and VERY expensive to be serviceable and safe.
Note its not got its seat cushion on because its raining!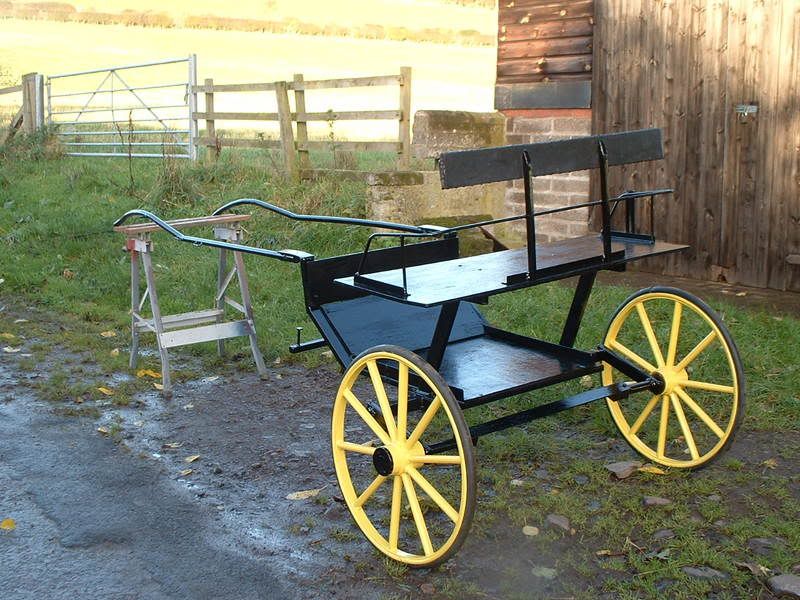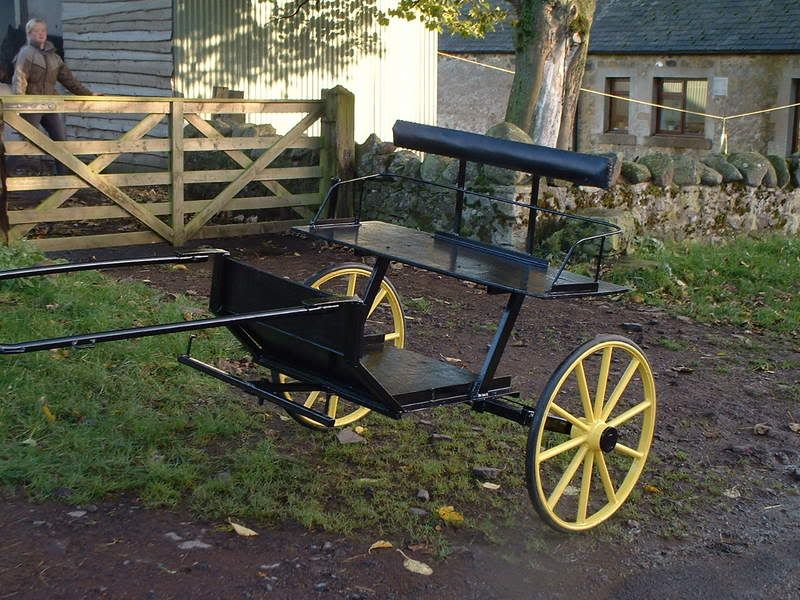 And this one I built so long ago that its a black and white photo!