And because you can't see the buckle - another photo of a standard English headcollar in case you're not sure what I mean. (I know when I've been to the USA it seems to be more common for them to nose band without buckle.
My helper holds him while I hitch him up.
You should aim to have your helper standing in front of the horse but without having to hold him and with no interference - just there if and when required.
This photo shows a young shetland pony being put to harness.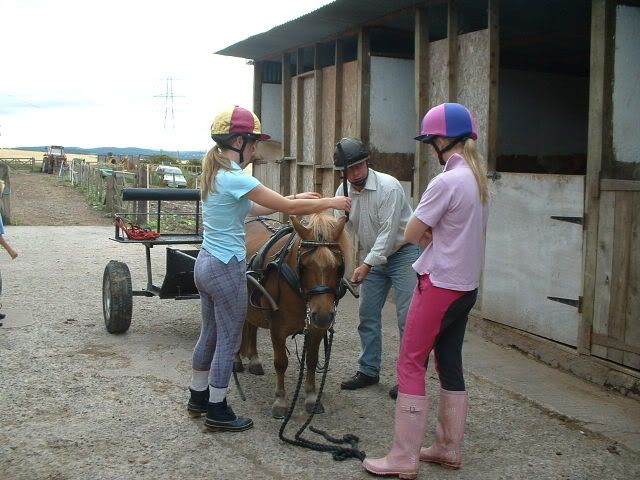 And one a bit bigger! being put to for the very first time
I put him to in an outdoor dressage ring, then either work him in there or go out on the grass.
With newbies I put them to in the yard immediately outside the stables where all the other horses are about and its quite busy. I think its a good discipline to get them to stand calmly when there's a lot going on about them and I take forever so they get used to the fact it will take as long as it takes and I tend to have them stand still for some time after I've mounted the carriage too - just for the discipline of it and then I drive them to the field or arena.
I have to say, though, that I feel much more at risk driving, than I do riding, maybe just because I am less experienced (and skillful) a driver than a rider!
In many ways you are. You only have your reins and voice and can't urge the horse on with seat and legs as you could when riding. If something happens not only do you have a horse to contend with but you've a carriage too. Some folks strap themselves in to the carriage with a belt but that again is something I would never do. If I have a spill I'd rather be thrown (or jump) clear and don't want a steel carriage over the top of me. You are wholly dependent on your harness to keep things safe and hence experienced carriage drivers tend to get terribly hot under the collar if they see poor or dangerous harnessing up.
And over many years of working with horses, I have found out (the hard way, sometimes) that you can only buck the odds so many times. Better safe than sorry
Yep absolutely right. Its a high risk sport without deliberately taking risk. I've enjoyed it for 50 years and want to keep it that way. And my mother who showed hackney horses in harness (and under saddle) enjoyed her last carriage drive when she was 95. Well strictly speaking her very last was in a horse drawn hearse!