I am glad you have had the opportunity to see/ride with Bartabas. FYI...I also have seen Bartabas ride in person. It is actually the reason I sold my Hanoverian after seeing the artistic riding his troupe was doing. I decided I wanted to ride like that.
I am glad you have had a chance to ride with Frank Grelo. If you have ridden Frank's horses, then you know what a very collected horse can feel like.
As far as the canter-reinback-canter.....yes, you have to halt then reinback. How do you think you teach a horse to canter backwards? It is the sublime adjustment of a horse-rider's balance.
Here is George Gabriel doing one of the best piaffes I have ever seen.....the balance between horse and rider is sublime such that the rider is adjusting the horse from forward to back.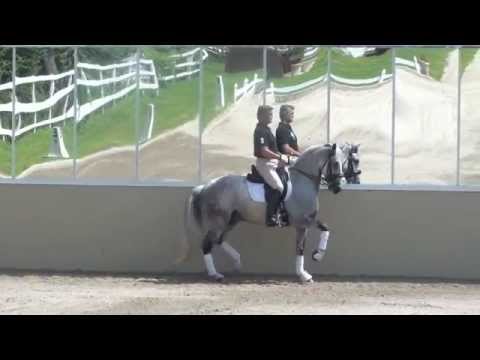 Originally, I was answering the OP's question about teaching (or not) flying changes. My opinion is that any rider can teach a flying change....IF....BIG IF......they have an interest in developing equestrian tact.
My answer to OP was that a rider can do a whole lot of prep work that does NOT include actually doing a flying change.....but that prepares the rider to feel the horse and thus also prepares the rider to learn how to ride or ask for the change....and that this is done by developing balance. I used the canter backwards as an example of this sublime balance between horse and rider.
So....I am very glad that you have had the opportunities your describe. You should then be very aware of the requirements to get to that level of training.
Thus you should be aware of the training route that an interested rider can take to preparing schooling a change that are applicable to OP's question and thus you can provide suggestions/ideas that are more substantive than just to farm it out to a trainer.
FYi....I tried to edit this and my post went into Purgatory....so I am posting again....sans typos.