I think I've mentioned on here before that I was diversifying the business from just horses...or simply put I'm not able to put my eggs in one basket anymore and am looking for other ways to make our farm productive. I've been having a blast learning the "pastured poultry" business this summer and raising our first batches of chickens.
I went yesterday down the road to a neighboring pasture based farm and helped butcher broilers as well as how to cut them up and pack them. We have a farm in our area that is already doing this system of farming and they are gracious enough to help us learn from them. These folks are making their living 100% off of pasture farming selling grass raised/finished chicken, turkey, pork, beef, goat and raw milk shares. Lucky for them they have a work force of kids...I don't think they could do it otherwise.
They sell out by November of every year on poultry so there is still lots of room in our local market for folks interested in this type of meat.
I have a personal aversion to the idea of raising the factory farm super duper fast growing Cornish hybrid chickens that you commonly find the grocery store. It doesn't feel right to me for one thing as I prefer traditional things...and second thing...they are quite hard to raise on pasture and much more suitable to confinement operations. They are poor foragers and most won't range at all but will sit by the mash feeder and stuff themselves. They also will eat themselves to death. They are prone to all sorts of leg/growth problems as well and frequently have heart attacks and die on you. Mortality rates are high on these chickens but they are very cheap to purchase so many folks take the losses as acceptable. Many of the pastured poultry folks are raising them but you really have to fuss over them...which I don't have time for...so I went to explore other options.
Our first batch of chickens includes some layers also of three old fashioned American varieties...Buff Orpingtons, White Rocks, and Silver Laced Wyandottes. We bought cockerels of the Rocks and Orpingtons to use as broilers in this batch. They grow slower and take longer to mature but they are believed by some to have better flavor and taste better because of the slow growth. This batch of chickens is now outside in our portable chicken house and we're about a month from slaughtering the boys. The girls are about a 2 to 3 months from laying.
The yellow chicken is the Buff Orpington, the black and white one is the Silver Laced Wyandotte, and the white ones are the White Rocks. My favorite ones so far are the Wyandottes. They are gentle and quiet.
http://i97.photobucket.com/albums/l2...s/P8190007.jpg
I did some research and found that the chickens raised in France as Label Rouge, considered to be the best eating chicken in the world, are now available in the US and called "Freedom Rangers." The French farmers developed a free range broiler for pastured poultry systems that are active foragers, slower growing than our US hyrbrid, yet finish better than the old traditional breeds with nice breast meat and an outstanding flavor. I purchased a batch of these little guys. They came Friday and are in my brooder house now. They are quick and tough...that is for sure...the little buggers got out the first day and it was a mess getting them all caught. You have no idea how fast a 2 day old baby chick is until you have to run one down!
My husband and I built our first movable chicken coop...also called a chicken tractor. Our system is set up for "day range" which means instead of a bottomless pen that has to be moved daily, we use a secure pen with a floor set on skids (or wheels but ours are skids) and door we can lock and electric poultry netting to make a safe chicken ranging paddock. It's not hard to move at all...I did it yesterday in maybe an hour and you only have to move it every few weeks to even a month...depends on the ground also. Later when the hens are grown and the roosters are butchered, I may just let them roam without fence. We do have foxes around here and I'm not wanting to lose any if I can help it.
The netting is very effective at keeping our predators. Our Jack Russells tested it for us (unknowingly) and now the dogs make the sign of the evil eye at the chickens.
The only thing we can't stop are hawks or owls coming in from above but the chickens can run into the coop if they feel scared and at night hopefully they are roosting inside out of the notice of the owls.
We also have found that we've had a VERY low mortality rate so far...lost one chick of the first batch doing things this way. The chickens are clean, healthy and get lots of exercise and dust baths....happy chickens. We are not feeding any medicated feed at all either nor anything to push growth.
Here is the finished chicken coop. This will be for the hens mainly and can hold 60 to 70 grown layers. We'll build some more pens for the broilers (much shorter lived) soon.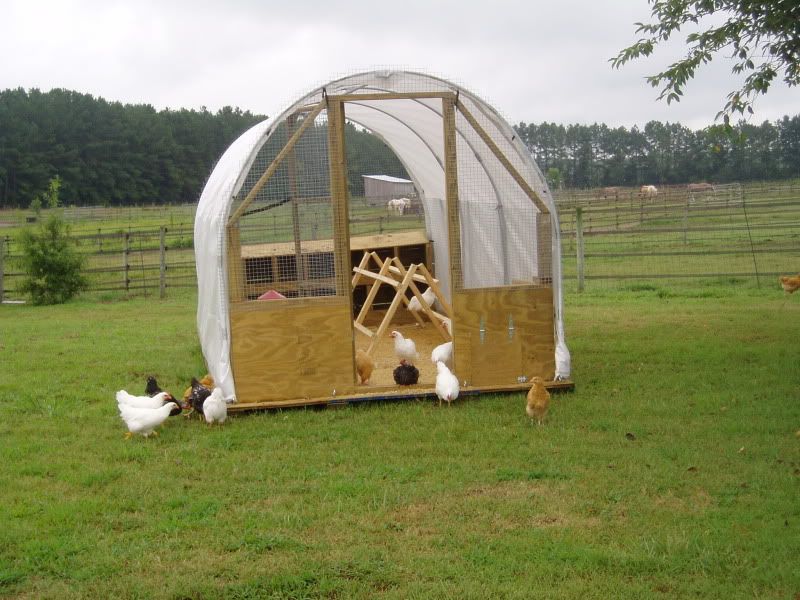 Future plans include moving into grass finished beef this Fall. I'm researching this now and how we can integrate a rotational grazing system into our farm using the three animals we have...horses, cattle and chickens. The chickens are the "clean up" crew behind the big grazers. You first rotate the horses, then the cattle to eat the grass and then let the chickens come in behind and eat the parasites, fly larvae and break up manure piles and leave behind their own fertilizer.
I can vouch that chicken raised this way has excellent flavor and the nutrient profile of the meat (both chicken and beef) some feel is more healthy than grain finished.
I'm seriously looking at Highland Cattle as they are good foragers and said to have outstanding beef finished on grass. They are also gentle-natured and smaller and more suitable for a small farm like ours. I can say that the best steak I've ever eaten was in Scotland. Unbelievable flavor and tenderness.
So were on our way...slowly...and after yesterday's work on the other farm processing broilers, I KNOW that I can do this.
I'm thoroughly enjoying raising the chickens and I have folks lined up now to take orders when we start processing. I suspect we can find ourselves growing quite fast once the word get out. The folks I visited yesterday say they are at capacity and can't do anymore than they are doing.