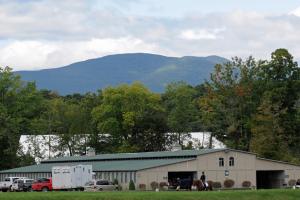 The Chronicle's coverage from the Saugerties CDI-W, New England Dressage Association Fall Festival and GAIG/USDF Region 8 Championships, held Sept. 13-16 in Saugerties, N.Y.

Yesterday Lars Petersen won the Intermediaire I at the Saugerties CDI-W with Chicco Roslev. The day before that he placed second in the Grand Prix with Mariett. Then today, Petersen completed his excellent weekend by winning the Grand Prix Special aboard Mariett (69.60%).

Melissa Taylor started riding Schumacker Solyst almost nine years ago, and things just keep getting better for the pair. Today they won the Saugerties CDI-W Grand Prix freestyle (70.30%) over Nicholas Fyffe on Sentimiento I (69.32%).

Cesar Parra was nearly speechless after topping the Saugerties CDI-W Grand Prix. "I have no words to describe how I feel about this guy," said Parra. The guy Parra was referring to, a gelding named Van The Man, topped the class on a 69.74 percent. "I've always believed in him," added Parra.

Photos from GAIG/USDF Region 8 Championship classes on Thursday.