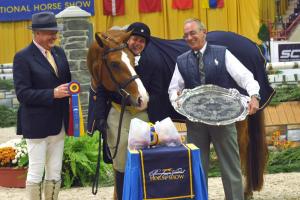 All the action from Junior Weekend and the Pessoa/USEF Medal Finals to the open and amateur hunters and the $85,000 Grand Prix de Penn National

Uceko's a very different horse from Kent Farrington's two-time winning mount, so he takes a different strategy to beat out a star-studded field.

Her second title amateur-owner jumper title at Harrisburg gets her closer than ever to accomplishing an even bigger goal.

Hunt Tosh battles off illness to ride Cold Harbor to the top of the regular conformation division, Jennifer Bauersachs says goodbye to a special horse (and his owner) and Amanda Steege admits she's just as nervous as you are when she's getting ready to head into the professional ring.

Both Unex Omelli and his rider Tim Gredley have had some time off lately, but their back and better than ever at the Pennsylvania National.

The 22-year-old professional from California takes on the big guns of the hunter world and wins.

Conquering her mental game was the key for Meg O'Mara to top the prestigious equitation prize.

A running commentary about the class, course maps, photos, interviews with riders—everything you need to know about the 2012 Pessoa/USEF Medal Finals!

Dana Scott survives a few heart-stopping rubs to be the only rider to jump four clean rounds over the week and claim individual gold. And the Zone 5 team turns in clean round after clean round to take team gold in the prix des States.

Yasmin Rizvi makes a clean sweep of the small ponies, Emma Kurtz gets her name known, and For The Laughter adds the one honor he's been missing.

Read about just what makes Tori Colvin so good, as well as how Jacob Pope has found himself living his dream.

The first day's action saw Tori Colvin and Hasbrouck Donovan triumph in the junior hunters, but a blue-eyed paint mare named Wicked stole the show in the NAL Pony Jumper Final.