Harrisburg, Pa.—Oct. 12
It would have been easy to call the Zone 7 team the favorites heading into the Neue Schule USEF Junior Jumper Prix Des States at the Pennsylvania National Horse Show. Three of their four riders were on last year's winning team, and after the first round of the Nations Cup-style competition, they were tied for the lead on 4 faults with Zone 1.
Now it was a question of whether they could hold up under pressure. As it turns out, the answer was a resounding yes. They finished on a total of 12 faults to take the win.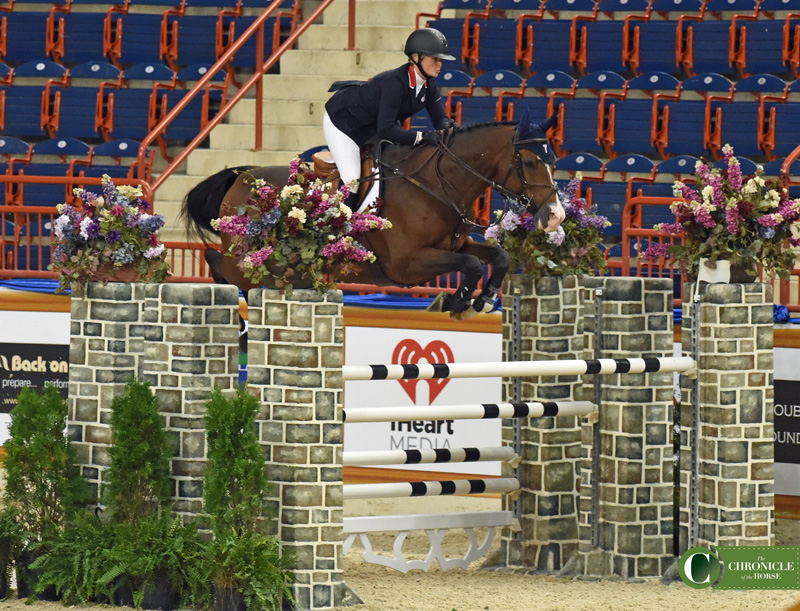 For the second time, Briley Koerner led the team on For Jef VD Wezelse, and she turned in scores of 0 and 4.
"I couldn't be happier with him tonight," she said. "He jumped his heart out for me, and each round he came back wanting more and more, and he makes me feel so comfortable. We just went in there and rode our plan and came out with the results, so I couldn't be happier. It's really nice to have two years back to back; it's really awesome."
Sloan Hopson was the only newcomer to the team, and she was riding at Harrisburg for the first time ever with Costa Rica VH Waterschoot Z. But she proved she more than belonged on the team by turning in 0- and 4-fault efforts.
"The first round, I was just trying to manage a smooth round, and I actually made a small mistake—jumped clear, got away with it—so I was glad to fix that mistake in the second round," she said. "She jumped great; I'm very happy with her and with how everyone did."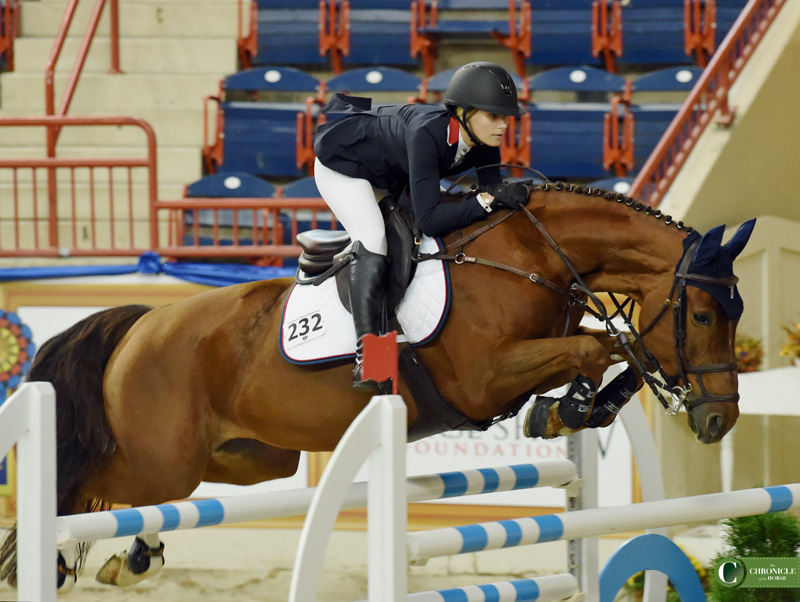 Anna Beth Athey made a last-minute decision to bring For Serrano SR to Harrisburg after the gelding picked up a lot of good placings at the American Gold Cup (New York) last month. Her decision paid off with 0- and 4-fault efforts for the team.
"He really gives me a lot of confidence, and he feels like he can jump the moon," she said. "He was great in the first round and was great yesterday. We had a little mistake in the second round, but everybody else was incredible and really performed. I've known all these people for a really long time, so it's fun to get to get to this level and really perform."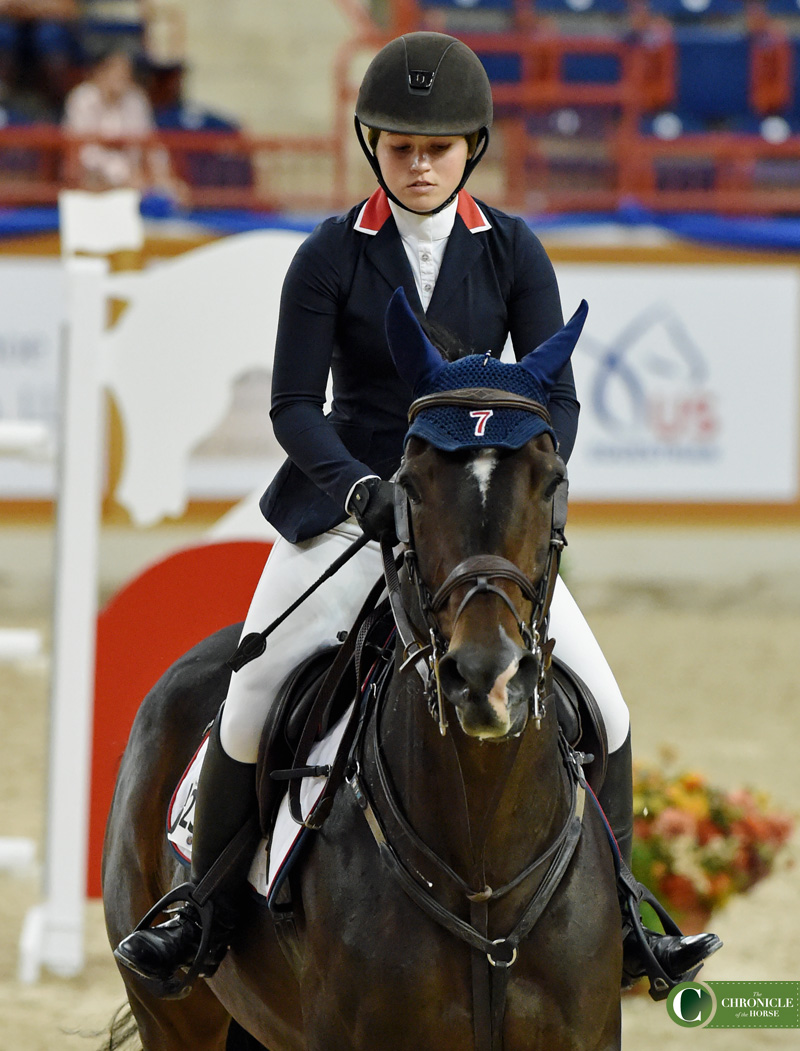 Thanks to solid performances by the first three riders, things were looking good for Zone 7 as they neared the end of the competition. When things didn't go as well for the Zone 1 riders (Annabel Revers/Ilias, Claire Schreder/Dynamo, Isabella Russekoff/Balou's Fly High, Coco Fath/Fineman), Zone 7 had clear sailing for their anchor rider.
If it weren't for the fact that tonight's team competition counts towards the overall individual championship, Brian Moggre wouldn't have had to jump his final round. After having the first rail down with MTM Flutterby in round 1, Moggre made the opposite mistake, dropping the back rail of the final oxer to add 4 faults from each round to his individual score.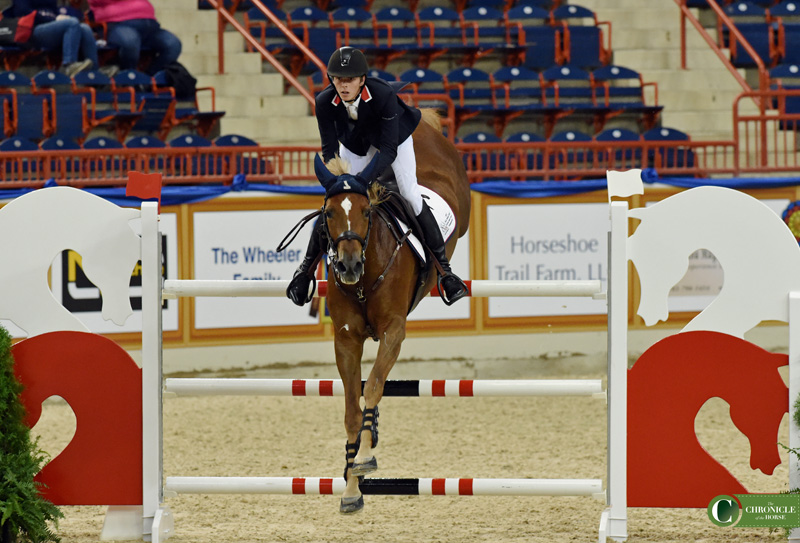 "My horse was great," he said. "She was awesome. I couldn't really have asked much more. Just one small mistake at the first jump in the first round, and I let her know she was finished a second too early in the second round, but my teammates were awesome. She jumped great, and I couldn't be happier."
Things weren't looking so good for either Zone 2 (Samantha Cohen/Carmen, Dagny Mactaggart/Ziezo, Gracie Allen/Rivage De Lormay and Madison Goetzmann/Prestigous) or Zone 4 (Mimi Gochman/Street Hassle BH, Jorja Rose Jones/Light Show, Tanner Koroktin/Analyze This and Sophie Gochman/Carola BH) when they both finished the first round on 12. However things turned around for them when they returned and both teams ended on a score of 16. That meant they had to do a jump-off for silver. Goetzmann was chosen as the Zone 2 representative, and she showed she's been paying attention to her mentor Beezie Madden by laying down a blazing round that Gochman was ultimately unable to catch, to give Zone 2 silver and Zone 4 the bronze.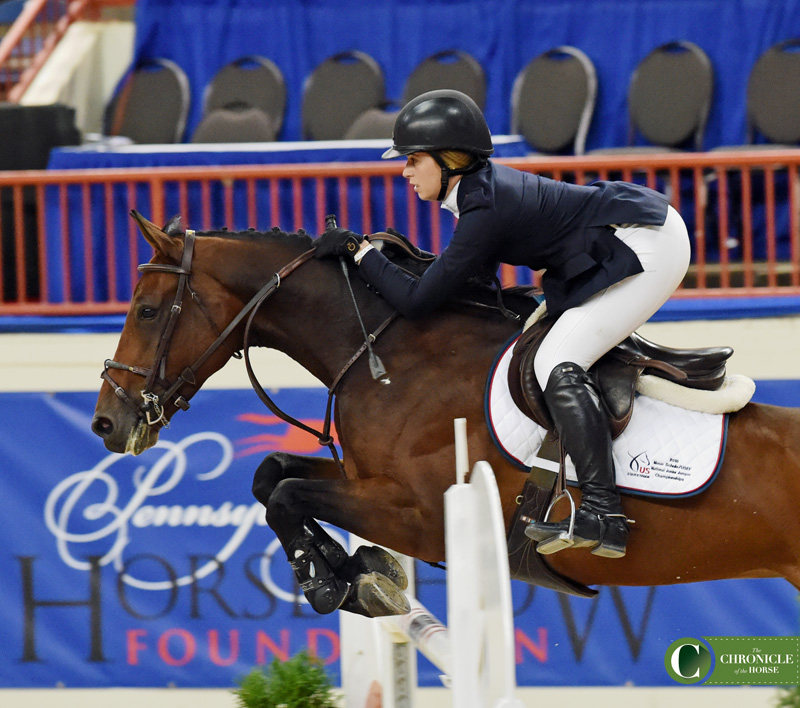 The Chronicle will be on-site at the Pennsylvania National bringing you beautiful photos, interviews and more, so check back throughout the competition. Don't forget to follow the Chronicle on Facebook, Twitter and Instagram @Chronofhorse. We will have full analysis of the competition in the Nov. 5 issue of the magazine.
2018 Pennsylvania National - USEF Prix Des States
Kimberly Loushin / Oct 13, 2018 1:22 am