Harrisburg, Pa.—Oct. 14
It all came down to a heated battle between Zones 2 and 4 for the gold medal in the Neue Schule/USEF Prix des States Team Championship. Those two teams distanced themselves from the competition, as the other five teams collected double-digit scores.
All the pressure was on Zone 2's Madison Goetzmann, who was their anchor rider aboard her Wrigley. The team had come into Round 2 with 0 faults and Lauren Fischer and Katherine Strauss had jumped clear, but Eliza Month had been eliminated. The Zone 4 team was breathing down their necks with 8 faults on the board.
Goetzmann had no problem with the pressure, putting in another clear round to clinch the gold for Zone 2 with a 0 score after two tough rounds. The class is run in a Nations Cup format, with seven teams starting and six qualifying to return for Round 2.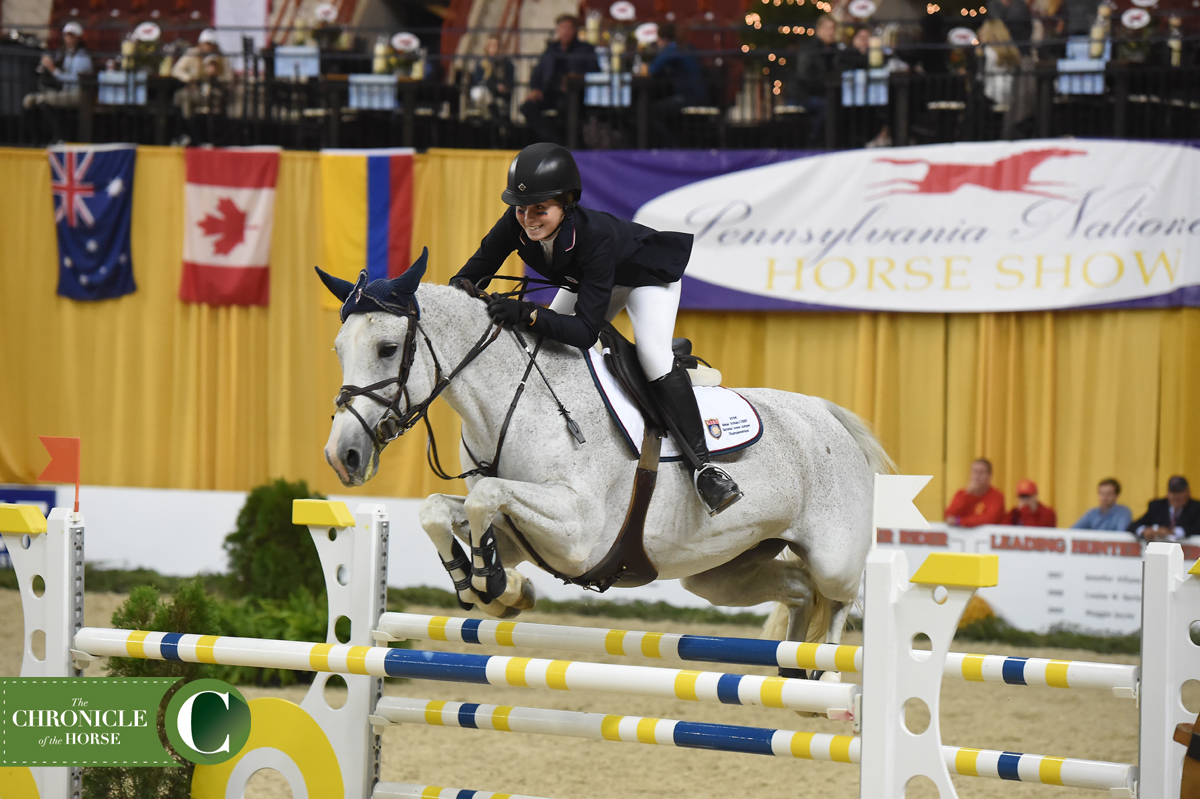 Madison Goetzmann on Wrigley anchored the Zone 2 team to gold. Photo by Molly Sorge
"I had so much confidence in my horse and [chef d'equipe] Ralph Caristo gives all of us so much confidence, so I didn't feel too much pressure," said Goetzmann on riding last. "I felt like I had a great team behind me and my horse was absolutely amazing.
"I thought it was an excellent course. There was a tight time allowed and a few wide oxers coming out of short turns. You really had to understand how to ride the track and be able to ride efficiently and smooth in the indoor ring because we are used to riding in a big outdoor ring throughout the season."
Goetzmann's teammates Fischer and Strauss also jumped two clean rounds on the night. "It's a huge adjustment riding indoors," said Strauss. "Things come up quicker; you have to adjust to the way the lines ride. Maddie and I have been in this class many times before on the same horses so we were expecting those turns and the way this ring rides. It felt great coming here with such a great team."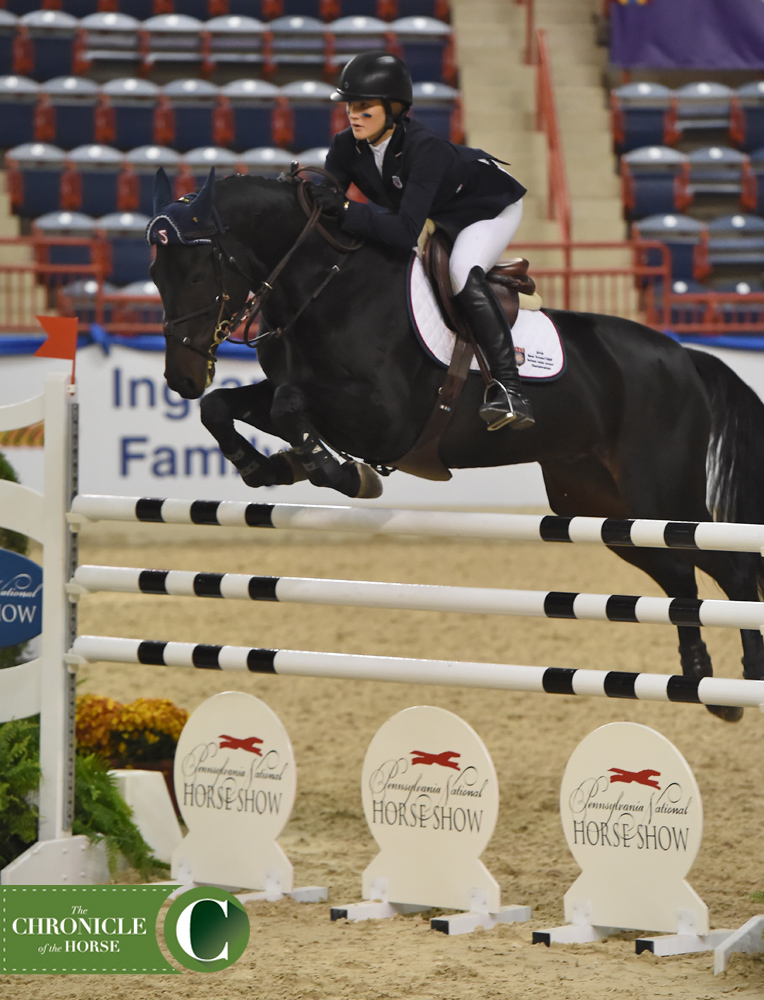 Katherine Strauss on All In. Photo by Molly Sorge
Both Goetzmann and Strauss had been on last year's winning Zone 2 team, but this was Fischer's first Prix des States Team Championship experience. She was visibly thrilled with Tosca du Fuegre's two clear performances. "I am really proud of my mare. It was her first time doing anything like this," she said. "She really came out on top and gave me two nice clear rounds. I thought the course was challenging, the time allowed was definitely a factor. You really had to know your horse for this course."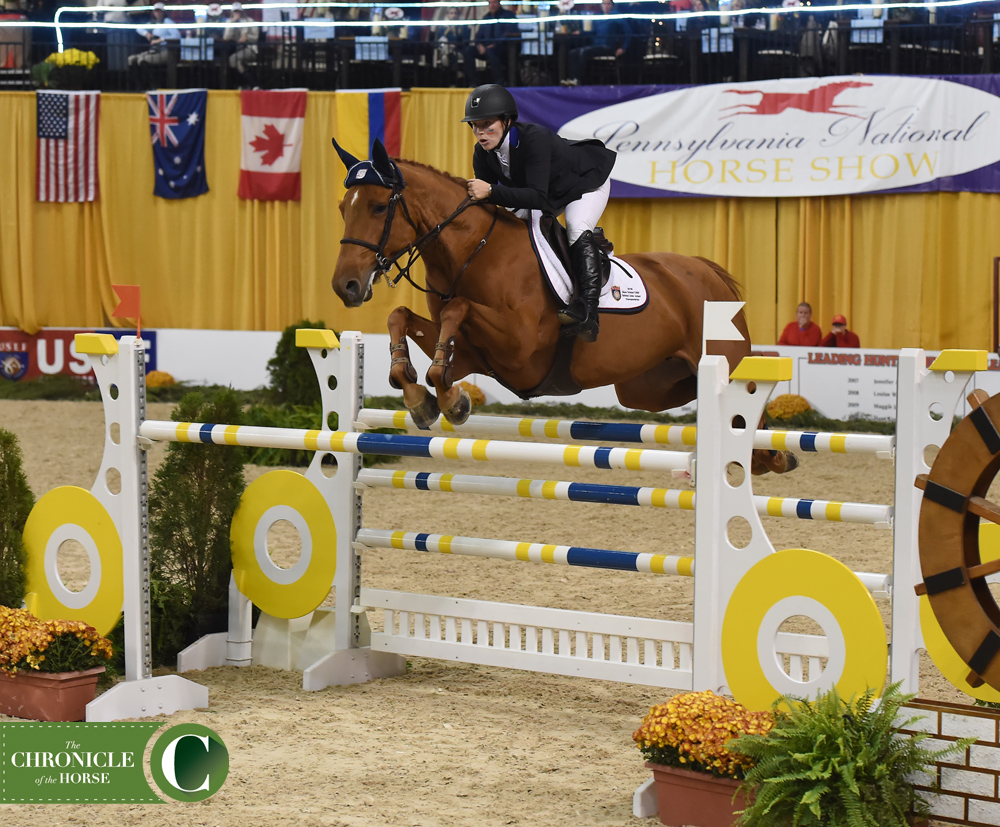 Lauren Fischer and Tosca du Feugre. Photo by Molly Sorge
The course definitely challenged the majority of the field. Out of 35 starters in Round 1, 10 jumped clean and seven riders had 16 or more faults. Two riders were eliminated and one retired on course after refusals. Of the 32 to return for Round 2, there were just four clean rounds, nine rounds with 16 faults or more and two eliminations.
The Zone 5 team of Caelinn Leahy, Alexandra Pielet, Giavanna Rinaldi and Dana Wille, took the bronze (37 faults) just slightly ahead of Zone 7, consisting of Hunter Holloway, Briley Koerner, Brian Moggre and Cassidy Wilbourn (39 faults).
See full results from the Pennsylvania National. See more photos from the Neue Schule/USEF National Junior Jumper Team Championship. Keep up with all of our Pennsylvania National coverage. And remember, we'll be doing a round-by-round blog on the action in the Pessoa/USEF Medal Final on Oct. 16.
And don't miss the Nov. 7 issue of The Chronicle of the Horse, where we'll have more in-depth coverage from the Pennsylvania National.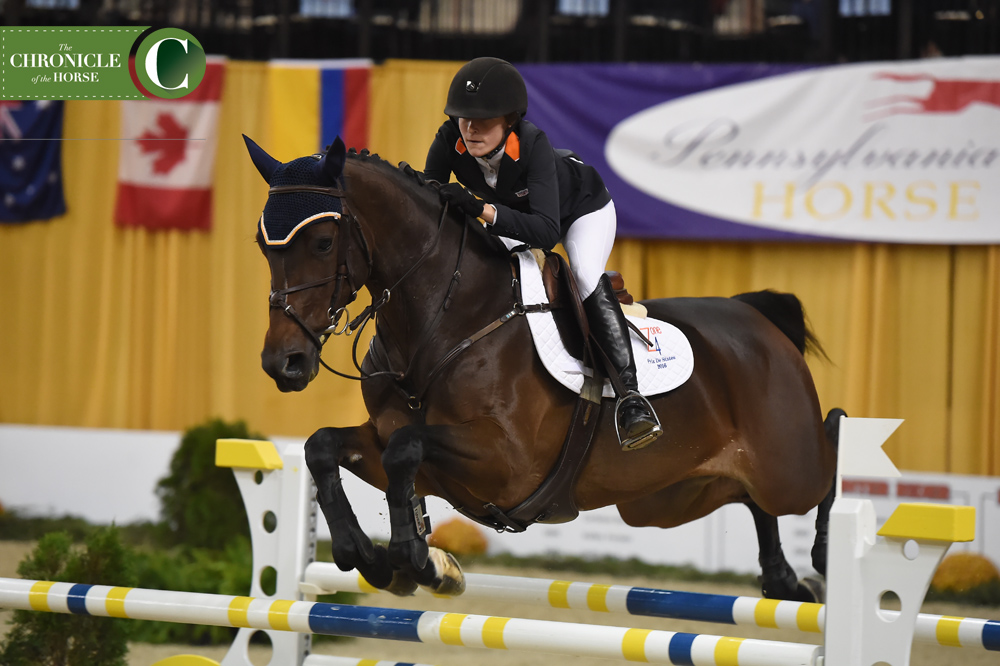 Brett Burlington and Bluff jumped two clean rounds for Zone 4 and helped them to team silver. Photo by Molly Sorge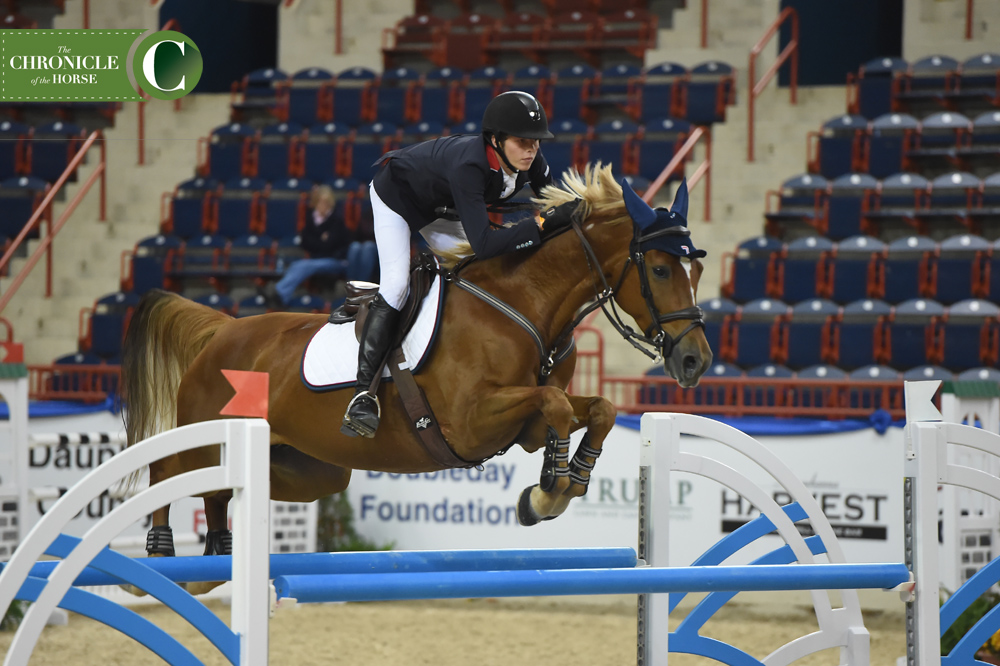 Brian Moggre and MTM Flutterby jumped to scores of 0 and 4 for Zone 7. Photo by Molly Sorge