Mill Spring, N.C.—April 7
Every rider has a different goal at The Fork CIC***, whether it's getting ready for a spring three-day, or moving up to the level for the first time.
If your goal was to be competitive today, you had to be quick, as Capt. Mark Phillips' cross-country course caused few jumping faults but challenged riders to make the optimum time of 6:16 over the undulating terrain of a former golf course on the White Oak property adjacent to the Tryon International Equestrian Center.
Only three pairs, Colleen Rutledge and Covert Rights, Katherine Coleman and Longwood, and Tim Bourke and Luckaun Quality, made the time, but Phillip Dutton had his foot down on the gas too with his three rides, and he's now occupying three of the top four spots—leading with Z, third with Kristine and John Norton's I'm Sew Ready, and fourth with Tom Tierney, Simon Roosevelt and Caroline Moran's Fernhill Cubalawn.
Jordán Linstedt is sandwiched between Dutton's rides in second place on her own and Barbara Lindstedt's RevitaVet Capato, adding 3.2 time penalties.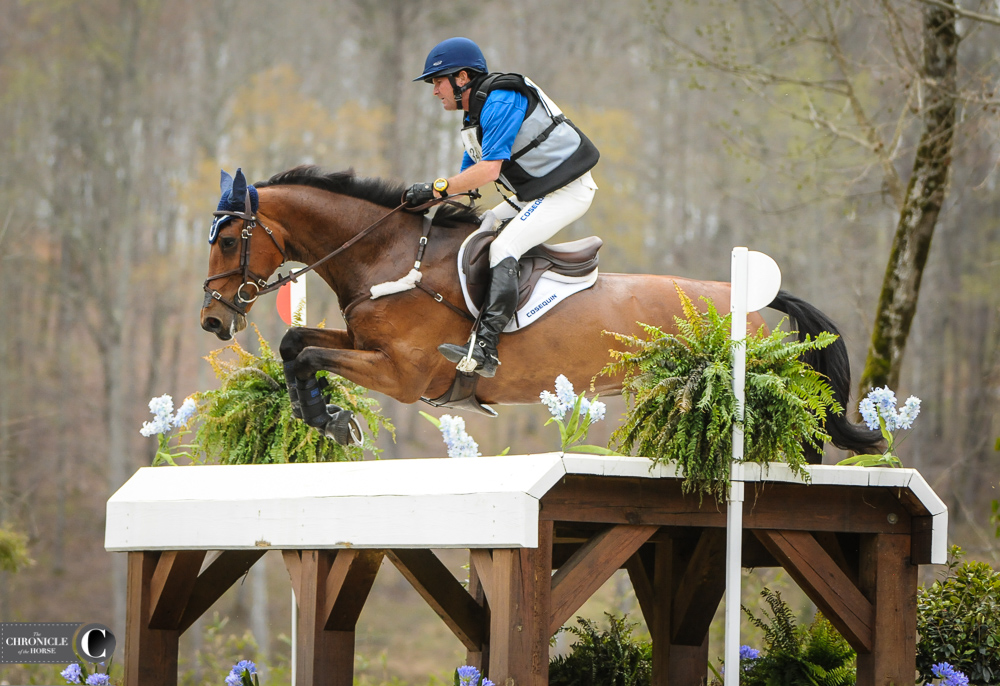 Z, who's owned by Tierney, Roosevelt, Moran, Suzanne Lacy and Annie Jones, is headed to his first four-star at Kentucky this spring, and Dutton wanted a good fitness run for him. He added .4 time penalties to sit on an overnight score of 28.0.
"The goal was to step things up a little bit from what I've been doing, as far as speed goes but keeping him within himself," he said. "The course in general rode well. Because of the golf course terrain you're working with the blinds and the different ups and down, but he's a bit of a freak of a horse!
"They all needed to have a bit of a run without going too crazy," he continued. "I was pleased with all of them. Certainly there are a couple parts that I'll be working on, but it was a pretty good day for all three of them."
Z, a 10-year-old Zangersheide gelding, can be enthusiastic on cross-country, so Dutton's been working on fine-tuning a few things as they continue to solidify their partnership. Z had been doing one-star eventing and some CSI show jumping classes with Portugal's Duarte Seabra before Dutton got the ride in 2015.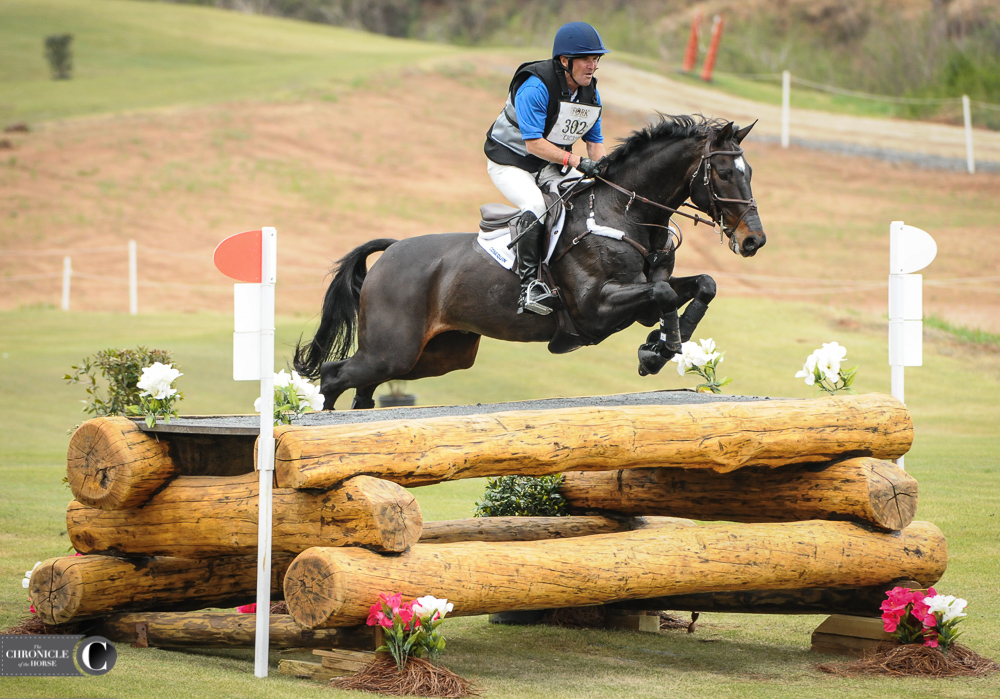 "[He's] point and shoot," said Dutton. "He just looks for the flags. You can meet the jumps on an open ride, or if you need to add he'll add. He turns on a dime. He's as good as I've ever had.
"We've had one fall, which he overjumped into the water at Fair Hill [Maryland] a couple of years ago. We've learned a little bit from that," he continued. "He's not a horse that you want to ride really aggressively all the time because he trusts me. If I say, 'Really go,' he really goes. I just have to make sure I don't override. He just loves to jump. He's just getting better and better. It's kind of fun to be a part of his, hopefully, long career."
The CIC*** track, which ran over parts of what will be the FEI World Equestrian Games course in September, didn't give riders many clues as to the layout, following a similar flow to The Fork last year and the USEA American Eventing Championships advanced course, but Dutton thought it was an invaluable learning opportunity should he be chosen to represent the United States on any of his horses.
"I think it showed today with quite a straightforward course that the time is going to be hard to get," he said. "That's going to be the first seven minutes, then you have to cross over the hill. I think your horse is going to need to be fit. A rideable horse with this kind of terrain, you want to be able to ride through this terrain and not have to be shortening up and helping your horse, You want a nice, balanced, rideable horse. I think it's going to be a good test."
Linstedt is aiming for the Land Rover Kentucky CCI**** in a few weeks with "Capato," a 15-year-old Hanoverian gelding.
"This was my third time going around the track," she said. "It was kind of similar, so it was kind of helpful to have gone out and done some of the questions, although it's always different. He felt fantastic from beginning to end. I hadn't gone fast at [the Cloud 11-Gavilan North LLC Carolina International (North Carolina)]. It was as slow as I'd ever gone on him, and for multiple reasons, but here I went out to go pretty quick, and he was great. I slowed up a little at the end because it was feeling almost a little too easy, and I needed to check in with him, but he was great."
Linstedt has been spending the winter and spring in Ocala, Florida, although she's based in Duvall, Washington.
"It's been a lot of traveling, but I have a great farm and home base there and a home," she said. "I'm ready to go back home. It's definitely a disadvantage being that far away, but I'm making it work the best I can. I have a huge support team and business."
Thirty-seven riders started the CIC***, which also served as the WEG test event. Sara Kozumplik Murphy retired Rubens d'Ysieux after two run-outs at fence 12, a corner.
Jessica Phoenix retired Bentley's Best after two run-outs at 11B and Samantha Elsenaar and Banbury Sky were eliminated for refusals at 5B.
Colleen Rutledge and Covert Rights incurred 50 penalties for missing a flag at 12 and continuing.
Rachel McDonough withdrew Irish Rhythm after a successful cross-country round because the gelding needed a cut stitched.
The final horse inspection will be at 8 a.m. tomorrow, followed by show jumping at 11 a.m.
For full results, click here.
There was no live stream, but check out a video of the three-star water jump courtesy of RNS Video Media.
2018 The Fork CIC*** Cross-Country
Lindsay Berreth / Apr 7, 2018 8:01 pm