A groundswell of support for U.S. breeding and development of young horses has been steadily growing. The Young Horse Show Series Qualifier and Final on Nov. 8-9 at Spy Coast Farm in Lexington, Ky., brought North American sport horse breeding quite literally into the limelight.
More than 65 entries vied for top honors in under-saddle, at-liberty, free jumping and under-saddle jumping classes for yearling to 5-year-old sport horses.
A blustery wind on the Finals day meant getting from barn to ring was akin to walking a kite for some of the young horses, but plenty of pats and encouraging words soothed the prancing.
Raised Right
This year, 10 YHS events were held throughout the country, culminating with the "last chance" qualifying event on Nov. 8. The top three horses in each qualifying class, along with other previously qualified horses, were invited to compete in the Finals the following day.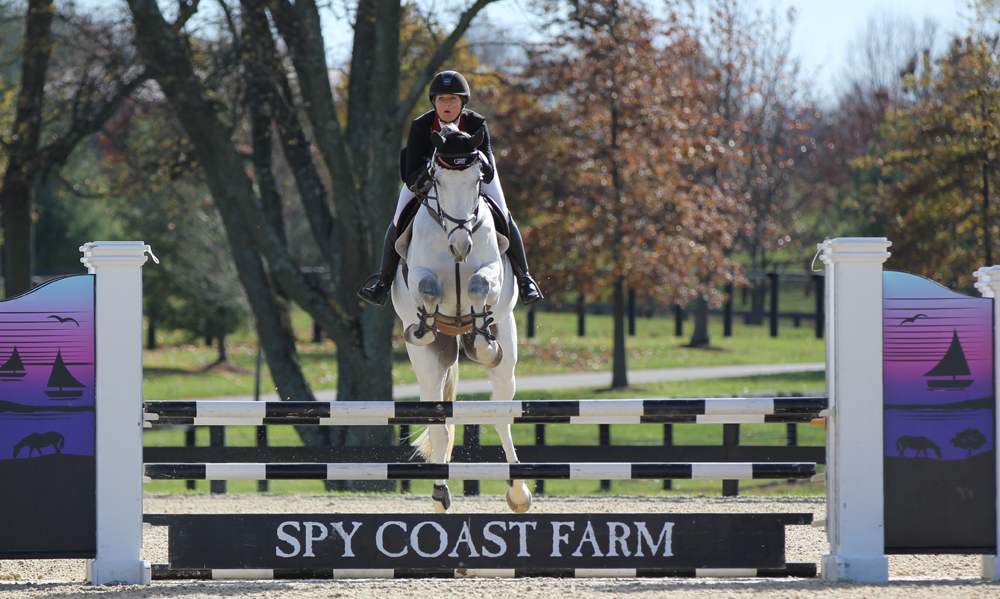 Sherry Hill's Mimmo T.Z. showed in the 5-year-old
under saddle jumping at the Young Horse Show
Series Finals.
Photo by Katie Shoultz
A collaborative effort spearheaded by French-born Jean-Yves Tola with the support of Lisa Lourie, Spy Coast owner and breeder, the North American Studbook and other industry professionals, the 2013 Series wrapped up the organization's third year of competition. "Europe may breed the best year after year, but we have all the tools in this country. And we can't produce that quality of horse? That's not ok with me," Tola said. It was that sentiment that bred the idea of the YHS.
The goal of YHS is to provide a low-cost, multi-discipline avenue for breeders, owners and trainers to showcase their young eventing, dressage and hunter/jumper prospects. With age-appropriate classes for young horses to gain experience and show exposure against other horses their age, the classes offer a viable and realistic benchmark.
The Finals weekend also included a stallion showcase.
Modeling YHS after the successful young sport horse events in Europe, the program's founders hope to combine the best of both worlds and leverage American talent and resources. By offering a relaxing atmosphere, professional handlers and other elements not seen at other shows, YHS events have quickly become a popular destination. "These types of events have been done for years on the other side of the pond. The beauty of America is that it's the land of opportunity, especially in what I think we can do to provide a foundation for young horses in this country," Tola said.
Lourie echoed these sentiments when she addressed the crowd Friday evening. "We wanted something that was educational, serving breeders and encouraging young horses in a positive way," she said.
Hailing from Topeka, Kan., Larry and Kathy Childs of Crooked Post Farm hosted a YHS at their farm this past fall and brought two of their qualified horses to the Finals. "For small breeders, like us to come to something like this and have that experience and exposure—well, it's truly needed," said Larry Childs.
May the Best (Registered) Horse Win
One of the more unique aspects of the YHS are the at-liberty and jump chute classes where movement, conformation and style are judged. Peter Hansen, judge at the event along with Jos Sevriens, trained in Germany before coming to the States in the 1980s and is a U.S. Equestrian Federation-licensed sport horse breeding judge.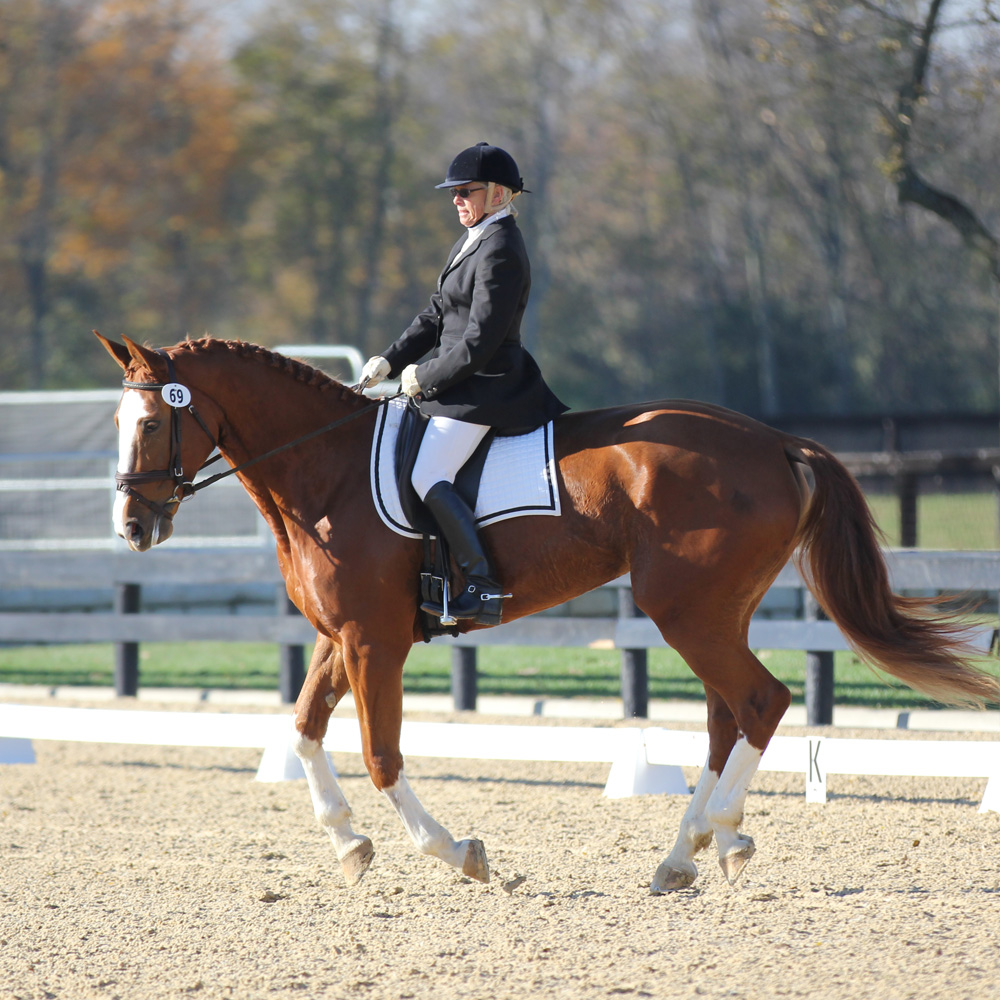 Caroline Stearns showed her Just Shiraz, 5, in the
dressage under saddle class at the YHS Finals.
Photo by Katie Shoultz
Hansen sees the at-liberty classes a more fair approach to scoring a young horse's potential. "At [in-hand] shows where you only see the walk and trot, a good handler can help balance out the horse and it doesn't give you the best overall picture," he said. The classes have proved a popular option for competitors and spectators, alike.
"Without the canter, you don't have a horse. You want to know what kind of engine you're looking at under the hood," Tola said.
As the program grows out of its embryonic stage, Tola is aware that the low cost of showing must remain one of the signature trademarks of the event. With breeders breaking the bank to get their homegrown horses to the ring and have a show record, Tola thinks better can be done for the horses and breeders—impacting the sport at it's most basic level.
Tola readily admitted that geography has been the main obstacle in the program's startup years. "A hurdle in any program is trying to make it a bit standard. With the size of the country, that can present a challenge," he said. "My goal in working with Lisa [Lourie] and Mark Bellissimo and other industry professionals is building markets where there is real demand." Once those markets are in place along the coasts and in-between, Tola foresees regional competitions and finals.
"We have big breeders and small breeders and it's all about who has the best horse that day," Tola said.
YHS is also sensitive to proper registration and horse identification. This year, the organization required that all yearlings be properly papered. Next year, it will require both yearlings and 2-year-olds until the program has enough built-in years that all horses are registered. "If breeders or owners don't know how, we will help them," Tola said.
With last year's Finals held in Wellington, Fla., the move north proved a good strategy and the makings of what may be a new tradition. "Having the Finals in Kentucky is wonderful for our farm in Chicago. I can't think of a nicer slice of heaven to bring our horses to here at Spy Coast. You look around and see camaraderie and genuine interest," said Janet Flury of AliBoo Farm in Minooka, Ill.
Aliboo entries claimed top honors in the 3-year-old and 2-year-old free jumping among other top placings. But, what Flury most appreciated was the patience and understanding afforded to the young horses. "It's like we're all parents in this together," she said. It may take a village for a young horse to realize its potential, but the YHS is keen on making it happen.
For full results of the Young Horse Shows series final and more information, see the YHS website.