Paddy Young and Kieran Norris were both transported to Paoli Hospital in Paoli, Pa., after falling on May 20 at the Radnor Hunt Races in Malvern, Pa. Norris has returned home to Middleburg, Va., while Young is still in critical care.
Norris fell from Make Big Plans in a maiden hurdle, which was the first race. Norris told Julie Gomena—the horse's owner and trainer—that he was going for an opening in front of him, but he thought someone crossed in front of him, and their horses clipped heels.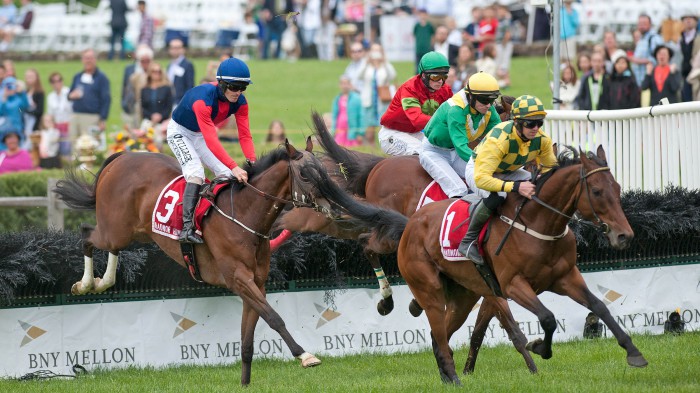 Norris' fiancée, Madison Meyers, said another rider had fallen right before him.
"In efforts to avoid that rider, I think they were all kind of all over each other, but the fall was nothing intentional," said Meyers.
Make Big Plans was a little sore after the race and was receiving a thorough veterinary work-up to make sure he had no serious injuries. Meyers said Norris was knocked out and has a fractured occipital condyle, which is the knob at the base of the skull in the space that connects to the backbone.
"That bone sits above C1 and is basically what you use to turn your head. We think he got a foot to the face somehow," said Meyers, who explained that Norris had abrasions to his mouth, lips and cheeks.
"In the grand scheme of things, he got really lucky. The doctors keep saying he's a really lucky boy," she added.
Doctors anticipated he'd make a full recovery and estimated six to eight weeks of wearing a brace before he can ride again.
"He's really disappointed to be missing the season right now," said Meyers. "He was in front in wins with his jockey standing, but I think it was really sobering to have Paddy come in next to us with injuries that were more serious. We don't know Paddy's prognosis yet, but it really puts things into perspective."
Once Norris was discharged, he refused to leave until he watched the Preakness Stakes (Md.) with Young, who was in the same trauma unit.
Young, 41, Unionville, Pa., fell from Stewart Strawbridge's Kings Apollo in the $30,000 Radnor Hunt Cup Timber Stakes.
Gomena said his horse hit the top rail and fell hard.
"He got really trampled on, and the doctor from the course went to the hospital with him," she said.
Paddy's wife, Leslie, posted on Facebook that he had serious bleeding on the right side of his brain, and doctors had removed a section of his skull to help relieve the pressure. He also fractured his C7 vertebra, but it's stable, and "he can move [his] arms and legs like a track star."
Leslie said Paddy has opened his eyes and is able to breathe on his own but is not fully responsive yet. "A few days of good rest, little stimulation and no infection, and they are hopeful for a full recovery," she posted.
Fellow Irish jockey Willie McCarthy started a GoFundMe account on May 24 to help support Paddy and his family. McCarthy set a goal of $100,000, but he hopes it will go beyond.
"I did this because of the severity of his injuries," said McCarthy. "I know his hospital bills are going to be huge. But what will probably be more expensive is the rehabilitation. The community doesn't want the family to have to worry about finances. We have them covered—I told Leslie that we're her family, and we're going to take care of her, so that she can just focus on getting Paddy better and taking care of the kids.
"As dangerous as this sport is—our group of riders have to take care of each other," he added.
Friends and fans donated more than $80,000 within about 24 hours.
"It's such a beautiful community of people we have to be able to generate that much money," said McCarthy. "They have been very generous."