If someone wanted to get up close and personal with eventing, this is the way to do it.
The Wellington Eventing Showcase is a close-in eventing experience, with spectator-friendly viewing of all phases in a compact show-village normally home to legions of dressage horses. Billed as a showcase with high-stakes, this "eventing lite" experience is perfect for the introduction of the sport to new viewers.
While the weather on dressage day was a bit nippy for the area, breezes and clouds didn't keep spectators from watching 35 riders here to compete for $75,000 in prize money.
The dressage was a great welcome back to some great horses who have been absent from the sport—it was particularly fabulous seeing Allison Springer's Arthur who put in a conservative, but accurate and nearly flawless, test to take over first place. Campaigner Ballynoecastle RM is hot on his heels with only a hair between them. Sitting in third is Boyd on the Thoroughbred Blackfoot Mystery.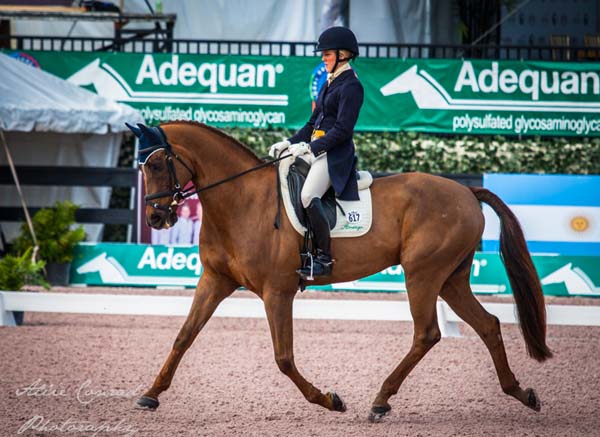 Allison Springer on Arthur, into the lead. Photo by Allie Conrad
Overall, there were some amazing tests on campaigners as well as some up and comers. Rather than bore you with a recap of the leaderboard, I thought I'd point out some cool horses that really outshone their scores so you can put them on the "ones to watch" list.
I sat and watched Doug Payne on Debi Crowley's Vandiver having a lesson with his mother-Marilyn Payne, and it. was. awesome. She instructed, he listened, and the horse went better… like magic. Imagine that!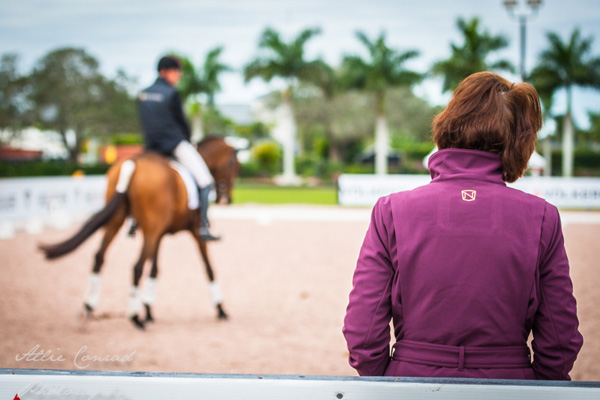 Marilyn Payne giving guidance to her son, Doug. Photo by Allie Conrad
Doug put down an amazing test on this horse and it's been interesting to see the relationship develop. You can tell there is a connection there—the horse digs his rider and the rider digs the horse and together you just know they will go far and be wearing a pinque coat in the near future. I couldn't help but notice the increased fitness of the horse—he looks amped and on track to head to Rolex Kentucky and I know they will be ones to follow in late April.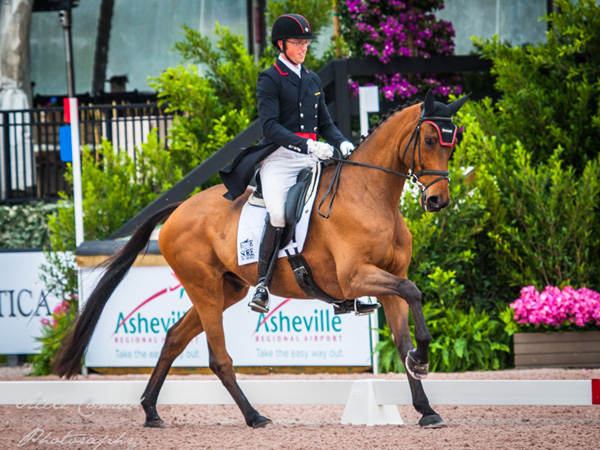 Doug Payne on Vandiver. Photo by Allie Conrad
Ryan Wood and Woodstock Bennett scored a 35.2 to sit in the middle of the pack, but this pair looks like they have a future for sure. They had a consistent, accurate test and you can tell that this pair has a lot more to give. Ryan is known for bringing young horses along in a quiet and competent manner and that ability really came through in his test. He did have the most phenomenal halt all day, one which inspired commentating pair Jimmie and Dom Schramm to exclaim "BOOM!!!" at the same time. It was a "boom" moment—and just a glimmer of what is sure to come out of this pair.
Elisabeth Halliday-Sharp is another who put in a knockout test on the lovely HHS Cooley. Calling Florida home after being in England for the past few years, they will surely be a pair on the prowl stateside and I can't wait to see more of them.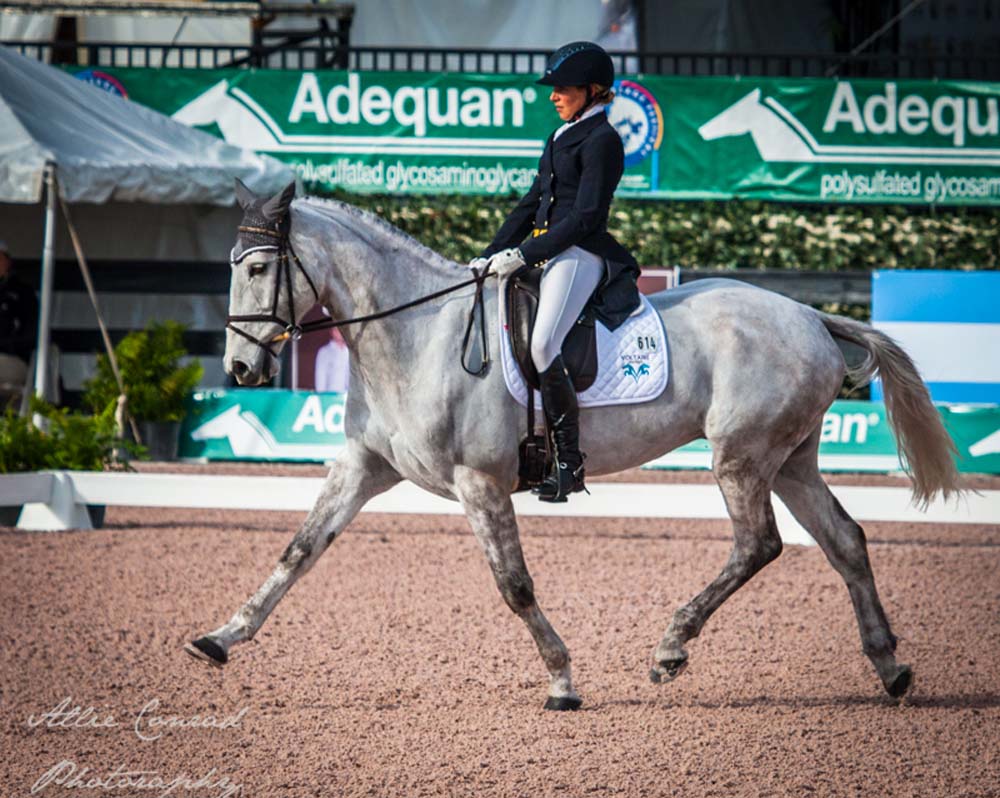 Liz Halliday-Sharp on HHS Cooley. Photo by Allie Conrad
It was awfully fun seeing Sinead Halpin's "Tate" (Manoir de Carneville) back in action. He was at times very fresh for his dressage test, but he looked keen and happy to be back in the ring. I'm hoping to see this consistent pair out for the rest of the season.
Tomorrow starts off with show jumping in the morning and cross-country in the afternoon. We're in Wellington, so any hills are manufactured—but the course is lovely and appears safe and FUN. The footing is literally like a golf course—except for the part that takes the riders through the spectator tent. As Allison Springer stated in the press conference—she'll be "utilizing a highly technical leg-flapping technique" to get through the bar area and dropping down into the arena with her historically spooky Arthur.
I'd be remiss without mentioning the full Thoroughbreds out today—they are my first love after all. I counted five in the competitive group—Blackfoot Mystery, Donner, Sound Prospect, Madison Park, and Win The War—loaned to international participant Daniel Jocelyn by owner Jessica Bortner Harris. I'd love to see a monetary prize for the original American-bred—the OTTB—here. Next year maybe?
Allie Conrad is executive director of CANTER Mid Atlantic, which provides retiring Thoroughbred racehorses with opportunities for new careers. Allie founded the organization in 1999 at Charles Town Racetrack (W.V.) after purchasing her beloved Thoroughbred Phinny, who had more than 60 starts at Charles Town, at the infamous New Holland Auction in Pennsylvania.
A resident of Southern Pines, N.C., Allie also works full time as a project manager for a Washington, D.C., consulting firm. You can learn more about CANTER Mid Atlantic on their website, www.canterusa.org/midatlantic.