Kalispell, Mont.—July 20
When Callia Englund got Xyder four years ago, she was 12, and the horse was 4. The pair did their first beginner novice together, the first for both of them. Then they just kept going up the levels—and going, and going.
After they successfully contested their first preliminary last September, Englund and her trainer, Anni Grandia, started thinking, just a little bit, about aiming for this year's Adequan FEI North American Youth Championships at Rebecca Farm.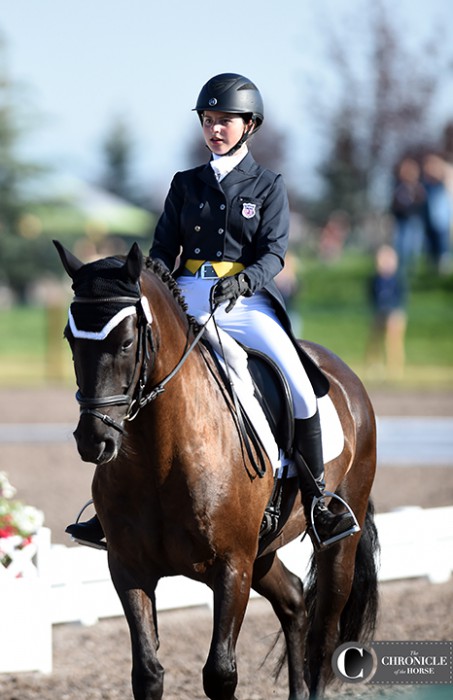 "Over the winter, my trainer, she's really good friends with Tamie Smith in Temecula, California, so she worked out a thing where I could work for Tamie and go down and try to get my qualifications," said Englund. "We were going to see how it went—if we got [the qualifications] and were able to do the one-star, and that went well, that would be great. We were so lucky it was able to happen."
When you see Xyder, who's a Cheval Canadian, go, you might notice he doesn't possess the build of a traditional event horse. He stands at 15.1 hands, and he's earned the occasional barn nickname of "Fat Boy." But it's never bothered him or his rider.
"He's always been a super honest jumper," said Englund. "We've had some difficulties in dressage because of his build and stuff, but going up the levels some people had a lot of doubts because of his height and build, but he's never shown any difficulty. He's always liked it since the beginning.
"He's not super hard to get fit; we just do have to do more fitness than a Thoroughbred," she added. "He's not super lean or lanky. We just have to work a little harder."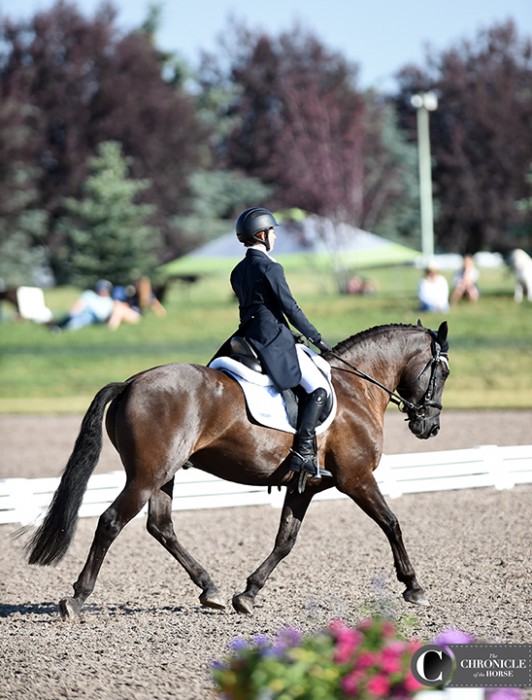 Englund described Xyder as a "teddy bear," but there are a few exceptions to his good behavior.
"He can get a little opinionated when it comes to food and when he wants it," she said with a laugh, "or when he wants to go out of his stall as well; he took a little run-around this morning. But he tries so hard, and he's super sweet."
Englund, who's based in Washington and on the Area IV and VII team at NAYC, earned her qualification for this competition at the Twin Rivers CCI* (California) this spring. There the pair added only 1.2 time penalties to their dressage score, and at Rebecca Farm today they earned a personal best FEI dressage score with 34.0 penalties.
"His test was super good," said Englund, 16. "He was steady and solid, and he was trying as hard as he possibly could. There were no big bobbles or anything, so I was super happy with it."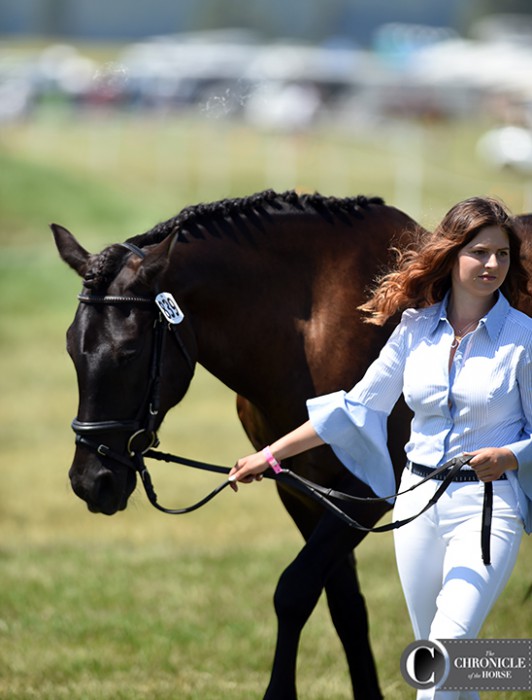 The pair's competed at Rebecca Farm a few times before, and Englund is excited about tackling the CCI* course tomorrow morning.
"I've [walked] around it twice so far," she said. "It looks really good and fun, and there are some good questions, but they're all pretty doable. I think Xyder will love the course. We've always had such great runs here. It's our favorite show."
See NAYC scores online, or read all of the Chronicle's coverage of this event.