Lexington, Ky.—Sept. 4
Elisa Wallace is well known for her love of retraining mustangs, so it's no surprise she's brought one to the U.S. Eventing Association American Eventing Championships.
Wyeth, a 5-year-old 14.1-hand pinto gelding, had a rough start to his new life when Wallace brought him home from his Wyoming herd.
He was three-legged lame due to a hind hoof abscess, then a week after she brought him home Wallace noticed he had some draining on his jaw. She thought it might have been a cut from his halter when he was captured, but it turned out to be an infected tooth.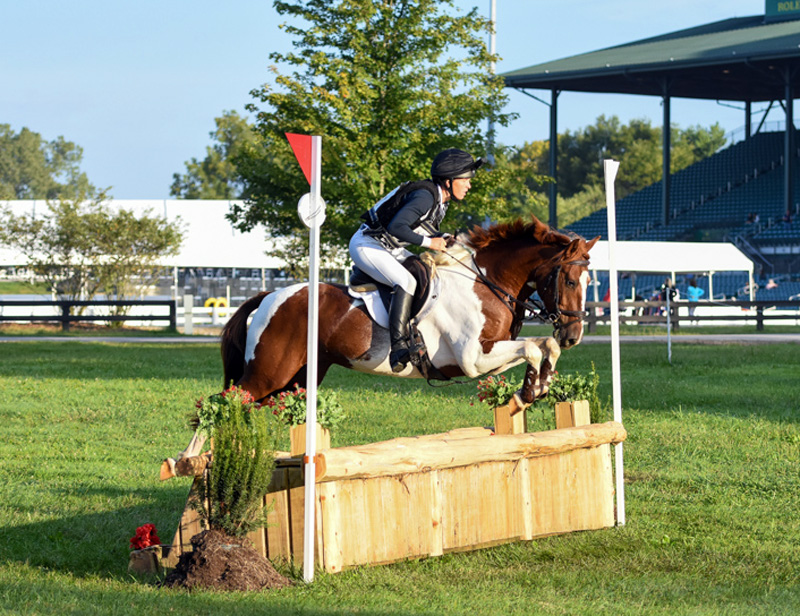 "When they're wild, they don't naturally eat grain, and you have to get them on grain, so it's hard to treat them," she said. "I was able to get him on antibiotics at least until I could get him a little more gentle to get an X-ray. When we did the X-ray he had some old jaw fractures, and it had caused the root of that tooth to deteriorate, and there's a complication with younger horses and pulling roots. They can fracture, and it's not necessarily a simple procedure—and he was still kind of feral."
Wallace did the best she could for the first month she had him getting him used to human touch, then realized he'd need surgery to remove the tooth because the antibiotics weren't helping.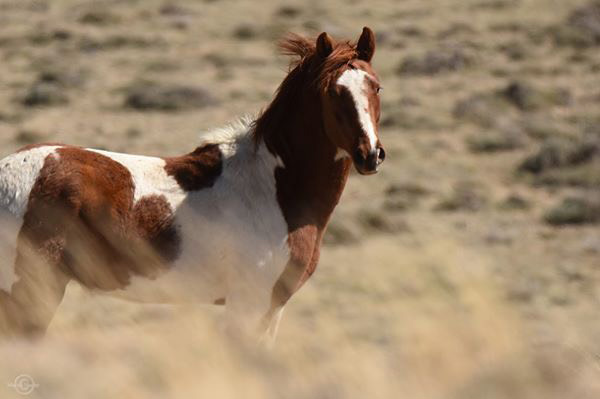 "He can be squirrely," she said. "He's a good boy, but he can get nervous. By the time I could get him handled, we did the surgery because he had to go completely under anesthesia. I wanted him to be able to handle all that OK."
After a few weeks of bandaging his head and putting gauze in his jaw where a giant hole was left, Wallace was able to start training "Wy" again in 2019 for the Mustang Heritage Foundation TIP Challenge, which is an in-hand competition.
Then she started him under saddle, and he took to eventing. Since then, he's schooled through preliminary and competed to novice.
This weekend he's tackling the beginner novice horse championship. He jumped a clear cross-country round on Saturday and currently sits in a tie for 20th place.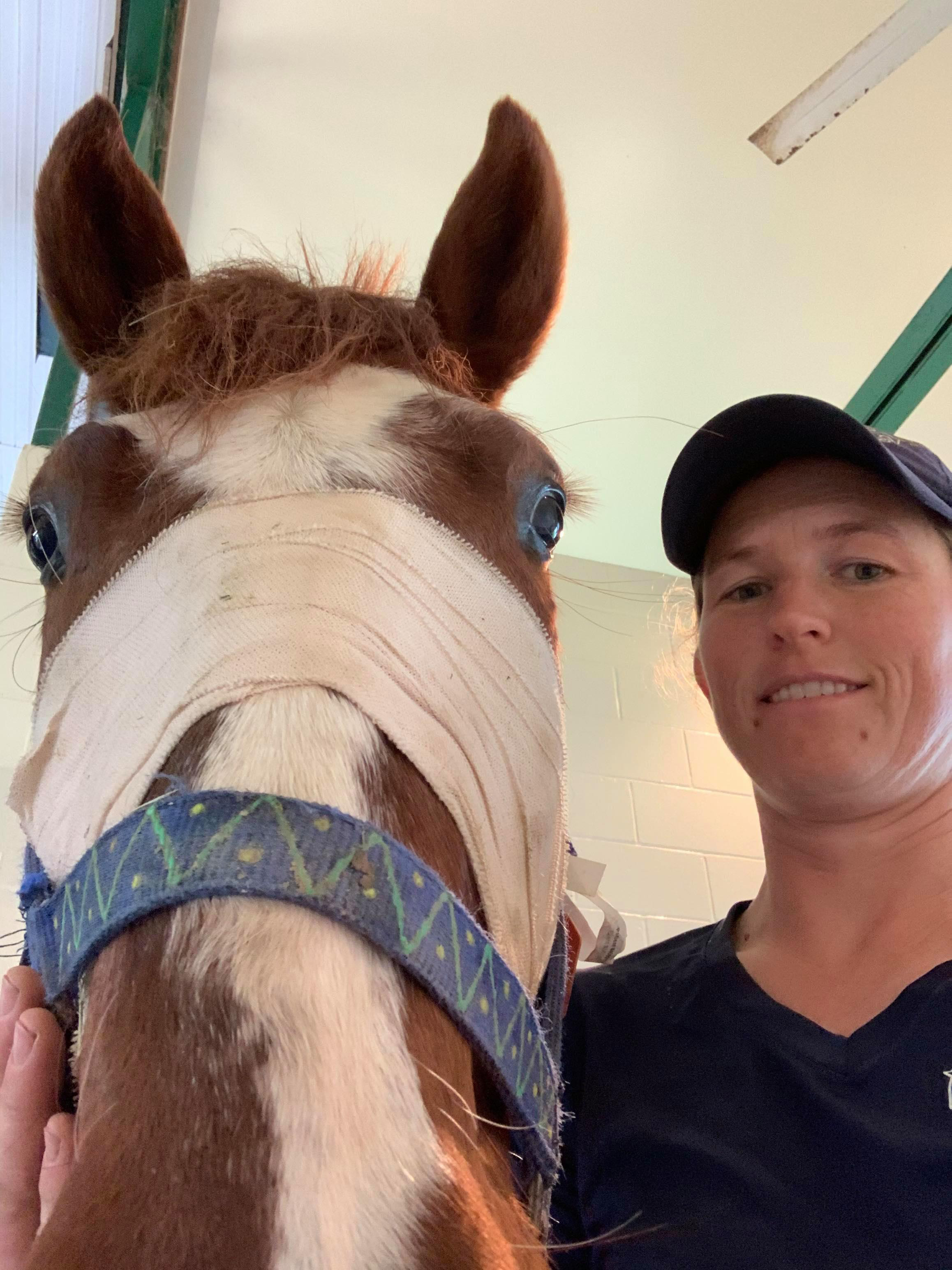 "He's a funny horse. He's jumped out of my five-foot fence before," said Wallace. "He's got a good little gallop on him. He did really well at beginner novice last year, and I moved him up to novice and decided to bring him here. He's done super good with the atmosphere. He's just funny sometimes. He still gets nervous with people sometimes. He loves being a show pony. He thinks it's the greatest thing. I'm pretty excited about him. I think he's going to be a talented little dude. I'm gonna see how far he can go."
Wallace has become busier in recent years with her upper level eventing horses, but she tries to make time to retrain one mustang a year. She has five mustangs of her own, including Eton, who's competing at novice.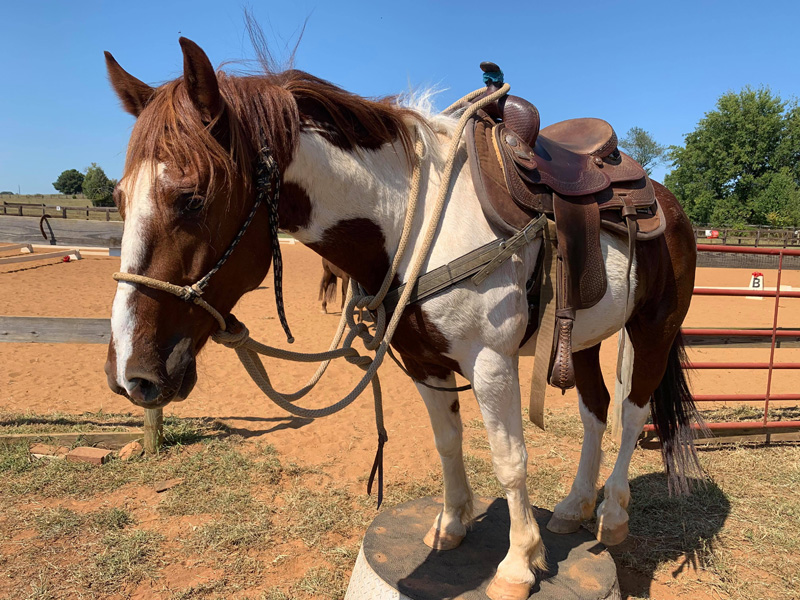 "It is a bit of a juggling act, but I like it because every mustang always teaches me something new," she said. "It's just something for me that I really enjoy doing. I think they're incredible horses. He loves cross-country. He wants to go. He's a gritty little guy. He wants to try really hard. They're always the underdogs, it seems, so I like to represent them because I think they're super cool horses, and they're talented."
Full results I Live Stream I COTH's Coverage I Schedule I Course Maps