Harrisburg, Pa.—Oct. 17  
Being a member of Betsee Parker's herd can be an intimidating task. With names of barnmates etched into grand hunter trophies spanning the professional, junior and pony divisions, there's a lot a newcomer must live up to. And Wonderly, the 8-year-old Brandenburg gelding (Burberry—Elbana) that Parker purchased a couple years ago as a pre-green horse, was just waiting for his chance to shine.
But after his initial pre-green year in 2015, Wonderly's talent hadn't quite shown through as strongly as others.
"I was not real keen on Wonderly," admitted Parker. "I thought he had kind of slipped off of his best in his second and third year that we had him.
"He was a very slow one," she continued. "So often with the warmbloods, you have to be patient and wait because they don't have the brain of our Thoroughbreds. And it's a frustrating thing, but you have to believe in them and stay with them."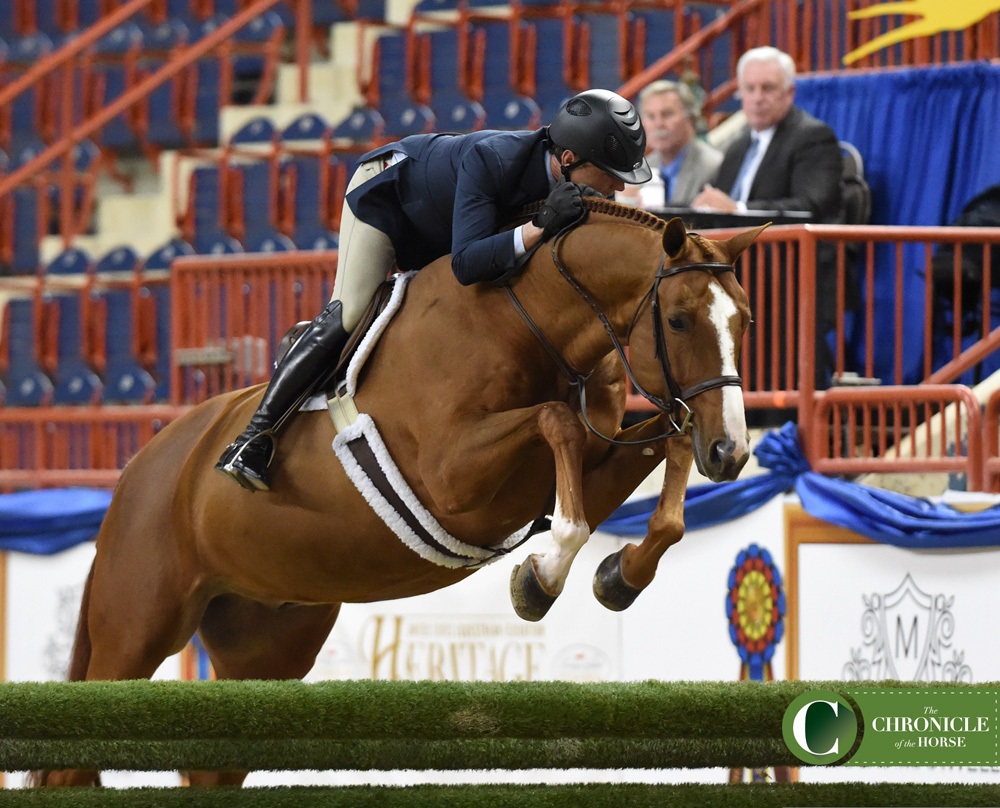 This Pennsylvania National, Wonderly demonstrated to Parker the rewards of patience by earning not only the 3'6″ green hunter championship but also the grand green hunter title with Scott Stewart in the irons ahead of Parker's other entry, Luster.
"He's just really laid back—he's a beautiful horse, always just a really classy horse," said Stewart who spent the morning entering and exiting the ring to collect tricolor ribbons. "We didn't do a lot with him in the pre-greens. He's always been pretty easy, and he's always been pretty grown up; he's not spooky or anything."
But Parker credited Stewart's persistence with helping Wonderly, and all her horses, develop into top performers.
"The thing about Scott that's so great is that Scott will absolutely not take 'no' for an answer from any horse or any rider," said Parker. "There's no such thing as the word 'no.' They are going to do it. And it does seem to win the day if you stay with it and believe in them like that."
Hunt Tosh's Lucky Charm

Hunt Tosh has been known to carry lucky charms. After all, five pebbles and a little locket from his daughter Maddie remain in his pocket at all times. But this Pennsylvania National Horse Show, Hunt felt he received another good luck charm when Patriot's owner, legendary hunter trainer Kenneth Wheeler, drove up to watch him compete in the 3'9″ green hunter division.
"I was lucky enough for him to come up this morning," said Hunt. "He drove up from Virginia to watch me. So he was my lucky charm. He just showed up and we won both classes."
After placing second and fourth yesterday, Hunt and Patriot, paired with their lucky charm, couldn't be touched, taking the highest score yet so far at this year's Pennsylvania National with a 92.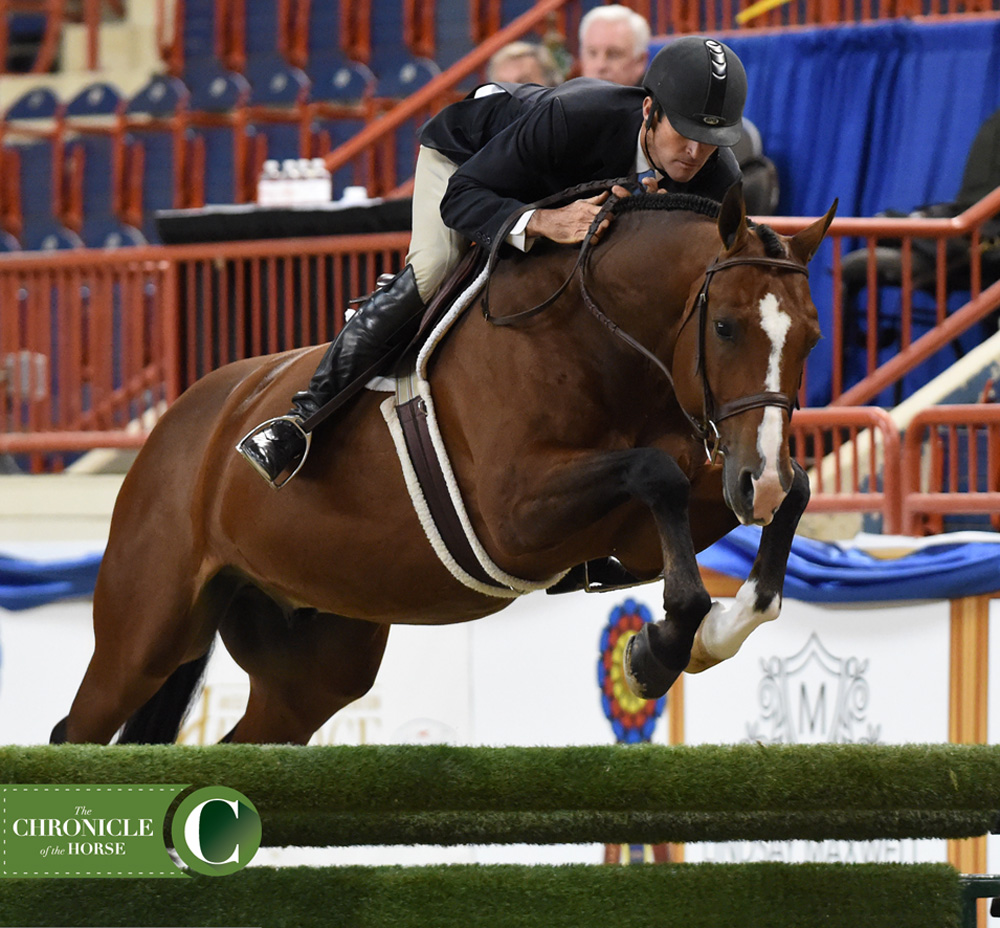 "He was nice yesterday—a little rusty—then today he came in and won both classes," he continued. "He's a great horse, and he's always a trier."
Hunt partnered with the 10-year-old Oldenburg gelding in early 2016 and earned reserve champion in the green conformation last year in Harrisburg.
"He's always been a great horse and tries to win. So obviously if you win with a horse like that in the beginning, your goal is to keep winning and keep it up," said Hunt. "To be champion with great horses and people here is always a great place to win."
Cameo Saves It For When It Counts
Cameo's been around the block. Since 2014 spectators have watched as the warmblood by Coriano garnered blues around the elite shows. But this year, after earning the high performance working hunter championship at Devon (Pa.), Cameo took it easy.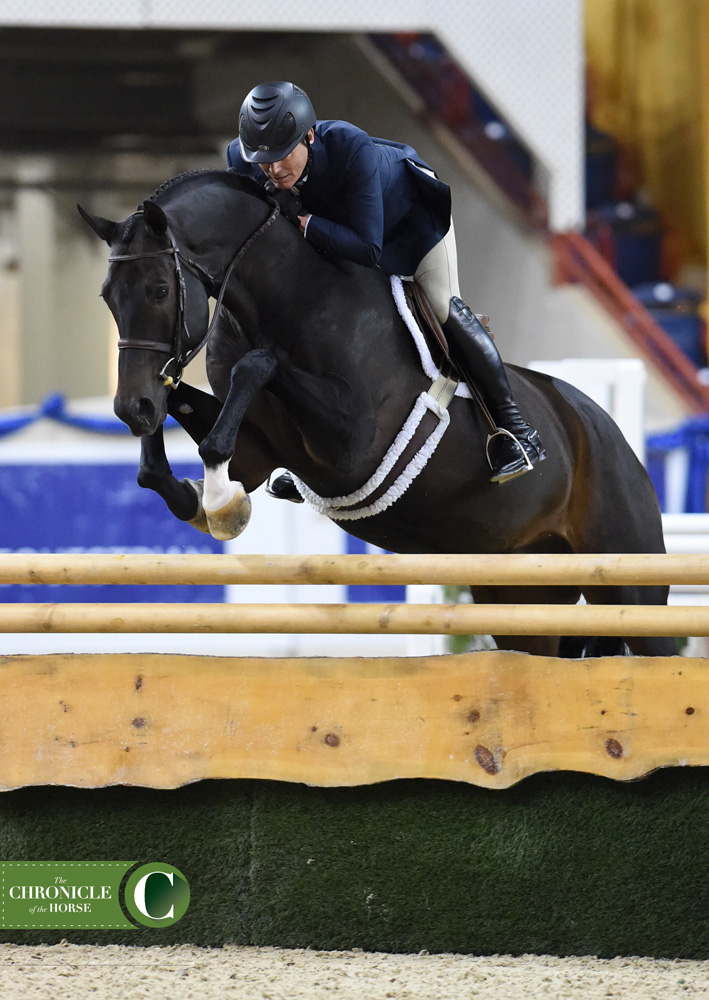 With only one outing at Capital Challenge (Md.) since Devon, Cameo and Scott Stewart headed back to Pennsylvania, but this time for the indoor experience. And the rest time paid off as they earned the high performance working hunter championship.
"He doesn't need to do a lot, and he's better when he's a little bit more impressed," said Stewart. "But he's just an easy horse. He doesn't need a lot of miles. Hopefully he'll last a while."
IMPORTANT LINKS:  All the COTH Pennsylvania National coverage  |  What You Need To Know  |  live results/order of go  |  live streaming  |  show website