We call Michael Jung "The Terminator," and he just terminated everybody else's chances today. He has three rails in the lead right now, though of course everybody's got to jog out tomorrow.
The footing today will have an effect also on tomorrow. We've run before in deep footing, and I've noticed that the average knockdown score in show jumping for the entire field is just much larger; it's almost double.
So this took its toll on the horses today, and it will take another toll tomorrow because it makes it just a little bit harder to jump clean, or to jump with maybe just one rail, and that gives the good horsemen an advantage. They already had an advantage because they were the ones with the fit horses today.
I did notice more tired horses than usual. I don't know exactly what to attribute that to. I thought the footing last year was as difficult as this. I thought the design of this year's course was a little more testing one because it went up and down a little more, and it turned back on itself a little more, which tends to slow the horses' revolutions and makes the horse and rider have to speed up again.
We probably had fewer jumping problems this year. Certainly we didn't have any spectacular falls that are going to be on the cover of some newspaper tomorrow.
The Russian Roulette School Of Course Design
I don't think these riders will say the course was too easy. When the conditions are difficult it's a very, very difficult sport. My hat's off to Derek di Grazia who I think deserves all of the good things that are said about him.
They're still working on the scores because they're working on this frangible pin rule. I would say the ground jury and the FEI Rules Committee brought this on themselves because that's a rule that is very, very beneficial in its intent, but right now it is impossible to apply it fairly. They cannot say that these breakaway frangible pins will remain consistent until a certain force is exerted on it. So for example Hannah Sue Burnett's horse, Harbour Pilot, hit the back rail of fence 3, and the pin broke.
Well, if you saw that log throughout the day, horses had already knocked all the bark off of it. They were giving that jump a pounding, and then Hannah Sue was the one who got the penalties, so I hope she is complaining. I hope the ground jury says, "You know, that fence took a punishment. We're not going to assess the penalty." My understanding is they have that option.
But I think the scores will show this course was every bit as difficult as last year
The opinions were mixed about the course, and beforehand I was of the opinion that this was slightly more difficult than last year, and there were other people who thought it was slightly less difficult. I think a part of that is the questions that the course designers are using are becoming increasingly circumscribed. There is no new fence or question that has been invented in the past 10 years, so it's an endless repetition of drops to a narrow, to another narrow turning combination to another narrow.
It's all about these narrows now, and I do think that if some bright bulb in the course designer world thought up something new the riders would mutiny, and the ground juries would take it out of the course because no one would be happy doing it until they saw it done somewhere else. They don't want to be the first to jump it.
This is a modern trend because in the 1960s and the 1950s, course designers would build a jump, and half the riders would attack it at 600 meters a minute and half the riders would trot it. There was no template, and there was no protocol for the fence type. That no longer happens.
For example on this year's course, 14AB, the curving brushes on the mounds, they're a certain shape, and they're a certain size, and they're a certain distance. Those mounds have been duplicated in schooling areas around the country because these four-star horses practice their distances. They're more like show jumpers these days, and they make turns, and they jump on angles that would have been impossible for horses and riders 20 years ago.
But it leads to sameness, and so it's an endless repetition of the same question, and I call it the Russian Roulette School Of Course Design. You ask the same questions. Can you jump a drop to a narrow? That was wonderful, now can you jump a drop to a narrow on the other lead? You were wonderful, can you jump it on a different stride to a different material? Can you do that up? Can you do that down? It's the same question, and you have to keep providing the same correct answer every time, which becomes increasingly difficult when your horse is tired.
It comes back around to the horsemanship and technical expertise.
Bad Luck And Making Your Own Luck
A couple of people had bad luck. I think Kim Severson had bad luck. Her horse, who is normally super brave, jumped in and peeked at the ditch a little bit and destroyed the distance. Kim later said that she thought he was getting tired, and that's why he responded the way he did, and she pulled up.
I accept that she's too good a horseman not to know how her horse feels, but I was surprised at that because I had really expected them to jump a very stylish round, which I thought they were jumping up to that point.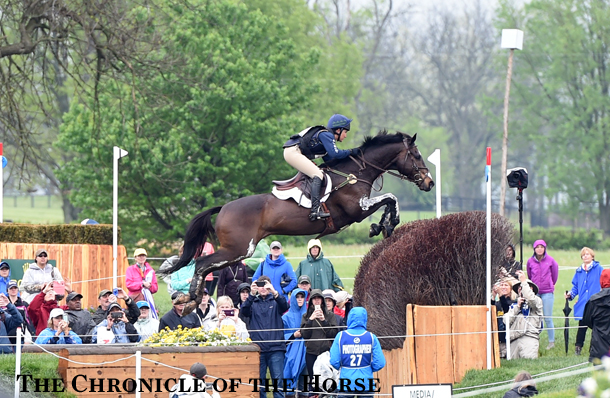 Barb Crabo and Eveready. Photo by Lindsay Berreth.
I was impressed by Barbara Crabo. She's not in the top placings to date (39th), but you can see the effect of someone who's working at getting better. And she's been working at it. She went to Europe last fall, and she covered herself with shame and ignominy and all of the humiliation and all of these terrible things. She came back, and she is much better for it. You know that which does not destroy us makes us stronger, and she's very much that.
I've been walking a wide distance around Colleen Rutledge because she obviously has a black cloud of bad luck hanging over her. You can't imagine any other thing that could go wrong with her week, but you don't want to be there when it happens because it's going to be really bad.
Boyd and Phillip, now they're the backbone of our team. We should be able to say, "OK, we've got two solid rounds, and we've got two other horses going that are on form based on the way they jumped around Rolex because Rolex was a 4.5-star, and they jumped it really well, and they jogged out sound, and they're on the short list.

It's obvious that while our dressage is getting better it still just flat out is not good enough. I know there are some American experts whining that our judges are too harsh, but we had all foreign judges this time, and I thought the judging was pretty level throughout the two days.
Michael Jung is almost 10 points better. If you watch his test, it was not that his horse was such a flashy mover. Roxie is not Totilas. She's an attractive mover. She's a very correct mover, but she's not extravagant. But what she is is she's straight; she's balanced; she's submissive without being dull; she goes forward without being erratic; she's correct; she doesn't make mistakes.
Our riders are doing better and better at dressage, but when you look at their work they leave a little detail, and they leave a little point out there in the ring that the better, more experienced dressage riders don't.
Then you have someone like Michael Jung who show jumps at the five-stars for show jumping and rides Grand Prix dressage and then comes out here in horrible conditions and puts his hands down and says, "I'm going to win this or die," and Roxie flung her ears up and said, "Really? How cool is that; let's go see what happens."
I was watching in the TV production truck with all of these experts, and we all started groaning at the top of the hill because we knew what he was going to do. He was going to chase the time down through a related distance to a flat ramped oxer at the end, and he was going to hope he sees three fliers in a row. And he did. And if he had not seen those strides, and if she had not responded, they would still be picking him up.
He's very confident in his horse, and he wouldn't have asked for that if he didn't know it was there in her. She just put her ears up and said, "Do you want to leave from 15 feet back at the last fence when we're tired? Let's see if that works."
Now he's just got to go for it in show jumping.
See all of the Chronicle's Rolex coverage.