When event rider Kurt Martin took on Anna Bella as a sales horse, the barely broke, nearly feral 5-year-old Holsteiner probably seemed an unlikely prospect for the foundation of a future breeding program.
But a decade later, having competed Anna Bella (Acodetto—Hellena, Leonid) through the four-star level before retiring her due to an injury, her first foal for Martin, a gray named Record Year, took top honors in the filly section of the USEA Future Event Horse East Coast 2-Year-Old Championships at Loch Moy Farm in Adamstown, Maryland, on Sept. 26. The filly placed third overall among the 2-year-olds with a score of 83.5.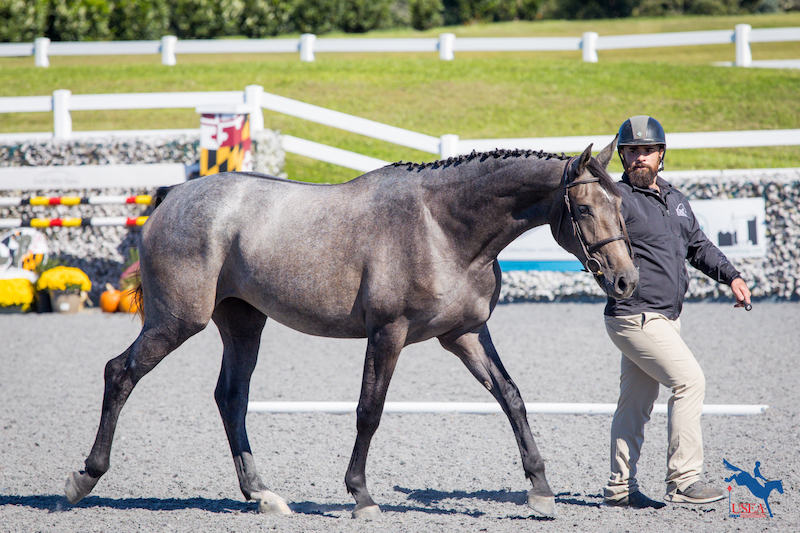 Anna Bella last competed in the spring of 2018. "She had an injury, and you know I'm really interested in the mares for this reason, honestly—that you have a well-bred mare, and you take them up the levels, and then after they retire, they can give me more, hopefully, with some good babies," said Martin, who is based in Marshall, Virginia.
He chose to breed the mare to another four-star event horse—Upsilon, an Anglo Arabian stallion by the Holsteiner Canturo. Thomas Carlile of France competed the gray stallion.
"I'd always admired the horse in the Event Rider Master classes, from what I could see," Martin said. "I had a client who had seen the horse at Blenheim [England] run in the 8- and 9-year-old class, and they said it was really just an impressive horse."
Upsilon had a good bit of blood and could add some refinement and a shorter back to his mare, Martin thought. 
"I was a little hesitant to breed the mare to a full-blood horse, because she was a lot of horse…  at times I was over-mounted on the horse; she was always very excited," Martin said. "[Upsilon] just seemed like a good option for me, and luckily I got a beautiful filly."
The breeding came about through collaboration with his farrier, Darryl Mattern. They sent stallion prospects back and forth to each other before eventually settling on Upsilon, and Mattern did much of the early handling and also taught the filly to drive. It was Mattern's idea to show her in the FEH classes, Martin said.
"I didn't even know what it was!" he said with a laugh. He read about the classes online, and he and Mattern got help with getting the filly ready to show because neither of them had ever shown a horse in hand.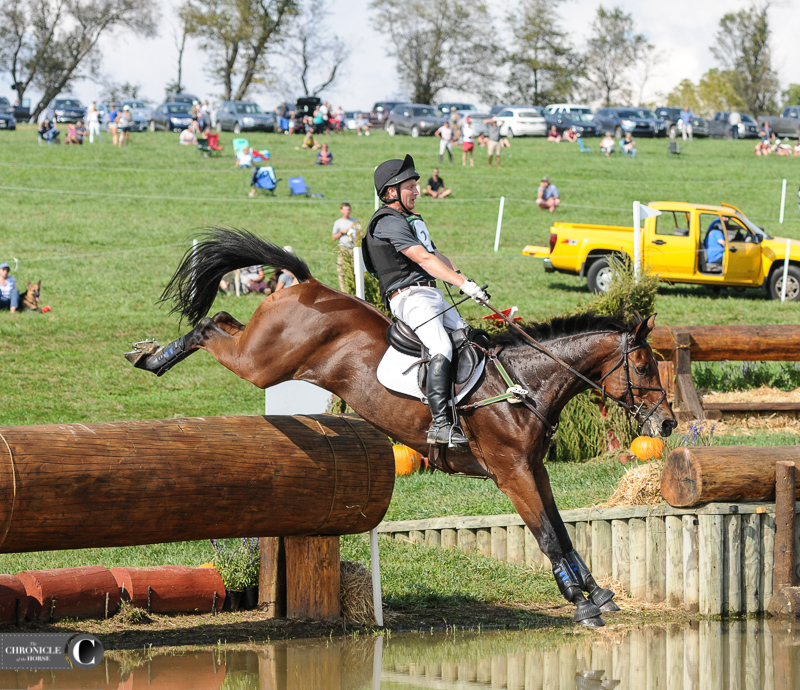 "Darryl wanted to go; he likes to show animals, and he thought this was a special horse. He put a lot of time into just getting her manageable, and he did a great job handling her at the show," Martin said. "It's been a learning process. I think it's a great thing look forward to, bringing her back next year and seeing her jump." 
What has impressed Martin so far about the filly is her drive. "That's why I buy mares," he said. "I don't mind if they're a little tough, or this or that. I just really like how focused they are. I particularly liked how she handled herself at the show, not because she was quiet, but because she listened. In event horses, we're not looking for quiet. I'm not looking for easy, I'm not looking for an amateur horse. We bred her to be a proper horse, and she just seemed to take it in.
"She moves exceptionally well. She has free jumped, and she blows a really big jump," he continued. "Those things are exciting, but I know without the drive, you don't have an event horse."
Martin also has a yearling filly out of Anna Bella, that one by top event sire Contendro I. He got a late start on breeding this year, and the mare didn't catch, but he plans to try again next year and also plans to breed a few other mares.
"I don't know anything about breeding; I just know what I like, and I ask a lot of questions of knowledgeable people about this and that. So I'm still learning a lot," Martin said. "Something I really like with the babies is you can take sort of five minutes out of your day, and they appreciate it; they like the attention, and it makes them a little better, and you play with them and you groom them. I have no expectations for them—it's not like you've spent a bunch of money on a horse, and it's already doing everything. This is a blank canvas, and you're really starting at the beginning." 
It's an aspect he especially appreciates because Anna Bella was often quite difficult, having had such a late start.
"There are just things that I'd like to do with this [filly] that obviously I couldn't do with the mother because she was older," Martin said. 
But for now, the plans are to just let the filly keep learning and growing up. "We're just going to keep playing with her," Martin continued. "She might get driven here and there, just because the mother was so difficult. That's why we've already had a sit on her."
And Martin is already thinking ahead for what might happen after a potential eventing career. 
"I think she'd make a super broodmare in the end; I really like the dam on Upsilon," he said. "Using Anna Bella as my foundation… I've got a couple of fillies out of her now, and that would be my thought down the road for this one."