Sara Carlisle wasn't exactly looking for an FEI dressage horse with a reputation and health history so spotty that he was being given away for $1, but after she'd retired her previous upper-level partner, picking up Ace Of Spades seemed like a gamble she should take.
After being shuffled from rider to rider—including reportedly being imported to Canada and then deported back to the Netherlands for his bad behavior—"Knight" ended up with Carlisle when he proved ill-suited for the FEI schoolmaster role his most recent, amateur owner had hoped he'd fill. Knight also had a less-than-perfect health history, and his owner told their mutual trainer she'd be willing to give Knight to a student capable of taking him on. So, with a brief video clip, $1 and some soul-searching, he became Carlisle's. She didn't even know exactly what the gelding looked like, she said, until he got off the trailer at her farm in Acton, Massachusetts. 
Seven years and countless chiropractic appointments later, her gamble paid off. The 17-year-old Dutch Warmblood gelding (Sandro Hit—Urodine L, Donnerhall) carried Carlisle in their Grand Prix debut, and the pair got their final score towards their USDF gold medal, a 62.60% in the Grand Prix on July 8 at the HITS Summer Dressage Show I, in Saugerties, New York.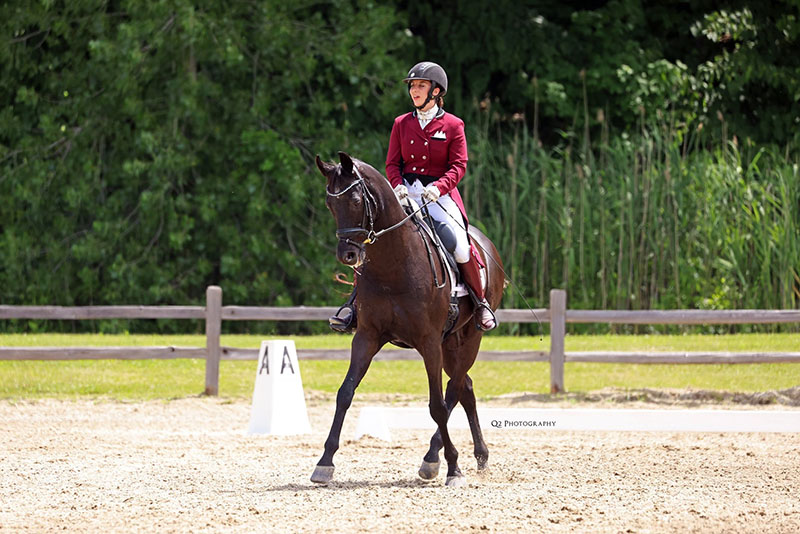 "Ever since I had him, he's hated new things," Carlisle said. "So I know that the Grand Prix is going to get easier for him once he's used to it. This was the first time that we did a Grand Prix where he was listening. He still didn't piaffe, but he did everything else so well that we still got the score we needed. I was so excited and proud of him. It was just a surreal moment."  
Although Knight had been trained through the Prix St. Georges level, his $1 price tag was a reflection of several behavioral and physical challenges, including a history of colic and impressive spooks, which Carlisle affectionately dubbed "Knightsplosions."  
"When he was 5 years old, he was imported to be a Canadian Olympic prospect," Carlisle said. "She had him for I think like maybe a year or so. In a weird turn of events, I had a friend who's this fabulous young rider in Canada, and she watched him bronc off a famous cowboy that was hired to fix him at shows. After that didn't work, Knight got deported back to the Netherlands." 
It wasn't until he was reimported by the woman who sold him to Carlisle that Knight stayed stateside. When that owner decided he needed a different situation, Carlisle had just retired her previous FEI mount Churchill and decided she was ready for her next project.
Knowing his reputation, Carlisle started their relationship with a complete veterinary workup to rule out any physical problems. Assured he was healthy and comfortable, she went to work—but quickly learned his reputation was well-earned. He did not channel his natural athleticism into the movements rewarded by dressage judges.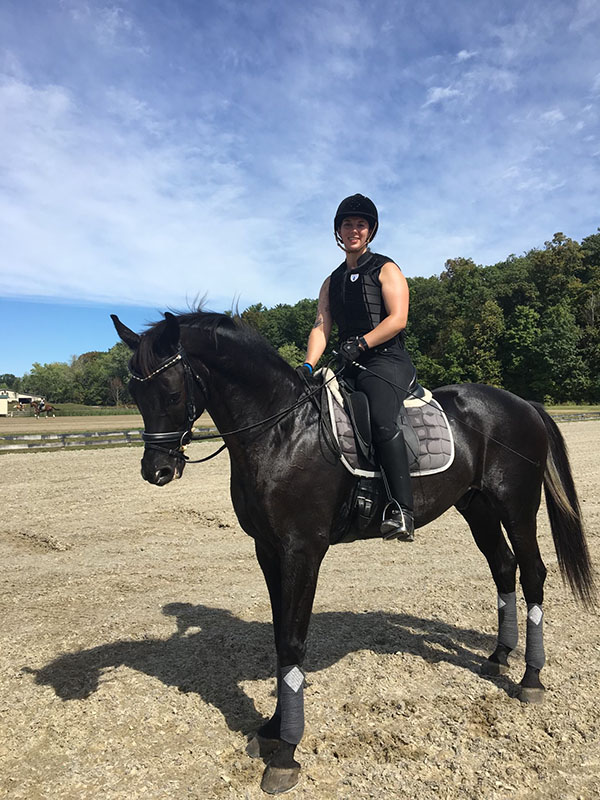 "The first six to 12 months, he tried to throw me off every single day. Like, violently," she recalled. "And he is athletic, and he goes sideways really, really fast. He has some very interesting things he can do with his body." 
Their forays into the competition arena featured some of his infamous warp-speed spooks, garnering Knight and Carlisle some unwanted attention.
"The first show that we went to, they called the EMTs to stand next to the ring while I was riding because they were not only worried about me but also about all the other people in the ring. It was a small show, so I'd warned [the show secretary] that I was bringing this horse that was bad," Carlisle said. "It was really sweet that they let me work through it, and I'm so thankful for all the judges over the years that let him be bad in a test without eliminating me. Because that's the only way we ever got through it."
Patience—being able to reassure the horse and not take his behavior personally—has been the key to dealing with Knightsplosions.
"I think the overarching reason that I was able to get him through most of his issues was just because I believed in him, and I love him so much," she said. "I always make jokes about horses with behavioral issues that you're like a concierge at a fancy hotel, and they're a diva, and you just have to sit there and take it while they yell at you. Most of behavioral issues go away if you just let them feel their feelings and move through them—kind of like people."
Massachusetts-based international dressage rider Kathy Connelly, who trains Carlisle, said working with Knight—or any horse—is about approaching negative behaviors, once physical causes have been ruled out, with a very specific mindset. 
"I don't use the word 'resistance'—I don't believe in that term—because when a horse doesn't understand, our job is to be clear enough in the way we ride, so that they can understand what it is that we're asking them to do. So, I find, when that approach is taken in the training, then pretty much everything is solvable," she said. 
"Sara is a very, very dedicated, disciplined, organized rider and trainer, and she always has the horse's best interest at heart," Connelly added. "She is very consistent, and she considers continual education to be a very big part of her program. When she got Knight she inherited a very complex history with him; he isn't a horse that would've been for everybody because he has a very high energy level, and he's emotional. So he needs to have somebody who's very confident and experienced. He landed with just the right person when he ended up with Sara."
Carlisle acknowledged that taking on a horse with baggage isn't the right decision for everyone. In addition to the higher emotional and physical demands of complicated horses, a professional showing one has to grapple with the reality that it can be a detriment to their career in an industry where scores are an indication of proficiency. For Carlisle, her continued commitment to focus on Knight rather than the score (or even, in some cases, the letter) has not always been an easy one to make. At their first show of the year, for example, they were eliminated because Carlisle couldn't get Knight down the centerline at the Adequan Global Dressage Festival (Florida).
"There have been at least five times that I've laid on my kitchen floor and cried and thought about giving up on him because it was just so hard," she said. "It was just so tough."
Knight's antics have taken a permanent physical toll on Carlisle as well.
"Imagine being in a repetitive car crash over and over again," she said. "When he spooks, he violently runs sideways, so you're literally getting whiplash. It's like he cracks my body like a whip. So I see my chiropractor twice a week, and my hips are constantly so out of alignment that my left leg gets up to 5 inches longer than my right leg."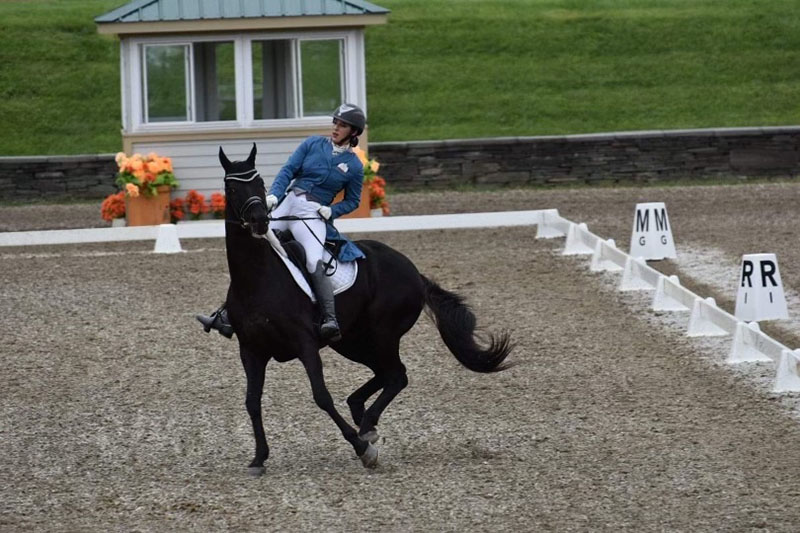 Nevertheless, Knight and Carlisle's relationship endured in part because their similarities outnumber their differences.
"For me, I have always identified personally with Knight and all of his issues, because I have a lot of issues," she said. "I've struggled with bipolar disorder since I was 12 years old. And I've always gravitated to the more difficult and complicated horses because I feel like I'm kind of difficult and complicated.
"I always knew that he had it in him and that he had greatness in him, but I almost needed to believe in him in order to believe in myself," she added. "And I needed to prove that I could do it for both of us. Mental illness is difficult, and to me, being able to prove that he could do something meant that I could do something. In a weird way, we honestly worked through our problems and our demons together." 
In addition to being known for her work with Knight, Carlisle is an active volunteer for the New England Dressage Association. Most recently, she has overseen the creation of a youth committee dedicated to revamping their social media strategy. Carlisle hopes that her journey with Knight can be an example for the next generation.
"I think symbols have power," Carlisle said. "And I feel like Knight and I have been able to be proof that you can be successful on a horse that has baggage, proof that you don't have to spend a tremendous amount of money to be able to get to FEI, and even to be able to get your gold medal."