While I love to compete, I must admit December and January are a couple of my favorite months. I spend much of the year traveling and showing, constantly analyzing how my horses are performing, planning their training and fitness schedules, and preparing for the next competition. I cherish the quiet wintertime at home where I can simply focus on each horse's individual needs without the pressure of the next competition.
While I always aim to give my horses the training rides they need, the winter is more relaxed. It's a perfect time to chip away methodically at the little details. It's a different training mode. There's no strict agenda. The horses aren't back to full competition fitness levels, and most importantly, if I feel like going for a hack instead of doing flatwork, that's completely acceptable! During other times of the season, you can find yourself in "training to compete" mode, where the daily rides are dictated by what your horse needs to be ready for the next show. But in the off-season, I enjoy training for the pure sake of training—which is what we should be doing all the time—without the pressure of competition prep influencing our training regimen.
To determine how long each horse gets off, I consider their age, competition level, and the rigor of their competition season. The upper-level horses will get more time off than a 5-year-old that goes training level. Younger horses have a less strenuous training schedule and usually enjoy a few mini-vacations throughout the year while I'm competing abroad or focusing on other training opportunities or competitions. It's critical to give the horses a long enough break to fully recover from the demands of the past season. I don't necessarily have a set formula, but most of the horses will get a minimum of four to six weeks off. While my upper-level horses enjoy a lengthier vacation, I spend extra time with the young horses and concentrate on their development (and maybe take a few days off for myself).
Some horses happily take to their vacation, while others take more time before they settle completely. Some horses like more structure and handling, and there are those happy to be left untouched in a field.
I alter their diets as needed during the time off. For example, two of the mares in my program are at the same age and stage in their training—both are 8, and both moved up to the three-star level last year, finishing first and second at the CCI3*-S-YH at Morven Park (Virginia) and the Virginia CCI3*-L last October—but they have very different dietary needs. Isla de Coco, a big, rangy mare, needed to put on some weight at the end of the season. On the other hand, her stablemate Diara is a much easier keeper and finally worked off her hay belly with the fitness required to do a three-star, so my goal was to maintain her condition while she took her holiday.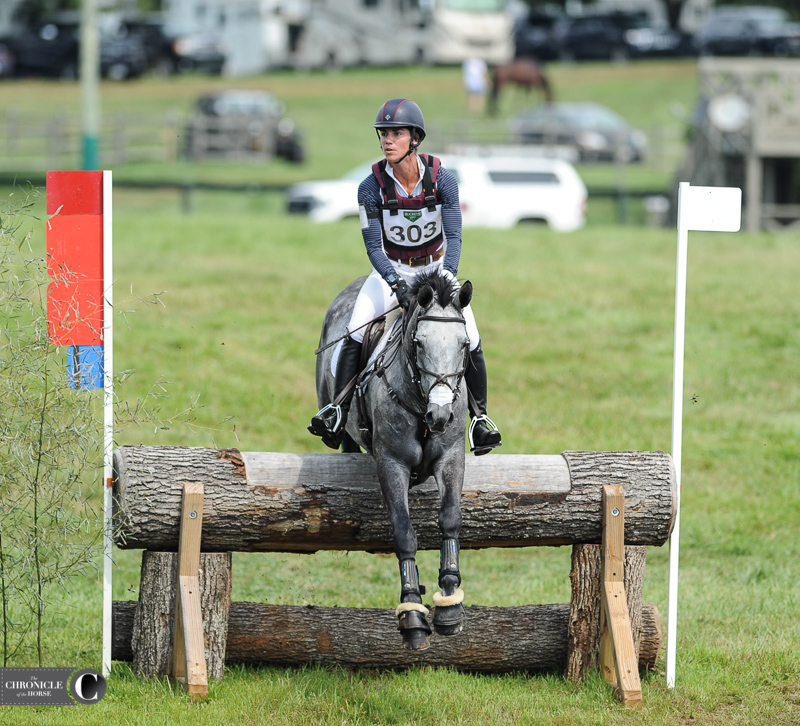 Giving the horses a vacation is part of the puzzle; the other half is knowing when to end it. I watch the horses' behavior and take note of their attitudes during this time. I find that after a while many grow a bit restless and seem eager for more attention. I watch their behavior outside and in their stalls. Some start to get a bit frisky leading in from their paddocks, or I have one mare who likes to bang her stall door when she's bored and ready to return to work.
I find that horses usually come back into work better than where I left them. Some are more exuberant than others as they return to a structured exercise routine, but I enjoy starting with a "clean slate." The horses are feeling mentally and physically recharged. As they begin to leg back up, I always take a moment to analyze how their bodies are feeling and their attitudes.
It's critical to establish a new baseline of their strengths and weaknesses. They begin with walk hacks, and I gradually introduce flatwork and trot sets. Once they build up their fitness on the flat, I will add poles and cavaletti, then slowly start jumping again.
The winter break was a great opportunity for me to focus on getting to know my new upper-level horse, [Annie Eldridge's 11-year-old Hanoverian (Fuerst Nymphenburg—Amaterasu, Amerigo Vespucci xx) gelding] Forrest Gump 124, who we acquired last August. I truly enjoy bringing my horses along from the beginning but with a couple horse injuries last season, we decided to add a seasoned horse. "Shrimp" is the first horse we've purchased who was previously produced to the upper-levels, and he is the ultimate professional. We won the CCI3*-L at Tryon (North Carolina) last November, so the goal was to move up to advanced this year.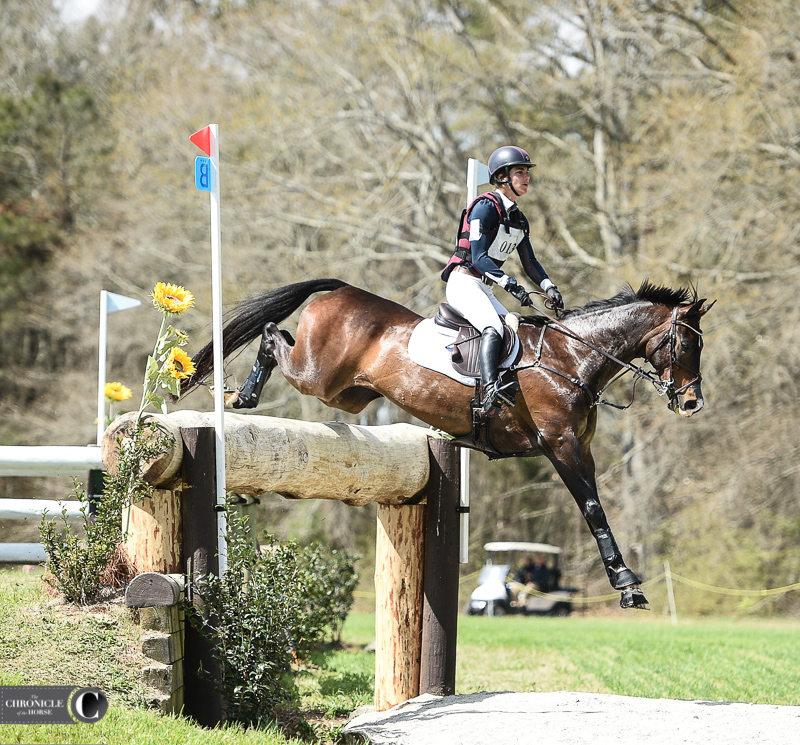 It's been a different challenge for me to ride a horse that I didn't develop, so I've been hard at work getting to know him and strengthening our partnership.  Through the end of last season and over the winter, I focused on figuring out how he likes to be ridden, what aids he prefers and how best to support him, in addition to formulating a daily care and stable management plan that best suits him. Most importantly, I've spent time with him in the barn to get to know him and better understand his personality.
In January, I competed the young horses while the upper-level horses did their flatwork and conditioning. After a couple trips to the World Equestrian Center (Florida) for some show jumping rounds, I took my upper-level horses, including Shrimp for our first advanced together, to Pine Top Horse Trials (Georgia) in the end of February for their first event of the season.
I feel our partnership is getting stronger every day, and that paid off at Pine Top where he won the advanced division. I must give the credit to the horse, as he is a wonderful competitor who tries his heart out.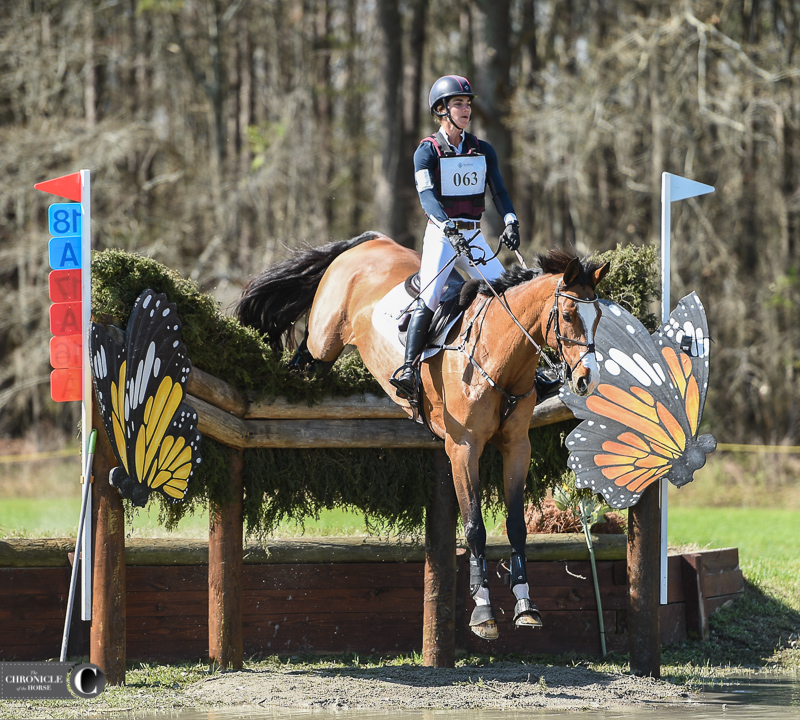 While we still have a long way to go this season, I'm thrilled with how it's starting off. Shrimp was 15th at Carolina International (North Carolina) in the four-star, and Isla de Coco was second in the three-star. Next, the upper-level horses are aimed at FEI divisions at Fair Hill (Maryland) in April. I'll reflect on those events before deciding how to use the subsequent few weeks to best prepare them ahead of my spring goal of competing them all at Bromont (Canada) long-format events.
---
Ariel Grald is a five-star eventer based out of Annie Eldridge's Setters' Run Farm in Vass, North Carolina. She made her five-star debut with Eldridge's Leamore Master Plan in 2019, finishing 12th at Land Rover Kentucky before going to Land Rover Burghley (England) that fall and finished 10th. In 2021 they finished third in the Longines Luhmühlen CCI5*-L (Germany).