As Day 1 of dressage at the Rolex Kentucky CCI**** came to a close, and the press conference with the day's leaders finished up, I zipped up my tall boots and adjusted my helmet.
I was about to go on a trail ride around the horse park with fellow equine media members, a Rolex sponsored course walk of sorts. This was purely a leisurely event, a little fun before the intense weekend really ratchets up.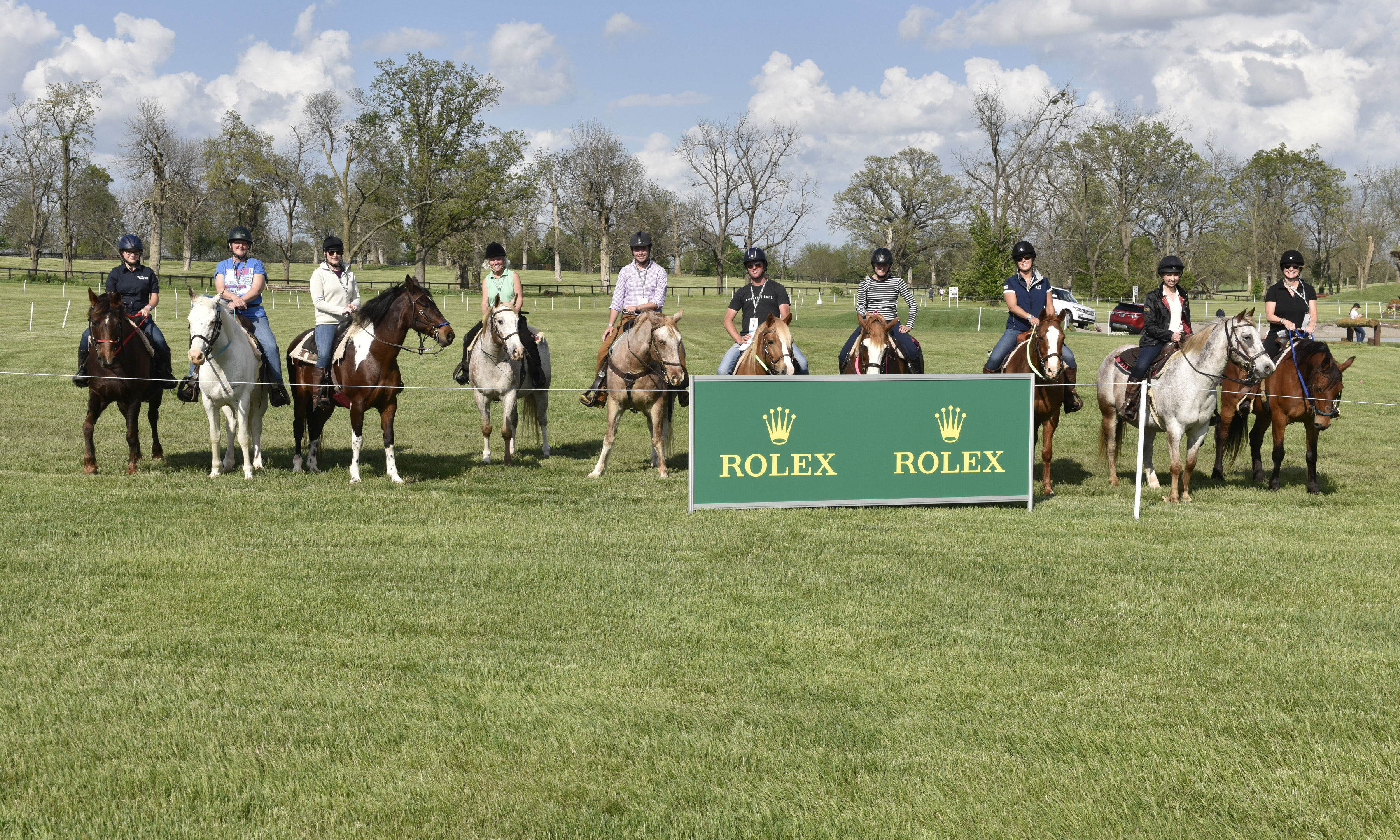 The motley media crew getting ready to head out. Photo courtesy of Rolex
But I chose to ignore the "fun and leisurely" and "you're not going faster than a walk and surely are not jumping anything" descriptions and focus on that title: 2016 Rolex Ride The Course. That sounds like a competition title if ever I heard one. I could already feel the weight of that shiny gold winner's watch on my wrist, the prize I was sure would be awarded to the best trail sitter of the day.
Was this a competition? No. Was I going to win it? Absolutely.
My ride for the #rk3de2016 trail ride was a big chestnut mare named Rainbell. Her amusement level with my shenanigans? Zero.
This lady means business, and she should. We're about to ride around one of biggest cross-country tracks in the world. I wouldn't pick her as my catch ride if I didn't think she would take it seriously. Over hill and dale, around fence and water complex, all with our fellow equine media and photographer friends, and all led by four-star rider Will Faudree on an impossibly fat and tiny pony. It's intense, and as an overly competitive person, I would like to win this non-existent contest if possible.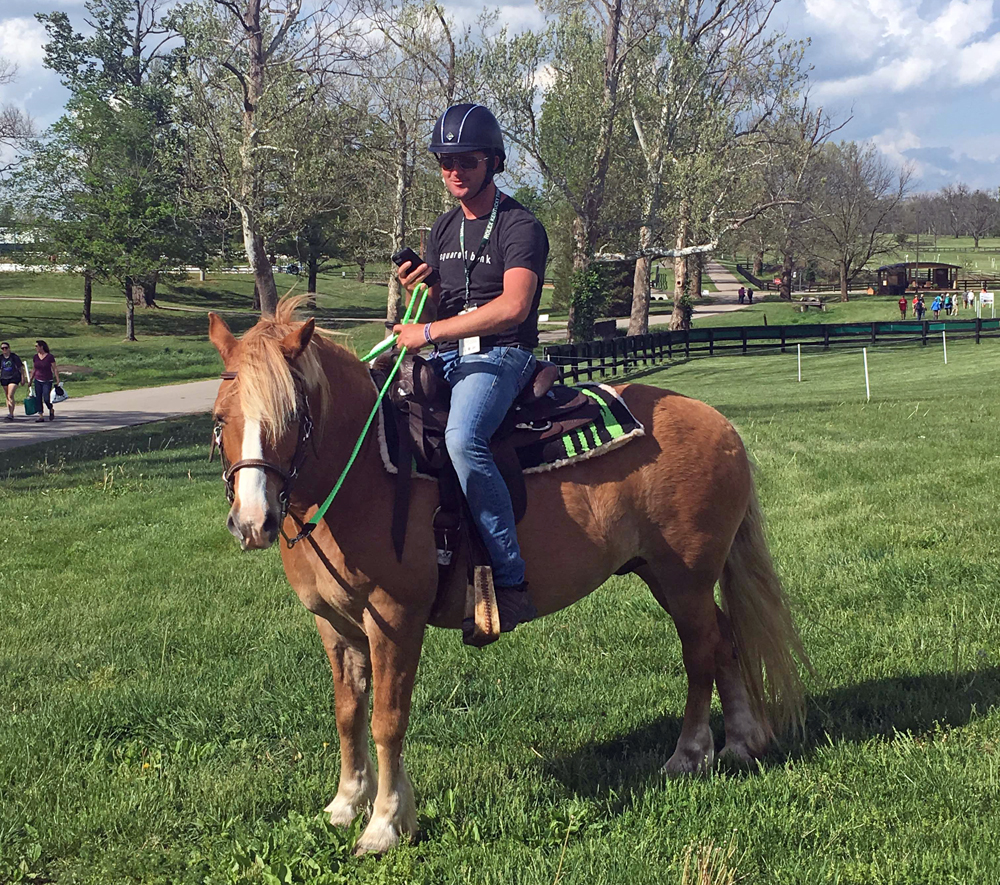 Will Faudree on Diesel, who he picked out because "he just got a feel off him." Photo by Ann Glavan
Luckily my mount, Rainbell, is a veteran of the trail sport and shares my cutthroat competitive instincts. She's a chestnut mare, after all—she probably came out of the womb kicking and screaming and telling the other foals she stood up the fastest. I can tell she's got a real winner's mentality, because even on the eve of our debut four-star trail ride, she's the picture of calm in the start box (hitching post), eyes half closed in the late afternoon sun. She was so relaxed in the face of this prestigious ride she may have actually been sleeping. Because she's that on top of it with her mental game.
When the time came for us to dig in and fly off on course across the Kentucky Horse Park, Rainbell was on it. Steady walk clip, right from the get-go, with hardly any urging. This girl's been doing her walk sets, clearly.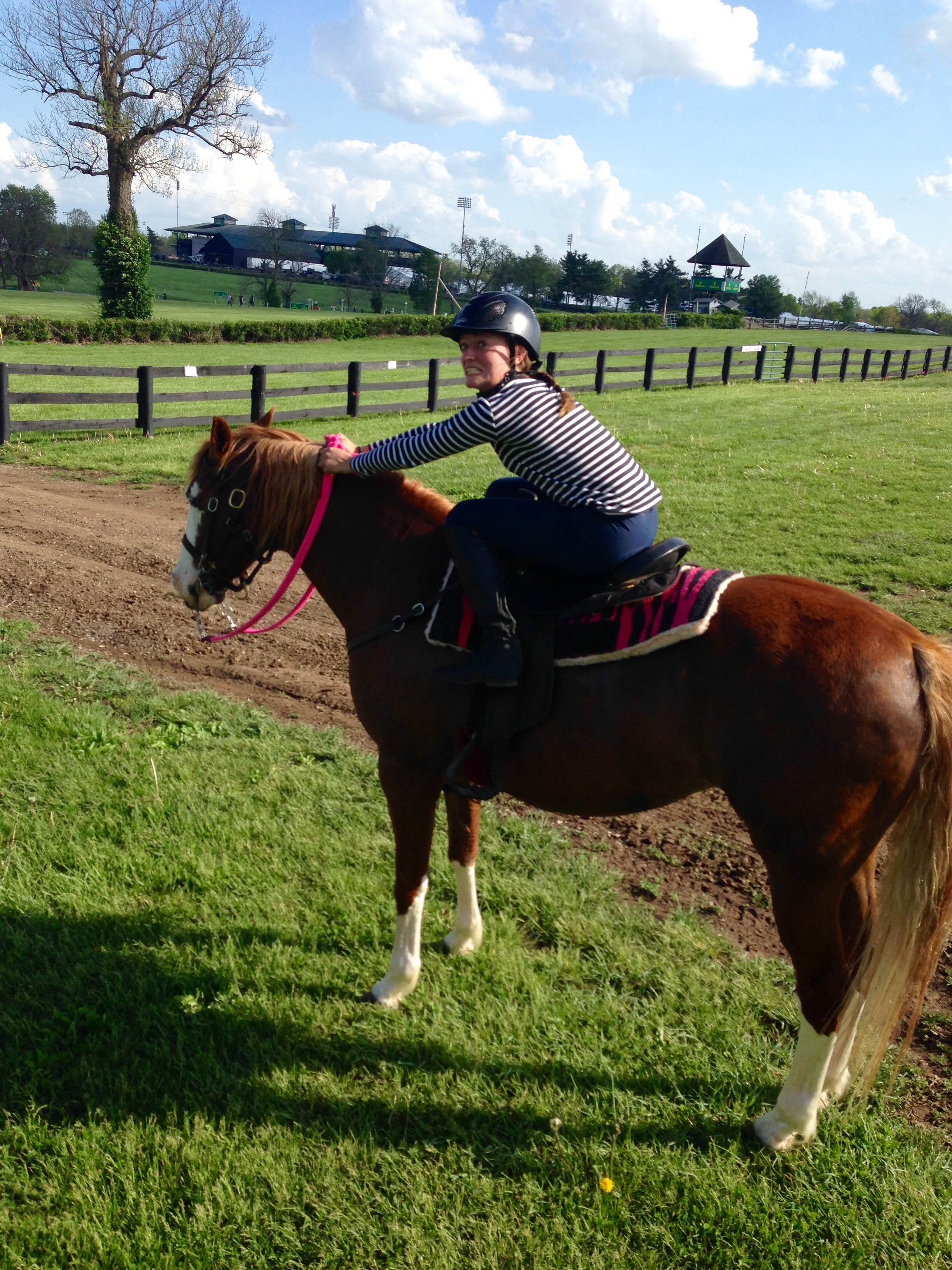 Go, go Rainbell!
We quickly settle into pace, throwing in some sideways shuffles here and there to let our competitors (fellow media riders) know who was in it to win it. Eventing Nation reporter Jenni Autry's horse tried to take our eyes off the prize, trot shuffling nearly the whole ride, but Rainbell's too smart to fall for that ploy. She was listening to Will Faudree's advice—she knows she needs to conserve her energy on this long and arduous course, and she knows how many carrots she could trade our winning Rolex in for. Nice try, Jenni.
Our first test as a newly minted four-star pair? The water complex. No problem, Rainbell stops like a champ, rolling her eyes at our weaker foes as they fool around, pawing and shuffling and turning around during Will's remarks at the water. Rainbell will NOT lose easy Faudree brownie points at the water complex. Though Will's own horse, Diesel, didn't seem at all concerned with impressing his rider, yanking the neon green cotton reins clean out of Faudree's hands twice on the ride when the lush Rolex turf was just too tempting. Rainbell snorted at him. *Amateur* .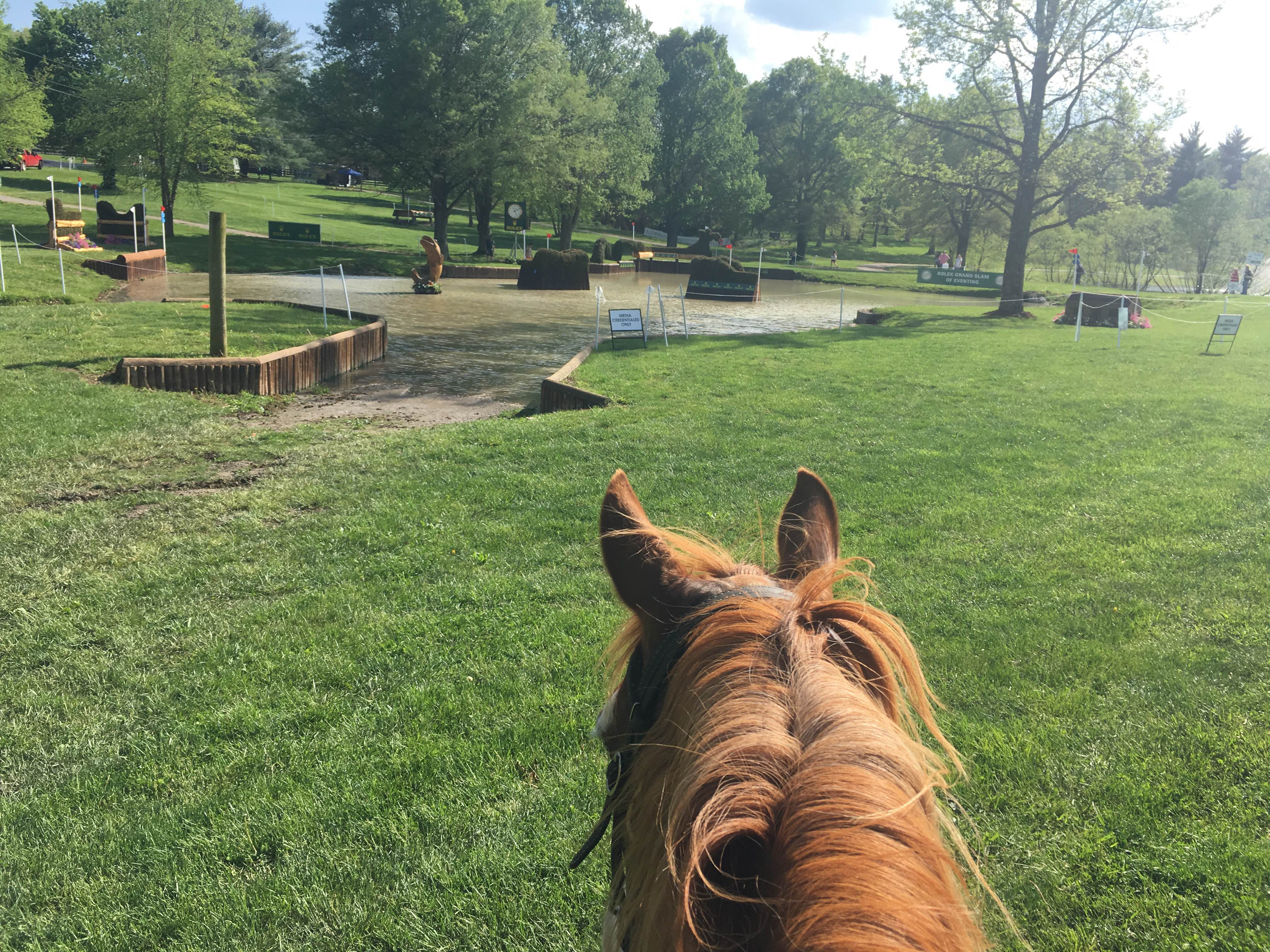 The only way I'll ever see the Head of the Lake through a pair of equine ears! Photo by Ann Glavan
Next up, a stop in the main field as Will explained the course's track and how it ran all the way out to the quarry before turning back around to where we stood. The Rolex photographer had us all get together for a picture, and once again Rainbell was on it, standing still, ears pricked, LITERALLY Faudree's left-hand gal. This mare wants to win whatever invented leisure trail-riding contest we've (I've) concocted.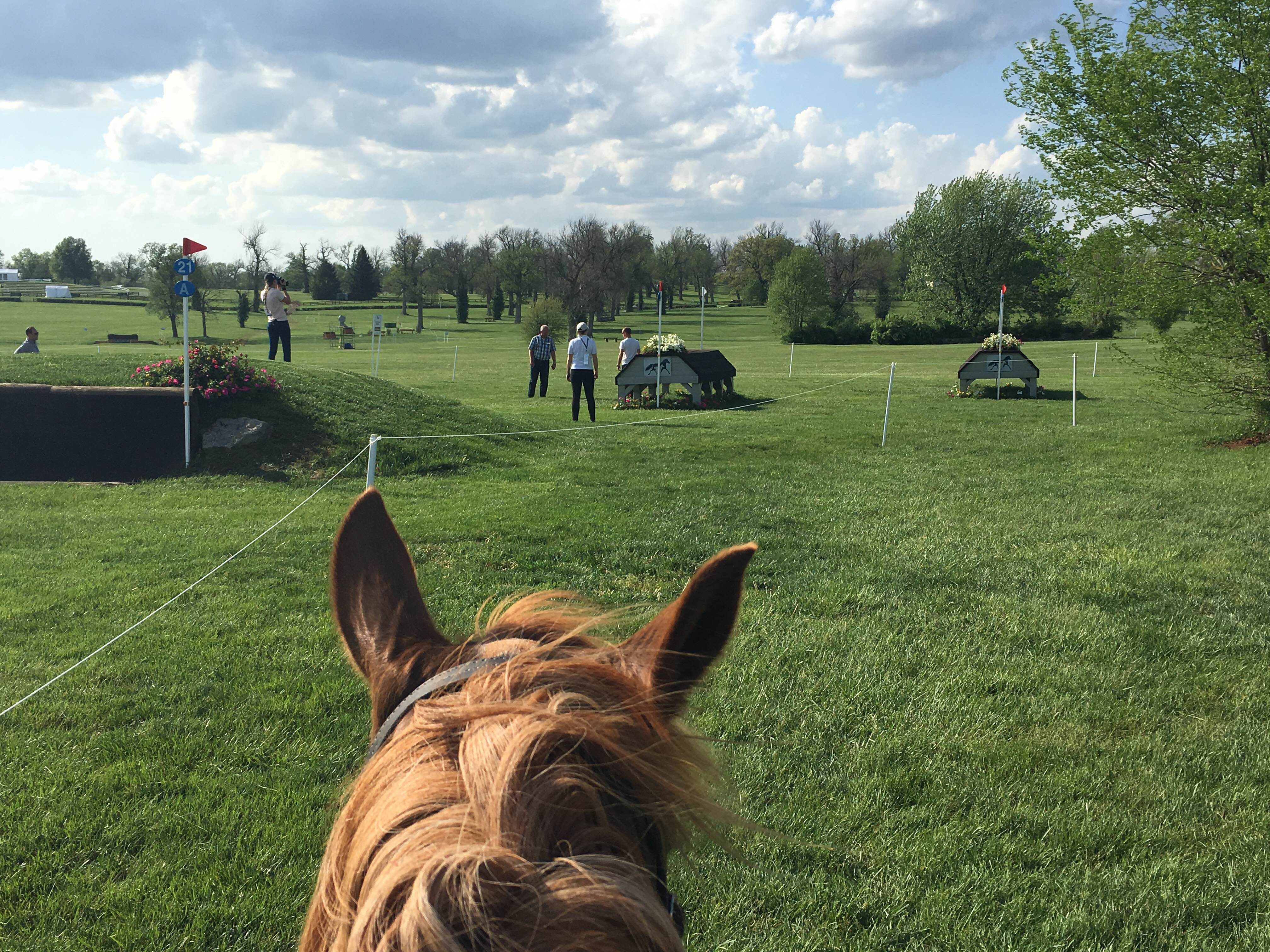 That's Michael Jung in the white. We're in good company out here. Photo by Ann Glavan
As we turned for home, Rainbell turned on the afterburners and just left all her friends in the dust, power walk-shuffling past the entire main group, nearly catching the trail leaders. She was really showing off her lateral work now, just going entirely sideways for five or six steps at one point, like a cat playing with a mouse, showing the competition she can even waste time going sideways and still beat them to finish. I admire her athletic ruthlessness.
Will didn't declare any winners at the end of the ride, but he didn't have to. It was such a clear Rainbell victory, to outright say it would just be rubbing it in the faces of our fellow riders. She out-walked, out-stood, out-picture posed them all, and I'm glad that's all we were being judged on, because holy huge fences and tricky questions.
Will was sitting on this chubby yellow pony pointing out different combinations and how he would ride them, and all I could think was "Damn." I thought maybe the fences would look a little less intimidating from horse height. Like sure, that's a massive terrifying taller-than-a-bar, wider-than-a-car table, but I'm sure it looks reasonable from a horse.
I'm here to tell you it looks just as intimidating from horse back as it does from the ground. Hats off to the riders and horses brave enough and game enough to tackle those obstacles—I think Rainbell and I will stick to walking around them.
We turned the Rolex Ride The Course into our own two-phase competition with a thrilling round of "how many media members can fit on one golf cart" at the end of the ride. As is probably obvious from this picture, we all had an excellent time on the ride, and Will was a very entertaining and informative leader—big thanks to Rolex for letting this fool loose on the course! I never thought I'd ride a horse around the Kentucky Horse Park on the biggest weekend of the year, much less win the trail contest. #dreamsdocometrue