Mentor, Ohio—Nov. 11
"There's a difference between a winning attitude and a win attitude," Daniel Stewart said as he stood before a classroom full of participants from the USHJA Emerging Athletes Program and the USHJA Horsemanship Quiz Challenge. Stewart is an equestrian sports psychologist.
"At the Olympic training center we don't say the word 'win.' A winning attitude focuses on the process, not the outcome. You don't have any control over the outcome. You can only control your own performance."
The difference was a timely reminder for participants of the EAP national training session on their last day before the Nations Cup final competition.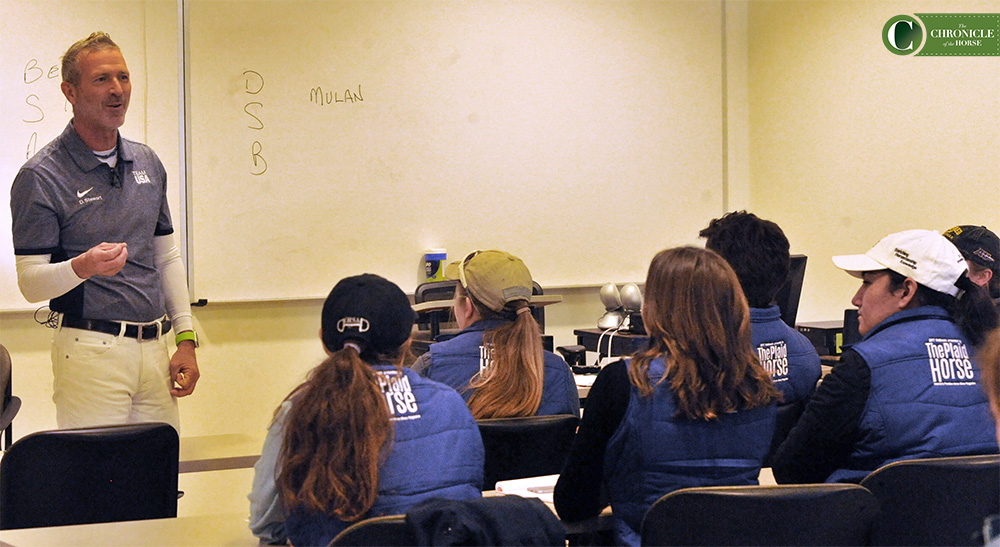 The themes for the riding lessons centered on rideability and control. Riders warmed up in a similar fashion to yesterday but at a more vigorous pace. Wylde had riders change directions frequently across the diagonal and through circles. He reminded them to think about the bending exercises from yesterday and focus on keeping their horse engaged through downward transitions by maintaining an inside bend.
"You're not thinking about shortening the neck, you're thinking about bringing them together," Wylde said. "In the downwards you want to feel the horse drop down and relax, then you have to soften and allow them to go forward."
Wylde reiterated his points about subtlety from yesterday, but today focused on courses rather than gymnastic exercises. Once riders warmed up around a simple course, Wylde introduced an exercise that involved jumping a triple bar and halting before a bounce six strides away.
"This is a good exercise for training them to be responsive during a course," Wylde explained. "Sometimes horses get locked on a fence, and that's not necessarily bad, but if you pull on the reins and don't get a response then you have a problem. This breaks up the course and keeps them listening to a rider."
Caroline Molther highlighted more problem solving after she and Lake Erie College's Pogo Avantos fumbled a distance before a bounce.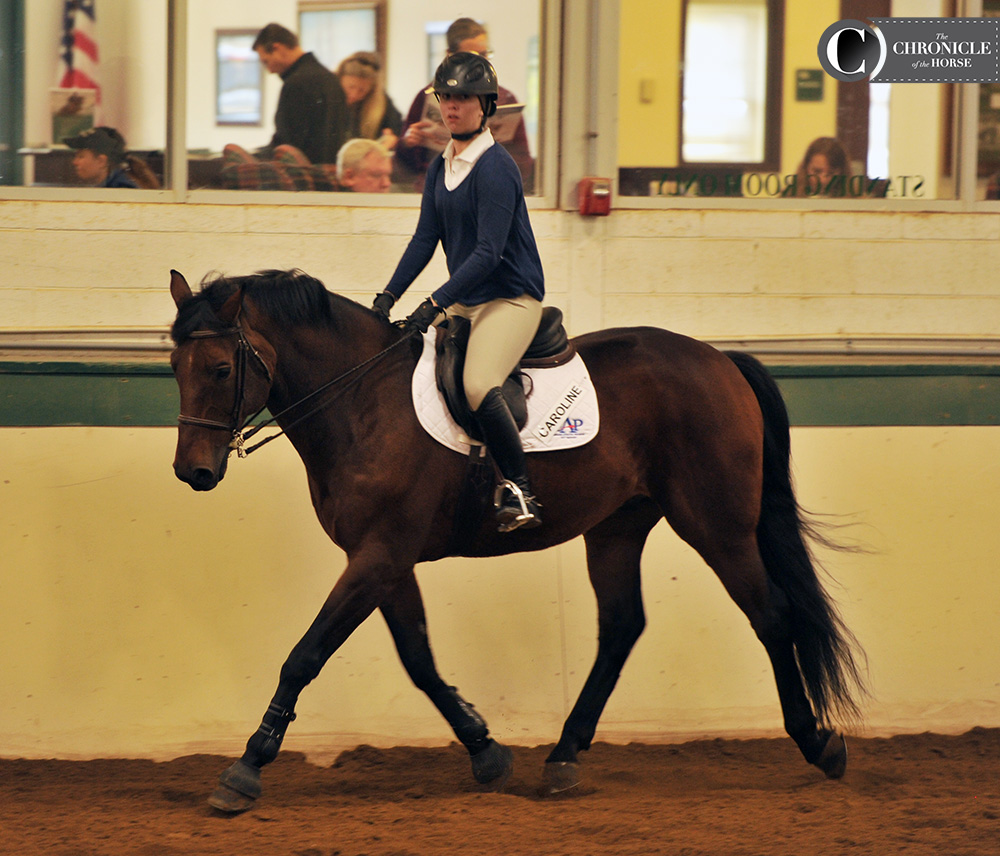 "You have to be able to make a not-great distance into a great jump," Wylde said. "That's high level stuff, but even at the highest levels you don't always see or get the ideal take off point."
The more demanding lesson revealed more problems in the horse and rider pairs, but Wylde had no shortage of advice to give. Ada Rohan had to pull Arabella out to the right on their first attempt at halting after the triple bar. On her second attempt she overcorrected by coming in too soft to the triple bar.
"Be more real," Wylde said. "Don't sacrifice the triple bar for the halt. Ride more with your legs and your seat, keep your reins a little longer so you don't cramp up her neck."
Rohan and Arabella also had differing opinions on their pace. Ada got stuck in her hands and braced more than she gave, which made Arabella brace against her even more.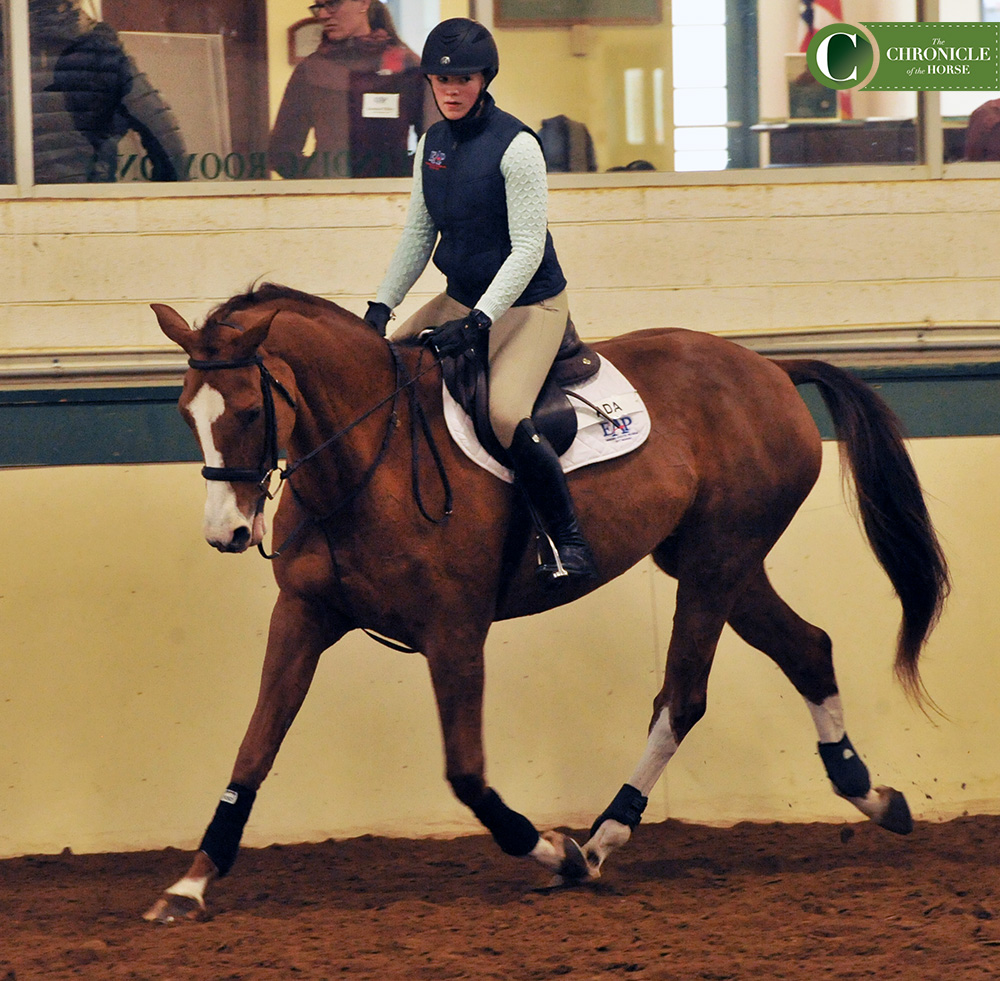 "Think about being in the middle of your horse and keeping your arms in front of you. Leaning forward to a jump is soft, it's nice, but it's time to sit up and make it a little more professional," Wylde said.
The added pressure of more jumps and bigger heights made some riders forget the lessons about track and pace from yesterday. Bella Canzano took one trip on Billy De Laubry around an inside track that ended up, "stuffy."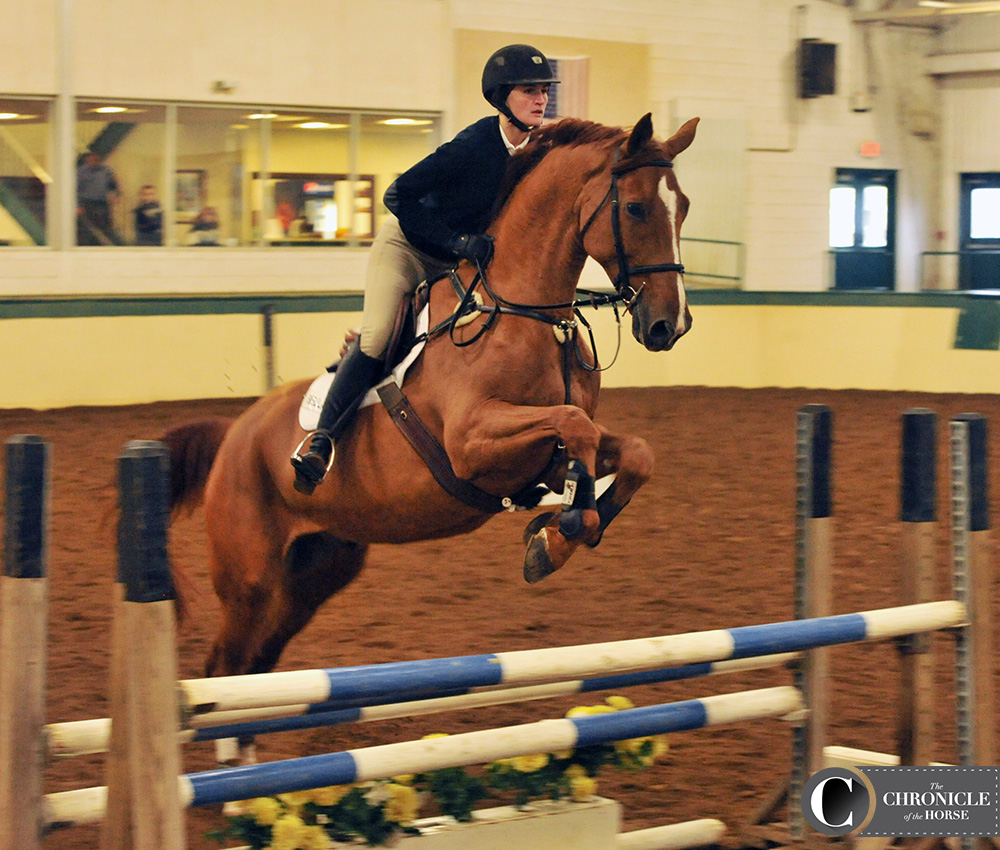 Many horses showed the extent of their stride length once the courses opened up and a few riders, like Gage Curry, had to adapt to the more forward ride. Curry and Capital had trouble fitting seven strides in between the trot jump and the bounce.
"You have to ride the first three or four strides quietly so you have the choice to move up if you have to," Wylde said. "And you have to constantly monitor your pace and keep thinking about your track. If the pace or track gets out of control you'll just eat up the lines. Use the ends of the ring to take it down a notch."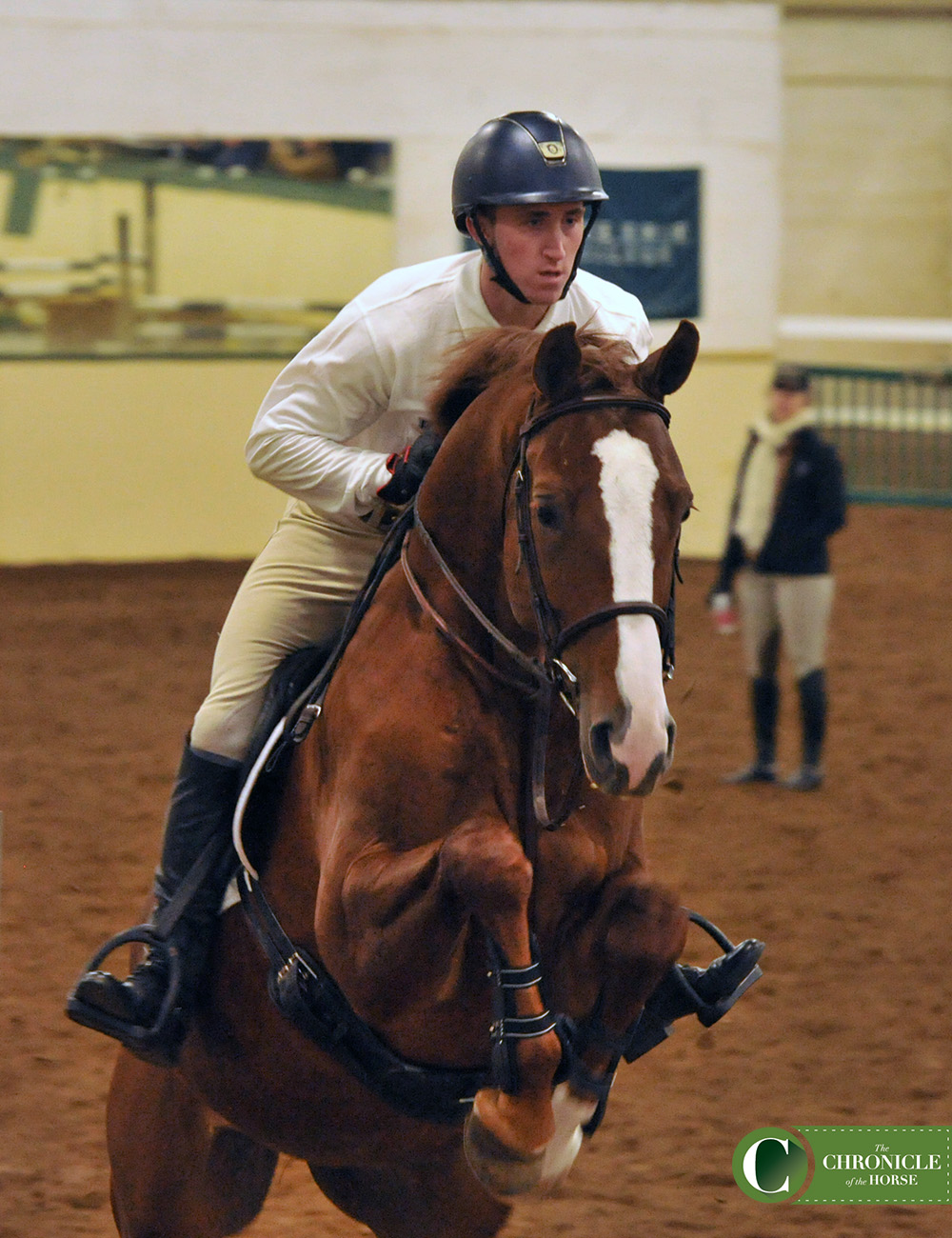 Wylde concluded the second day by giving riders final pointers for tomorrow's competition. The riders also did a rotation of jump crew, a sports psychology lecture with Daniel Stewart, and an equine anatomy seminar with Laura Stockhaus.
Today was the final day of exams for the participants of the USHJA Horsemanship Quiz Challenge presented by The Plaid Horse. Participants had to score higher than the rest of their region on two online quizzes to qualify for nationals, and this weekend they completed a written exam a horsemanship/identification exam, and a practicum exam. The winner will be revealed tomorrow.
"I was really excited because you get to come here for minimal cost, really just travel and hotel, and you get a whole weekend full of amazing seminars and knowledge you wouldn't have access too normally," said Rebecca Hopkins, 16, of Northville, Mich.
"I would love to train horses one day and this program will definitely help me. We got to look at the inside of a horse's leg today, which was so cool, so all of that will come in handy as a professional in the sport."
Read more about Day 1 of the USHJA EAP National Training Sessions and make sure to check back tomorrow for a report on the final day Nations Cup competition at www.coth.com.