U.S. Dressage Federation gold medalist and CDI rider Lauren Chumley may call her business "Lauren Chumley Dressage," but this professional trainer has a not-so-secret alter ego. For the past eight years, Chumley has been "dancing on the dark side" (as she likes to put it), squeezing in horse trials around her busy dressage competition and training schedule. And on the weekend of July 26-28, in her first attempt at the level, Chumley won the CCI2*-S at the Horse Park of New Jersey riding Rita Reynolds' Dutch Warmblood mare Atlanta B.
Entering—and winning—at the FEI levels of eventing might seem like an unlikely goal for someone who is also running a 35-stall dressage training and sales business. But Chumley, 35, believes that competing in eventing has helped make her a better dressage rider.
"My dressage friends all think I am insane," says Chumley with a laugh. "I like to say that I am 'attempting eventing.' "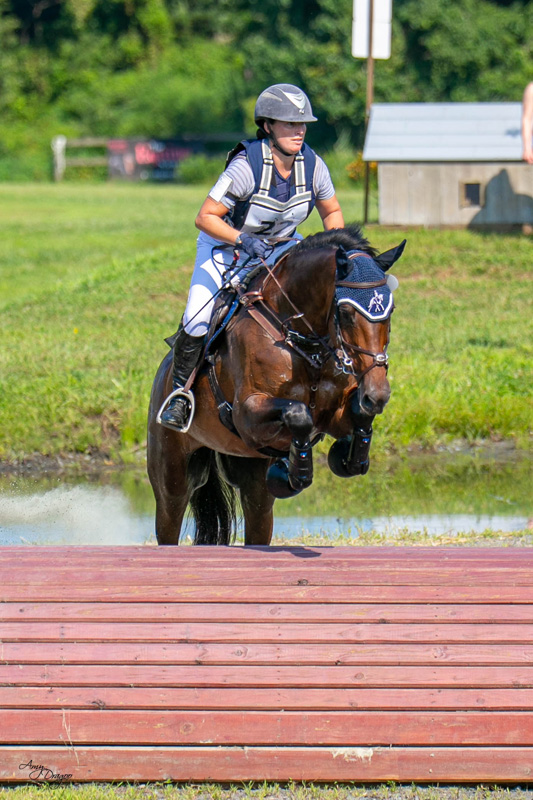 In reality, Chumley has been building her eventing résumé since 2005, when she first competed a Norwegian Fjord named SNF Maarta at the beginner novice level. In 2007, the pair won the U.S. Eventing Association American Eventing Championships at beginner novice, topping a field of 75 entries. SNF Maarta is now 21 and still lives with Chumley.
But at the same time, the dressage court was calling Chumley's name, and in 2008 she relocated from her native Ohio to New Jersey to take a position as assistant trainer to dressage rider Silke Rembacz.
"I was working 6 ½ days a week," says Chumley. "There was just no time for eventing, and so I stopped for a while."
Chumley focused exclusively on dressage for nearly five years. But when she started her own business in 2011, she realized that she really missed jumping. She competed Maarta again in 2012 and began crossing disciplines with several of her mounts, taking dressage horses to low-level horse trials. In 2015, Melissa Dowling's Morgan pony Avatar's Jazzman became Chumley's first training level eventing partner. He is now scoring in the 60s in Grand Prix dressage. She also entered several horses in the Future and Young Event Horse tests, and eventually competed at the American Eventing Championships at the beginner novice, novice and training levels on several mounts.
"My entire life's goal for the sport was to do training level," says Chumley. "I felt like then I would be a real eventer. But even then, you could tell I was still basically a dressage rider trying to event. I didn't count strides, and I sat the whole time at the canter."
But then one evening late in September 2017, Chumley was eating dinner at her kitchen table and scrolling through her Facebook feed when a post from her friend Rita Reynolds caught her eye.
"Her post just said, 'Who wants to lease a two-star horse?' " says Chumley. "And I thought, 'I do,' while knowing that I also had no room and no time."
Reynolds, of Lebanon, Ohio, had been a friend of Chumley's when she was based in the Midwest, but the two hadn't been in touch for several years. Still, Chumley reached out to Reynolds to express her interest. She learned that Atlanta, a 14-year-old dark bay mare (Indoctro—Utah, Germus R), had been imported and ridden through the intermediate level by Sarah Kuhn, but the mare then experienced health issues that put her out of work for several years. Reynolds acquired the mare for her hunter/jumper breeding program, but Atlanta rejected her first foal.
"This is not a surprise to anyone who knows her," says Chumley with a laugh. "She is not exactly the cuddly type."
Reynolds tried riding Atlanta herself, but the powerful mare was too much horse for her.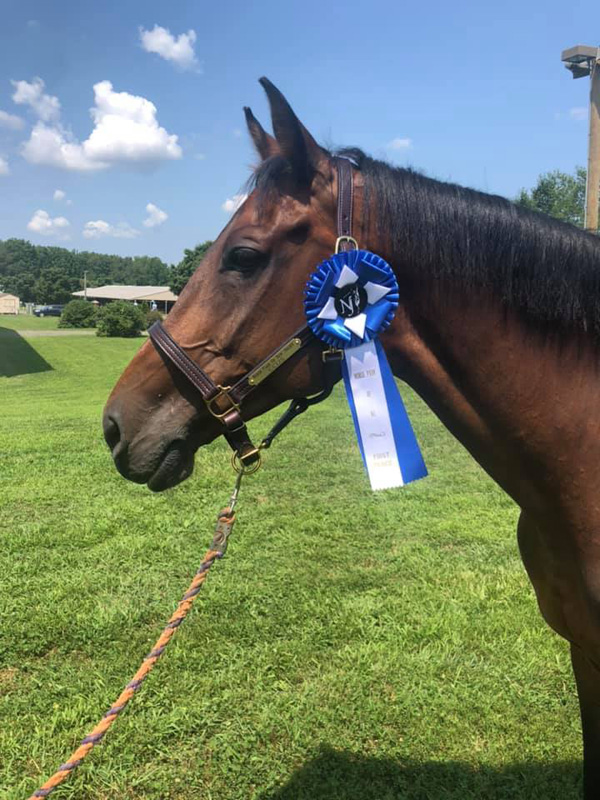 "It is so funny how the stars align," says Chumley. "For some reason, out of all the people interested, [Reynolds] picked a dressage rider for her horse."
Reynolds shipped Atlanta to Chumley's base in Hunterdon County, New Jersey, for a two-month trial. At the time Atlanta was only doing flatwork and basic jumping, and Chumley had barely started riding her when a fall from a different horse left her with seven broken ribs.
"I just texted [Reynolds] that I would keep her," says Chumley. "I had barely jumped her over crossrails."
It was hardly an auspicious beginning. Atlanta was out of shape and hadn't competed since 2015; Chumley was rattled after her fall and feeling her own mortality. The pair competed twice at the novice level in Ocala, Florida, in the winter of 2018 before moving up to training level at Plantation Field (Pennsylvania) in April.
"We spent a while at training," says Chumley. "We didn't move up to preliminary level until last year."
Chumley gives Atlanta all the credit for giving her the courage to step out of her comfort zone and tackle preliminary.
"Atlanta is the best horse in the world," says Chumley. "She is bold, but not suicidal. If she doesn't think can make it, she won't go. If she doesn't think we should do it, we probably shouldn't."
The pair had their first cross-country refusal together at the Virginia Horse Trials in November of 2018.
"I was totally riding like a dressage rider to the jumps," says Chumley. "I was riding in the backseat and adding to every fence. She just stopped really politely. There was just no way she could jump from where I had put her."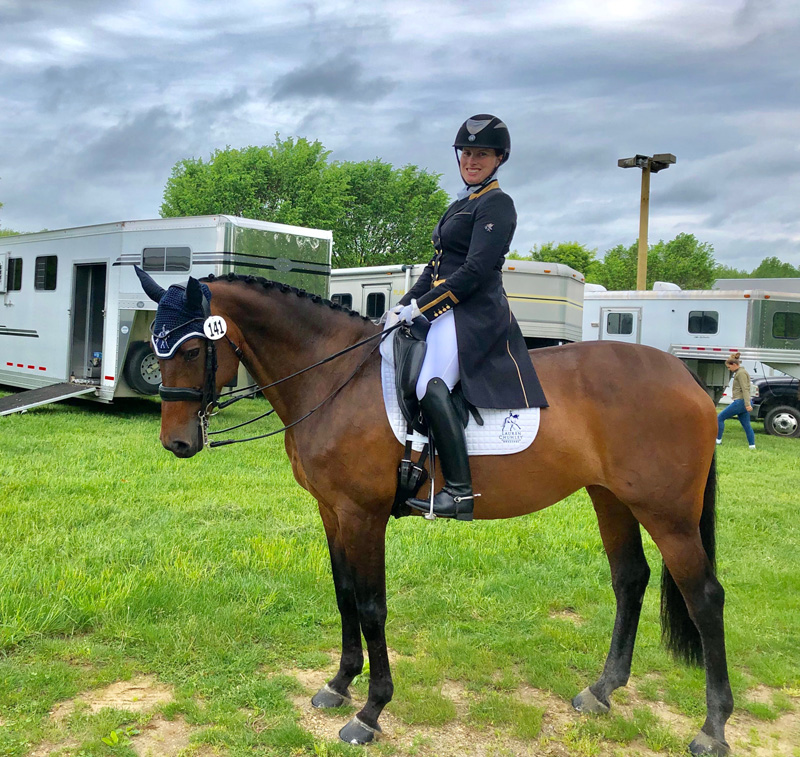 But time after time, Atlanta took care of Chumley. As Chumley's faith in the mare grew, so did her confidence.
"I don't have time to be doing this sport," says Chumley. "Prelim is still scary to me. But I had gotten to where I could go cross-country and feel OK."
And that was when Chumley's friend and sometimes jumping coach, Meg Kepferle, began suggesting she consider a CCI2*-S. The competition at the Horse Park of New Jersey fit in Chumley's schedule, was only an hour away, and is considered a good introduction to FEI-level eventing. Chumley agreed to enter, but only if her final preparatory outing at Essex (New Jersey) went well.
"I told her I would enter the two-star if I didn't fall off at Essex," says Chumley with a laugh. "[At Essex] the footing was tough; it had rained a ton, and it was up to your horse's hocks in mud. It was a hard cross-country, definitely more like a two-star. I must have missed five distances, but she just knows where to put herself."
Towards the end of the course, Atlanta took a bold distance to a chevron, and Chumley was left hanging on afterward. "She just sort of slowly cantered and let me get back on," says Chumley. "We only had one fence to go."
In their CCI**-S debut, Chumley and Atlanta sat in second place after dressage with a 32.5 and moved up to win by finishing on that score.
"A lot of things went right," says Chumley. "I don't usually win the dressage with her, and that cross-country was plenty challenging. We got lucky, and we won!"
As a professional focused on the detail-oriented discipline of dressage, Chumley appreciates that eventing helps get her and her horses out of their everyday routine.
"I love dressage, the art of it, and that it requires patience and time to build strength," says Chumley. "But you can live your whole life in a 20 x 60, and extended canter is as fast as you go. We do a lot of different things here in our program, and I start a lot of youngsters and take 3-year-olds to Devon [Pennsylvania]. I don't want to be afraid. Eventing keeps me brave."
Chumley's forays into the world of eventing have even encouraged some of her working students to take the plunge. She recently took all five of them cross-country schooling, and her assistant trainer, Jessie Hayes, has competed through Intermediaire I in dressage and modified level in eventing on the same horse.
"I think doing both disciplines can make you a better horse person and rider," says Chumley. "This idea may not be very popular with my dressage friends, but I think that riding a 3-year-old warmblood is more dangerous than going preliminary."