Amy Miller knows all too well the effect horses can have on well-laid plans. "As with anyone who's done horses, you really appreciate that you can plan a whole lot and look ahead to what you want to do next, but it may or may not happen," she said, laughing.
That's why the last two weeks were so special for Miller. You can hear the amazement in her voice when she talks about winning multiple classes at both the Sport Horse National Arabian and Half-Arabian Championship Horse Show (Idaho) on Sept. 21-25 and then USDF Region 7 Championships and CDS Championships in Burbank, Calif., on Sept. 29-Oct. 2.
"I still have to pinch myself about so many tremendous rides with all the horses," Miller said.
Miller rode her own Encore, a 7-year-old Dutch Warmblood gelding, to win the Great American/USDF Region 7 and CDS titles at open fourth level.
And during her week of showing Arabians, she rode AUR Mystic Illusion +/ to win the second level championship and the show hack championship for full Arabains and Aristocrat CD +/ to the same titles for the half-Arabians.
"There are so many times when you have horse shows when you thought it was all going to come together and it didn't. So to have two weeks where I sketched it out on paper and it all worked. For it all to come together like that is amazing," Miller said.
Miller, 43, operates a small training and teaching business out of Chino Hills, Calif., where she rides and shows the two Arabians and two warmblood horses in addition to shepherding amateur students. "We don't take 20 horses to a horse show. But it keeps me busy, and we have a super good time," she said.
She attends USDF dressage shows and Arabian shows throughout the year. In fact, her two Arabian rides also scored good wins at one of the biggest Arabian shows of the year, the Scottsdale Arabian Show (Ariz.) in February. Aristocrat CD +/ won two half-Arabian second level tests, the show hack and the under saddle classes, while AUR Mystic Illusion +/ won the full Arabian under saddle and second level championships.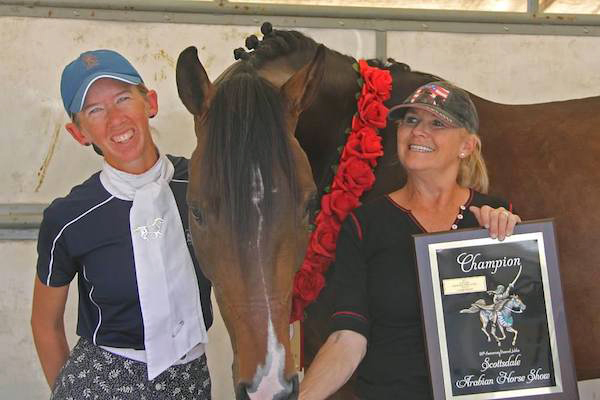 Amy Miller (left) with Aristocrat CD +/ and owner Jan Roeder. Photo courtesy of Amy Miller
Having a good time is a priority for Miller, as evidenced by the enthusiastic restaurant reviews she's known for from every horse show trip. "We try and get out to nice dinners because part of it too is that even if you have a cruddy ride, you can still go and have a good dinner. If I can finish up my day with a super crème brulee, it makes everything better," Miller said.
A sample of her famous Facebook food review posts…

"It's gotten so that when we're at the shows, people will come find me and get restaurant recommendations. And I can usually come up with a couple! Yeah, I'm a good eater," she joked.
Miller grew up riding Arabian horses, so having one boot in the Arab show world and one in the dressage ring is second nature to her. "To me, it doesn't feel like double duty. It's the same," she said.
"Both the horses I took to Sport Horse Nationals go to open shows. There's no apologizing for their breed. If they don't get good scores, it's not because they're Arabs! It's because they made a mistake or were working through something. It's nice to go to either an open show or an Arab show and have the judges appreciate a good ride. I don't think I've ever actually experienced breed bias. I truly don't. They're either good and competitive and on their game or they're not, and it's not because of their breed. I enjoy that.
"The Arabs, particularly the pure-bred Arab I ride [AUR Mystic Illusion +/], make me a better rider because he's really quick. He's super fun to ride; he's like a sportscar. He's so fast in his responses, and that can be used for good but also at times for not-so-good. And when they're small and it comes undone, you can tell! It helps me—I have to be right there," Miller said.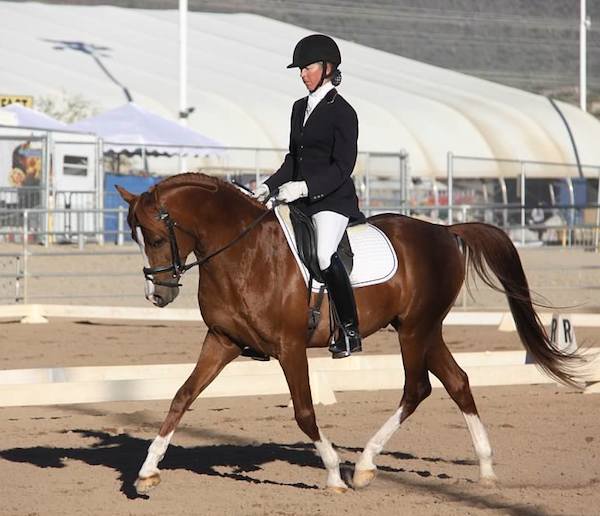 Amy Miller riding AUR Mystic Illusion +/.
Miller grew up riding Arabians as her mother was a fan of the breed and had a few in the back yard. Miller would come home from school and head out to the trails bareback on her first Arabian, Farineer. "I only used the saddle during lessons—it was just too much trouble when I was on my own," she said.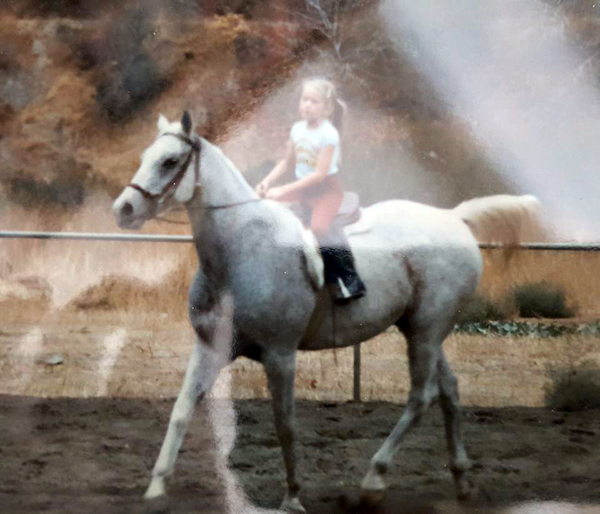 Amy Miller at age 6 riding Farineer. Photo courtesy of Amy Miller
"'Farren' would put his head down so I could put on his bridle, then I would climb the pipe corral fence and launch myself onto his back. We'd ride down the trail bareback and have a fabulous time!" Eventually she took some lessons at a hunter/jumper barn and then transitioned to dressage.
Miller's Encore, a Dutch Warmblood gelding (Jazz—Aloha SE, Sir Sinclair) is a different creature than the Arabs, though. He's a talented 7-year-old and a classic warmblood. "I joke that riding 'Cory' should be illegal it's so fun. It's not without having to work hard, but he's a fun horse to be with. There are those moments when you feel like time slows down on him," Miller said.
She's owned and ridden the bay since he was 2, buying him from Willy Arts at DG Bar. Lisa Dickman bred him at her Kaneques Farm (Va.), and Miller keeps her informed of Cory's progress and sends her pictures. Arts has helped guide Cory's development—Miller drives four hours each way to take lessons with him on Cory.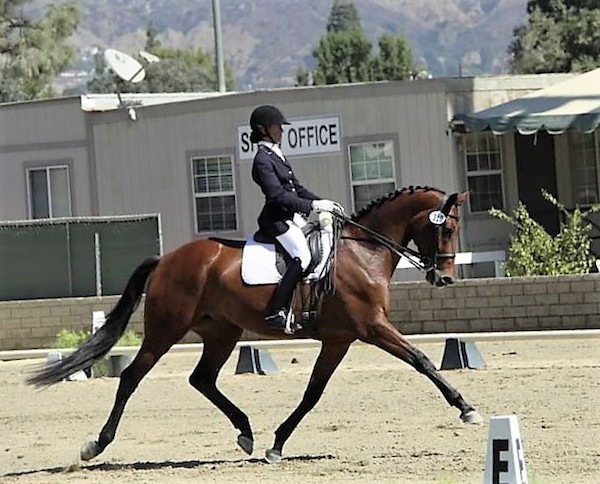 Amy Miller riding her own Encore. Photo courtesy of Amy Miller
In fact, Miller said she couldn't have accomplished her two-week showing marathon without Arts, as he kept Cory in work for her while she was showing the Arabs in Idaho the week before the USDF Region 7 Championships. "I fully expected Willy to be like, 'Oh, no you don't have to do the championships this year.' And he said, 'Do it! I'll ride him for the week,' " she said. "I'm super grateful—I have great clients at home who put up with me being gone to shows, and I get so much support from DG Bar and so many other people."
Miller has shown up to the Intermediaire and Grand Prix levels a few times with former horses, and she hopes Cory will get her back to that level. Cory took second in the Markel/USEF Young Horse Dressage National Championships (Ill.) as a 4-year-old and then was third as a 5-year-old. Miller is thinking to aim him for the Markel/USEF Developing Horse Championships next year.
Want more about winners of the GAIG/USDF Regional Dressage Championships? We featured amateurs on a Lipizzaner and a half-Arabian in the story about Region 4 in our Olympic Analysis Sept. 26 & Oct. 3 issue, which is out now. We have stories about Regions 1 and 5 in the Oct. 10 issue; Regions 2, 6, 7 and 8 in the Oct. 17 issue; and Regions 3 and 9 in the Nov. 7 issue.
Like this story? We're always on the lookout for ideas for fun Winners Of The Week! Do you have a great story, and you had a fantastic weekend? Do you know someone with a brand-new blue ribbon and a neat background or unusual horse? EMAIL US and tell us all about it!