Most intercollegiate equestrian competition focuses on a rider's ability to catch ride an unfamiliar mount. For Zoe Lewczak, who won the individual novice championship at the American National Riding Commission National Intercollegiate Equitation Championship, April 10-15 in Herndon, Virginia, it wasn't just her mount that was new to her.
"I honestly didn't know what the ANRC was until the Sunday night after spring break," said Lewczak, 19, a first year student at the University of Virginia and a member of the club sport equestrian team there. "I got an email from Virginia Riding that I was being invited to compete. They didn't even tell me what it was."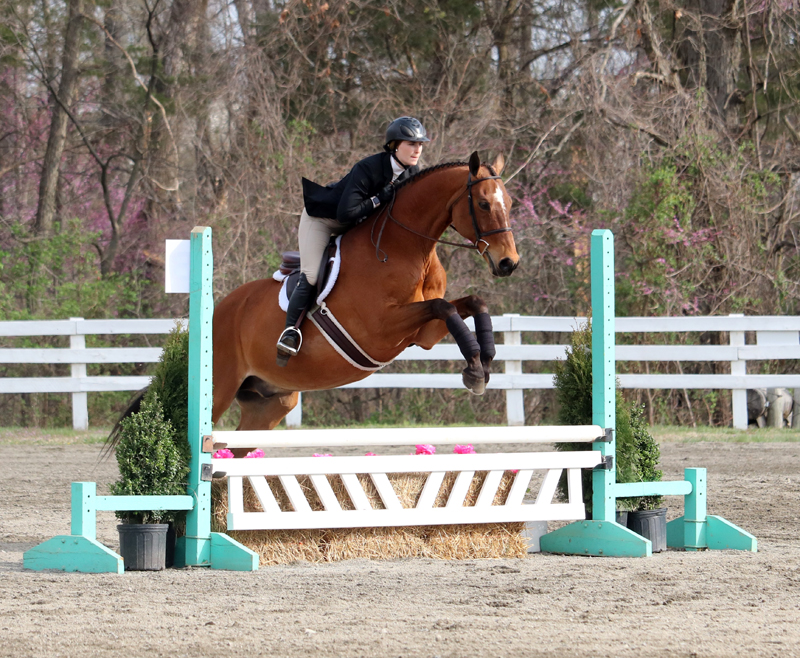 The ANRC is an organization dedicated to promoting forward seat riding and is based upon the system of instruction and training taught by Capt. Vladimir Littauer, author of "Common Sense Horsemanship." The intercollegiate championships are held each April and require riders and teams to complete four tests of horsemanship: a program ride (inspired by the U.S. Equestrian Federation equitation tests), an equitation medal course, a derby course over natural obstacles, and a written test on riding theory and horse care. Riders may compete at the national level, with fences at 3', or the novice level, with fences at 2'6".
Virginia Riding sent riders to compete at each level, their first appearance at the championships in three years. Their novice team, which included Lewczak and teammates Ellie Sheahan and Sarah Zube, won the team championship.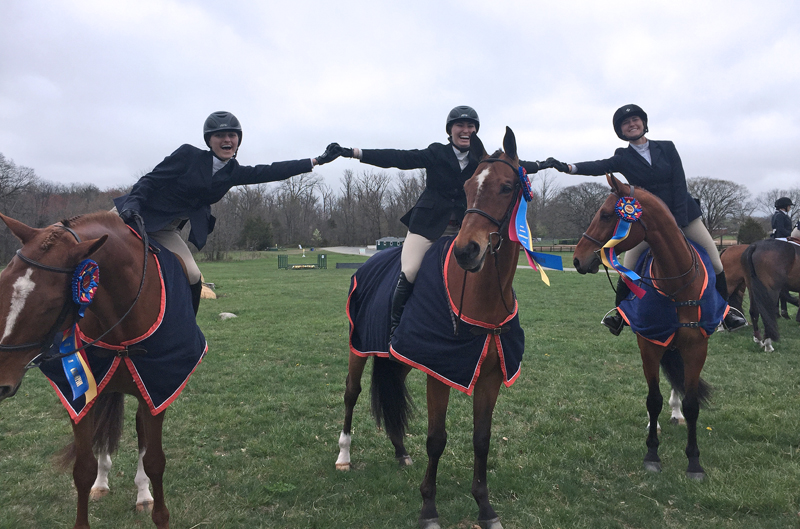 Lewczak is one of about 70 members of the Virginia Riding team. They practice at The Barracks, owned by Tom and Claiborne Bishop in Charlottesville, Virginia. Until now, Lewczak's intercollegiate competition experience had been exclusively with shows hosted by the Intercollegiate Horse Shows Association, in which she competes in intermediate fences and open flat. But as soon as she learned more about what the ANRC Championships would entail, she was up for the challenge.
Unlike in IHSA, riders competing at the ANRC Championships bring their own horses, though most ride school-owned mounts. Two weeks ago, Lewczak rode her assigned mount, a bay gelding named Dodo, for the first time.
"I didn't really even know we had him to use for the team," said Lewczak. "All I knew was I had never ridden him, he had been mostly doing walk-trot and lower-level lessons, and he hadn't been off the property in two years."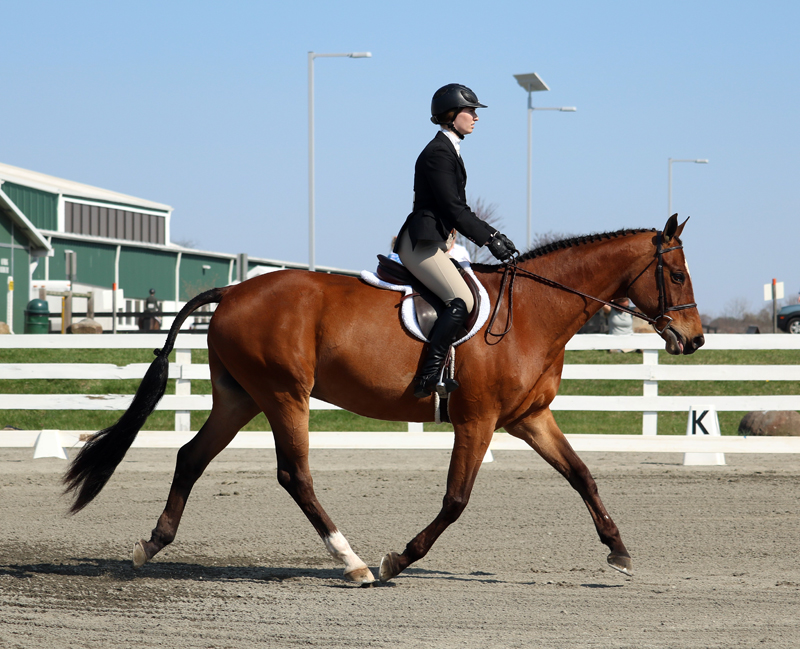 Lewczak takes two lessons per week at the farm and does a practice ride on one additional day. She began focusing all her efforts on learning how to ride Dodo, and then she came on weekends and before class to work on grooming his mahogany coat to a high gloss. Just a week before the championships, Lewczak and her fellow teammates prepped their ANRC mounts for the derby phase by entering the Farmington Hunter Trials in Charlottesville, where they practiced balancing on hills and jumping natural fences in the open at a hunting pace.
"We prepped, but I don't think as much as some of the other schools we competed against," said Lewczak. "So in some ways, the pressure was less than if we had been working with our horses since January."
Lewczak and her teammates watched how other riders entered and exited the ring for each phase, as well as how they managed their courses. "Only one member of our team had ever been to the ANRC before," said Lewczak. "We weren't sure of the expectations for each of the phases, because it is a lot different. We had to watch people go and get a feel of things."
The team's coaches, Laurie Turner and Sarah Irvine, were also new to the ANRC format but helped the team keep an eye on critical details.
Lewczak and Dodo delivered consistent performances, winning the derby and program phases and finishing second in the medal. The team competition, in which the top two scores of three riders for each team count per phase, was ultimately decided by less than a point, with the Savannah College of Art and Design (Georgia) finishing in reserve. The riders from SCAD—always strong contenders at ANRC Championships—also claimed the national division team title.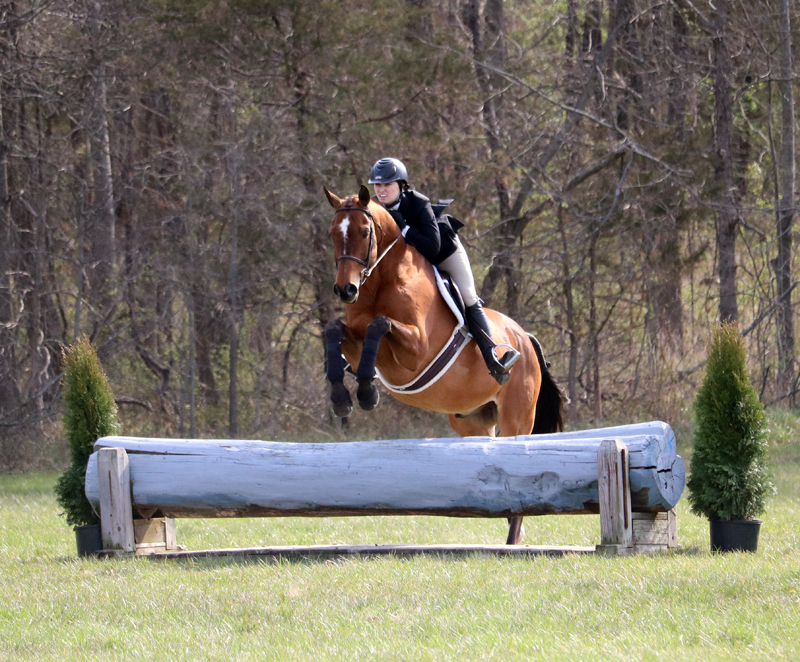 "We brought in some great horses and riders," said Lewczak. "We definitely knew that SCAD was big competition. They always bring incredibly turned out horses and riders."
Dodo has earned a new fan in Lewczak, who said the gelding was donated to the program several years ago and only was offered for the competition at the suggestion of barn manager Bugsy Gray. His foundation in dressage training made him extremely rideable on the flat, which gave Lewczak confidence in her new ride.
"He didn't bat an eye at anything natural," said Lewczak. "He is super responsive and did everything I asked. In all the photos I have a smile over every fence. He is 100 percent why I did so well."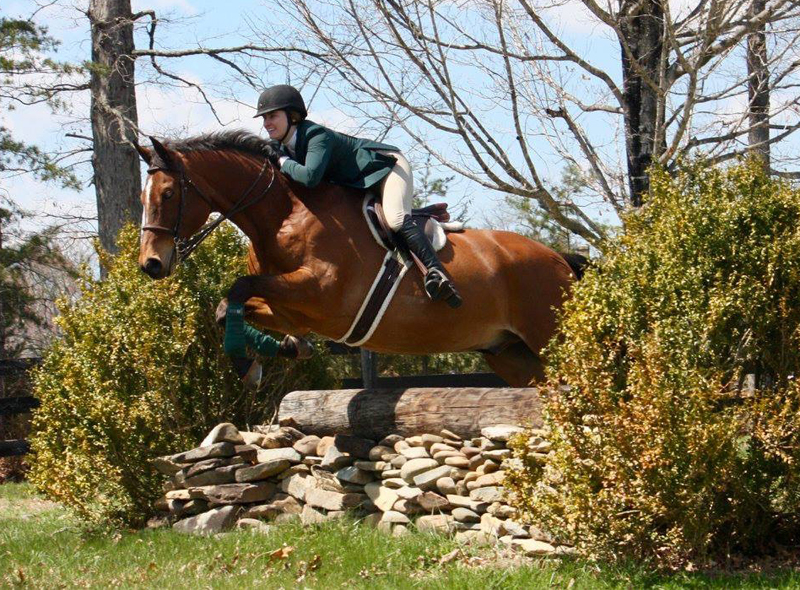 Lewczak, who hails from Nokesville, Virginia, is no stranger to the Virginia horse show scene. She started her rated show career at the historic Upperville Colt and Pony Show in the walk-trot division, and from there she progressed through short stirrup to the pony hunter divisions and beyond. For 10 years, Lewczak was part of the junior committee that organizes the Warrenton Pony Show (Virginia), ultimately becoming the president.
"Warrenton is the oldest pony show in America, and it is run solely by juniors," said Lewczak. "We did everything from count ribbons to find sponsors and silent auction items. Each year, we raised over $5,000 for the Fauquier SPCA. It was lots of work but also lots of fun."
Lewczak's years working on the committee helped prep her for life on a collegiate team; she will be a captain next year. "Being involved with Warrenton gave me a different perspective on all the money that goes into the shows and the number of people who are involved behind the scenes," she said. "We were part of a team, and even if we weren't competing, we were trying to run a nice show, draw competitors and make money for the SPCA. There are lots of people involved, and you have to try to keep the competitors happy."
Being a part of the Virginia Riding team has proven to be a highlight of Lewczak's college experience so far; she appreciates the support and camaraderie that team membership brings both in and out of the show ring.
"My horse is leased out, so I can focus on school," said Lewczak, who is studying public policy and pre-med. "I wouldn't be able to do school without this team. It is my stress release, and there is always someone to have lunch or dinner with, to study with, to be my gym buddy. Those are the type of people I want in my life right now."