When Elisabeth "Ellis" Yeager pointed her mare Justin at the last line on course in the $25,000 Carolina Real Estate Company Grand Prix, she felt an eerie sense of déjà vu. A week earlier, she'd been stressing about the last line in the grand prix course, specifically the final element of a triple combination. After she cleared that, she had celebrated prematurely, leading to a pulled pole a few strides later at the last fence on course.
This time around, the last line consisted of a vertical-oxer in-and-out with five strides to the final fence, and Yeager was concerned about the out of the one-stride. But she held it together and nailed the line to advance to the jump-off, where she outrode four other competitors—including her boss and trainer Heather Steinman—to claim the first grand prix victory of her career May 1 in the feature class of the Aiken Spring Classic Finale in Aiken, South Carolina.
"It was super exciting," said the 24-year-old from Canton, Georgia. "It was shocking at first. I kind of didn't believe it was actually happening. It was a long time coming, though. It took a lot of hard work and a lot of dreaming and praying to the horse jumping gods. It was overwhelming at first, but now that it's set in it's an incredible feeling."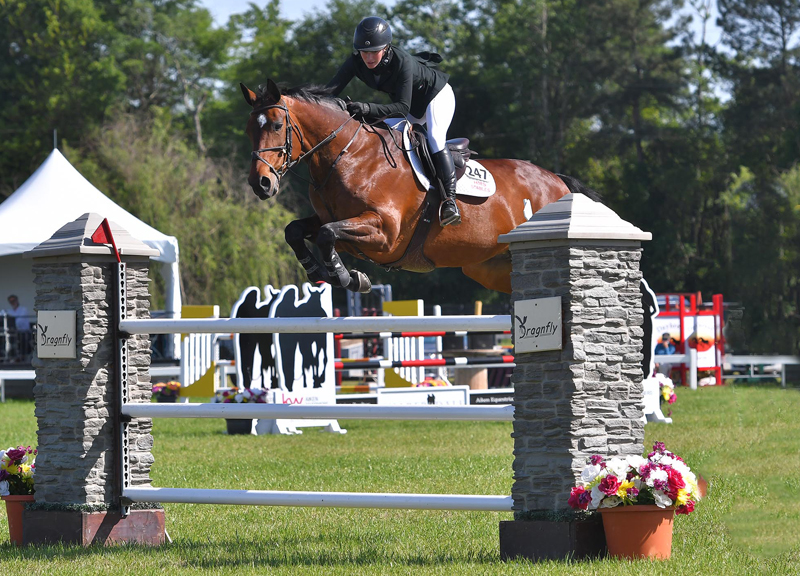 Yeager paired up with Justin in fall 2018 when they were jumping 1.10-meter courses, intending for the mare to be her practice horse. She'd been told the Belgian Warmblood of unrecorded breeding would never jump 1.30-meter courses clear, or even those at 1.25-meters. At one point Yeager decided it was time to sell her, but that's when things turned around.
"As soon as we put the ad out, she started jumping clean and started being absolutely incredible," said Yeager, who said that Justin goes as relaxed as a hunter in the show ring. "She's gone completely from zero to hero. We used to have four rails every class, and now she's fast and clean and careful. She's truly a freak of nature. We always say she heard us talking about [selling her], and she enjoyed the life she had."
Yeager started riding western at age 12 aboard a Tennessee Walking Horse and dove headfirst into 4-H, which stayed a major part of her life through high school. She quickly became a barn rat, taking English lessons aboard school horses and offering to hop on other people's misbehaving mounts.
Her mother, Suzie Yeager, who rode as a young person, eventually found a 20-stall barn on 100 acres, and they started running a boarding facility. Suzie started rescuing horses and, after they recovered, Ellis would train them to jump, then show them on the local circuit, with a couple rated shows thrown in, by the time she finished high school.
Shortly after she graduated, she flew down to Wellington, Florida, with a single-minded focus: get a job working for Olympic team gold and individual silver medalist Chris Kappler.
"I basically cornered him and said, 'You're going to let me work for you,' " she recalled. "He did.
"They threw me in the lion's den, that's for sure," she continued. "I would not change it for the world; he's incredible. I think it really helped me to go to that level of a barn first and then end up in other places."
Ellis served as a working student, sitting in on lessons, rehabbing horses, and learning how an Olympic-level operation functions as she worked in the barn. Despite her inexperience in the ring at rated horse shows, she gave up the chance at her amateur card as she received a small stipend in addition to weekly lessons as part of her compensation.
"His whole training program is all about horse care," she said. "That really shaped me."
After a year of learning from Kappler, she bounced around from Virginia to New Jersey to Ontario—where she worked at a busy breeding farm foaling out mares and breaking youngsters—to Florida. She found her way to Steinman's HMS Stables around 2018, originally as a boarder, then working her way up to become an assistant trainer.
As grateful as Ellis is to Steinman—"She's amazing," she said— she is preparing for her next move. Her parents bought a farm in Ocala, Florida, midway between the World Equestrian Center-Ocala and HITS Post Time Farm. Ellis describes her father, Jeff Yeager, as the ultimate horse show dad. He ships his daughters' horses to competitions and sleeps in the living quarters of the trailer. He's especially excited about their new stable, which they're planning to call Triple Y Stables in honor of their last name, even wanting to put his personal office in the barn.
"You've never seen more supportive parents in the world, ever," Ellis said.
Now that she has her first grand prix win under her belt, Ellis already has set her sights on bigger goals. She'd like to place in the top three at a bigger grand prix at the World Equestrian Center—Ocala, where she spent part of the winter, or Tryon International Equestrian Center (North Carolina). Long term, she'd love to ride on the Longines Global Champions Tour.
"It's about trying to be better and keep doing all the right things," she said. "When I was working for Chris at shows, during the big grand prix I'd be in the warm-up ring with Kent Farrington and Beezie Madden. I always dreamed of being the next Beezie or even just riding against her. I would do anything to do what they're doing and be able to be that good."