A 1.10-meter adult jumper class isn't likely to be a trainer's first choice as a warm-up class for an amateur-owner hunter, but that's exactly what happened when Wistful arrived at this year's Jump For The Children Horse Show in Raleigh, North Carolina.
"We got there on Thursday, and I jokingly said [to his owner Stacey McFadden] 'Hey, do you want to do the high adult jumper class to get him in the ring by himself?' " said trainer Maria Shannon. "I thought she was going to say, 'Oh gosh, no,' but she actually said, 'OK.' So we might do it again; it seemed like it was good for both of them."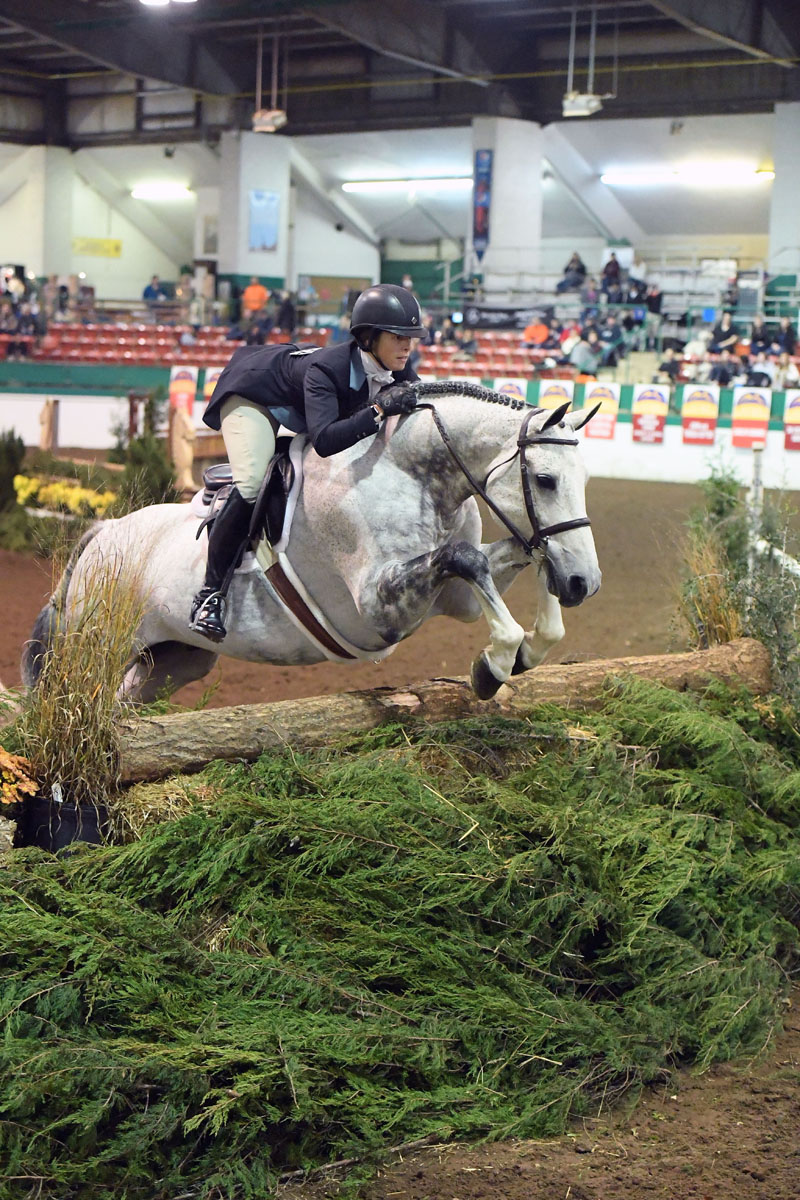 McFadden has been working with Shannon, who trains out of her family's The Barracks in Charlottesville, Virginia, for two years. Shannon rides Wistful in professional hunter divisions to prepare him for McFadden's rounds in the amateur-owner classes. On Nov. 9, the $10,000 USHJA International Hunter Derby was the most convenient class for Shannon to enter before McFadden's classes the next day. Despite it being a schooling class for them, Wistful ended up pulling out the win.
"We laughed because she did [the jumpers as] a prep class for the derby," said Shannon, 44. "And then I did the derby as the prep class for her. The 1.10-meter jumps are definitely bigger than the ammy jumps, and Stacey's been jumped off of him before, so I told her if she jumped the first few jumps and wanted to bow out that's fine. It was a proud trainer moment though; Wistful was jumping pretty big around that course, but she stuck with him."
McFadden, 41, rode throughout her childhood but took several years away from the horses to complete school and begin her career. She currently works as a manager for Frontera Consulting, specializing in software implementation. She imported Wistful, a 10-year-old warmblood (Cero—Sigrid), when he was 4.
"He was actually something my trainer found for another client," McFadden said. "I was looking at a different horse, but that sale fell through, and then Wistful's buyer fell through too, so my trainer was like, 'I'm sending you some video!' "
McFadden liked Wistful for his athleticism and scope, but his talent also came with a "quirky" constitution that requires the right trainer and the right program.
"I joke that he's a little bit like a mare," McFadden said. "You have to convince him that something is his idea. He's taught us a lot about meeting a horse in the middle. He gets a lot of turn out now. When he first got to The Barracks he'd maybe stay out 40 minutes before he was screaming to come back in. Now he'll stay out all day and night if we let him. We just keep him happy because when he's happy he's a great horse."
McFadden and Wistful competed in Raleigh in 2015 with much different results, and McFadden admitted those memories haunted her during their return.
"Last time I fell off twice in the span of a week," McFadden said. "As an ammy you always remember that kind of thing. Maria really got me in the frame of mind of riding him forward and trusting him, going, 'OK that was three years ago; this is a totally different horse.' Wistful was definitely interested. He was like, 'Where's all the brush and the ground lines?' But he did really well."
Wistful has grown out of most of his difficulties and transformed into a favorite among his grooms, farriers and stablemates. McFadden feels his talents are suited for derbies and plans to enter him in more in the future.
"We just have fun with him," Shannon said. "He's a great horse; he's athletic, capable, and [he and Stacey] work really well together. No matter what, he'll get to the other side. You could bury him under it or take off from the next county, and he'd still find a way to jump it. He's full of confidence in himself, and that just gives you confidence as a rider."