Spectators at The Maryland Horse Trials in Adamstown, Maryland, July 15, may have done a double-take if they saw Where's My Tail galloping away with the win in the modified division with Courtney Sendak Waskiewicz.
Racing 23 times under the same name, "Detail" was born without a tail.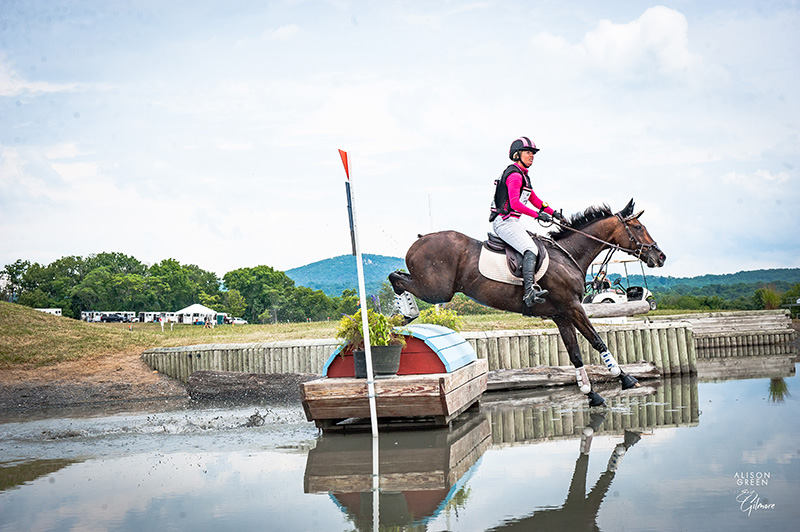 Owner Krysta Paradis found the now 11-year-old mare (Double Honor—Crafty Cosmah, Crafty Prospector) when she was racing at Penn National (Pennsylvania). A contact from New Start, an organization that helps rehome retired race horses, knew she'd be coming available, and Paradis expressed interest.
Paradis got to watch the mare's final race and took Detail home in 2016.
"I loved her name," she said. "There was one picture that somebody had taken of her in a paddock, and it was just of her butt with no tail. She looked very cute! She seemed very unique and special, and they were worried that no one would want her, and that was kinda sad, so I said I'd take her."
Later that year, the pair competed at the Retired Racehorse Project Thoroughbred Makeover (Kentucky) in the hunter and jumper divisions.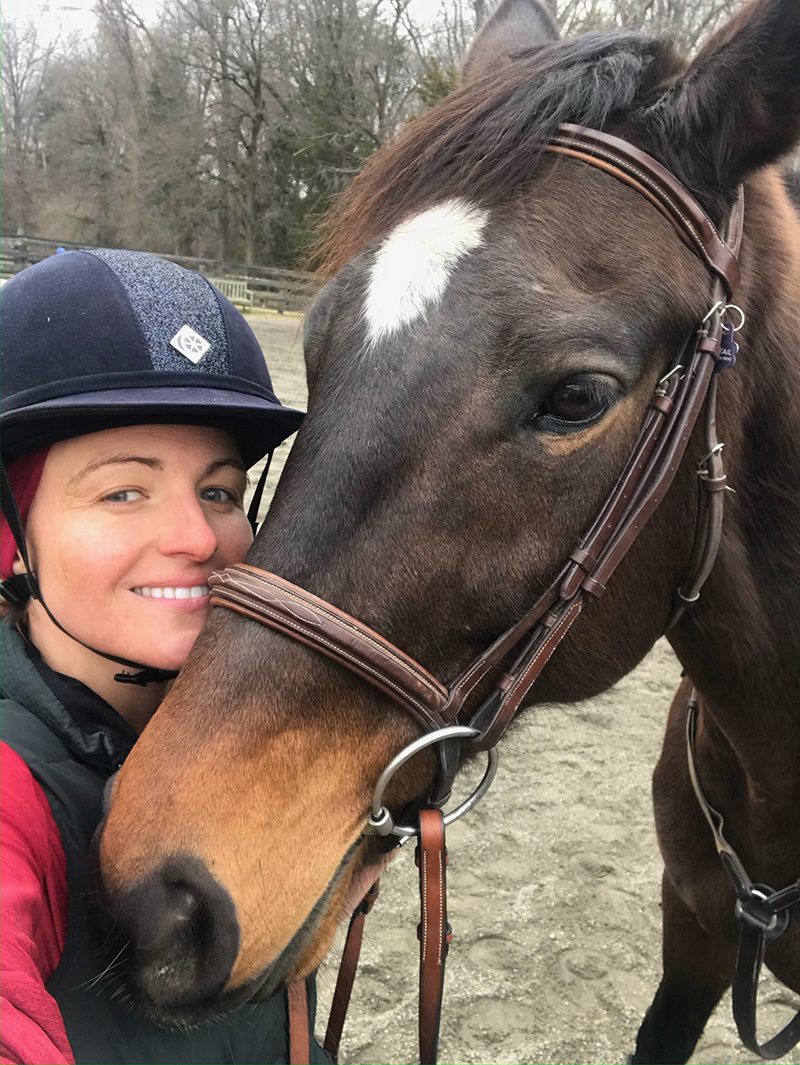 In 2019, Detail contracted a staph infection in a leg. Veterinarians don't know how it happened, perhaps a small nick that became infected, and she ended up at the University of Pennsylvania's New Bolton Center for two weeks.
"It was eating a hole through her hind suspensory," said Paradis. "We weren't sure if she was going to make it. They almost had to do surgery, but they weren't sure if that was worth it. They wanted to remove as much tissue as they could, but then they weren't sure if she'd be pasture sound. She was on four different antibiotics every day, including one where they would tourniquet her leg and put antibiotics in. Somehow she came through that and rehabbed perfectly 100 percent."
It took about a year to get the mare back to work, and Paradis realized she'd need a little help getting her back on track, so she contacted Waskiewicz, who runs her Defying Gravity Eventing in Sykesville, Maryland.
"The first 30 to 45 days was like riding a pogo stick," Waskiewicz recalled. "There were lots of explosions and opinions and personalities that were happening all at once. She's got a really sweet porpoise move where she goes up and down like a dolphin diving between the waves. That was tough to stick it out because you can growl at her, but you can't discipline her because that emphasizes the situation. It was a lot of riding it out, taking a breath and letting her know it was OK. It was like a switch flipped. Once she realized there wasn't going to be any negative aftereffects of her personality shining through, she really started to focus on her work and really started to enjoy her work."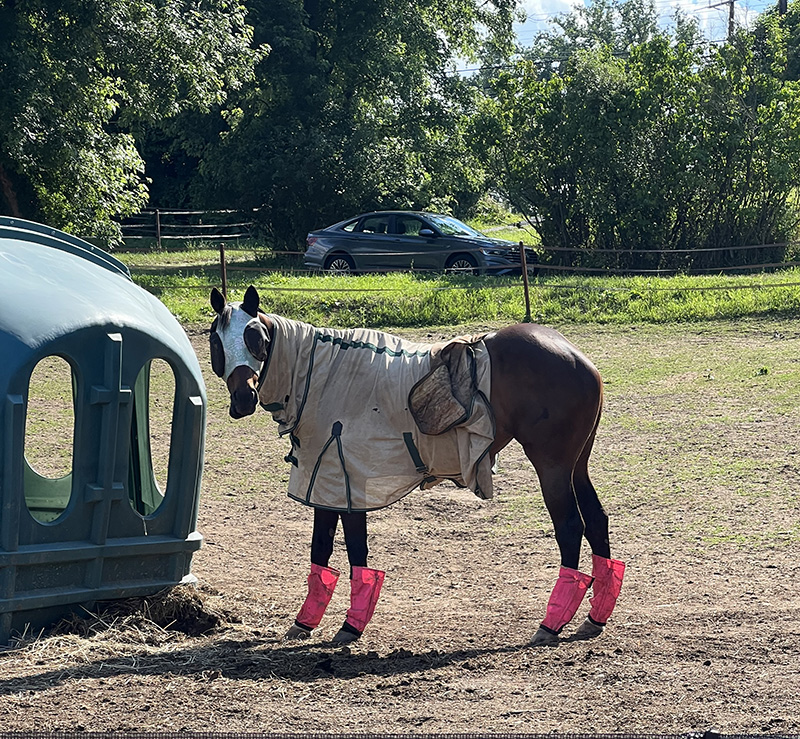 Detail has since competed at beginner novice and novice with Paradis' friend Jessie Doernberger, and Waskiewicz started competing her last fall. The mare had a reputation for being a bit feral at shows, but by the end of the first day of their first competition, she'd settled in and has been reliable ever since.
Waskiewicz said the mare can be tricky and needs to be in a program six days a week.
"She's a real trier, and she gets very emotional," she said. "Kind of like a mare thing. But because she's such a trier, you can't get after her when she makes mistakes or does something wrong. She can be a bit reactive. She never does anything to be naughty. It's just her instinct, and it might be the wrong instinct."
Waskiewicz has experience with quirky mares and has enjoyed moving Detail up the levels, despite her challenges.
"When you put the jumps up more or ask her to engage more, she can give you a little bit of an eye roll initially, but then she really steps up to the plate," she said. "It's almost like she needs that increased level of difficulty to channel her exuberance and opinions into good. She's really just blossomed."
The pair ran at training level the week before their win at the Maryland International, and Waskiewicz used that competition as practice for their modified debut.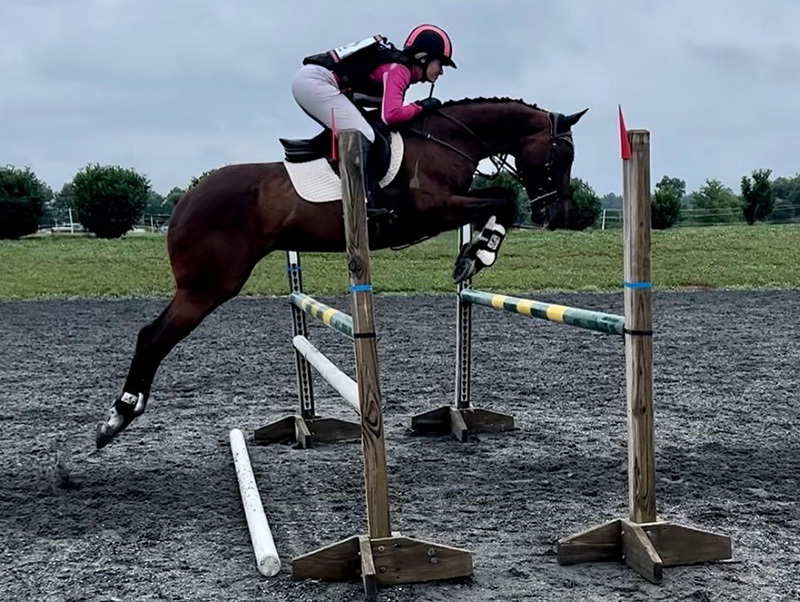 "She was amazing," she said of their win. "I changed her [dressage] warm up to make it a lot shorter. We came in and got right to the point, and that seems to help channel her a bit. We changed her bit up so I wouldn't have to argue so much with her, and she just really stepped up to the plate in a big way."
When Detail was at New Bolton, the vets asked if they could X-ray her hind end, and they discovered she was missing all the vertebrae beyond her pelvis. She does have a few wispy tail hairs on her dock that need to be kept tidy, but she doesn't have anything to attach a fake tail to.
"She has a slope to her butt," said Paradis. "It doesn't affect her at all. Some people think a horse needs their tail to jump, and a lot of trainers were worried about that with her, but she's naturally very balanced. It's a lot of fly spray. She's very flexible and can bite the flies."
"I've had judges come out and ask what happened," said Waskiewicz. "We definitely get some looks, and I think sometimes she scares some other horses in warmup, but it also makes it that much harder because you don't have that tail hiding her hind end, so you really know right away if she's truly engaged or not."
Waskiewicz, who teaches seventh and eighth grade history, is hoping to take Detail to a CCI1* this fall, and Doernberger would like to compete at a novice three-day in the fall.
Paradis, who's an aerobatic pilot in her free time and has competed on the U.S. National Team at the World Championships, has a Connemara cross she competed at Maryland in the novice, and she rides Detail at home.
"Even when she's being silly, you have the utmost confidence that she's going to jump," said Waskiewicz. "That mare is so honest. I have so much faith in her that she's going to get us from one side to the other, and you can't help but get more confident when you're taking her cross-country."