Karen Benson loves a good Thoroughbred, and she's committed to showcasing the breed's versatility. With experience in the show ring and hitting the trails in western tack, her current mount, Money Makes Money, is an embodiment of everything Benson loves about the breed. So the Festival of the Hunt at the Tryon International Equestrian Center in Mill Spring, North Carolina, on Nov. 17 was just another opportunity to demonstrate his willing demeanor and their strong partnership as they earned the field hunter championship.
"Kitt" and Benson, 53, have been together since the 16.1-hand, bay gelding (Talk Is Money—Soak, Devil's Bag) was 3. Towards the end of a race meet at Gulfstream Park in Hallandale Beach, Florida, Benson, who's a former exercise rider from Campobello, South Carolina, was checking in with her trainer friends about horses they were looking to sell as sport horses. Right away, Kitt caught her eye.
"He was just this big, handsome, good looking horse," Benson remembers. "But he was not for sale."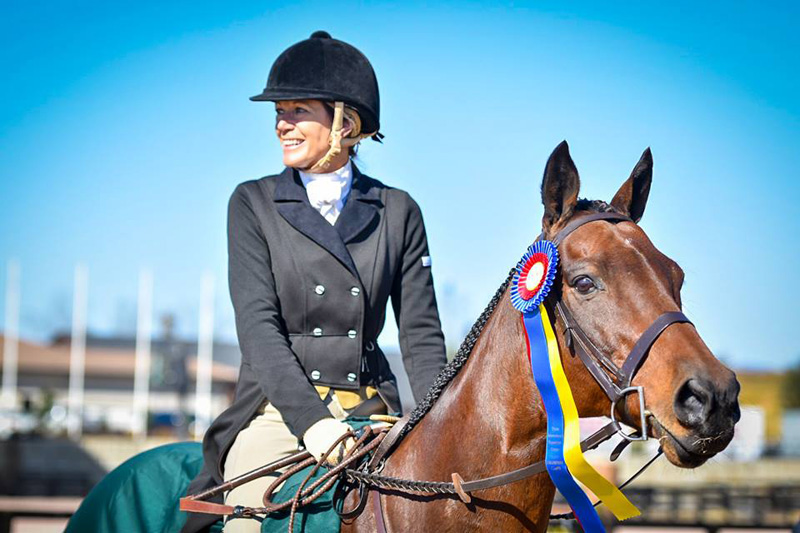 A week later, Kitt bowed a tendon in a race, ending his racing career. The trainer called Benson right away.
"He said, 'If you want him, he's yours,' " says Benson. She wasn't too concerned about the tendon; after 12 years of breezing young Thoroughbreds, she knew that many could recover fully if given enough time. "I gave him a year off, rehabbed him, and we have never looked back."
Together, they've tackled an array of disciplines, defying most preconceived ideas about a Thoroughbred's niche. They've dabbled in the show hunters and competed up to the 1.10-meter level in the jumper ring, Benson's first love. She's trucked him to compete at jumper classes in both open and Thoroughbred shows from Maryland to Virginia, from North Carolina to Kentucky.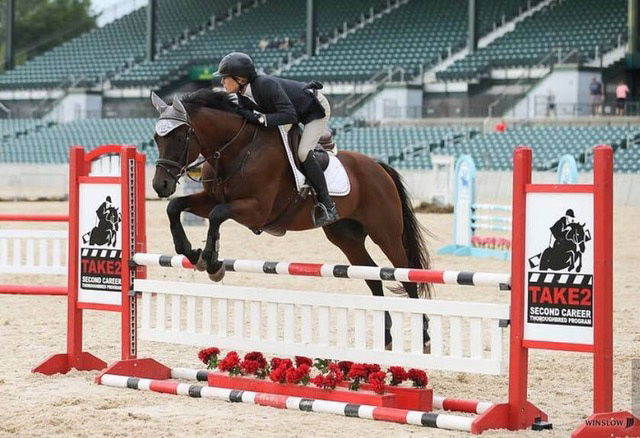 At the same time, Kitt has traversed the extensive trail network in the Tryon area, sometimes carrying Benson's mother, Mary Benson. He's gone camping. She can ride him with nothing more than a neck rope. And wearing western tack, Kitt has qualified for the Extreme Cowboy Association's World Championship three times.
"It is like a trail class on steroids," says Karen of the championship . "It is judged on your horsemanship, and the horses have to do things like ground tie, go over skinny bridges, handle tarps, do lead changes and pole bending. It is funny, because it is always him and all these little Quarter Horses. He's always the only Thoroughbred."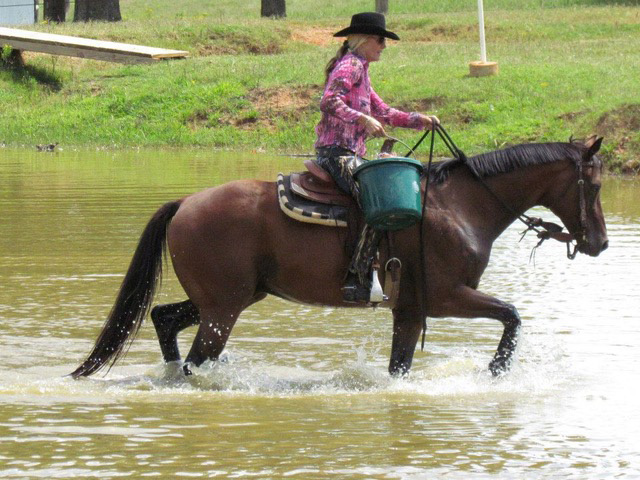 More recently, Karen has begun foxhunting Kitt. "I was lucky enough to win a scholarship to ride with the Tryon Hounds [North Carolina], who I was representing at the Festival," says Karen. "They go out two days per week, weather permitting."
The Festival of the Hunt has become a prime opportunity for foxhunters to showcase their mount's talents, and it attracts pairs from throughout the Southeast for its two-day competition. Normally, pairs have to qualify for the championships through on-site field hunting; this year's wet weather forced these hunts to be canceled, so organizers accepted everyone who had placed in last year's championship.
"We also accepted hilltoppers based upon number of times hunting this season," says organizer Carolyn Cadier. "We truly keep this competition to celebrate the field hunter and not have cross over to accept show hunters that have never been ridden following hounds across country."
Judges are tasked with choosing the entry most suitable to ride in a hunt field—a horse with a good gallop and a willing whoa, an even way of going, an ability to follow in a pack without getting too strong, and of course, one that is good with hounds.
"The judges pull all kinds of tests out, and that is the most fun part," says Karen. "They are looking for a horse that they actually want to ride."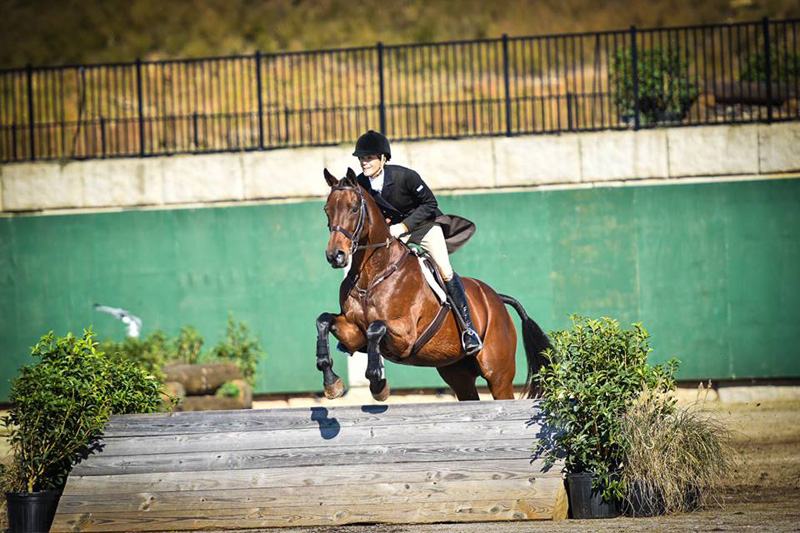 This year's judge, Olympic eventer and Blue Ridge Hounds member Linden Wiesman, began her evaluation by watching entrants in a mock hunt. Karen and Kitt started in the back of the group, but when a rider fell off ahead of them and another horse dropped back, they found themselves squarely in the middle, demonstrating Kitt's steady paces.
For the next phase, Wiesman partnered each entrant with a fellow competitor to do a course as a team.
"You didn't know your partner, and halfway through the course you had to trade who was in front, to show that your horse could both lead and follow," says Karen. "I had a great partner, and for the last fence, there was a side by side option, one low and one high. We both wanted to jump the high side, so we decided to jump it together."
After this, Wiesman narrowed the field to her top four, who had to ride a mixed course of show jumps and cross-country portables with bending lines and handy turns.
"I think this is where his show jumping experience really paid off," says Karen, who sliced a few fences to show off his adjustability. "He was a little looky at some of the three-day fences at first. After this, now I am thinking of doing some hunter derbies with him. I think he might like it."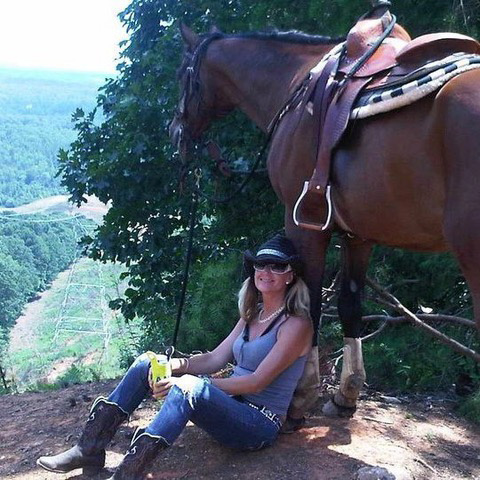 Kitt's win came on the one-year anniversary of a day that changed Karen's life. On Nov. 17, 2017, Karen had shipped Kitt to the braider in preparation for the Festival competition, leaving her other off-the-track Thoroughbred, Atom, at home. Somehow, Atom got into a grain delivery and ate 45 pounds of feed. The incident triggered not just colic but also a cycle of founder; despite investing nearly $10,000 and using all of her skills as an equine rehabilitation specialist, Karen and her veterinarians were unable to make Atom comfortable. He was euthanized on June 3.
During the weeks and months that she fought to save Atom, a former kill pen horse who Karen also competed in the jumper ring, she kept a small token, an angel, hanging on his stall door. During her winning ride this weekend, that angel was in her pocket, with a piece of Atom's tail wrapped around it.
"He and Kitt were best friends," says Karen. "Atom was definitely with us."
Recently, Karen has begun quietly keeping an eye out for that next special Thoroughbred, the one that will fill Atom's empty stall at her farm.
"Any horse you see me on will be an off-track Thoroughbred," says Karen. "I love to show how versatile these Thoroughbreds are. You can get them for virtually no money and then go show on the "A" circuit or trail ride or fox hunt. I can't afford to have other horses—Kitt has to do it all."
Though people who have seen the now 15-year-old Kitt out and about have called and made offers, Karen says that he will never be for sale. "Kitt is not replaceable," says Karen. "Atom was a special horse, a Cinderella horse. But Kitt…a few months ago he got to gallop in the Rolex ring [at the Kentucky Horse Park], and this week he got to gallop around the [2018 FEI World Equestrian Games] ring. Kitt is my horse of a lifetime."