Perusing the winners at the Rocking Horse Winter II Horse Trials this weekend, one name popped out.
Swiss Olympian Felix Vogg won the open intermediate-B division on Colero, so we had to find out how he ended up in Altoona, Florida, at the event.
Vogg's represented Switzerland at pony, junior, young rider and senior-level European Championships, as well as at the 2014 Alltech FEI World Equestrian Games (France) and the 2016 Olympic Games (Brazil).
Vogg's aunt, Nadine Beck, lives in Minneapolis and winters in Wellington, Florida. She's a former eventer who used to work with young horses, including starting Bettina Hoy's Olympic partner Ringwood Cockatoo. With the retirement of his Olympic horse OnFire, Vogg decided to bring two event horses and one show jumper to Florida to get a head start on the season.
Vogg's sold some horses to the United States and had met Boyd Martin at a few European events, so he's decided to base with him in Aiken, South Carolina, after a few weeks in Wellington, Florida.
"I have one horse who could maybe go to Tryon to the WEG, but he's still really green and too careful," said Vogg of Colero. "I thought maybe I could start earlier this season, and he could get more experience. I don't know if it will work or not because he's really careful. If not, not, if it works I'm happy."
Watch Vogg and Colero on cross-country at Rocking Horse courtesy of The Horse Pesterer.
Colero, a 10-year-old Westphalian gelding (Captain Fire—Bonita, Bormio xx), has been in Vogg's barn since he was 7. Last year they moved up to advanced and completed the CIC*** at Strzegom (Poland) and the CICO*** at Waregem (Belgium). This year Vogg has his eyes set on Red Hills (Florida), the Cloud 11-Gavilan North LLC Carolina International CIC*** (North Carolina) and the WEG Test Event at The Fork (North Carolina), where he'll also meet up with the Swiss Equestrian Federation.
"He was always quite tricky in the beginning because he was scared of everything and still is really sensitive," said Vogg, 27. "He's super in dressage and super in show jumping. In the cross-country it's just that the experience is missing. It's not that he doesn't want to do it. He's an unbelieveable horse. Sometimes a bit tricky, but I think every good horse has their own mind."
At Rocking Horse the pair led from start to finish, scoring a 23.9 in dressage and adding 2.8 time penalties on cross-country.
"The first two minutes I never had the feeling that he wanted to go so much," he said. "I'm really happy about it. Every question that was out there he did quite well. What we're maybe not used to is the ground and the heat. We have to get used to it, but that's all small stuff. I can't complain about it. He went really well all week."
So what does Vogg think of his first U.S. eventing experience?
"It's interesting," he said. "It's different than how we do it at home. There were over 500 horses. In Germany you're lucky if you get 100. I'm quite happy to be here and see it. I think it's quite good. The people are quite open to help. The horses are nice, the course was really nice. Everyone is really friendly and helping, especially Boyd. He helped me a lot. It's more than I can ask for."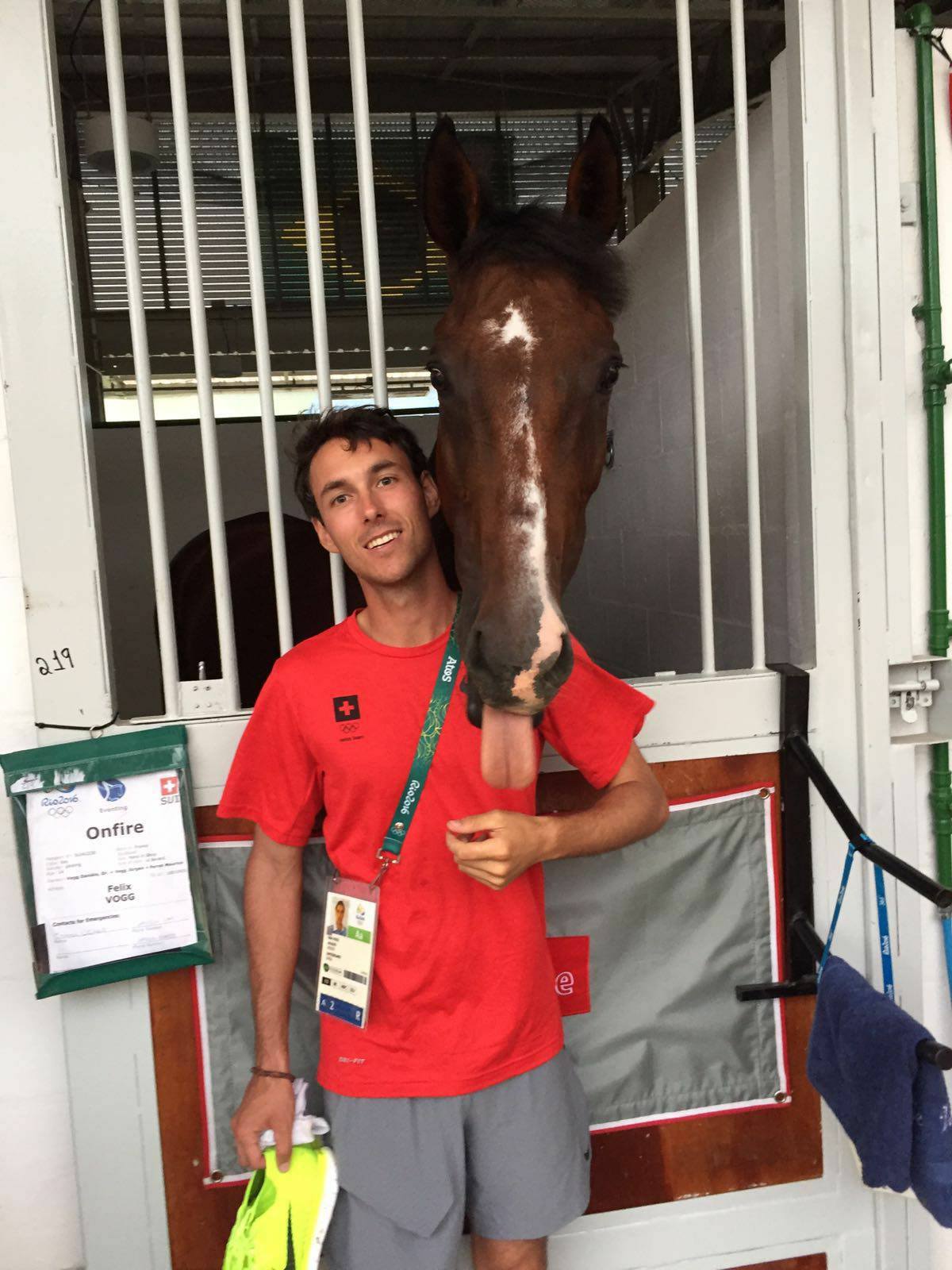 Eventing is in Vogg's blood. His grandfather Roland Perret competed in the sport in the 1956 Olympic Games in Stockholm, Sweden, and went on to serve as chef d'equipe for the Swiss team. Sixty years later, Vogg is proud to have represented his country at the Olympics in Rio de Janeiro with his brother, Ben.
Several of Felix's aunts and uncles have ridden either professionally or as amateurs, as well as his other brother, Christian, who's competed to the three-star level.
Felix is based at his family's farm, Gut Weiherhof, in Radolfzell, Germany, about 15 minutes from the Swiss border near Lake Constance. He's about 60 miles from Michael Jung's barn and worked for him for three years. Now he trains with him as often as he can.
Felix's mother Danièle Vogg runs the family farm and until the Olympics, Felix was a full-time rider, but he's recently gone part time to work for his father's real estate company. He's hoping he can ride again full-time in the future.
Ben is a full-time student in Munich, Germany, so he rides on weekends these days. Felix enjoys the family atmosphere at home and especially the opportunity to compete alongside his younger brother.
"You don't have it so often that the whole family is doing the same sport and goes to the Olympics," he said. "It's quite amazing. Sometimes it's hard because you have different ways to do it, but at the end it's always quite good because you help each other and you know each other. When we were in Rio together, you just have someone you know. It's really good."
For full results from Rocking Horse, click here.