Sophie Click is used to standing out in a crowd. When you ride a Paint-Thoroughbred cross with plenty of chrome, being noticed is a fact of life. Hot Wheels has been Click's steadfast partner through the levels since they joined forces in 2016, but when "Wheels" sustained a soft tissue injury last winter, Click's mother, Amy Click, put out feelers for a new ride. They found Fernhill Rising (Cyrano—Tullys Eagles Wings, Coronea Eagle) in Alexandra Green's barn.
"My first impression of 'Stan' was that he was the nicest horse I'd ever sat on," Sophie said. "He's this gorgeous, tall, leggy, liver chestnut gelding, and when I first tried him I was a little intimidated. I was like, 'Oh, I'm not worthy of this horse.' We didn't get along at first. He was really used to Alex being his person, but I just spent time with him every day grooming and taking care of him, and eventually he settled in and opened up to me more. It turns out we're a really good team."
Sophie's only been teamed up with the 10-year-old gelding for about a year and a half, but they led from start to finish in the Aspen Farms CIC**, held June 8-10 in Yelm, Washington.
"We've been working really hard over the last couple of months, and I think all of that hard work really paid off," said Sophie, 19. "I knew that we would be very competitive, but there were other competitive pairs in the division, so I wasn't sure how it was going to pan out. We were in first after dressage last year at this event and then pulled a few rails in show jumping, so this is the first time we've started in first and really kept it together all weekend."
Sophie admitted the ghosts of past shows haunted her, but she turned to preparation and organization to keep her focus going into cross-country.
"I wasn't nervous about the course, but I was a little nervous about my own ability to keep it together and go fast and clean enough to keep the lead," Sophie said. "I walked the course a lot and made sure I knew it and was comfortable with all the lines. Then I took a long time to warm up and just tried to stay organized."
Sophie is a native of Snoqualmie, Washington, but she's spent the last three months in Kamloops, British Columbia, with trainer Sara Sellmer. Sellmer has trained Sophie on and off for years, but Sophie credited her immersion in Sellmer's program as key to her win.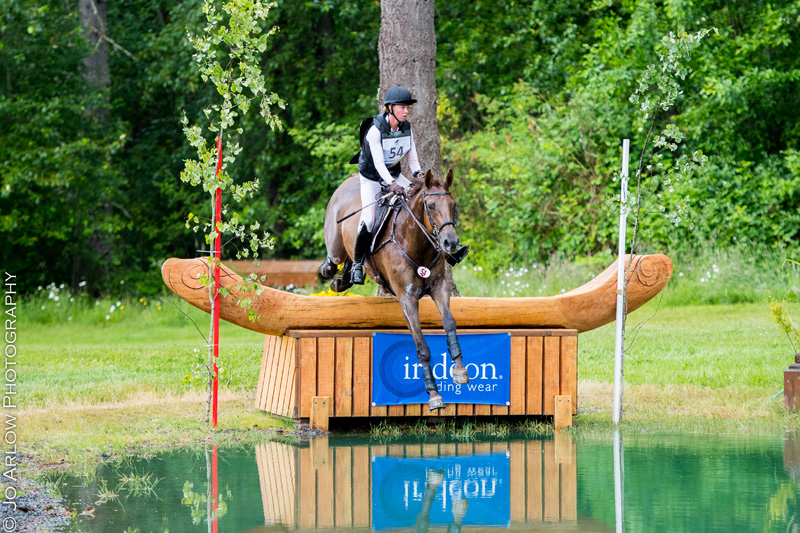 The whole Click family is involved with eventing. Sophie's sister, Harper, also competes, and Amy grew up with horses before she started eventing alongside her daughters.
"It's always nice to have a riding buddy," Sophie said. "Some days one of us would be like, 'Ugh, the barn,' and the other would be like, 'No we gotta go. We gotta ride the horses.' It's great to have that kind of support and motivation."
Sophie started eventing as a child; her natural bravery gave her an advantage when galloping at solid obstacles. She attended traditional high school while keeping up with her riding, but she's opted for online college courses for now. Sophie's résumé boasts a team silver medal from the 2017 Adequan/FEI North American Junior and Young Rider Championships, and in January of 2018 she participated in the Emerging Athlete Eventing 25 winter training session in Ocala, Florida, taught by Leslie Law.
"This was the first year I've ever been asked to join one of those groups, and it was definitely a bit intimidating at first," Sophie said. "But everyone was super welcoming, and it's a great community I get to be a part of. I didn't really know anyone on the East Coast, so riding there for a week and meeting everyone else at the session made me feel really grateful."
Sophie dreams of representing the United States and said her win at Aspen Farms was an important step toward that goal.
"I kind of proved to myself that I could do it," Sophie said. "And I proved it to everyone else."
Full results can be found on StartBoxScoring.