Kyle Perkovich is a typical barn rat kind of kid—spending every moment he can at the barn to maximize his education and just to be helpful.
"He has worked really, really hard at this," said his trainer Lisa Goldman of Red Coat Farm in Hawthorn Woods, Ill. "Kyle is the first to be there at 5 a.m. to get horses done before it gets hot. Then he is here to help us pack up the whole barn before they leave on Sunday night. He rides the babies at home and helps me start my youngsters."
In fact, Perkovich's 16th birthday was on move-in day for the Great Lakes Equestrian Festival in Traverse City, Mich. "He helped us unload all of the equipment, and then eventually we went to a very late dinner," said Goldman. "He is just a great kid and a hard worker."
That hard work has been paying off with some big wins this year as Perkovich has moved up the levels. The teenager from Long Grove, Ill., made two trips to the winner's circle this past weekend at the Great Lakes Equestrian Festival, capturing the blue ribbons in the junior/amateur-owner jumper classics both the low and high heights.
He topped the low classic on his longtime partner, Roc My World, and the Show Jumping Hall of Fame high junior/amateur-owner jumper classic on his new ride, Tresor Du Perron.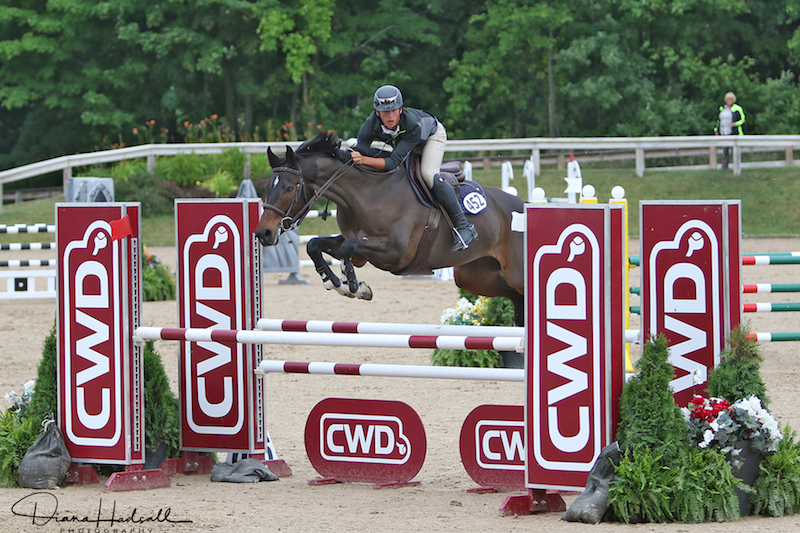 Kyle's mother Brenda purchased the U.S.-bred Roc My World (Roc USA—Wichita), known as "Maya," in late 2013 from Nancy Whitehead with the hope that the now-11-year-old International Sport Horse mare would give her son some good mileage in the high children's jumpers. "She turned out to be perfect," said Kyle. "We ended up doing low juniors with her, then last year did a 1.30-meter series and this year 1.35-meter. She has exceeded our expectations—we never expected her to jump this well at this height."
Maya was shown on the line as a 2- and 3-year-old, then competed in the hunter ring up to the 3'6" level. But Maya was a little too quick to be the best hunter, and Kyle's trainers, Lisa and Mary Goldman, knew that the horse would be a good fit for their hard working young rider.
"We get along well together," says Kyle. "I got her when I was younger and still learning, and she came to the jumpers at the same level as me. We learned together, and I think that really solidified our relationship."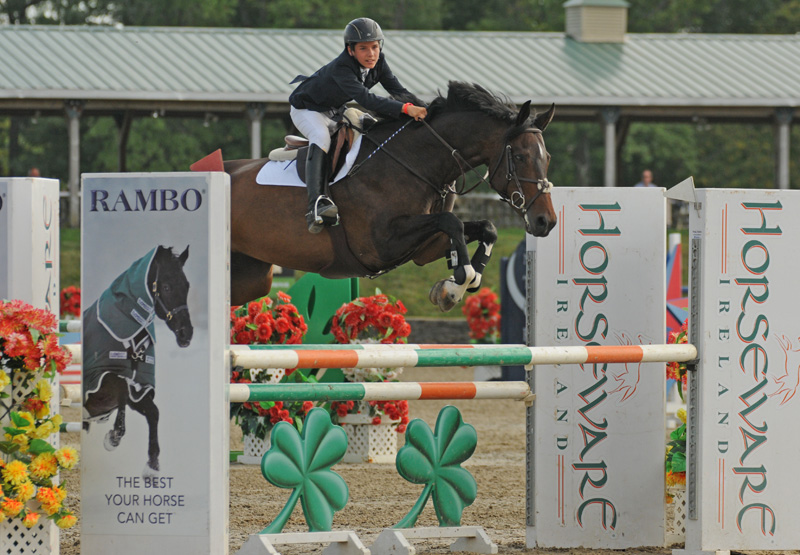 This June, Kyle and Maya won the $10,000 1.35-meter SmartPak Jumper Classic at the Showplace Spring Spectacular (Ill.), along with wins at the World Equestrian Center Winter Classic (Ohio) and the Showplace Spring Classic II and III. "She can cover ground so quickly, and tries so hard," said Kyle. "Every time we land after a jump, she wants to go. She always thinks forward. She is a crazy fast turner."
Lisa says that Kyle's entire family is involved with his success. "His brother cleans tack and helps ring crew, and he isn't even into horses," said Lisa with a laugh. "Kyle takes care of his horses all the time. He has worked very hard for everything he has."
Kyle's parents, Brenda Perkovich and Rick Letizia, are as supportive of his riding as possible. Brenda herself shows in the adult jumpers and also works with the Goldmans, who have trained Kyle for more than 10 years. Kyle said that for the most part he and his mother compete at the same horse shows, though they no longer show in the same division. "My mom and dad are unbelievably supportive," said Kyle. "I love them very much."
While Maya has taken Kyle to a higher level of competition than anyone had even hoped, his trainers and family knew that to get him to the next level, a different mount was required. After nearly a year of searching, they found Tresor Du Perron (Mr. Blue—Baladine Du Perron), a 10-year-old Selle Francais gelding, at Kyle Timm's Apex Equestrian Center in Florida in March. "I had tried seven or eight different horses, but as soon as I sat on him and jumped around, we just clicked," says Kyle. Tresor had mileage up to the 1.25-meter level in France before Timm imported him and showed him a bit at 1.30-meter.
Kyle said that Tresor is similar to Maya in that when he sees a jump, he just wants to go. "Where Maya is strong, Tresor is sensitive," said Kyle. "He is speedy and quick with his feet.   He carries his head very high, while Maya wants it low. He is nimble and agile and easy to maneuver. Each horse helps me to ride the other one better."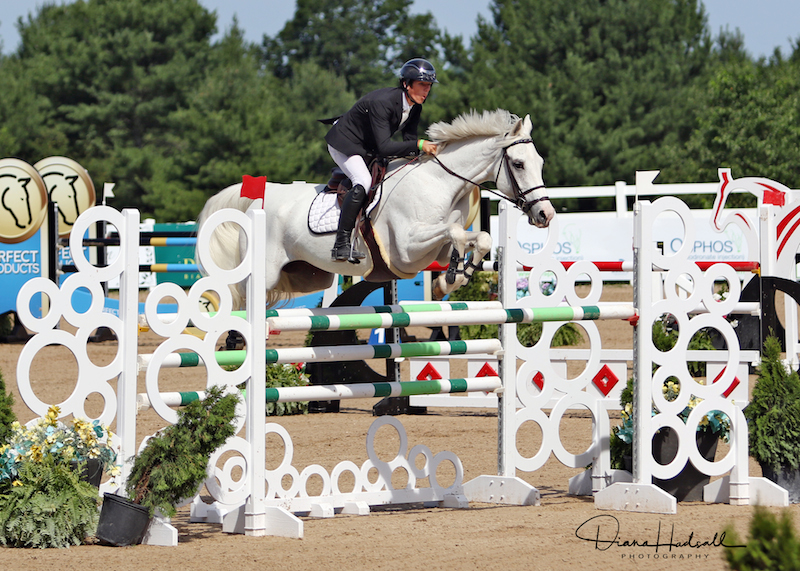 While Kyle and Tresor's partnership is new, they have experienced great success in a short period. After showing in the 1.30- and 1.35-meter classes, they moved up to 1.40-meter in May. At the HITS Balmoral Spring Classic in May (Ill.), Kyle and Tresor won the Under-25 section of the $10,000 1.40-meter Open Jumper Prix. Then finished that week placing ninth in the $35,000 HITS Grand Prix. "It was such a great experience, doing my first grand prix ever," says Kyle. "I never really expected to actually do the grand prix, and I loved every minute of it."
Watch Kyle and Tresor's round in the $10,000 Open Jumper Prix at HITS Balmoral Spring Classic:
Despite all of the success Kyle has experienced, he admits that he still gets nervous for every single ride. "For the grand prix, I was a mess," Kyle admitted. "Looking around and seeing all of those big names, and I was even competing against my own trainer, I felt like I didn't belong there. But as soon as I get on my horse, I feel much more relaxed and confident."
Preparation is the other piece that helps him to feel confident. Kyle said that with both horses, his trainers help him to plan every step of the course. "Our plan is always well thought-out, and I focus on staying committed," said Kyle. "No improvising. I execute the plan as best I can."
With Maya, it is all about trust in their relationship. "I know her so well, it kind of takes away the nervousness," said Kyle. "She makes me confident as soon as I get on her."
With Tresor, Kyle's plan is more basic. "Tresor and I are both new to this height," said Kyle. "We want to go clean, get experience, and have fun."
Lisa is clearly proud of her young student both for this weekend's performance but also in his growth as a horseman. "He has stayed really consistent with his program," she said. "At the end of the day, he rode well. He didn't even have to jump off with Tresor. I have watched him from the beginning, so to see where he is now is pretty amazing. It is definitely hard to find the horses that will take you all the way."
But as long as Kyle is willing to put in the work, Lisa and his family are willing to help him find the horses. "He is so dedicated and still young," said Lisa. "I know he will stick with it as long as he can."
Do you know a rider making a name for themselves that we should profile in our Winner Of The Week series? If they pick up a blue ribbon over the weekend, email us and let us know!