When Kayla Savard entered her 10-year-old Selle Français mare Bogota Nantuel in the $73,000 Cleghorn Golf and Sports Club Grand Prix CSI** at Tryon International Equestrian Center and Resort on July 3, her goal was to simply ride a consistent round. In fact, she hadn't originally planned to take "B" in the FEI ring at all, but after a series of double-clear rounds in national-level competition this spring, she and her trainer Alberto Michan decided to try the mare at the international level during their final show at TIEC in Mill Spring, North Carolina. B's FEI passport arrived only one week beforehand, and Savard was simply excited to be back in the international ring.
"I've only jumped two FEI classes before this week, and that was a few years ago," says Savard, 28, of Wellington, Florida. "This was my first time riding under the lights, the horse's first time riding under the lights, and her first FEI class ever. It was a lot of firsts in one!"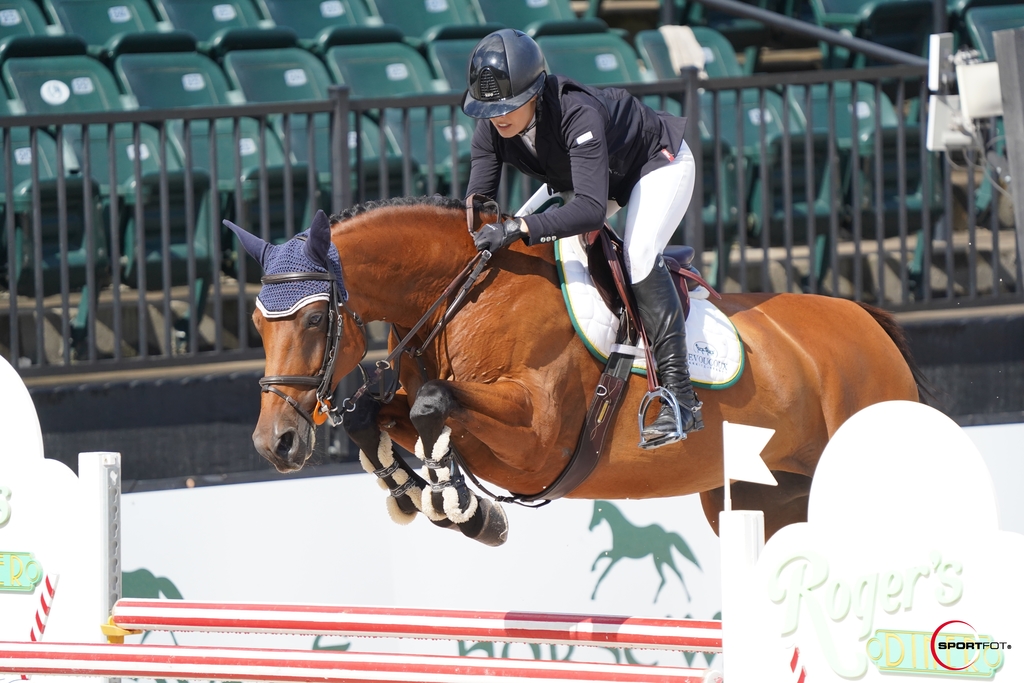 Savard's faith in B was rewarded when they became one of 13 combinations out of the 41-horse field to advance to the jump-off. But when Savard landed after the final fence and saw they were in first place, she was shocked.
"I didn't know I was going that fast," says Savard with a laugh. "She was just being so good, and it was so easy for us. I didn't realize I was that much faster."
Their time of 36.65 seconds was over 2 seconds faster than Richie Moloney and Coco Beach, riding for Ireland, and Victoria Huertematte and Flying Dutchman, riding for Panama, who tied for second with a jump-off time of 39.02 seconds.
"She's been amazing," says Savard. "She's been so consistent—but we were not expecting it to go that well. We're so thankful, and it was a nice surprise."
The win was even more poignant considering the journey that Savard has taken to get to this point. A native of Montecito, California, Savard grew up on a ranch and learned to ride by herding cattle. She started formal lessons at the age of 10, mostly competing in lower level hunter classes, and she didn't ride in her first jumper class until she was 18.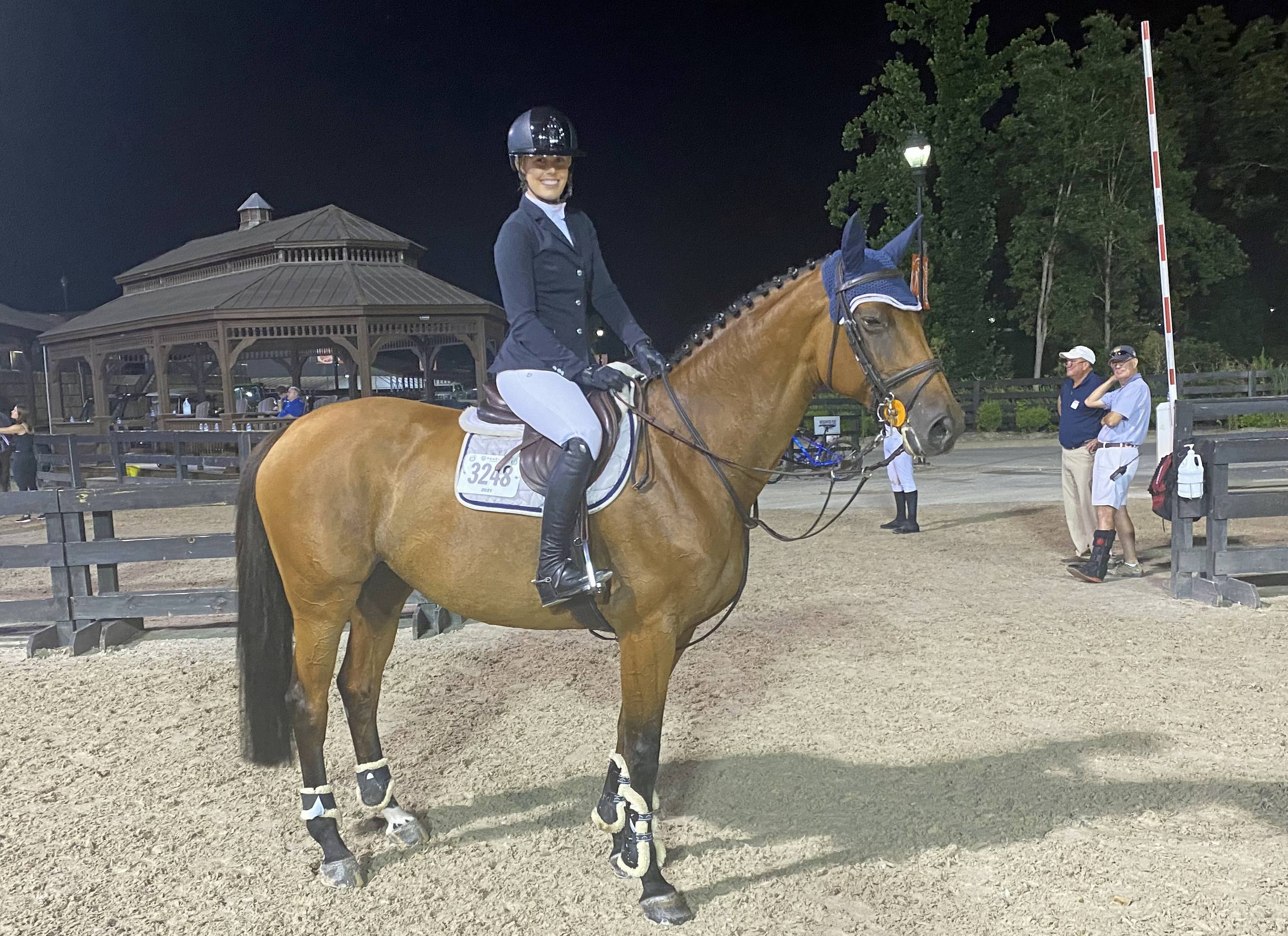 "I think riding on the farm made it easier [to transition to jumpers] because riding in the arena seemed so safe and easy in comparison," says Savard with a laugh.
In 2015, Savard began competing her Holsteiner Spar Colt (Carreno—Ohara, Corrado I); he took her from the low amateur-owner division all the way up to a few trips in U25 classes. The pair competed throughout California, but Savard was especially excited when she was able to bring him to the Winter Equestrian Festival in Wellington, Florida.
"California doesn't have as many FEI classes and has a bit of a smaller show circuit," says Savard. "When I went to Florida for the first time, I was introduced to the highest level, and I just loved it."
But Spar Colt suffered an injury precluding him from jumping in the largest classes, and their journey came to an abrupt end. Though she retained ownership of the gelding (he's now retired at a friend's farm near Miami), Savard didn't have the means to purchase another top horse. Instead, she went to work for Michan and spent three years trying to figure out how to get back to her previous level.
"When you don't have all the means, it's a bit difficult," says Savard. "But I'm hungry for it. I really wanted to figure out how to make this work."
About a year ago, Savard was horse shopping in France and met B. After producing two foals, B entered her first competition late in her 7-year-old season, and when Savard tried her at 9, she was still quite green.
"I bought her as a sales horse," says Savard. "We were just going to buy her, sell her, and make a quick profit."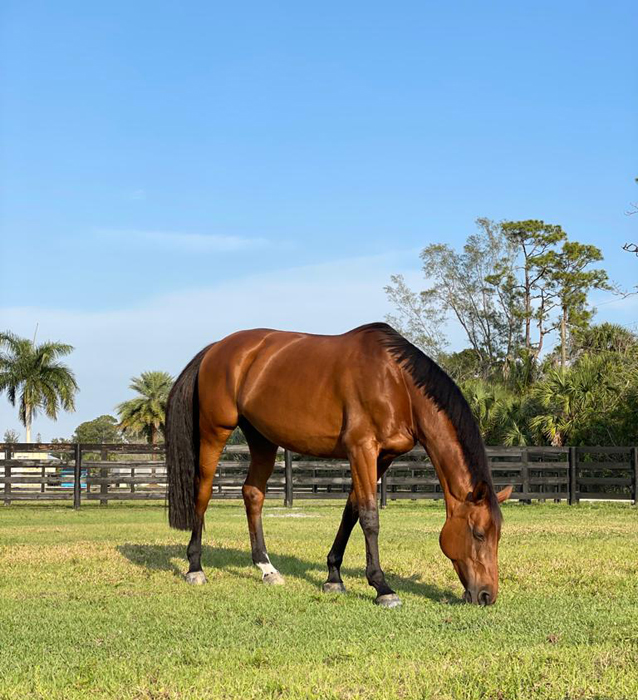 But after arriving stateside, the sensitive B (Dollar Dela Pierre—Ucarnute, Carnute) proved a little too complicated and hot for most buyers. Savard decided to hang onto the mare and work with her herself.
"I really liked her and believed in her," says Savard. "She always had a lot of scope and wanted to be careful. But she was a little sensitive and difficult. I've really worked with her over the past year, and in the last six months we have seen the results."
In particular, Savard played with bits until she found one that agreed with B's temperament and way of going.
"She's sensitive but strong, and she really takes you to the fences," says Savard. "When I found the right bit, it went really uphill. It's a weird bit, a custom made combo bit that a friend gave me to try. Otherwise, she's so fit and naturally talented, we just let her be herself. We longe her a lot just in a halter. She loves it and just trots on the line. At home, we never train big. All the training is simple and easy.
"She has the coolest personality," Savard continues. "She is so sweet and a little marish too, but I think that's what gives her her good qualities also. In the ring, she just goes in and fights so hard for you. She's hot, so you can let her run. She's feisty but in a positive way—she has energy."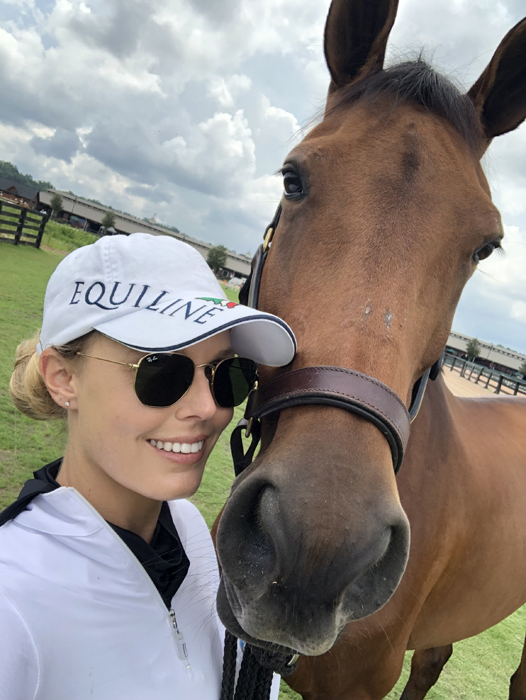 This spring, Savard's commitment to the mare's mental and physical well-being paid off with a series of double-clear rounds and strong placings in national-level grand prix classes. When they entered the FEI ring in North Carolina, Savard knew they were ready.
"I went in knowing I have a good horse, that I'm well mounted, and that I had a good plan," says Savard. "I was confident, but I was confident to put in a nice round, not to win the class. It was so special for me to win with this horse that I've put so much work into."
Heading into the jump-off, Savard noted that competitors were putting 10 or 12 strides between Fences 1 and 2.
"People were going fast, but they were missing an opportunity there," says Savard. "From one to two was kind of a 90-degree bending line. I ended up doing nine strides and caught it really well as an angle. I think that's where I could be a little quicker than everyone else. My mare is so quick in the air and off the ground. It's just naturally easier for her, and that is lucky for me."
Savard and B will now take a two-month hiatus after a busy spring, planning for the fall series at TIEC and the winter circuit in Wellington. And for the record, B is no longer considered a sales horse.
"I think I'll keep her a little longer," Savard says with a laugh. "I think she'll do a lot more. I got really lucky, and hopefully she'll help me do more things like this. I definitely want to challenge her a bit more."
Savard is hoping she can parlay her recent success into sponsorship opportunities that may allow her to develop a small string of competitive mounts. But in the meantime, she's enjoying the afterglow of her first taste of international success.
"When I landed off the last jump, I had no idea I'd be in first place," says Savard. "It's even more special to have the experience with a horse you've put so much time and effort into and that you're moving up the ranks together. It's a really nice feeling."