Back in 2014, Heritage Farm trainer Patricia Griffith tagged her former student, Samantha Schaefer, in a Facebook post showing a picture of the horse Schaefer rode to junior gold at the 2011 North American Young Riders Championships (Kentucky), Addison Phillips' Trezebees, with her new foal. Griffith had gone over to the Netherlands to try horses at Stal Hendrix, the same stable where Trezebees was sent in her retirement to become a broodmare.
"I kind of forgot about it," Schaefer said. "I was in college—I wasn't going to track down 'Beezie's' baby."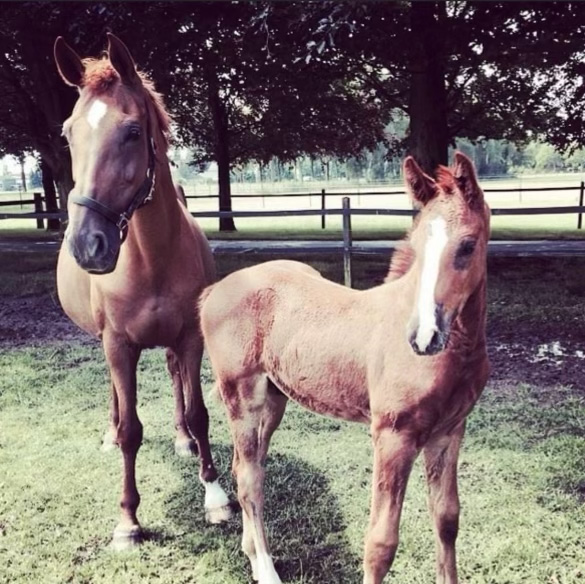 Beezie, who is by Cash, colicked and died shortly after that foal was born, so he and Cantinero (by Cento), a 2002 Belgian Warmblood shown to the 1.45-meter level by Saer Coulter, were her only offspring.
Fast-forward to last summer, when Thaisa Erwin sent Schaefer and Kate Conover, her co-trainer at Shadow Ridge, a video of an 8-year-old jumper named James Bond HX. Schaefer liked the look of the horse, though she didn't have a student in the market. She and Erwin got chatting about Stal Hendrix, where James Bond HX had been bred.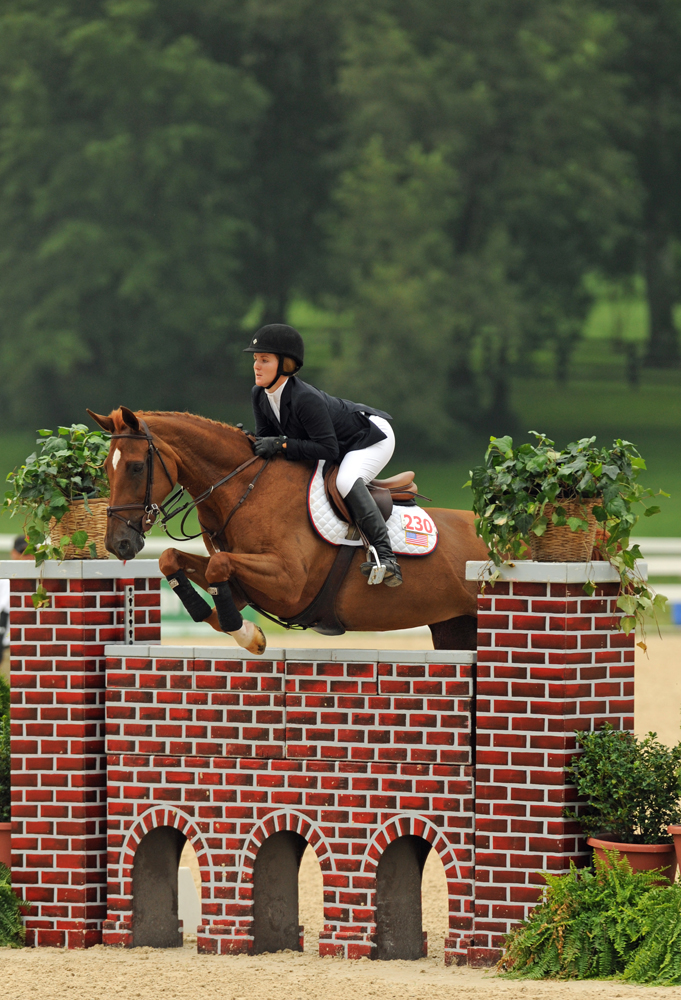 "I rode this great mare Trezebees who [Heritage Farm trainer] Andre [Dignelli] and Addison Phillips sent back to Europe to be bred, but I never follow the babies," Schaefer recalled telling Erwin. "When that name came up, you could see the look on Thaisa's face, and she said, 'I think that's the mother of this horse.' "
Despite not having a customer in need of an up-and-coming jumper, Schaefer couldn't resist scheduling a trial in Kentucky.
"I left and I was obsessed," said Schaefer, Westminster, Maryland, and Ocala, Florida. "I wouldn't say that he's similar to Beezie—he's different. It didn't matter how I met the jump, he jumped every jump the same. He gave you a really great feeling, and obviously I was obsessed with the fact that he was Beezie's baby."
So Schaefer and her mother, trainer Stacey Weiss, jumped into action, recruiting Shadow Ridge customers Elizabeth Tarumianz, Beverly Rohrbaugh and Donna Maher as well as her husband to join them in a syndicate to buy the Dutch Warmblood gelding by Douglas.
That all paid off March 4 when "James" jumped to the top of the $150,000 Lugano Diamonds Grand Prix CSI3* at the World Equestrian Center in Ocala, Florida.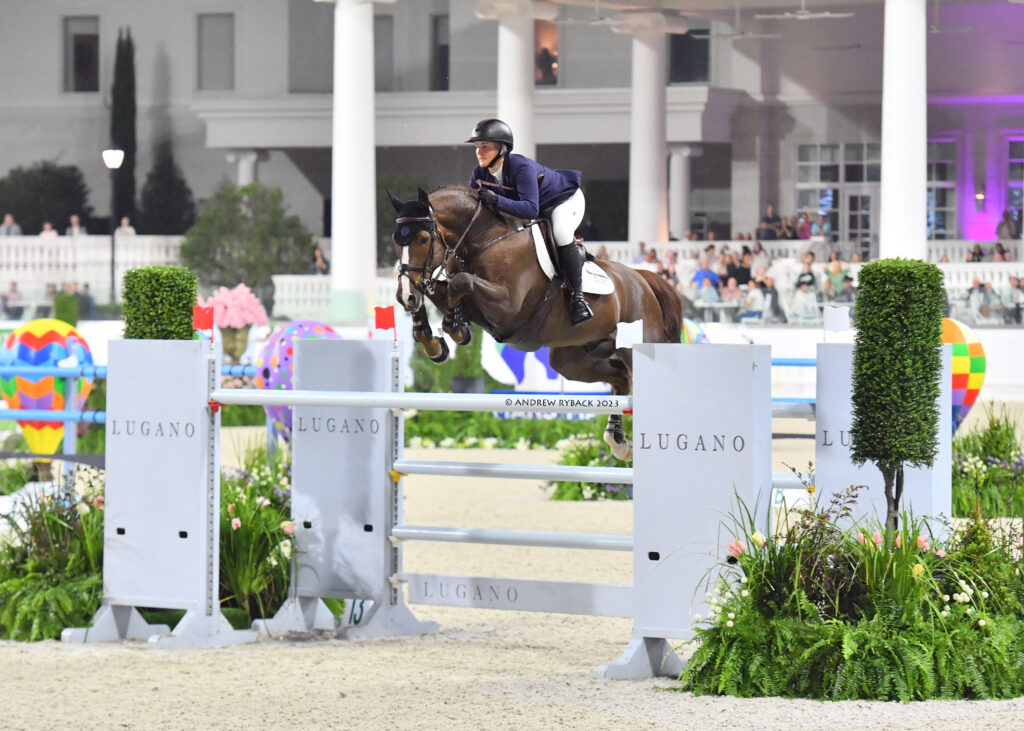 It was the first time James showed at the 1.50-meter height at a Fédération Equestre Internationale show.
Schaefer has been slowly moving James up the levels, and she wasn't originally planning on showing him in the class. But when she realized there was a miscommunication in the barn and her planned entry and top FEI horse, Frazier, was accidentally mis-medicated the Monday before the show Schaefer had to reassess her plans.
"I was disappointed, and I didn't know if I was going to jump on Saturday night," said Schaefer, 29. "I knew it was Alan Wade [designing the courses that week]; I knew it was a three-star and that my horse is 9. I've been carefully putting him in situations that I want to be positive. I'm trying to be very careful because he really wants to do the right thing, and I didn't want to overface him.
"The plan was to jump Thursday [in the Welcome Stake] and see how it went," she continued. "I was entered in Friday [in a smaller class] in case Thursday was a disaster, but he jumped Thursday incredible. I had one silly rail, but I thought he did it so well. He was so confident, so rideable, and he felt really mature."
So Schaefer decided to walk the course on Saturday night and make a game-time decision whether to compete. After she examined the track she decided to give it a go. Last to go in the jump-off, she joked with competitor Nikko Ritter that she was fighting for third. But when she got in the ring, James sifted into another gear.
Watch Schaefer's jump-off with James Bond HX, courtesy of the World Equestrian Center:
"He's made it through quite a few jump-offs on Saturday nights at WEC," she said. "He's learning to follow me in the turning, but it's not his area of expertise yet. But Saturday night something clicked. I didn't even have to go fast because he was so rideable and really with me."
James rarely jumps at home; instead Schaefer works on his fitness and strengthening his hind end.
"This has all just been unfolding," she said. "There hasn't been a secret recipe or a secret training method. He's been learning on the job."
When Schaefer isn't winning in the jumper ring, you can find her picking up ribbons in hunter derbies with In The Know—she's got the Platinum Performance USHJA International Hunter Derby Championship (Kentucky) on her radar—or else center ring training riders of the 35 horses in the Shadow Ridge program.
Schaefer and Conover rely on barn manager Haleigh Landrigan and behind-the-scenes guru Weiss—as well as an impressive barn whiteboard—to keep the business running smoothly. Conover and Schaefer have been zipping back and forth between Ocala and Wellington, Florida, where student Grace Debney keeps her horses. Conover missed seeing James win in person Saturday night because she was in Wellington to support Debney in her first senior Nations Cup representing Great Britain.
While Schaefer is excited that James is proving himself, she's taking it one day at a time with him and focused mainly on helping her students—who range from crossrails to grand prix—achieve their goals.
"Until this week my expectations were very realistic: I just listened to the horse, and if at any moment he had given me any inkling that I was pushing him too far, I would have backed down," she added. "But every test I asked of him, he's confidently taken it on. We've gradually kept moving him up the ladder."