When Gwyneth Babington took over the ride on Mark Q in the aftermath of a fall that paralyzed her father, Irish Olympian Kevin Babington, plenty of people wanted to talk to her about the pressure she must feel riding one of his most famous grand prix horses. But the teenager never saw it, or felt it, that way.
To her, getting to ride "Q" was an opportunity to learn from a vastly experienced and notoriously quirky horse and the man who knew him best. It also, she said, was an opportunity for her father to keep riding a favorite horse vicariously after his own career in the saddle was cut short by the August 2019 fall at the Hampton Classic (New York) that left him paralyzed from the chest down.
The partnership between Gwyneth and Q, despite beginning far earlier than the family had envisioned, brought healing to the three souls.
"It's such a meaningful relationship," said Gwyneth, now 19. "It was really fun for my dad because he's an amazing trainer as it is, and we've always worked really well together. But to be able to learn on such an iconic horse for him, and with a horse that is unlike any other horse I've ever ridden—and I'm one of the only other people that has ridden him at this stage in his career—it was really just something amazing that we could share together. And it's not even something that is easy for me to explain, because it was so good for [my dad], I think, at that time to be able to focus on that and help me. I think it allowed him to continue to mentally ride.
"Everybody thought there would be a lot of pressure to take over a horse who had won a lot and had jumped really big," she added. "There was, I suppose, a little bit, but I never really felt it was that way. I think everybody could kind of acknowledge that Mark Q was a special horse and a difficult horse to ride. And so I just kind of focused on my relationship with him and the plan with my dad. So, it was really good. It really gave me the next step in my riding career. And it was so amazing that I got to share it with such a special horse to our family."
Prior to partnering up with the Irish Sport Horse gelding (Obos Quality—Abbey Emerald, Positively) at the end of 2019, she had ridden a horse named Navy Blue Torrey and junior jumper catch-rides, but she never truly had a solid partner.
"Until I had Q, I did a lot of riding, but I never had a horse that, like, I could campaign for [FEI North American Youth Championships] or Prix Des States or even U25 grands prix or anything like that, because I didn't have like a consistent partner at that level," she said. "So, I had jumped that level, but it was definitely Q who was the first horse that I got to have for a while and build a relationship at a higher level with."
The pair started off slowly, in the low and medium junior jumper divisions, as the gelding and Kevin taught Gwyneth the specific "Q style" of riding with minimal interference—despite wrong leads and cross-cantering—and well-timed nudges to encourage him to stretch over the jumps. In the years since, they've competed in the Neue Schule/USEF Junior Jumper National Championships (Pennsylvania), FEI North American Youth Championships (Michigan) and grand prix classes.
On April 14, the pair scored their biggest win to date, topping the $10,000 Bainbridge Companies 1.40-meter Open Stake during Week 2 of the ESP Spring Series in Wellington, Florida.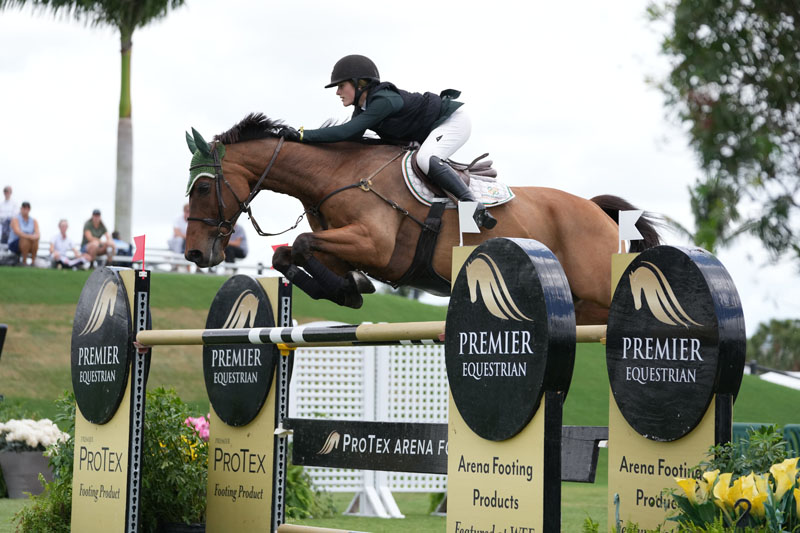 "Most of the time I worked with my mom [Dianna Babington]," Gwyneth said. "If she couldn't be there, I'd work with other trainers who were around. And it was a good learning experience for just really knowing your horse and knowing your plan and just sticking with that. I would talk to [my dad] about the course when he was away, and he knew the horse so much better than anybody. You can't really understand [Q] completely unless you've ridden him. Getting Q and learning with my dad really taught me about understanding a horse inside out."
Gwyneth and Q also happen to be just a year apart in age—he is 20 this year—but while that's just the beginning of a promising young rider's career, it's the inevitable sunset of a great horse's. At the end of 2021, with Q approaching his 20th birthday and starting to feel a bit uncomfortable when he first came out to work, the Babingtons consulted with their veterinarians. They recommended maintenance, and the family decided to do that—plus give him a month off from all work. Afterward, Gwyneth spent the next three months rebuilding his fitness before stepping foot in a show ring.
"I just wanted to make sure that he was in the best physical condition that he could be," she said.
"If I felt at all that he was struggling or if he was jumping around but didn't have that same push off the ground or that energy, then we would've re-discussed it," she added. "But he came out the first day, and he was just flying, and he was so excited."
Q's victory came in just his third show back after his winter reset.
"I didn't even really go into that class ready to fly for the win," Gwyneth said. "We just kind of went in, and I walked the course, and I'd see how he felt in the first round. And then in the second round, we kind of just rode the track more than galloping—and he loves the grass, so he just eats the ground out there. So, it just worked out."
And after the class, Q seemed to relish his time in the awards spotlight.
"He gets so worked up when you're getting ready for a presentation," Gwyneth said. "And I was so happy for him to be able to have an awards presentation again. It was so meaningful for everybody."
As with all things in horses, the show continued on, but the Kevin Babington LLC crew did quickly savor the moment.
"I called my dad because he didn't get to make it that day," Gwyneth said. "He was very excited to hear it. And then we had some other horses going at the show; some of the people from the barn came to watch, so everybody was very happy. It's fun in the moment, and we were so happy, and we still are talking about it, but it's kind of like another day at the office; you just kind of keep rolling."
Gwyneth plans to follow her parents into the professional realm, and she believes her partnership with Q has opened doors for her to be successful in the future.
"It did a lot for me because people were able to see me ride a horse—that is known for being quirky—well," she said. "Now that I know him so well, when I get to ride other horses at a higher level, I always have like my old partner in crime to be that consistent horse that I can always fall back on and just know as a baseline. It's always a good reminder when you have a horse that you know really well. It makes that feel so easy."
While Gwyneth, her mother Dianna and her sister Marielle represent the Babington family in the show ring, Kevin continues making progress in his physical therapy while maintaining his busy training business.
"He makes progress all the time," Gwyneth said. "He feels like his upper body is definitely getting stronger, and he's starting to get feeling in new places. The movement that he does have seems stronger and more controlled, and he's been able to up his intensity in physical therapy.
"Mentally he feels really good, and he enjoyed a super busy season in Wellington," she continued. "He does tons of teaching with our students, local students/professionals who ship in, and he teaches over FaceTime all over the world. Now it's nice that it will settle down for a few weeks and I'll be happy to have more of his time for the sale horses at home while we get ready for the summer."