Two years ago U.S. Equestrian Federation "R" hunter judge Robert Crandall sat on the panel for the national and international hunter derbies held during The Ridge Farm's Palm Beach Series in Wellington, Florida. But this year, Crandall traded his clipboard for tall boots and attended the show as a competitor, capturing the win in the $15,000 USHJA International Hunter Derby on March 16 riding Lysa Burke Hutton's chestnut gelding On The Slye.
"This was the horse's first derby," said Crandall. "We just decided at the last minute to do this. I just wanted to go there and let him have a comfortable first time."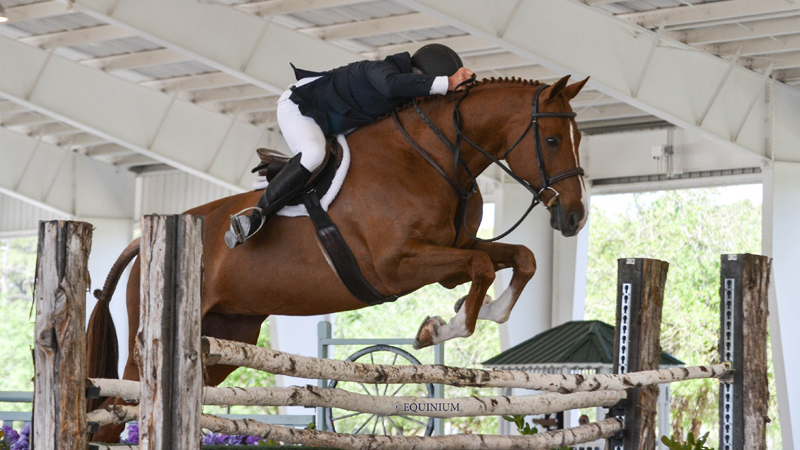 Crandall chose the high options with "Sardero" in the first round, which helped them place third, and then he focused on giving the gelding a quiet ride for the handy to produce a tidy trip and an overall winning score in the field of 21.
"[Organizers] Nona Garson and George D'Ambrosio just do such a great job over there at the Jim Brandon Equestrian Center with these derbies," said Crandall. "Skip Bailey did the courses. It was just a positive experience."
Sardero started his performance career in France as a jumper,  competing through the grand prix level. He entered the hunter arena for the first time when Crandall took over the ride about 1 ½ years ago. Crandall took his time with the 12-year-old Selle Français, teaching him the expectations of the hunter ring in the 3'6" green classes before trying him in the high performance divisions.
Crandall was first made aware of Sardero through his friend Arly Golombek, but at the time the horse wasn't for sale, and Crandall wasn't looking. But then his client, Lysa Burke Hutton of Upperville, Virginia, asked him to go horse shopping.
"Lysa comes from quite a horsey family and showed as a junior and an amateur," said Crandall. "I was looking for a horse for her to buy, incredibly, for me to ride. She is beyond great to work with and to do this."
By then, Sardero had come back on the market, and even though all his education had occurred in the jumper ring, Crandall had a hunch the gelding would make a splash in the hunter ring. "He is certainly the right type for the hunters," said Crandall. "His jump style and mind are perfect. And he is flashy, with his white socks."
Crandall took a gamble by not trying the horse before recommending him to Hutton. "I very rarely don't go to try them myself, but I trust Arly very much, and I liked the video so much," he explained.
The pair showed a little bit in 2016, but they really hit their stride last year, qualifying for the Washington International (District of Columbia), where Sardero placed second in the high performance hunter stake. Crandall credited Hutton's patience and faith in his process with allowing Sardero to blossom. "She really gave me the time to let him develop," he said.
Crandall described Sardero as a sweet, kind horse who is quite particular about his treats. "He doesn't like peppermints or other candy," said Crandall. "And he only likes the heavy molasses, moist horse treats, not the dry ones. He likes carrots too—but apples are really his thing."
One of the major lessons Sardero had to master in transitioning to the hunter ring was to slow everything down, which was on Crandall's mind during their derby debut. "I have to be careful during the handy, as he can sometimes try to swap gears into jumper mode," said Crandall. "It took him a while to learn he wasn't needing to make the time in the jump-off. A lot of the reschooling was flatwork for sure and finding the right bit."
Crandall worked Sardero over single jumps with landing poles and tall crossrails, and he used grids such as a pair of offset oxers set about one stride apart to help the gelding understand his new job. "He certainly was not spooky at all," said Crandall. "You have to work to keep his attention."
While Crandall has enjoyed a long career as a coach and trainer, these days he often presides ringside in the judge's box, having recently officiated at Devon (Pennsylvania) and the USEF Pony Finals (Kentucky) among other prestigious shows.
He admitted it's impossible to take off his judging hat entirely when he's showing. "Judging changes you as an exhibitor," said Crandall. "You hope that you stay true to your own principles and beliefs as to how each horse should be presented."
Finding the right blend of time spent riding, competing and training versus judging is tricky though. "It will balance out a bit," said Crandall. "I did about 12 shows last year, which I think is maybe too many. I will do not as much judging this year."
Instead, Crandall, 60, hopes to spend more time in the irons, working with a few owners and their investment horses and getting into the show ring. "I'm getting old," he joked. "It is now or never! Let's face it, this sport is a young person's thing, and they have a lot of talent and training and are pretty hard to beat."
As for Sardero, the plan is to finish up the winter circuit in Florida before returning to Virginia. "We may or may not do the last derby of the series. It depends on how he feels that week," said Crandall. "We will stay in the high performance, and our big goal is to gear him for the [Platinum Performance/USHJA International Hunter Derby Championship (Kentucky)].
"I have been fortunate to have a lot of nice horses and owners in my career," added Crandall. "This may be my last hurrah. We shall see."