When Mikayla Hoffman and her ex-racehorse Eli crossed the cross-country finish line at Rocking Horse (Florida) last week, they not only had the fastest time in their division, they accomplished something many eventers dream of, but few actually do: The 19-year-old Canadian and the horse she'd brought slowly up the levels had won their advanced-level debut.
While Eli has long been a cross-country machine, Hoffmann spent several years at the intermediate level—including nine horse trials and several CCIs— in pursuit of stronger dressage scores and a frustratingly elusive clear stadium round. But after their performance at Rocking Horse Winter I in January, coach Kyle Carter pronounced the duo ready to move up.
"Kyle met me walking back to the trailer [after cross-country], and he was like, 'OK, you're ready for the advanced. Enter the advanced for the next event.' And I was like, 'OK, perfect, that's spectacular because I actually already entered it,' " Hoffman recalled.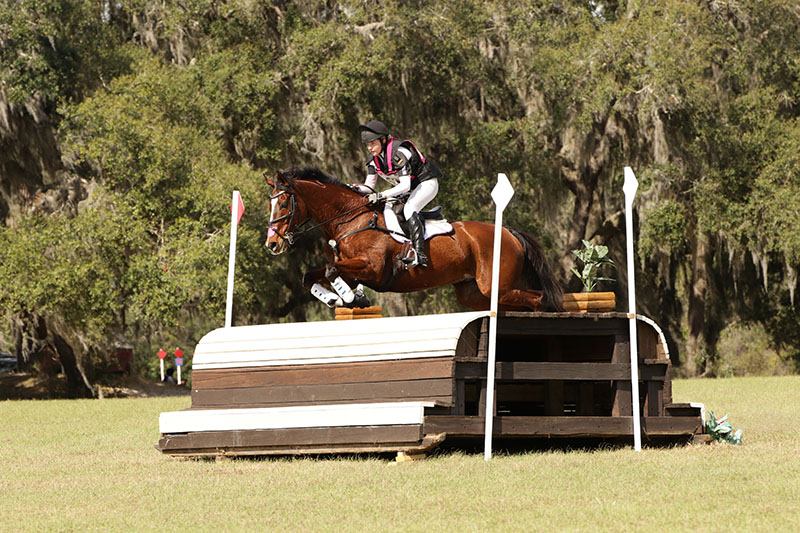 While Hoffman, Alberta, Canada, felt confident tackling advanced cross-country, she was less certain about the other phases. The move up, however, was apparently just what 16-year-old Eli (Fisher Pond—Heavenish, Dr. Adagio) needed: Along with a respectable dressage test and score of 35.9 that put them third in their division, he finally broke his streak of stadium penalties by jumping clean in his advanced debut.
Hoffman said she had a hunch about the breakthrough. Driving home after dressage on the first day of competition, she told her mother, Jamie, and sister Mackenzie, who had come to watch her advanced debut, that she had a good feeling.
"I was like, 'You know, I've never jumped an intermediate show jumping round clear, but I just feel like tomorrow I'm going to jump the advanced round clear," she said. "And my mom laughed and was like, 'OK, whatever you say.' "
Under Carter's coaching, Hoffman had a plan for warm-up that involved lots of lateral suppling before they started jumping.
"I think the biggest thing with Eli is keeping him nice and soft through his back, because once his back tightens up, that's when he starts to have the rails down," she said. "So, it was really about me being nice and soft and working with him so that he could stay soft throughout the whole entire course and jump nicely through his back."
The warm-up plan did its job: "He went in, and it was my best and most beautiful show jump round I've ever jumped on him," Mikayla said.
Carter wasn't surprised; he was confident the pair was prepared to move up.
"I could have had her go advanced earlier, but checking all of the boxes is really important to me. It had been on my radar as a plan for a year. I wanted her to be ready," he said. "We've built up to this moment."
Carter credits Mikayla for developing Eli to the level.
"Her horse wouldn't be everybody's horse, but he's a good-hearted horse, and he's developed a lot of strength over the past couple of years to be able to handle this," Carter said. "When he came in [I thought] he's got the right heart and the right attitude, but he's going to struggle when the fences get really big because he doesn't have enough scope. But over the past couple of years, he's gotten stronger and stronger and developed a level of scope he didn't have before. The ability he has right now, I think, was developed by her."
Mikayla took over the ride on the bay gelding from her mother seven years ago, when she was 12. Jamie bought Eli as a 6-year-old for herself, thinking he was a good prospect who would sell easily if he didn't work out.
"Which was not the case," Mikayla said. "He got home, and he was rather crazy and neurotic—tons of bucking, tons of spooking and stopping and spinning. My mom fell off him quite a quite a few times from him stopping and spinning."
He had calmed down some by the time Mikayla took over the ride, but developing their partnership took time.
"I did lots and lots of hacking out in the fields and down the road on him when we first got rolling together," she said. "That was just the most fun. I would go out, once I gotten comfortable with him, and canter in the field, and it felt amazing to do that. He was fun and fast, and he went forward. The horse I was on before him was like a bit of a kick ride, so it was fun to ride Eli because he had his own engine, and he would just go."
The pair started eventing in Canada. While cross-country was always his forte, sometimes he was a little too excited to run and jump.
"Sometimes the schooling was a little bit iffy—there was, like, lots of running at the fences and landing and bucking afterwards," Mikayla recalled. "But always, as soon as we were in the competition setting and we left the start box, he was focused and ready to jump, whatever I wanted him to jump."
Carter believes Mikayla's mental strength and maturity sets her apart.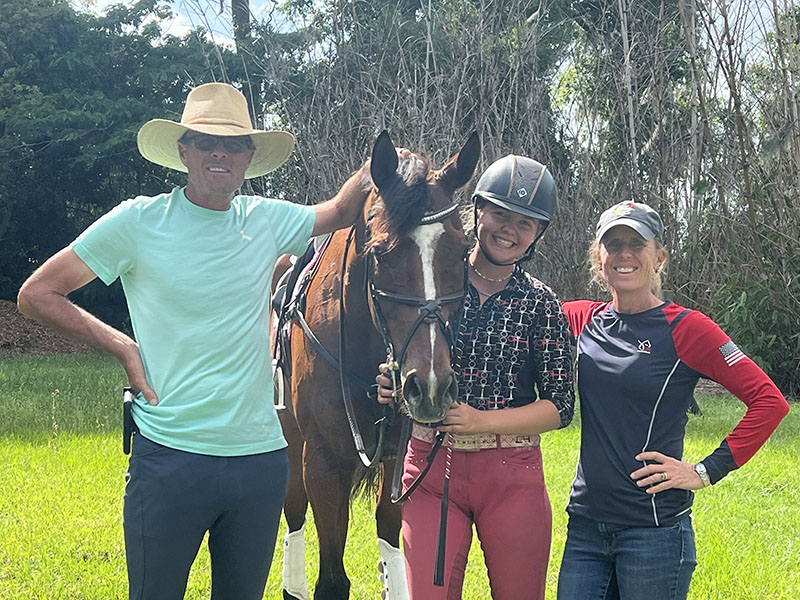 "When things go wrong, she handles it better than I do," Carter said. "She's unflappable. If it goes well, she's happy. If it doesn't go well, she's still happy and thinks about how she wants to fix it. Her frustration doesn't come into her riding, and that's a rare thing.
"Some people quit on hard horses, but behind that difficulty, good horses are waiting," Carter added. "When you're training horses, you're going to have problems. You're going to have times it doesn't go quite right, but as long as you have a good plan forward, you can find your way through it. Think about what value that has for her as a rider. When the next one comes in and is a bit of a stinker, she's going to be able to see through it and ride through the issues."
Mikayla has been able to tap into two programs in Alberta for up-and-coming event riders. First, the Alberta Horse Trials Association, which offers a subsidy for their riders who compete outside of Alberta at the preliminary level or higher. And within the AHTA is the Alberta High Performance program, which has a regular coach and also brings in different clinicians. She met Carter through that program, and after riding in two of his clinics, knew she wanted to train with him.
After graduating high school in 2021, Mikayla and Eli started spending the winter in Florida as a working student with the Carters.
"Kyle is well known for his teaching young riders and them going to the championships and medaling, and that was on my bucket list," she said. "I want to get to the championships, and so I knew that that was going to be the right place."
She's aiming for the Chattahoochee Hills Horse Trials (Georgia) in March and then will return to Alberta toward the end of April.
"I want to go to England and work for six months over there to get some more experience," she said. "Absolutely, horses are what I want to do with my life, the riding and eventing, and the big goal is obviously the Olympic Games."
Carter says Mikayla is the type of student who will go places because of her work ethic and attitude. He is helping her to plot her next steps, which includes looking at whether it's time to sell Eli to finance a horse that will take her to the next stage of her career.
"I think she could be a great team rider in the future for Canada if we can get the right horses underneath her," Carter said. "Her demeanor is going to be so beneficial in a team situation, and she can handle pressure well. Riding really well is only part of it."