At just 13, Calder Trotz has been to more "high stakes" competitions than many riders twice her age. She's contested the USEF Pony Finals twice and has shown at esteemed venues like Devon (Pennsylvania), the Pennsylvania National and Capital Challenge (Maryland). So when she found herself standing in second place heading into the handy round at the USHJA Pony Hunter Derby at the Gulf Coast Winter Classic Series III on Feb. 23, she did what she always does when she feels the pressure mount. She took a deep breath.
"I've realized that getting nervous just isn't going to work out," said Trotz. "I take a moment before I walk in the ring, and I remind myself to have fun."
Trotz's focus paid off; she expertly piloted her 12-year-old medium pony, Not So Secret, through stylish inside turns while maintaining their signature smooth rhythm to each fence. Their effort earned a score of 73 for the handy round, which brought their total to 153 and won them the blue. But more importantly, it gave the relatively new partnership valuable experience as they strive toward attaining some lofty goals.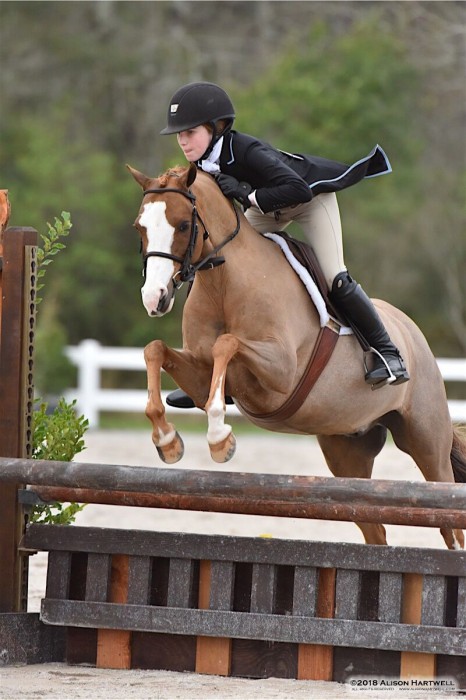 Like many pony kids, Trotz decided she wanted to ride horses at a young age. "One of my good friends had a birthday party at a barn, and I just fell in love with the horses," said Trotz. "I begged my parents for lessons."
Trotz started riding at Spring Mill Farm in Eads, Tennessee, about a 30-minute drive from the family's home in Memphis. Within two years, she graduated from the lesson program to the show team, and she began working with head trainer David Pelligrini. After Trotz got local show and short-stirrup mileage on her first pony, Oreo, Pelligrini helped the family find Brownland Miss Kimmy, on whom she competed in the small pony hunter divisions and equitation classes throughout the East Coast.
"Calder is very meticulous and very detailed in her thinking," said Pelligrini. "She wants to share with me every detail of what she intends to do in the ring. And she has great recall—she comes out remembering every detail of what actually happened, so then we can analyze her rounds together and make a plan for what to do differently next time."
Miss Kimmy and Trotz qualified for the Pennsylvania National in their first season together, and they competed at Devon the following spring, an experience which Trotz describes as "just a whole lot of fun." Miss Kimmy also taught Trotz a few lessons along the way. "I used to lean forward, which would make me chip all the fences or miss my lead change," said Trotz. "She really taught me to sit and stay back."
In addition, the pair made two trips to compete at the USEF Pony Finals, but they always finished out of the ribbons. "We would have just one little mistake," said Trotz. "It kept us from placing."
Still, Miss Kimmy gave Trotz confidence and many valuable show ring miles, experience that set her up for her transition to Not So Secret, better known as Oliver, who joined the Trotz family last summer. "Oliver looks so similar to her first pony and has a similar way of going that we jokingly call him Mister Kimmy," said Pelligrini. "It was an instant match."
Oliver won the green pony championship at the Pony Finals in 2016 with Kyla Sullivan riding and finished fourth there in the regular medium pony division in 2017 with Brynn Kuhnell riding; he was already qualified for the major indoor shows when the Trotz family purchased him.
Oliver is known in the barn for his quickly changing moods and his appreciation for Chex Mix. Trotz and the 12-year-old liver chestnut gelding by Tapu Kid McCoy spent the fall season getting to know each other by earning ribbons at the Capital Challenge and Pennsylvania National, as well as winning the stakes class at the Washington International (District of Columbia).
But this past weekend was the pair's first hunter derby together. "I think because I had done [the derby] the previous year with Miss Kimmy, and the ring felt a little like Pony Finals, I just remembered the feel of it," said Trotz. "I tried to use my ring more because of the extra space, while keeping the same speed and an even canter throughout."
Pelligrini said that the course design made the derby test a positive experience for the pony riders. "Paul Jewell does such a great job with the courses," he said. "It simulates what we'll see at the Pony Finals, and the experience here is very much an important part of our preparation."
Trotz plans to keep Oliver in Gulfport for the rest of the series, which ends in mid-March. Her immediate goal is to qualify for Devon, but this summer, she's aiming to be in the ribbons in the over-fences class at Pony Finals—one goal that has eluded her so far. Both she and Pelligrini are optimistic about their chances on both of these fronts, but Trotz notes that she and Oliver still have some work to do. They compete in the pony equitation medal as well, choosing to stick to the smaller height courses in the pony classes where Oliver is more comfortable, rather than moving up to the age-division equitation, which starts at 3'.
"He's taught me the importance of having contact," said Trotz. "He will get his head too low, and then he either leaves early, and I don't know it's coming or he dives in and chips. I have to keep contact in order to communicate with him and stay in control."
In the meantime, Trotz is learning to balance the demands of seventh grade with her riding, often doing her homework on the way to the barn or horse shows. "School is really important," said Trotz. "I think I do well in school, but it's a little hard sometimes to fit it all in."
And in the down time, she remembers to take a deep breath, and that it's also important to have fun.