Veteran international show jumper Beth Underhill is no stranger to success. The 59-year-old was first named to the Canadian team in 1990 and has represented Canada in over 30 Nations Cups. But her win May 8 at the $527,181 Rolex Grand Prix Ville de La Baule CSIO5* aboard Dieu Merci Van T&L was particularly special.
Underhill, who is now based between King City, Ontario, and Soignies, Belgium, has ridden "Dieu," a 13-year-old Belgian Sport Horse (Toulon—Morana, Corrado I) owned by Torrey Pines Stable and the Rein Family LLC, for only a couple of months. She took over the ride this winter from longtime friend and Canadian Olympic gold medalist Eric Lamaze, who announced in November 2021 that she was joining his Torrey Pines Stable and would take over his top rides. Lamaze, who has been battling brain cancer since 2017, recently retired from competition.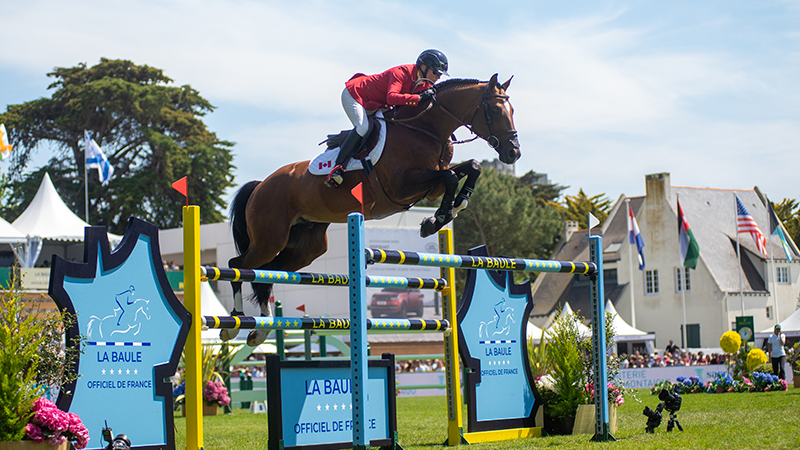 Lamaze won at La Baule multiple times, aboard Hickstead in 2011 and with Powerplay in 2014. Now, he's serving as the Canadian chef d'equipe, a position he's held since February. Two days before Underhill and Dieu won the Sunday grand prix, they went double-clear in the Nations Cup. Their round and Lamaze's leadership helped the Canadian team, which also included Yann Candele on Farezzo, Tiffany Foster on Figor, and Amy Millar on Truman, capture third place.
We caught up with Underhill to learn more about Dieu, their time at La Baule, and what it's like to have a longtime friend and legendary rider serving as the team coach.
What kind of ride does Dieu prefer?
He's quite a new ride for me. Dieu came to Florida quite late in the circuit. And because he's a stallion, he was in quarantine for a significant amount of time, which cut into our training. After that, I started him in two or three 1.40-meter classes. And then we did one or two 1.45-meter classes, and we ended up doing two four-star classes. We'd had just a handful of classes through [the Winter Equestrian Festival], so I didn't know him well before La Baule.
He's a horse who really thrives on a big gallop, which suits me. I'm kind of a naturally forward-riding person. I like to carry a big gallop and work out of stride. He's a very careful horse. He's a sensitive horse, as a lot of stallions are. I think that for me and for him, that approach seemed to work very well. Even though I hadn't had a lot of time in the ring with him, I was feeling as I went along that I was getting to know him and create a partnership.
What is Dieu's personality like?
He's a very sweet horse. You can see he has a kind eye, a soft eye. He's very tall, and he towers over everyone in the stable. He's quite a character—I have to watch him in the warm-up ring; if you're trotting beside someone, he'll just turn his head and try to nip the horse beside you. He's always putting himself in place, in terms of the hierarchy of the other horses in the ring, which is just kind of funny, but he doesn't have a mean bone in his body.
I haven't ridden a whole lot of stallions, and I've found the ones that I have ridden to be quite difficult, and Dieu's been a dream. He has a lovely, lovely character and natural sense of who he is. He definitely thrives on atmosphere. I felt that when he stepped into the ring in La Baule with such an electric crowd; he grew even taller. And in a way that made him stronger and just more competitive. That can work both ways with horses; they can step into an arena like that and shrink, or they can raise their game and be up for the call, and I really felt that he was with me throughout the whole week.
While I lacked in experience with him, I trusted him; I felt immediately that he was comfortable in that environment. Even though I'd never ridden him on the grass before the warm-up class on the initial day, I felt that he was very comfortable. And that gave me confidence going directly into the Nations Cup on Friday.
Do you still have your own program training clients and coaching, or are you with Torrey Pines full-time?
Well, you know, Eric called me in November and asked me if I'd be interested in working together, which of course I jumped at the opportunity. But I do have a busy business in King City, Ontario. I had several of my students in Wellington [Florida] with me. One of my students came to Belgium to train here as well, which was a great opportunity for her. So I'm just working between keeping both things going at the moment. It's been a challenge, but it's been the logistics that we've had to take care of. I have a super team at home; that is how we keep everything up and running. So far, it's worked. It's worked quite seamlessly.
My stable's in King City, but I live a little bit further up in the country. So I was able to go home for two weeks and visit. I have five rescue pot-bellied pigs and two goats that we raised and bottle-fed as orphans. So I have a little bit of a menagerie at home, with the Jack Russells and critters, so it was very fun to go home and spend two weeks.
How did you come to develop your relationship with Eric and Torrey Pines?
Eric and I go back a long way. We were literally neighbors in Schomberg [Ontario], which is close to where I live now. I knew Eric when he was 17 years old—I mean, when he just started on the scene—and we've always been friends. He's always been such a supporter, and I've ridden on the team with him many times over the years. I think we've always respected each other.
We've always had a friendship, and over the last few years, when he was struggling with his illness, I would say I was in contact with him more just because, you know, it was a friend from years gone by, and I think he reached out to people that he knew and he trusted. So it's a friendship that was forged long ago, not just through the horses, but also just as someone that I've always respected and appreciated as a friend.
When he was looking for someone to help with the stable and with riding some of his horses, it was a lot to consider because at this stage in my life, you don't have many opportunities come your way like this. I'm 59 years old, and I'm not 20 anymore, and the fact that he even thought of me first? He believed in me before I actually believed in myself to this level.
I've had some lovely horses and a thriving business over the years, but this was a whole different level of commitment and competition.
He said to me, "Will you do it?" I literally thought about it for two seconds. I knew that it would be a lot of adjustments and changes, but the fact that he was prepared to help me and to support me meant the world to me.
We already had a history of working together on teams, and I'd always found him to be someone who was very, very generous with his help and with his guidance, and so I knew he was someone that I could work well with. We had that history, which I think created this partnership that seems to be working very well.
What is Eric like as a chef?
He is—and he's always been this way—he's absolutely passionate about everything he does. Whether he's riding, whether he's training, whether he's chef d'equipe, he does not leave any stone unturned. He expects the best—and he demands the best of everyone around him—but he galvanizes you to give 100% of yourself and everyone that's involved. I mean, we're in this sport because we love it and because we love the horses and we love the competition.
He's created an enthusiasm in our country. We were all there (at La Baule) wanting the same things. And I think that that's mostly because of what Eric has created in us, and we're very grateful to have someone of his stature that would put in the time and give of himself as much as he has.
What were your expectations for La Baule and then also for Dieu's performance?
We had schooled at home a couple of times, and I felt more and more of a partnership between us. I honestly went into La Baule thinking that Dieu and I would know where we stand as a team going forward.
We all felt that, given how much Eric has given us, knowing his health situation and that he's had to recently retire, and knowing how bittersweet the situation was for him to be heading the team but not being able to ride in one of his favorite venues, I think we all felt the importance and the gravity of the situation.
When Dieu and I walked in the ring, I wanted to do my best and not let Eric down. It was definitely something that when the bell went and I was cantering to the first jump, I literally said to myself, "Make this count."
Watch their winning ride:

Here I am in Europe for the first time in many years, and I had to tell myself to not think about that, and instead think about what we came here to accomplish. And as a team, it was quite apparent that we all carried that attitude into the ring, of wanting to do our best for Eric because he had done so much for us. So it was very emotional. The crowd was chanting his name. We were all very emotional with just the response that we had as Canadians because it trickled down from Eric, and how much they loved him there. We felt the importance of the events and really want to do our best for him.
What are your personal and professional goals for the next year?
I'm hoping to keep moving forward and secure a spot on the World Equestrian Games team. That's been my goal for this year. Our next five-star competition will be Rome.
I have a great group of students back in Canada who are very supportive that are watching me and texting and calling and following along. I wear quite a few hats in Canada: I'm on the board of directors of the Royal Winter Fair (Ontario), and I'm involved in many elements of the sport, so whatever I learn over here is something that's only going to make me more current and better able to pass that information and that knowledge on to my students. That's important to me, and I fully intend to give them the benefit of everything I've had access to over here.